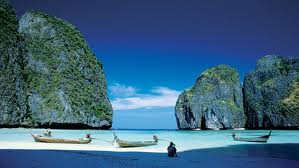 Western expats have a wide and varied choice of places to live nowadays, most any continent in fact. For me, however, it can only be Thailand, actually Chiang Mai. But what makes Thailand the perfect place for the Western expat to settle down in?
Below are my 20 Aspects of Living In Thailand which, taken together, make this unique country preferable over any other.
1. No CCTV cameras and those that are around mostly don't work.
2. Thai Massage: experienced hands for every muscle.
3. Driving: Everyone driving here knows how to avoid penalty points being put on one's licence.
4. Bangkok – no city quite like it in the rest of the world.
5. 46 – 48 baht for £1 sterling. And that is a low rate of exchange.
6. The people – whatever your preference for particular humans you'll likely find a Thai who can press your buttons.
7. Buddhism – OK, I don't like the sale of the sparrows outside temples, but that aside the country has a good karma.
8. The National Parks: Over 50 of them and counting, with some amazing waterfalls.
9. The beaches: so many to choose from. My favourite is Krabi.
10. Old Age Care and Attention: Got a pension of over £500 per month? Then don't worry, you'll be fine. Better than decaying in an Old Folk's Refuge in Walsall.
11. The food: An awesome fusion of Chinese, Indian, Malay, Indonesian and, increasingly, Western. Just magnificent.
12. The beer: I personally rate Singha one of the best in the world, and I should know – I was a Tetley pub landlord in Yorkshire for 12 years.
13. The weather: OK, it was a little hot today in Chiang Mai – touched 38c. But no way you'll get me back to freezing Britain.
14. Hospitality: Only Thais can say "I am sorry, but our hotel is full tonight" in such a way as to make your day.
15. Tolerable traffic congestion: Yes, I know, you're going to say I must be crazy, what about Bangkok? My response: Have you been to Saigon or Jakarta?
16. Cool attitude: As a Westerner living in the West you are probably uptight and stressed most of your life. Come and chill out in Thailand. Truly meditative.
17. Inefficiency: OK, you want to live in an efficient, well-managed, totally buttoned down country? Then go to Singapore. Of course, now you get my point.
18. Boots, Tesco, Carrefour, Makro, KFC: for those times when only the Western will do.
19. Shangi-La, Marriott, Four Seasons, Oriental, Peninsula, Sheraton, and Dusit Hotels. For the upwardly socially mobile amongst you.
20. Home is where the heart is: Fortunately, your home won't break the bank in Thailand, well, not if you are careful. Buy your detached house, 4 bedrooms and all mod-cons, for well under £100k in Chiang Mai.
So there you have it. The attraction of Thailand for expats like me. Just don't tell anyone else.