Dining out in the city is not difficult anymore, hasn't been in a long time, since so many fantastic restaurants have opened up, creating an exciting foodies scene to rival the best in the country. And it's not just city venues; some of our best restaurants make you earn your dinner! Opening up by waterfalls, in paddy fields, in forests and up mountains, Chiang Mai's restaurateurs know that if they serve it, you will come!
Tune In Garden, is a splendid restaurant tucked away in the mountains of Mae Rim. It belongs to the widow of the late great writer Rong Wongsavun, a National Artist in Literature and popular Chiang Mai resident who was beloved by students of art and literature and deeply respected by the community at large. He created a phenomenal amount of works in magazines, newspapers, fiction, non-fiction as well as movie scripts. After his death in 2009, his wife Sumalee, turned their house into "The Writer's Secret Restaurant" a truly special dining experience.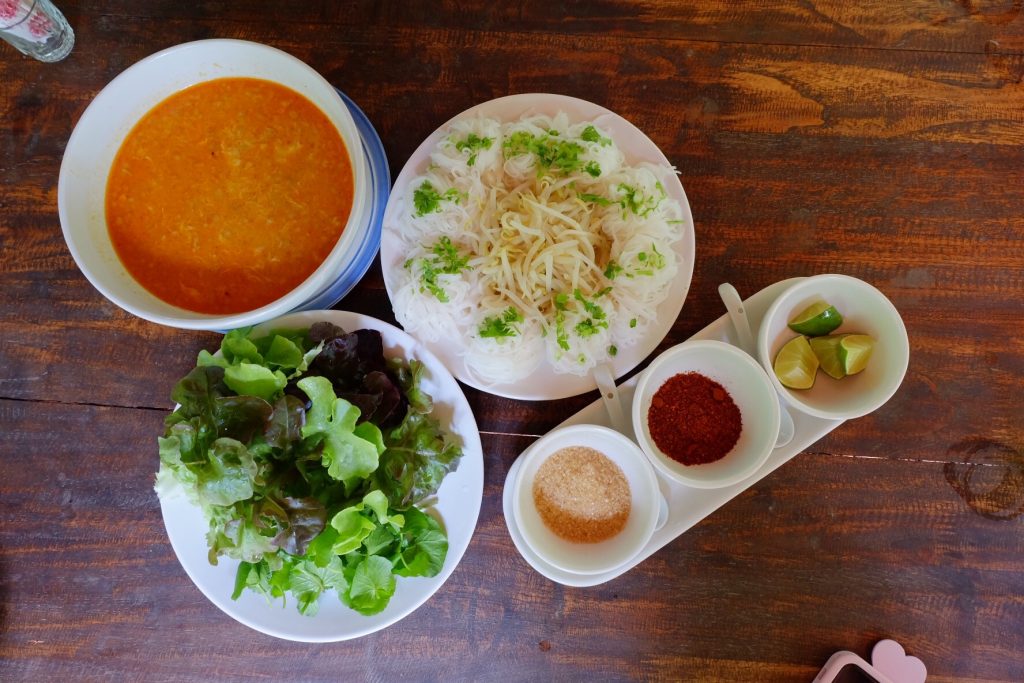 Available only for advance bookings, the restaurant's menu changes depending on what's in season. They serve a lunch and dinner set menu at only 400 baht per person which comes with two appetisers, four main dishes and a dessert.
This is more than just a restaurant. It is a journey into a food experience where you can sit on a tree stump stool in the wild forest scene and quite atmosphere. The owner, Sumalee, chats to all her guests, talking about the story behind each dish while making them feel perfectly welcome. This authentic Thai dining experience is inspired by Rong's favourites dishes, secret traditional recipes handed down through the generations. Every dish uses Thai herbs and spices, which led Sumalee to plant her own vegetables and fruits in her backyard for her cooking, assuring that the ingredients used to cook are clean and safe.
Start with an appetiser of Ma Hor, an slice of orange topped with minced pork and peanut sauce and wash it down with a passion fruit welcome drink. This unique dish combines the sweet and sour of the orange with the salt from the peanut sauce flavours. My favourite dish was the royal dish of Tangmo Pla Hang. The freshness of watermelon combined with crispy fish flakes and sugar cane preserves the natural flavour of all ingredients.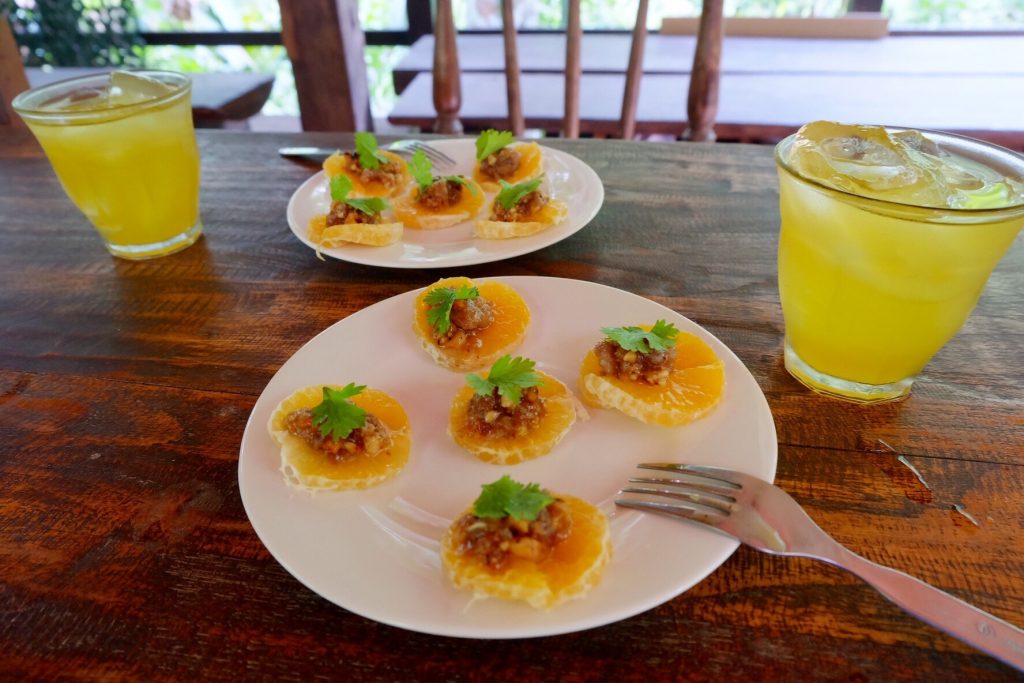 Ma Hor.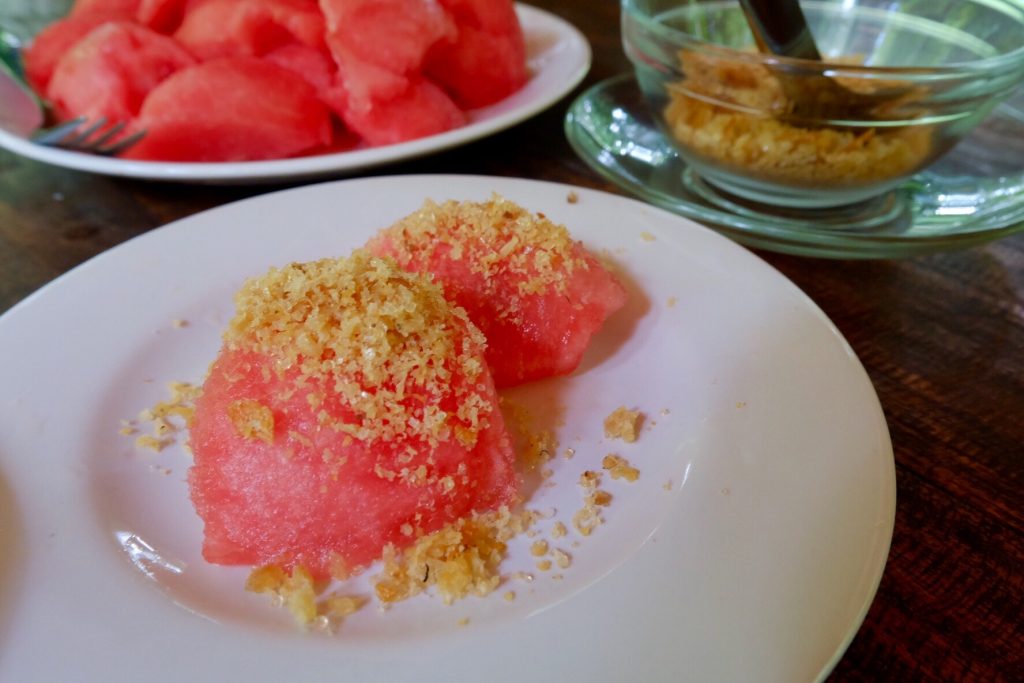 Tangmo Pla Hang.
Now, onto the main dishes. Start off with the, spicy and sour Gang som soup, but with an interesting twist. The "Gang Som Pluek Tangmo" is a spicy soup that adds watermelon peel to its fish and vegetables. Next, I tried the Thai style fern paco salad with shrimps, using the freshly picked fern from the garden. I then tried the deep fried fish with a crispy golden crust which breaks in a crunch under your fork. This is served with sweet and sour sauce. The last main dish is an old-fashioned dish that never goes out of style; Mhee Kra Ti, a white noodle with a minced pork flavourful soup that is made from spices and coconut milk. Last but not least, a Thai dessert for the end of the meal is worth all the calories! Kao Niew Piak Kao Poad, a decadent boiled sticky rice with sweet corn and coconut cream.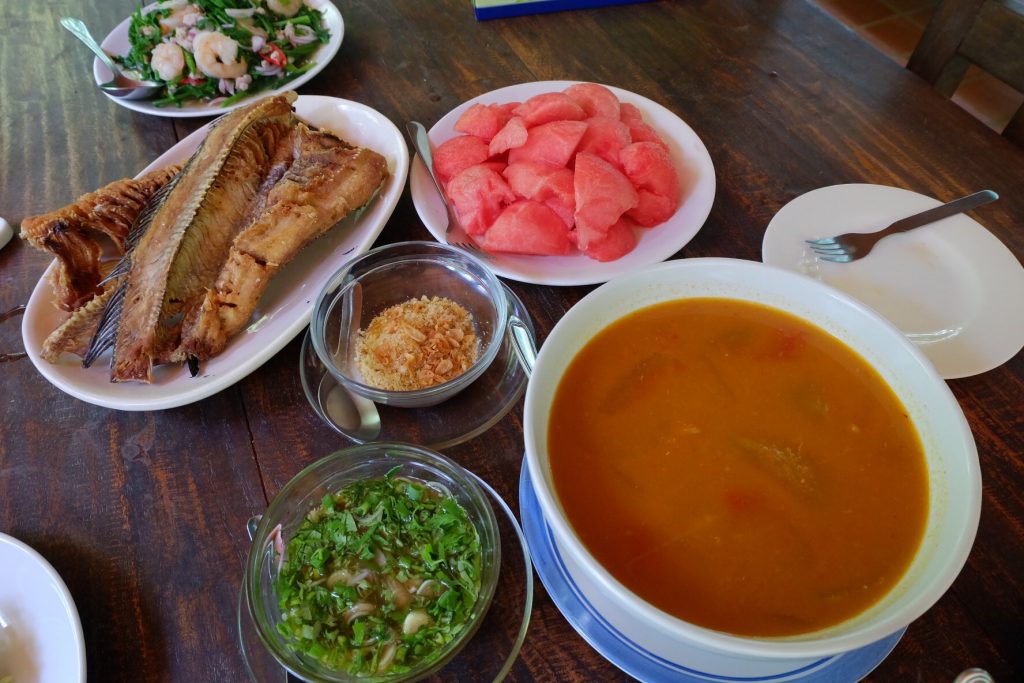 Gang Som Pluek Tangmo and Deep Fried Fish.
This is a truly special experience, where you can go into a beautiful garden like being in a jungle and dine on one of Thailand's greatest writer's favourite dishes.
The Writer's Secret Restaurant
139 Moo3, T. Pongyang, Amphoe Mae Rim, Chiang Mai, Thailand 50180
053 879 251 / 087 185 2951
https://www.facebook.com/Tune-In-garden-378025875669602/?fref=ts