Chiang Mai International School (CMIS) has not always been known for its musical performances. We've always been recognized as a strong academic school with a long history of athletic prowess, dramatic performances and spectacular art displays. Only recently, however, the music program has really come into its own. The secondary school instrumental music program at CMIS got off to a strong start in 2010, under the leadership of Mr. Chuck Sahagian, when the CMIS Parent Teacher Group (PTG) purchased a variety of musical instruments. Since then, the school has continued to support the program by investing in improved facilities, new equipment, and greater opportunities for students.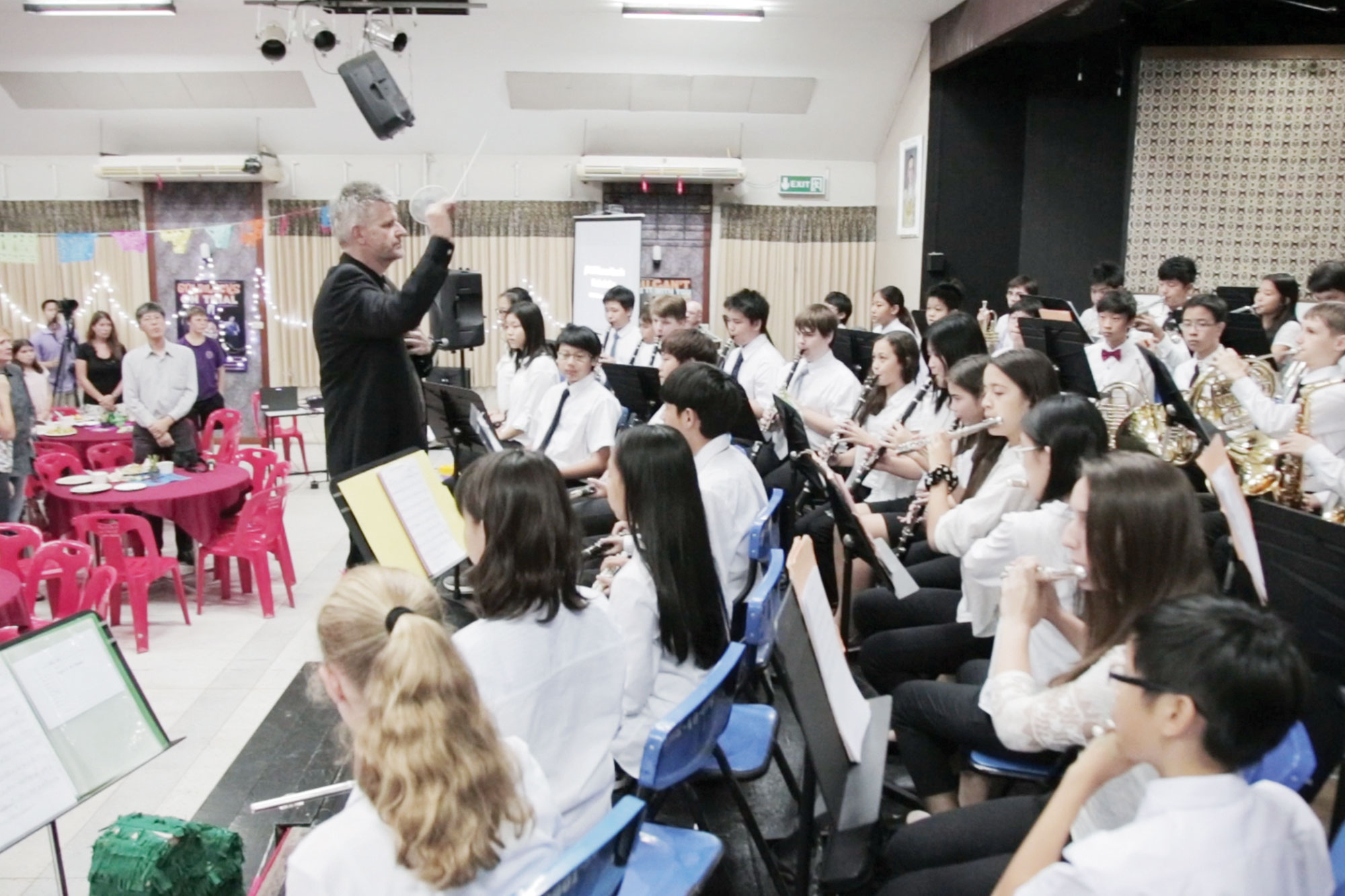 CMIS is making a huge commitment for students to participate in music. This year started off with a brand new, purpose-built band room. The room is a light and airy space with bright colors and considerable acoustic panels. The students enter a room which is pleasing to the eye and of which they can feel proud. This environment encourages the students to give their best efforts. There is also a plan to improve the acoustics and aesthetics of the auditorium as part of the school's development plan.
The school has recently acquired new percussion equipment: a set of four timpani, a marimba, a xylophone and a new drum set. We also added low brass instruments, including a tuba, a euphonium, and three more trombones. In addition, CMIS has also acquired two new double F-horns, a couple of trumpets, and a piccolo. Students are free to check out any wind instrument they are assigned for practice. We are investing in Yamaha wind instruments to upgrade our current inventory. This will give students instruments which are reliable and have great intonation. In addition to instruments, CMIS has invested in new furniture and fittings for the band room; including Manhasset music stands, ergonomic chairs, shelves and storage space for instruments, and sheet music.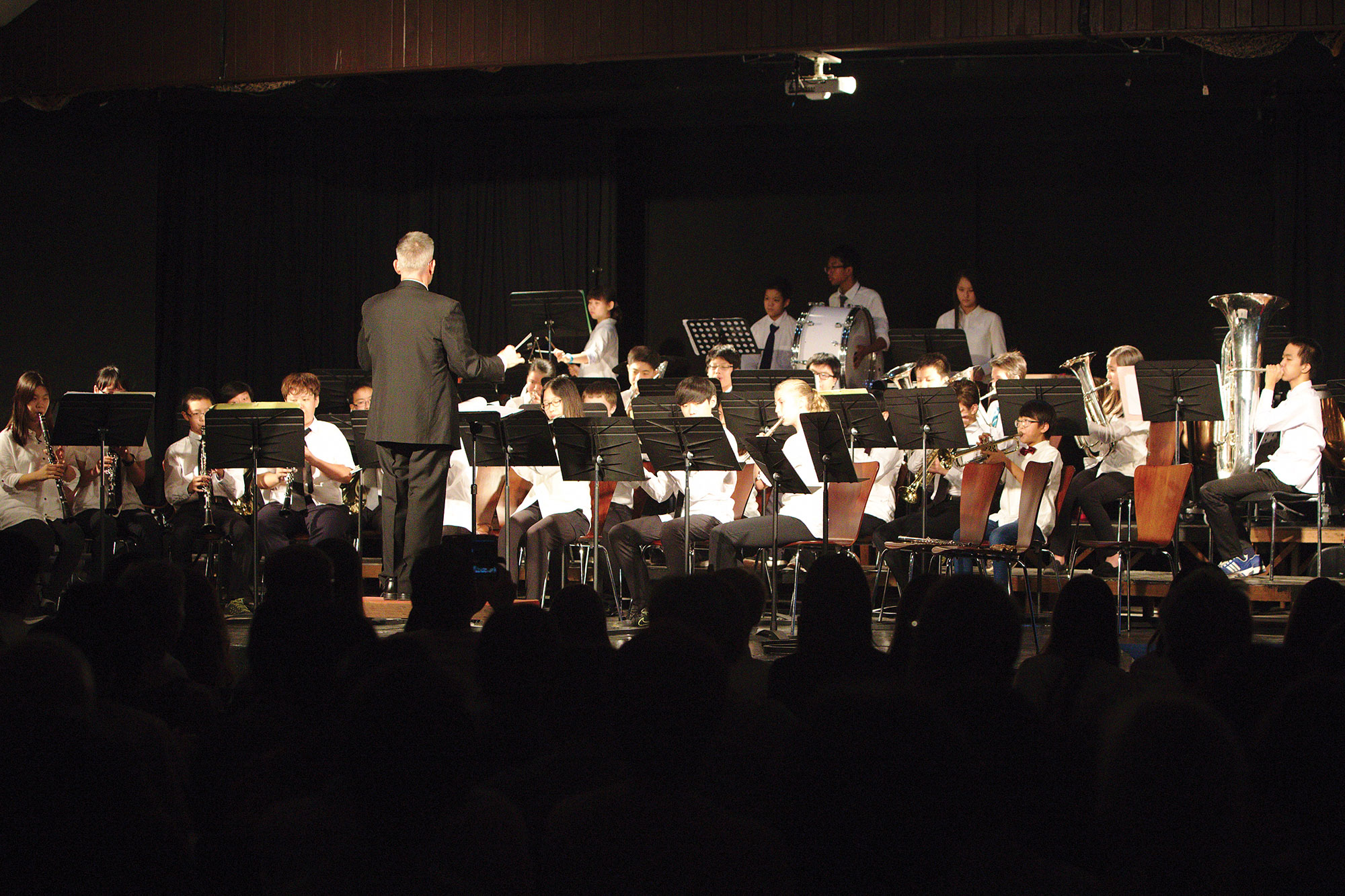 CMIS students may participate in band as an academic subject, as well as an after-school activity. Students are not required to take band, but it is offered as an elective at the middle school and high school grade levels. As a class, CMIS offers three levels of bands: Middle School, Symphonic Winds, and Concert Band. After at least one year of experience, student musicians can also participate in an After–School Jazz Band. The After-School String Orchestra, however, is open to anyone of any experience level. We have a total of almost 100 student musicians, some of whom double on multiple instruments in multiple ensembles. Students who are new to band find that if they apply themselves, they can quickly catch on to how things are done, and will soon fill an important role in the group.
Because we have so many talented student musicians, we can perform a great variety of music for multiple occasions. We play band arrangements ranging from contemporary composers like Maurice White of Earth Wind and Fire to art music composers, such as Haydn, Stravinsky, Holst, and Vaughan Williams. Musicians perform at dramatic presentations, athletic events, religious services, and school ceremonies. As well as formal performances at the end-of-semester concerts, the bands perform informally on campus.
Though all these events bring great joy in teaching the students at CMIS, two events this year really stick out for me. The first was Latin Night on November 17, 2015. This was billed as a fundraiser for developing our auditorium. It brought together many facets of the CMIS Community: the PTG, the Student Government, the Art program and the Music program. The evening started with an all-you-can-eat buffet from Miguel's Mexican Restaurant. Throughout the informal evening, people sat at round tables, eating great Mexican food, listening to Spanish marches and Latin music performed by various music ensembles of CMIS students, and watching a flamenco dance demonstration. The highlight of the evening was when we cleared away the tables and invited the audience to participate in salsa-style dance as the After–School Jazz Band performed Latin Music.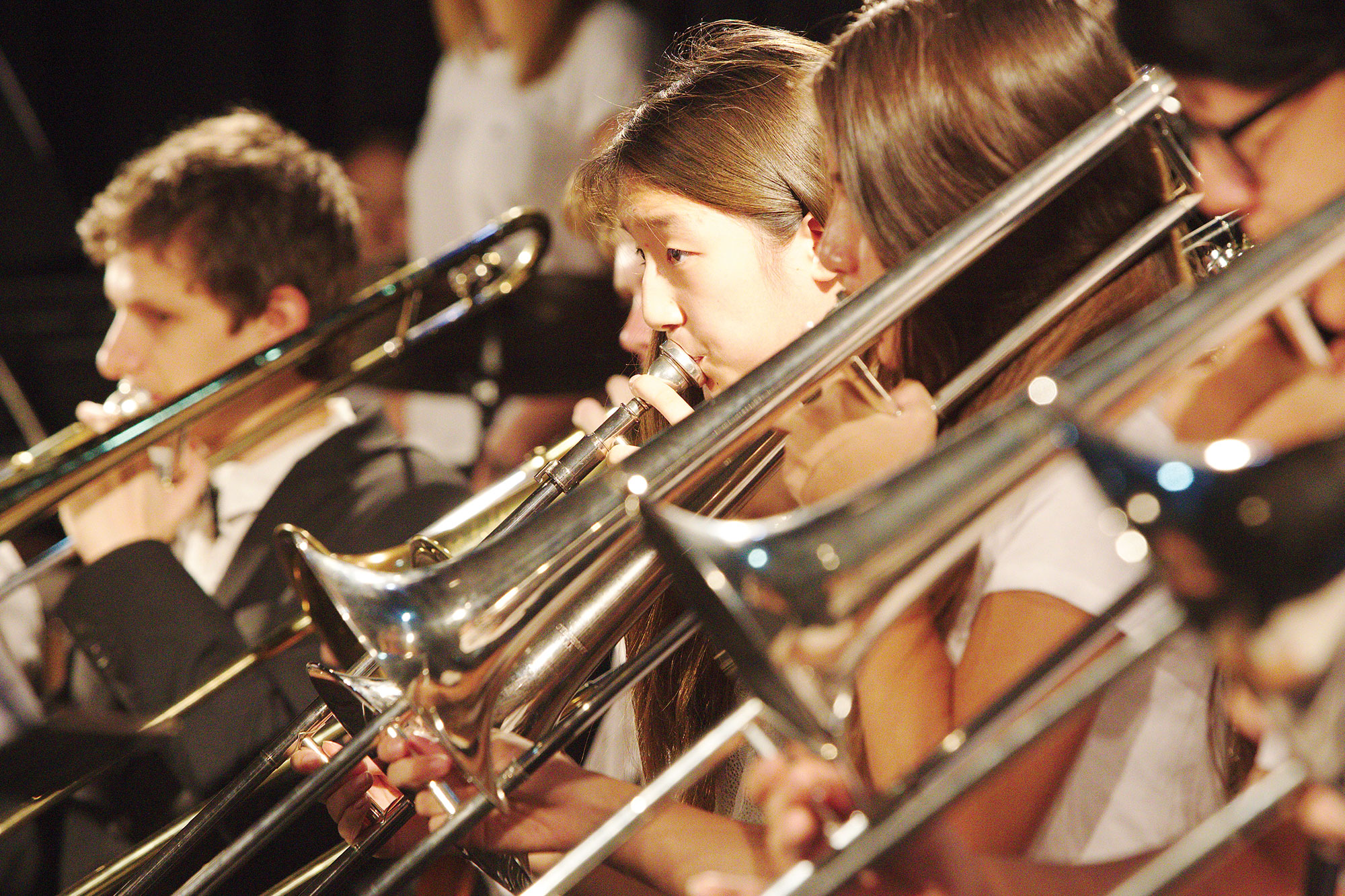 The second event that had a great impact on our musicians happened on March 23, 2016, when the Whitworth University Wind Symphony (WUWS) came to perform with the CMIS HS band. The day started with the CMIS musicians working with Dr. Stauch, Professor of Music at Whitworth University, from Spokane Washington. Later in the morning, the CMIS students were joined by the band members of WUWS to rehearse Frank Ticheli's Abracadabra and Verdi's Dies Irae from his Requiem; two pieces they were to perform together at the concert that evening. After a short break, the WUWS took the stage by themselves and rehearsed their pieces while the CMIS students observed the interaction between Dr. Strauch and his band. I think the best aspect that the CMIS musicians got out of the event was working with kids who are only a couple of years older than themselves and seeing first–hand how much they care about music. You can hear the whole concert by searching YouTube: Chiang Mai International School — Whitworth Wind Symphony & CMIS HS Band concert.
These events make for exciting times for the CMIS Instrumental Music Program. Next year, we plan to work more closely with Payap University and their music students. We are planning to play a work by Chiapruck Mekara, and have the composer direct it. CMIS is also hosting the Chiang Mai International Schools Association Music Festival. This event will open up the whole campus to students from many of the international schools in Chiang Mai. We will also be taking a group of the high school musicians to Bangkok to a mass band festival at International School Bangkok. Next year's big fundraiser will be a Swing Night featuring music from the big band era, 1930s '40s, and early '50s. This will be held in the CMIS Auditorium on March 31, 2017.
The principles of music at CMIS are quite simple. We believe that all students can succeed in music, and that music brings out the best in all who truly participate. Our goals are to develop a sustainable instrumental curriculum and program. This includes a consistent curriculum throughout the bands with a new method book for all the bands. We also plan to increase enrollment in instrumental music by up to 25% each year. We are partnering with parents and local businesses to equip all participants with what they need to be successful musicians. CMIS is constantly evaluating the school schedule, looking to increase opportunities for students to continue with instrumental music, year after year.
Highlight performances:
November 13-14, 2015: Chiang Mai International Schools Association Festival. (Grade 8 Band).
November 17, 2015: Latin Night Auditorium Fundraiser. (Grade 7 Band, Grade 8 Band, Strings Section, HS Brass Band, HS Band, and After School Jazz Band).
December 11, 2015: Elementary Christmas Show. (HS Brass Band, HS Band).
January 28-30, 2016: Pep band at the CMIS Basketball Invitational Tournament. (HS Brass Band, HS Band).
April 13, 2016: Secondary Art Show. (Grade 8 Band).
March 4, 2016: Hope House performance. (Grade 8).
March 10-12, 2016: Choir sang for Secondary production of "Amen Corner". This brought together many people in the community; middle and high school students, teachers, administrators, and parents all joined voices to participate in a well-received production.
March 23, 2016: Combined with the Whitworth University Wind Symphony.
March 24, 2016: High School band accompaniment for the Easter service.
May 14, 2016: After School Jazz Band performed at the Sala Sale.
May 18, 2016: Secondary Music Concert. (Grade 7, Grade 8, String Orchestra, HS Band, After-School Jazz Band).
May 24, 2016: String Orchestra performed at the Awards Ceremony.
June 7, 2016: High School band performed for Graduation.
Harvey Nicholson is in his second year at CMIS. He and his family come to CMIS from Kuwait where he and his wife, Nancy, taught at the American School of Kuwait. Prior to Kuwait, the Nicholsons have lived and taught in India; Iowa, USA; London, UK; and Saudi Arabia. Harvey is a veteran teacher of 22 years, 16 of which have been in international schools outside the US. The family includes three boys, all of whom play stringed and brass instruments.