"Continue the Culinary Journey…"
Last year Shangri-La Chiang Mai took us on a journey unlike any we have experienced here in Chiang Mai before. Over the course of the year Michelin-starred chefs were invited to be guest chefs in Shangri-La's kitchens, where they were challenged with using local produce and collaborating with the hotel's kitchen crew, to create spectacular pop-up feasts for our city's diners.
Following the great success of last year's many special gastronomic events helmed by Michelin-starred chefs from China, France and Italy, Shangri-La's Executive Chef Paolo Pelosi has reached out to his Michelin-starred friends and colleagues again, and this year's lineup of guest chefs promises to be even more extraordinary.
Kicking off the New Year will see two visiting friends of Chef Paolo, one Michelin-starred Chef Marco Stabile from Florence's famous Ora d'Aria Restaurant and two Michelin-starred Chef Gaetano Trovato from Ristorante Arnolfo which sits just outside of Florence.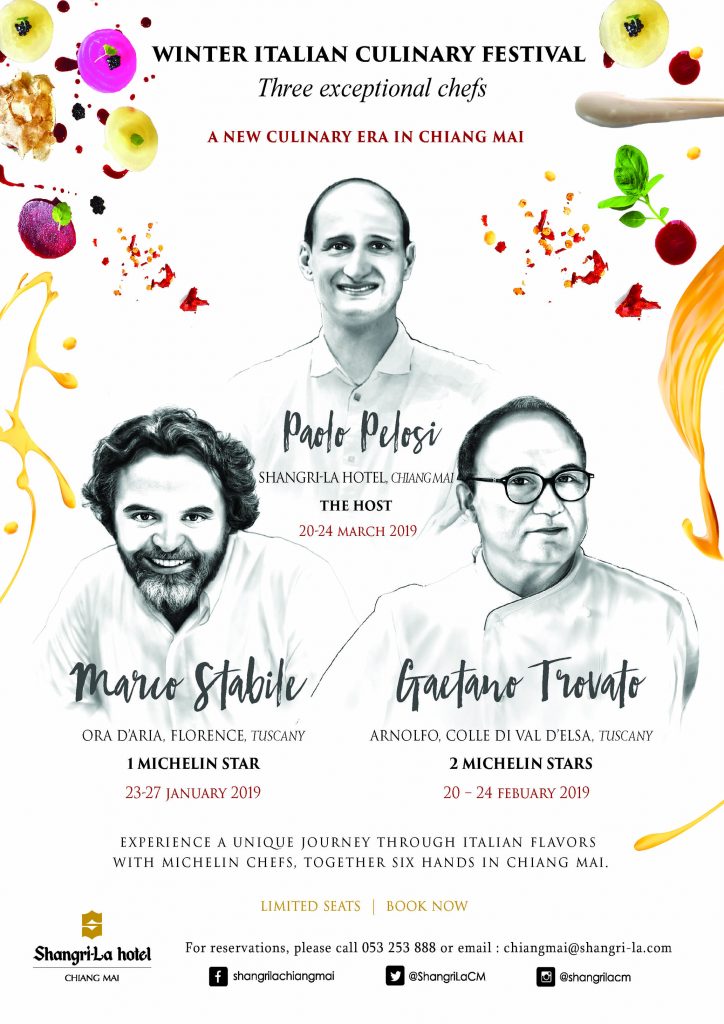 Last year Chef Marco Stabile told Citylife before the launch of his special menu, "In Ora d'Aria the guest feels like to be at home, and the dishes convey the culture and history of Florence. I am aiming to create for my guests an experience where they can happily enjoy my food that creates a happy state of mind and body due to the ingredients I am using and through the way I am preparing them." Following the success of intriguing dishes such as the rich and homey 'The egg, the hen and the eggs', which drew from traditional Tuscan rituals to present a modern take on his grandmother's dish, this year he says that he was so influenced by the many new flavours he encountered in Thailand that he has used it in his cooking. He promises this year to, "cook very new dishes from Tuscany with oriental influences – fish, vegetables and meat will be the protagonist of a very Tuscan-Oriental creative parade."
We have had a sneak peak at his menu and two dishes we can't wait to try is the black cod with Vin Santo teriyaki sauce and slow cooked potato under cinder which Chef Marco promises to be a surprise in its simplicity.
"The mind can travel more than the body," he added, "so come and travel in Tuscany with me [in this journey]."
Other dishes include the intriguing sounding duck leg ravioli on foie gras cream and liquorish powder, lamb cooked under the hay helichrysum pesto and celeriac puree and an extraordinary sounding dessert simply called, 'milk, caramel, salt'.
If the Michelin-star hasn't put stars in your eyes yet, then surely this tantalising menu should.
23-27 January 2019
Dhala Wine Lounge, Level 1
Lunch 11.30-14.30 hrs. THB 1388++ per person
Dinner 18.00 – 22.00 hrs. THB 1888++ per person
Advance reservation required, limited seating available.
For further inquiries and booking Call: +66 53 253 888 or Email us at: Chiangmai@shangri-la.com