I stopped by Sangdee Gallery after work on August 25th for a glass of wine with a few of our writers to find the usual convivial crowd replaced by a handful of expat men huddled over sleek laptops – marketeers, bloggers, online experts of all walks – tensely sipping espressos on the long teak table, huddled in whispered conversation, and startling the staff with the occasional fist bump and shout.
Having known Kyle Barraclough for a few years, I had been following his venture at a distance and had a vague idea what was going on, so I sat down to get an update. For once, Kyle's normally military-like posture was hunched over his laptop in tension, though appropriately, he was impeccably dressed as usual in his signature dress shirt. At seven pm, Kyle told me, he had launched a Kickstarter campaign for his new business, Libertad Apparel, a high performance travel shirt which, he says, is odour, wrinkle and stain resistant, if not free. That night was the beginning of a campaign two years in the making and one for which he had set a target of raising 50,000 dollars within 30 days. As our writers sat bullshit outside over some beers, Kyle's Kickstarter's counter began its uptick, and by midnight, laptops were shut down and caffeine replaced with wine. His campaign had raised not only 15,075 dollars, but Kyle's posture to its default erect-position.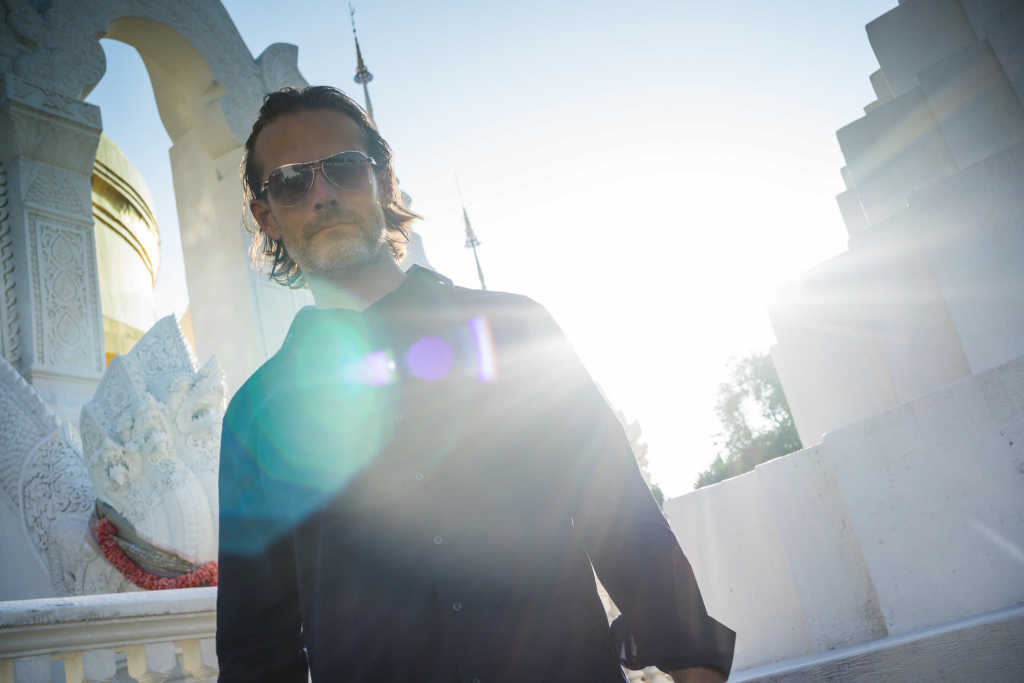 I was so fascinated that I kept tabs on his campaign over the coming weeks, seeing the counter reaching, then exceeding the expected 50,000 dollars to finally closing at 81,400 dollars: a highly respectable sum for a man who hasn't been earning a living for 11 years.
After a tension-filled month of checking his laptop every fifteen minutes – "even at night when I got up to go to the toilet!" – he was now relaxed enough to sit down with me so that I could learn more about his venture.
I'd seen Kyle around for a few years, usually at the gallery, where he is regularly organising some sort of self-help workshop with rather vague sounding names such as entrepreneurial storytelling, building your own professional mastermind group, developing presence, or the rather lofty sounding authentic expression. Not my cup of tea, but always well attended nonetheless.
An earnest man, Kyle is not one for frivolity, nor overt friendliness, but over the past few years I had begun to get to know him as a man deeply passionate and dedicated to his latest venture; a venture he has invested his entire being, and remaining savings, into. And it was lovely to see it bearing fruit.
Kyle is 44 and was born and raised as a Mormon in Los Angeles before heading to Brigham Young University, Utah, to follow his parents' footsteps in becoming a therapist. "I was soon disillusioned by the extreme poverty I encountered when dealing with so many damaged kids; I realised the best that I could hope for was mediocre success, and knowing that I couldn't handle it, I went into the business world where I was soon one of the top sales execs for the hugely popular Monster Inc. during the dotcom boom. After a few years I was earning so much money my house was filled with expensive things I had bought and never even bothered to open."
Again, Kyle became disillusioned and soon spiralled into severe depression. "I couldn't mentally handle the American Dream, the thought of marriage, a house full of children, and the weight of white privilege," he said about his years of greatest success and greatest misery. Having earned a substantial sum of money, he decided to retire at the age of 33 and travel the world.
During a short layover in Bangkok on his way to China, he fell deeply in love with the East. Even though he attempted to return home to live a couple of times, he found himself returning again and again to this part of the world.
"I've tried, and failed at many ventures over the years, but on the most part I simply lost my passion for them. My thoughts kept returning to one idea I had been mulling over for a decade."
Soon after arriving in SE Asia a decade ago, Kyle had found himself sitting on a stifling hot and overcrowded train in Myanmar. Looking around, he noticed that all the locals were beautifully dressed. "They were wearing their Sunday bests for travel," he noticed, "unlike all the backpackers who just looked awful. I wondered at the time why people had to look so sloppy when they travel. And over the years this is something I have always been curious about."
"It seemed that in order to pack a multi-functioning wardrobe that can handle the rigors of travel, people either default to camping style clothes where you have zips and pockets everywhere, or abandon style altogether and look like slobs. There's no need to look like that and so I became more mindful of how I presented myself because I didn't want to disrespect the people around me."
With a loose goal in mind, Kyle enrolled himself at Uangdoi Dressmaking School, "I really got into it. It was great to have a routine, to learn to sew and to have the satisfaction of making something," he said, while admitting that he realised that he was no designer and would never be a master sewer.
A few years ago, with savings running low, Kyle began to circle round to his thoughts on travel apparel. "I began to identify problems and knocking out the answers," in his typical methodical and analytical style. With no knowledge about the industries involved _ fashion, textiles or internet marketing _ Kyle spent his time dedicated to learning.
"Firstly, I wanted to find a material which would answer all my problems," he explained. "The great thing is textile experts are the friendliest bunch online because no one else wants to talk to them! You ask a question in a travel or fashion forum and no one has time to answer you, but I ended up not only gaining so much knowledge, but actually making friends with all these helpful textile chemists. A guy selling chemicals to Patagonia finally pointed me towards Merino wool, a breed of sheep from New Zealand and Australia, known as one of the softest, and most high performing, as well as ticking all of my other boxes. I called up a supplier to get a sample sent over, but found that most of the wool was used as knitted textiles, for thick gowns or t-shirts and socks. I wanted it woven for dress shirts, and fine enough to be comfortably worn in the tropics."
"I had nothing but an idea for 100% wool fabric that was the lightest on the market and kept bumping up against a lack of credibility. I wasn't buying anything in the market, and had no knowledge to explain what I needed in terms of construction. I quickly realised that I needed a partner or consultant and after a couple of months of asking around I found a wool yarn expert doing consulting work. Things started moving forward much more quickly after that."
"I'd already come up with the name Libertad; I speak Spanish and I liked the way it sounded and that it was high concept and involved travel, liberty and freedom, so I had a brand. We then had to commission factories in China to manufacture the wool to our specs, and after seven trials we were satisfied. Then we had to make them into shirts and test them out." By this point, with consulting fees, garment manufacturing, plus customer testing and lots of expensive shipping and taxes, Kyle was down 20,000 dollars.
He soon discovered the great platform that Chiang Mai offered in order to enter the internet marketing world. Through much trial and many errors, listening and learning from the great marketing minds in Chiang Mai, Kyle slowly began to build up an online audience that was eagerly waiting for the launch. In fact, this is the key to success with crowd funding; you bring your own people to the platform. In addition, a couple of dozen key bloggers, writers and high profile people in the travel and key industries were sent shirts for trials and the results were overwhelming.
"These men were wearing my shirts for up to five days while travelling and working all over the world, and they all said that while they sweated like the next person, there was no odour, no stains and far fewer wrinkles than standard cotton shirts. I realised then that I had something special. It really works. And with their help, the word spread."
While it was easy to see Libertad's Kickstarter campaign as a get rich quick scheme, I learned that much time, money and preparation had gone into it. Kyle had spent 3,000 dollars on social media promotions to target athletes such as cyclists, and the travel industry, hiring a professional designer to create his logo as well as design his campaign page, forming relationships with web sites and bloggers who would help him to attract crowd funding for a cut, as well as attracting boosters to take a chance on his merchandise. The media was lined up and a few days after the campaign was launched Libertad was featured in USA Today, The Telegraph as well as The Daily Mail Newspaper (and soon after yours truly, CityNews).
Even though Kyle's campaign ended in late September, through other online platforms, he has now shot past the 100,000 dollar mark.
"While I've conquered this peak, I can now see how many more mountains I have to climb," Kyle told me recently. "The money has basically gone, as we now have to supply, within the next six months, the pre-ordered shirts, as well as expand our product lines. I'm off to Shanghai soon to talk to our manufacturer. With a minimum order of 1,000 shirts, to launch a women's line (La Libertad) or a new colour, I must keep the momentum going."
Kyle has a long way to go, but if his approach and success to date are any indicators, I reckon you could do well by ordering a few Libertad shirts now while you can, at 97 dollars a shirt. If he keeps this momentum going, who knows, Libertad could one day be sold in every airport as THE travel brand…Kyle's ultimate dream.
Order your shirts at https://libertad-merino-travel-shirt.backerkit.com/hosted_preorders.
Prices will jump to 137 dollars after this pre order period.