Now – 6th January
DAD & ME
@ Pongnoi Art Space
053 329 305 info@trickthink.com, artspace.trickthink.com
Art exhibition by Monrudee Thiensart Tuesdays – Fridays 1 – 6 p.m. and Saturdays – Sundays 11 a.m. – 5 p.m.
Now – 28th February
WOVEN WISDOM
@ The Patricia Cheesman Collection Gallery www.studio-naenna.com
Come see a collection of masterpieces from the Studio Naenna Archives 5 – 7 p.m. until the closing reception on 28th February.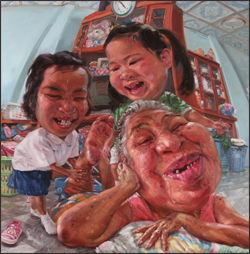 9th – 29th January
THE 20TH ANNUAL 'TOSHIBA BRINGS GOOD THINGS TO LIFE' ART EXHIBITION
@ Exhibition hall, 1st floor, Chiang Mai University Art Centre
053 218 280
The museum is open Tuesdays – Sundays from 9 a.m. – 5 p.m.

17th January
A FLUTE AND PIANO DUO RECITAL
@ AUA language school
081 682 8000, 053 211 377
D&M Music Studio is pleased to present 'A Flute and Piano Duo Recital' performed by American artists, flutist Peter H. Bloom, and pianist/harpist Mary Jane Rupert. Tickets are 300 baht, and 200 baht for students, contact K. Mongkol at 081 6828000.
1st – 3rd January
WHERE IS MY PRIZE
@ ArtSpace
artspacecm@gmail.com or 085 622 6607, 084 041 7982 www.artspacechiangmai.com
One man show featuring the music of Stephen Sondheim. In an evening of music and hilarity. With Antoine Garth on tenor and David Wilson on piano. Doors open at 7 p.m. Show starts at 8 p.m. Tickets are 600 baht and include a drink and a decadent dessert!
17th January
MINI CONCERT AF
@ Kad Theatre, 5 floor, Central Kad Suan Kaew
053 224 444 ext 19008
MAM affiliated CP ALL public company limited will hold the road show to meet and greet with AF artists.
24th and 31st January
ROMEO & JULIET
@ Kad Theatre
053 224444 ext 19008 or 50006
A different version of Romeo and Juliet. Showing at 2 p.m. and 7 p.m. Ticket prices are 450, 350, 250 and 150 baht.

30th – 31st January
THE ULTIMATE ADVENTURE RACE
@ Prem Center
adventurerace@premcenter.org.
The Prem Center is hosting the ultimate adventure race for 12 to 19 year old students. The Prem Adventure Challenge involves two days of physical and mental challenges, conducted in teams of two. Teams will compete in a 20 km on and off-road mountain bike race, a 800 metre swimming leg, a 5 kilometre cross country run through the beautiful hills of Chiang Mai, and the 'Team Challenge' segment of the race, which is a mix of orienteering, and physical and mental problem solving. Prizes include a variety of outdoor equipment.
Now – 10th February
TAT PHOTO CONTEST
02 250 5500 ext 1113, 1120 or Call Centre 1672 www.tourismthailand.org
Tourism Authority of Thailand is hosting a photo contest entitled 'The 2nd Amazing Thailand in Photos' to promote Thai tourism. There are 3 topics in the contest; Nightfall in Thailand, Tourism and Thai Lifestyles, and Thai Tourist Places. The first prize winner will receive 100,000 baht and have their photo featured on the cover of the Thai tourist resource encyclopaedia. Please submit or download an application form on www.tourismthailand.org.
29th – 30th January
'NORTHERN THAILAND PROGRAMMER COMPETITION 2009
@ SIPA Chiang Mai
053 247 282 ext 111, 053 247272 www.competition.thai-it.net
SIPA, BOI and NSTDA will host 'Northern Thailand Programmer Competition 2009', finding the best vocational/university programmer. The programmes for the competition are PHP and C. Qualification round, is on 29th January at Mae Jo University and the final round is the next day at Pantip Plaza.
Now – 28th February
LANNA PHOTO CONTEST
081 922 9063, info@knowledgemediagroup.com
Knowledge Media Group invites all of you to join the Lanna Photo Contest to promote tourism, arts, and the unique cultural and historical heritage of Chiang Rai and Chiang Mai. The theme of the contest is 'Cheers! Chiang Rai, Chiang Mai'. Winners announced on March 31st, with exhibitions from May 1st to July 31st. There will be a dozen generous prizes valued at more than 250,000 baht.
5th – 22nd January
THE 2ND CMRU FUTSAL OPEN
@ Chiang Mai Rajabhat University
Chiang Mai Rajabhat University will host futsal games from 5th – 22nd January, 6 – 8 p.m. Win prizes of up to 20,000 baht.

Now – 11th January
CHIANG MAI WINTER FAIR
@ The area behind the Chiang Mai Provincial Hall
053 112 620
All sorts of wonderful, lovely and supremely tacky local goodies for sale in this annual winter fair. The Miss Chiang Mai contest will be held at the fair.
12th – 19th January
MUD HOUSE WORKSHOP
lynnmolt@hotmail.com, 089 559 0302
http://www.thailandmudhouse.com/mudhouseworkshop.htm
Learn how to build a low cost, low impact Wattle and Daub House with the Thailand Art Community: Art on the Move, in Chiang Rai. Together they create artistic houses with bamboo framing using natural materials found in the immediate environment. You will participate in all aspects of the building.
22nd January
CHIANG MAI FRIENDS GROUP MEETING
053 206 212, 089 433 4926 info@retireinchiangmai.com www.retireinchiangmai.com
The next meeting will be a potluck party to celebrate their 1st anniversary!
10th January
GENIUS CHILD…THROUGH AN ENJOYABLE LAND
@ Central Kad Suan Kaew,
053 224 444 ext 19008
All sorts of activities for kiddies.
Now – 11th January
LANNA MOTOR EXPO 2009
@ Behind the Chiang Mai City Hall
Come see a motor exhibition, Miss Teen Lanna Motor contest and many more activities.
16th-18th January
THE 26TH BOR SANG UMBRELLA AND SANKAMPAENG HANDICRAFT FESTIVAL
@ Samkampaeng
This festival features arts and handicrafts by locals such as umbrellas, wood carving, silver, weaving, and more.
10th January
CHILDREN'S DAY @ CHIANG MAI NATIONAL MUSEUM
@ Chiang Mai National Museum
Chiang Mai National Museum invites children to join activities from 9 a.m. Lunch, snacks and ice cream is free.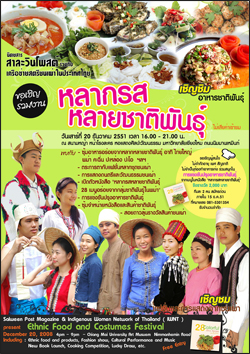 20th December
ETHNIC FOOD AND COSTUMES FESTIVAL
4 – 9 p.m.
@ Chiang Mai University Art Centre
081 530 1354
Salween Post Magazine and Indigenous Women's Network of Thailand (IWNT) would like to invite you to join the 'Ethnic Food and Costumes Festival' featuring cultural performance and music of ethnic groups from Burma. There will be a fashion show, cooking competition, cooking recipes, arrays of food (including Burmese, Kachin, Palaung, Pa-O, Shan etc) and much more.


Every Saturday
FILM SPACE NEW SPACE FOR THINKING
starting at 7 p.m
@ The Media Arts and Design Building, CMU Art Museum, 2 nd floor, Nimmanhaemin Road, by Suthep Road Junction. 053 974846
January: Month of Star Directors…
3rd January:
WHERE IN THE WORLD IS OSAMA BIN LADIN? (2008) BY MORGAN SPURLOCK
10th January:
SAYONARA COLOUR (2005) BY NAOTO TAKENAKA
17th January:
THE BRIDGES OF MADISON COUNTY (1995) BY CLINT EASTWOOD
24th January:
HANA-BI (1997) BY TAKESHI KITANO
31st January:
ANNIE HALL (1977) BY WOODY ALLEN

Every Friday
053 275277
January 2009 Film Programme
9th January
ARSÉNE LUPIN (2004)
By Jean-Paul Salomé with Romain Duris o Kristin Scott Thomas o Marie Bunel o Francoise Lépine
16th January
LES VACANCES DE MR. HULOT (1953)
By Jacques Tati with Jacques Tati o Nathalie Pascaud
23rd January
TRAFIC (1971)
By Jacques Tati with Jacques Tati o Maria Kimberly o Marcel Fraval o 96 mn o No Eng. sub-title.
30th January
LA GRANDE VADROUILLE (1966)
By Gérard Oury with Bourvil o Louis de Funés o Terry Thomas – Claudio Brook o Andrèa Parisy o Colette Brosset o132 mn o No Eng. sub-title.