"Whereas in the past the Halal economy was solely dedicated and focused on Muslims, today, as seen by the rapid growth of the industry, we can firmly say that it is Halal for all," said Associate Dr. Winai Dahlan, Founder Director of the Halal Science Center Chulalongkorn University, during a recent visit to Chiang Mai.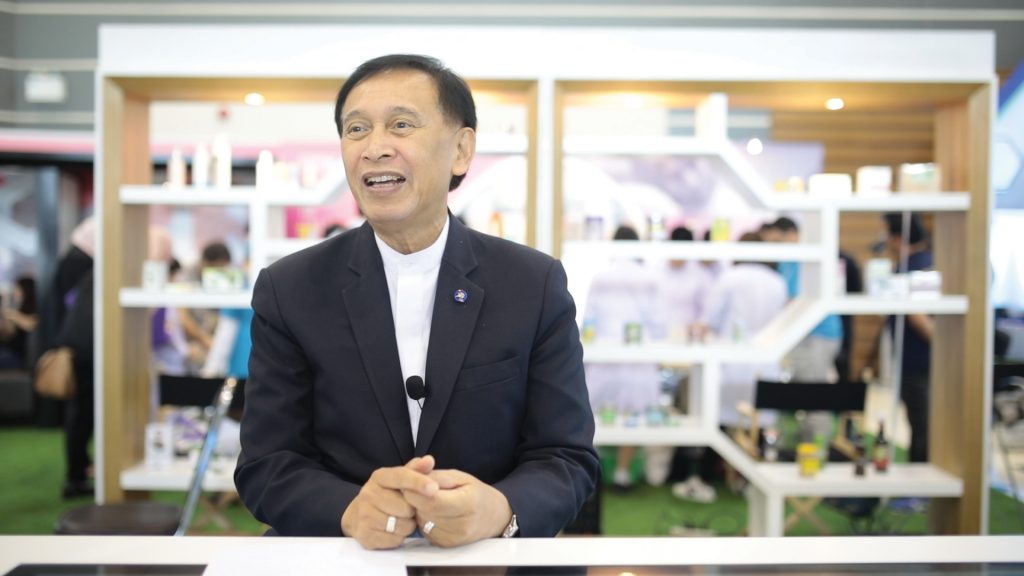 "The numbers speak for themselves," continued Winai who cites 2016's Halal export numbers from Thailand to Muslim countries at 200 billion baht, making Thailand the 13th largest exporter of Halal products in the world. "We expect to see a 10-15% growth by 2030 which is very achievable when recognising that around 30% of world population is Muslim. This number could rise even more if we can position ourselves to sell to non-Muslim markets."
Japan and Korea are two non-Muslim countries which have been interested in Halal products from Thailand due to the rigorous quality control and high standards which all products have to pass before being certified Halal. "It is not easy to get a Halal certification because of the exacting standards for hygiene, the screening for any chemicals, germs or imperfections and the oversight required for the entire process from start to finish. This stamp of Halal approval is therefore a stamp of quality."
"There is also a moral element to Halal's desirability," continued Dr. Winai. "While there is still controversy as to whether the Halal method of animal slaughter is cruel, there is no consensus as to whether stunning an animal prior to killing is more humane than not. This is debatable as we find that there is pain in stunning the animal therefore we believe that a clean quick kill is actually more humane, a line of thought which more and more non-Muslims are beginning to come around to. Islam insists that this is humane and we see no argument yet to convince us otherwise. Then there are ethical and moral issues such as conservation and sustainability which are ingrained in the Halal code and which falls in line with the way the world is heading these days."
Dr. Winai says that he has noticed in recent years the markets have been knocking on Thailand's Halal doors, not vice versa. "In the past when we talked about food it was for four reasons; to fill our stomachs, to create happiness, to gain needed nutrients and to prevent disease. Today we are adding a fifth element and that is the soul. The world trend is heading towards conscientious eating and this is where Halal fits in very nicely."
"Today we are adding a fifth element and that is the soul."
Thailand was the first country in the world to have its very own Halal Standard Institute and Halal Science Center. In 1995 when the Central Islamic Council of Thailand (CICOT) was founded under HM the late king's advisor, Halal certifications began to be issued, an official stamp of Halal approval. Today the Thai Halal Institute is one of the most prestigious in the world with delegations from both Muslim and non-Muslim nations visiting frequently for advice on all matters Halal and Thai members of the institute being invited by many governments around the world to offer expertise.
The institute not only offers advice and resources for any business interested in being Halal certified, but also sets standards and then constantly inspects and monitors businesses to ensure that they maintain their standards.
"We have had great success domestically as well as on the world stage and this year our aim is to get focused," continued Dr. Winai, "which is why our new project is called Precision Halalization. This project aims to use technology, especially digital technology, to cut costs, streamline the process of becoming Halal certified as well as to have more precision-based inspections so that the hundreds of volunteer Halal inspectors across the nation can target precise areas of concern, wasting as little time and resource as possible. It is all about streamlining our process so that more and more companies can become Halal certified. With the use of technology much can now be done online."
Today there are 40,000 businesses in Thailand with a total of 160,000 products with Halal certification and the number is growing.
"We have undergone a digital transformation over the past year," said Dr. Pradorn Sureephong, of Chiang Mai University's College of Art, Media and Technology who is also the Assistant Director of The Halal Science Center, Chulalongkorn University.
"In the past volunteers for the Islamic committee would have to regularly and physically check every step of the process of certification, but now we have tablets and programmes which help quicken the process greatly. There are 39 provinces now with volunteer staff working to help businesses all over the country gain their certification."
This will mean that our inspectors can ascertain all elements in the food with great precision and speed.
"Before, you could just look at pork or chicken to see what meat it was," continued Dr. Pradorn. "But today there are chemicals and additives which must be inspected. So we are developing a scanning system so that the E and INS code, which is put on food labels and which only scientists understand, can be scanned and sent to the institute for fast and correct checks. This will mean that our inspectors can ascertain all elements in the food with great precision and speed. A simple smartphone can be used to do the scanning and then our vast database will be searched and soon the product's Halal certification is completed."
"Our Halal Route application is also gaining traction," continued Dr. Pradorn, "with 500 halal restaurants all over Thailand featured. And, now we are launching the H Promo application that adds many new features such as promotion, data analytic, and big data. The app works like the popular food review app Wongnai and meets the growing needs of the 3.6 million annual Muslim visitors to our country. This is 10% of the total tourist numbers, so it is very significant."
"It is all about collecting precise data and making them accessible to those who need it," added Dr. Pradorn. As our market gets bigger, more and more non-Muslim businesses as well as consumers will be attracted to us, not only through our high quality, but also the technology used, the marketing incentives offered and the variety and creativity of the goods and products available."
Thailand's government aims to be the fifth largest exporter of Halal products by 2020, a fairly ambition goal which appears to be achievable, considering the great strides the Halal Institute has taken in recent years.
www.halal.or.th