It was a scorching hot day in Chom Thong, but the large wooden building in Wat Phra That Chom Thong Luang, with its gently whirling fans, offered much needed respite. Sitting in a quiet dark corner on the polished teak floor was a bespectacled man working under a bright white light. His attention oscillating between a 400 year old palm leafed manuscript and a laptop whirring in a frenzy against the heat. Across the room, a young monk was gathering his tools, preparing for his presentation.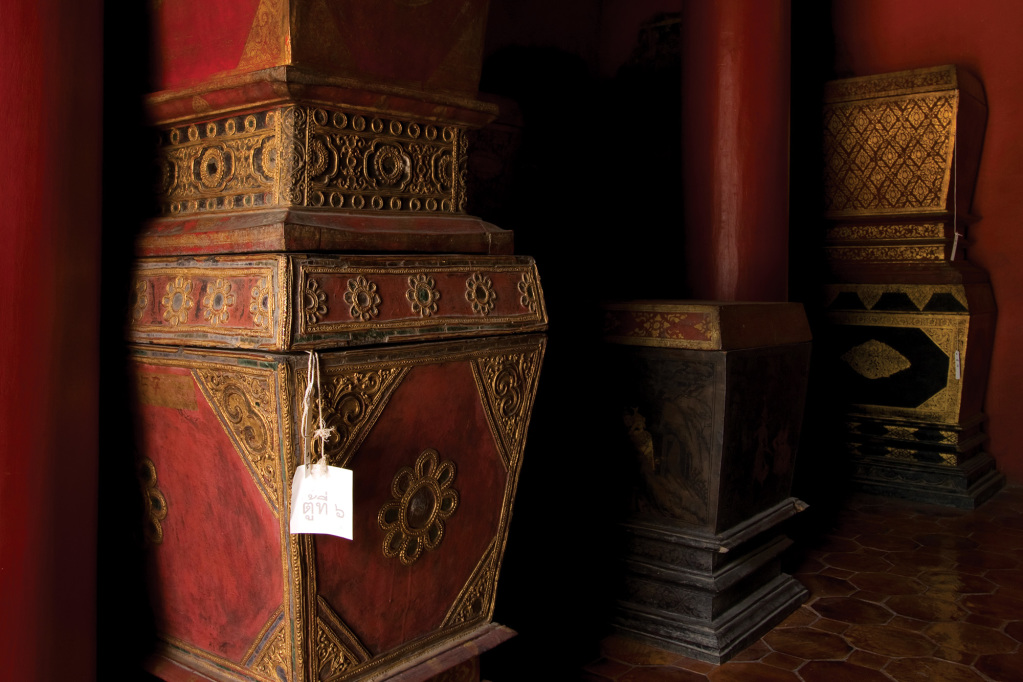 I'd joined a small group of journalists who were invited by the German Embassy to spend three days, led by Professor Dr. Harald Hundius, visiting temples which housed some of the North's rarest Lanna manuscripts. It is believed that palm leaf manuscripts have been in use in Asia since the 5th century BC, with the oldest, being a 9th century AD manuscript being found in Nepal. Palm leaves were used like paper to record mainly Buddhist teachings but also many other written documents in the north of Thailand up until the advent of the printing press. With Thailand's more tropical weather, it is a miracle that so many have survived. The process of creating palm leafed manuscripts is long, tedious and exacting often taking weeks if not months to cut and cure the leaves in readiness before scribes are able to write onto them, yet another lengthy process. Most manuscripts are copies of one another, generations passing down tales of Jataka or Dhamma, like Chinese whispers.
A Herculean Task
To give us an overview of Lanna manuscripts, we had driven to Phrae's Wat Sung Men, where the largest collection of palm leafed Lanna manuscripts in Northern Thailand has been stored for centuries; Wat Lai Hin in Lampang, where Lanna's oldest manuscript are preserved in pristine conditions; as well as Wat Duang Dee, Wat Chedi Luang and Wat Phra Singh in Chiang Mai, all of which have exquisite repositories containing treasure chests filled with these rare recordings of history.
At nearly every temple we went to, Prof. Hundius, was greeted for what he was, a long lost friend, returning to some temples for the first time in four decades.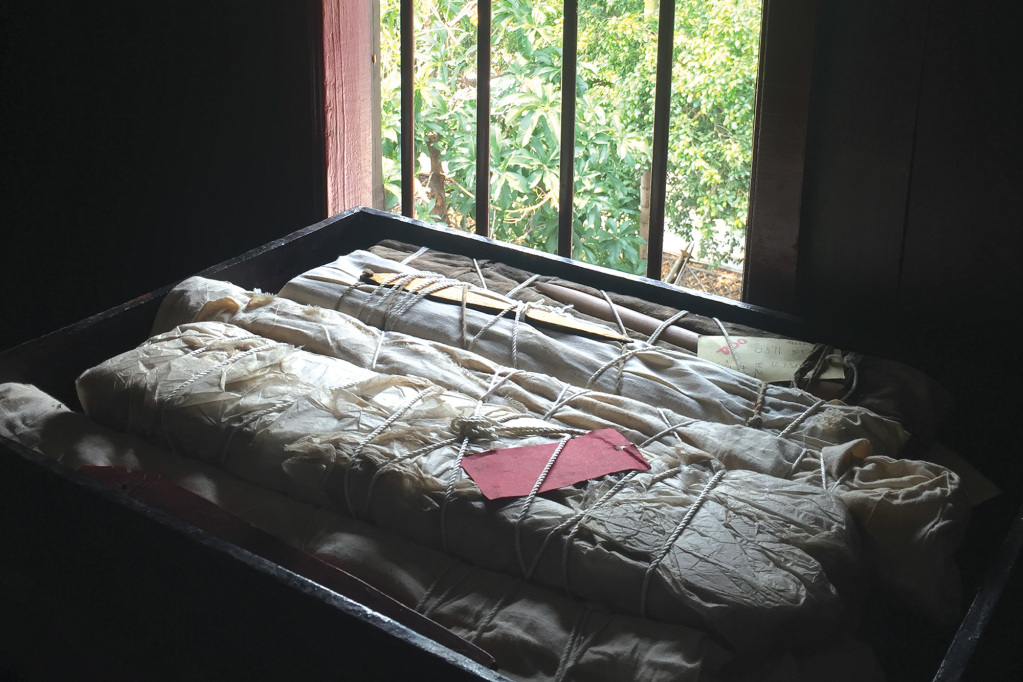 Over forty years ago, in the early '70s, Prof. Hundius, 77, then a student of Thai and Laos studies, who holds a doctorate in Lanna language and literature, received a grant from the German Research Foundation to conduct a survey of Lanna manuscripts. Nothing like this had ever been done before, and he had to rely on word of mouth, traversing across eight provinces in search of manuscripts stored in hundreds of Buddhist monasteries as well as public and private collections throughout the north. A total of 1,350 valuable texts, many of which have since been lost, were microfilmed. A further 25,000 pages were copied by hand into notebooks. All works were done on-site and texts were categorised as well as tagged for future reference.
Then, between 1987 to 1991, Germany's Cultural Preservation Programme funded another project led by Chiang Mai University, which saw Prof. Hundius and his team of volunteers meticulously microfilming, rewrapping and returning to original storage, a further 4,200 manuscripts from 53 northern temples.
More recently, in 2013, again with support from the German Foreign Office, with funding from the University of Pennsylvania, Henry Luce Foundation and the Andrew W. Mellon Foundation, in cooperation with Chiang Mai University's library (which has housed the microfilms since 1991), and implemented by the National Library of Laos, the microfilm collections, as well as handwritten copies, were digitised, and as of March put online. The Digital Library of Northern Thai Manuscripts (LannaManuscripts.net) is an ongoing project which hopes to digitise a total of 7,000 manuscripts by its completion.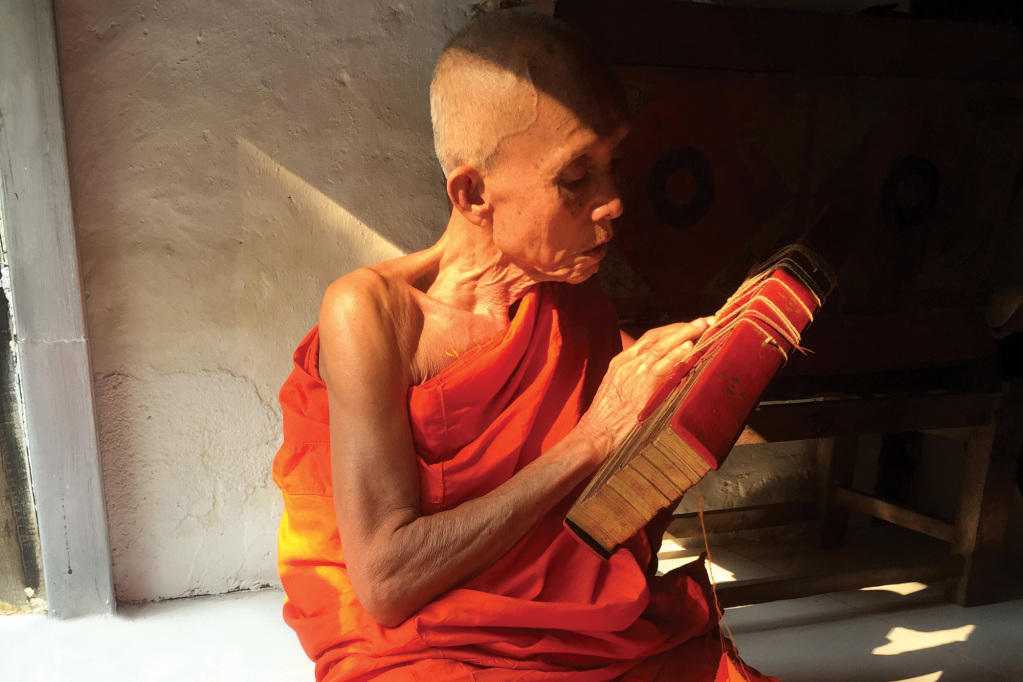 "There are so many such documents out there that are unstudied," said Prof. Hundius of the manuscripts which are written in Lanna, Tai Khuen, Tai Lue, Lao, Tai Yai (Shan), Burmese and Pali, "researchers used to have to travel to often-remote temples, search through badly categoriesed archives to read documents on site. By digitising them all and making them available online, there's hope that they will be widely read and perhaps new information will be revealed about so many facets of life hundreds of years ago."
The importance of this four-decades task strikes home when hearing that about half the number of manuscripts microfilmed in the late eighties have since been lost; some to temple fire, others to termites and many more to lack of proper care and preservation. Manuscripts were often loaned out for scribes to copy and many failed to be returned, while others were simply lost through neglect. Initially there was concern about revealing the location of manuscripts on the web site in fear of theft, but after consulting international lawyers the team decided that temples would become more responsible if ownership was made public.
Scanning for Posterity
The importance of this project cannot be understated, as Prof. Justin McDaniel, project director from the University of Pennsylvania said, "The Preservation of Northern Thai and Lao manuscripts…has been one of the greatest achievements in cultural preservation in Asian history. Lao and Northern Thai manuscripts written in a variety of scripts are an amazing source of information about everything from botany to law, religion to literature, medicine to ritual and other foundational elements of local culture."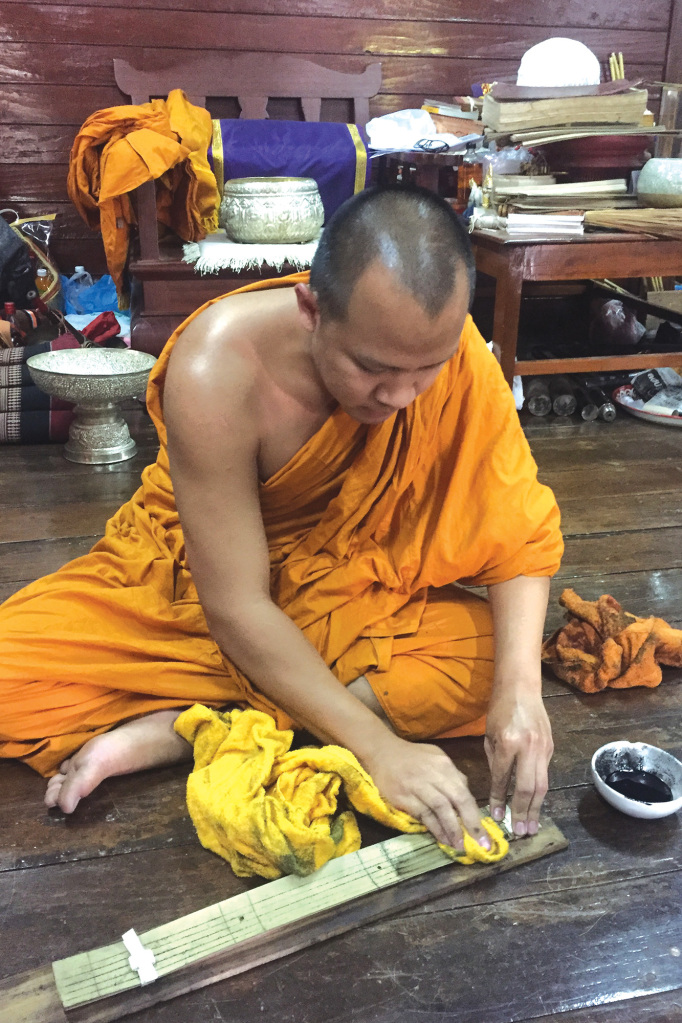 "It is interesting to see how different some texts are when told in Pali, or Tai Yai or Lanna, and by different people at different times and places," said Prof. Hundius as we sat down to watch Phra Maha Prasert Siriboonyo, the young monk at Wat Chomthong Luang demonstrate a Cliff's notes version of the complex and time consuming process of making and writing on a palm leaf. "It is very dynamic and you never know which was copied from which as it is normal for a scribe to add his own input or take liberties, especially with the non-religious texts. Many stories are taken from local myths and adapted into a Buddhist frame work, so as scholars, we have to really read between the lines."
After a beautiful traditional recitation of a prayer from one of his own hand-written Lanna manuscripts, the young monk and a leading expert at the temple in Lanna scripture, grinned in agreement, "Sometimes a monk hundreds of years ago was high on smokes when he wrote it, I can't perpetuate a mistake so I have to do research and correct it, it's hard!"
Since 1997, the Germany's Cultural Preservation Programme has funded a total of 730,000 Euros towards the Preservation of Northern Manuscripts Project which includes research, preservation and digitisation. There are currently two staff, taking turns on one laptop, visiting temples to record these fragile texts for prosperity.
"Digitisation is not to be seen as replacing the originals, it's about access. The main goal is also preservation," said David Wharton, the project's technical director who also worked on the now completed Digital Library of Lao Manuscripts.
Retracing 40 Year Old Steps
On the first day, our group had spent time in Wat Sung Men in Phrae, where the abbot recalled meeting Prof. Hundius in the late eighties when he himself was a mere novice. We were taken through the temple to admire its museum as well as to visit the moat-lined repository which houses the greatest collection in the north of Thailand. The temple's founder, Kruba Kanchana, born in 1789, was a highly revered monk, patronised by the then-ruler of Phrae, who travelled extensively throughout the region — Luang Prabang, to Kentung and as far as Cambodia — to study manuscripts, transcribe them and bring them back to his home village where the community is still today actively involved in their preservation, even having an annual tradition, tak dhamma, to ceremonially clean and store these manuscripts.
When we entered the courtyard of the beautiful Wat Lai Hin in Lampang on the trip back to the city from Phrae, Prof. Hundius walked hand in hand with the abbot whom he worked with so many years ago. A representative of the German Embassy made a ceremonial offering of a thumb drive to the abbot, which contained masses of digitised manuscripts, witnessed by not just the press, but the villagers who then took us to see the oldest manuscript in the north, a 1471 year old jataka, telling of the lives of the Lord Buddha.
As we peered in reverence at the manuscript, Prof. Hundius and David Warton chatting in fluent northern Thai to the abbot about its condition, Somsak Manosom, a 65 year old villager who later told me that he had worked with Prof. Hundius and many other researchers decades ago, whispered into my ear, "So sad that Thai people don't know how to read Pali, every farang I have ever met knows it well! I wish more Lanna people would see the value in these documents. I am going to ask my grandchildren to show me the web site when I get home."