It was one year ago, nearly to the day, when we first met Chef Marco Stabile, the Italian Michelin starred chef and owner of Tuscany's famed Ora d'Aria restaurant. Having spent years working in some of Italy's most famous kitchens, Chef Marco rapidly rose in Italy's competitive culinary world, and not only is he the owner of his own famous restaurant, but he is also a coveted teacher at some of Italy's most prestigious culinary schools such as the Academia del Gusto in Arezzo. He was invited to Chiang Mai last year by Shangri-La Hotel as part of the hotel's then-start of a culinary journey that would see one Michelin starred chef after another come to our city to treat us with some of their best and most innovative dishes. Since then we have been spoilt by Michelin starred chefs – one and two stars – from the UK, China, France and Italy, each of whom has brought a new dining experience to Shangri-La's foodie fans.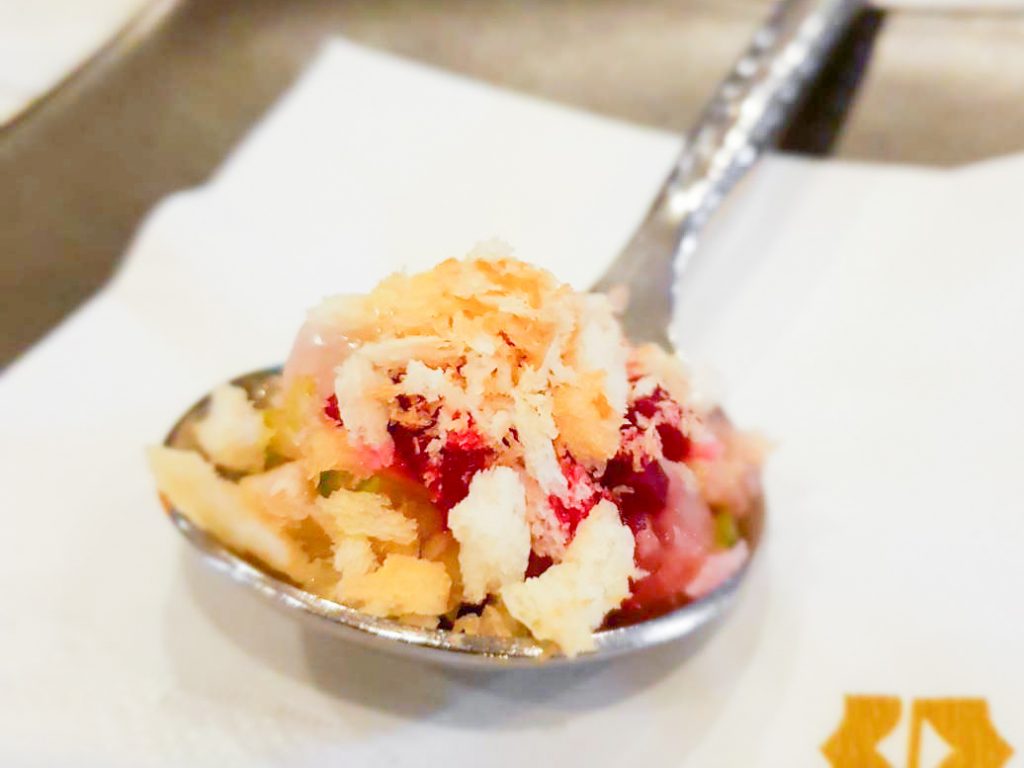 As the moon shone bright on our winter's night, we enjoyed the first feast by Chef Marco, who will be serving special lunches and dinners from now until the 27th January.
This year, Chef Marco has created a menu focused on the Tuscan winter, "Imagine sitting by a fire on a cold winter's night, that is what I want you to feel," he explained at the start of the feast.
And feast it was. Over the next six courses, each paired with a well curated wine selected by Chiang Mai's only resident sommelier (who took the night off as he was practicing for his upcoming world sommelier championship in Belgium between 11th and 15th this March), we were transported to a chilly starry night in Italy's spectacular Tuscany.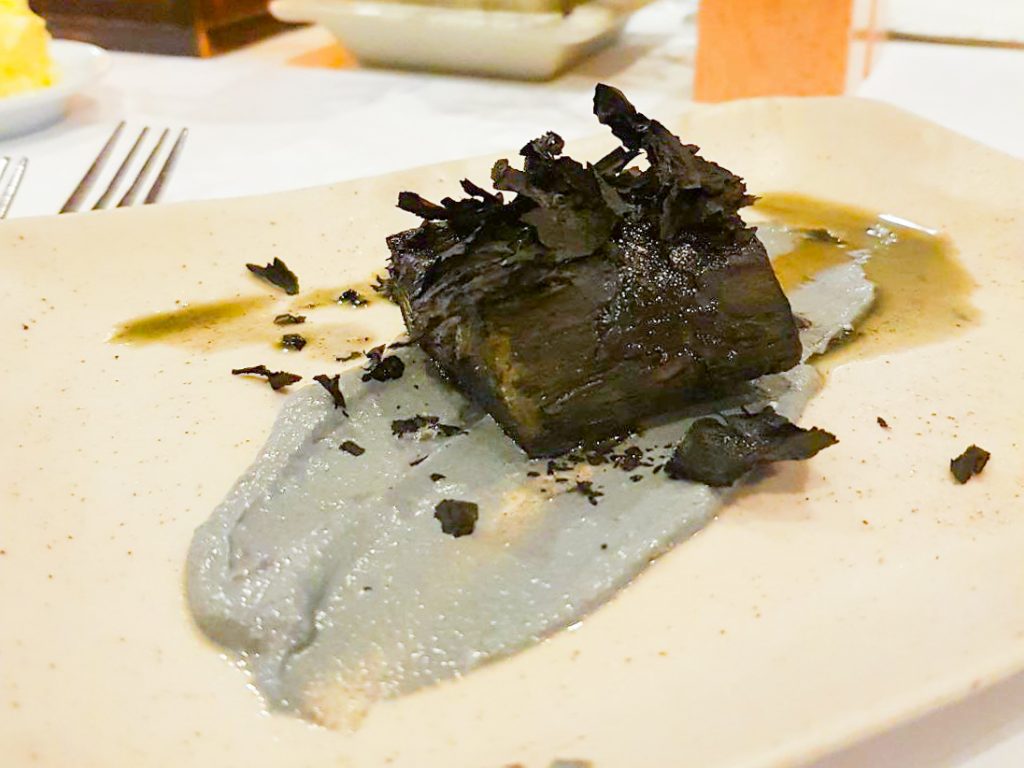 A tiny amuse bouche, both savoury and tart, kick started the meal, its only cryptic description was, "it's animal and vegetable". Soon we were oohing and aahing as the first dish arrived. 'Slow cooked potato under hash,' was the rather enigmatic name for what initially looked like a burnt log, with ash detritus. But after the first bite, we realised that the 'log' was an under-the-tinder cooked potato infused with musky smoke while the 'ash' was dried black squid, served with a cream of goat's cheese and lemon, which cut through the potato's creaminess – the best of comfort food with so many twists. It seemed fitting that this dish was served with the hay-coloured and well-rounded and slightly spicy Gewurztraminer.
Next was the 'duck leg ravioli on foie gras cream and liquorish powder', a surprisingly adorable presentation of dime-sized raviolis, rich with the gamey flavours of the duck, aromatic with the light foie gras sauce and surprisingly sweet and tart with the addition of the liquorish. When paired with the deeply perfumed Palacio del Burgo Reserva Rioja, the wine's hint of blood orange complemented the gamey duck to perfection.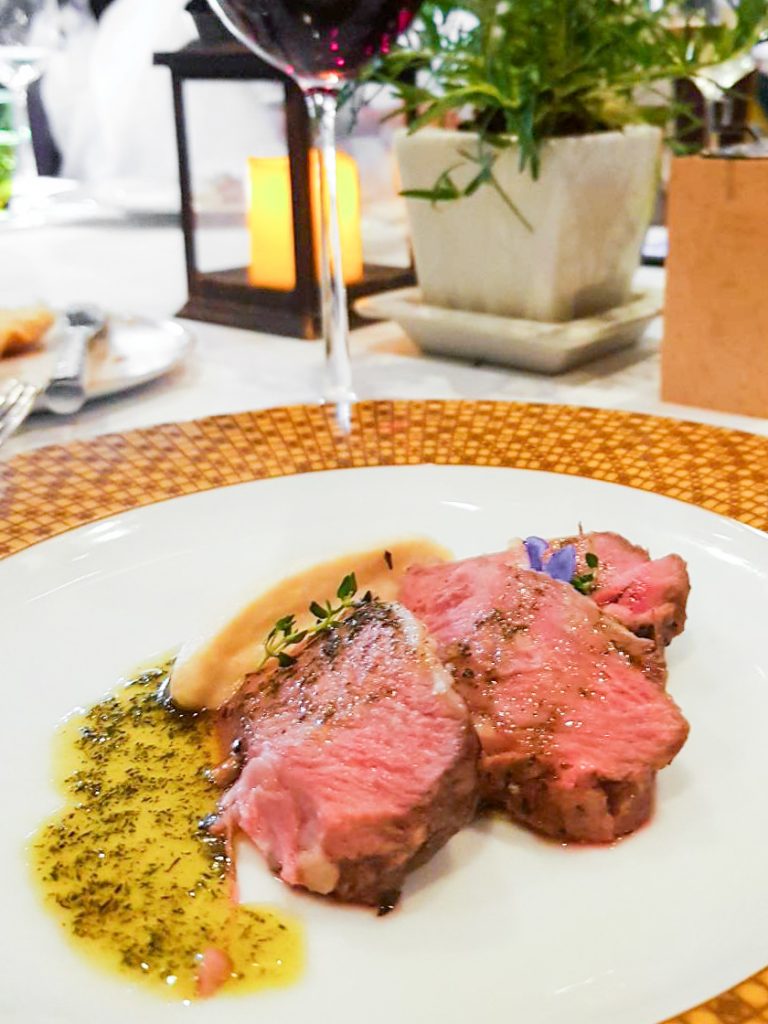 After the heavy pasta came the light and wonderfully balanced flavours of the Tuscan-Japanese pan-fried black cod in 'holy' sweet Vin Santo wine and teriyaki sauce, served with carrots; its flavours drawn out by being cooked with kaffir leaves. The fish was simple and moist, and the sauce on the right side of sweet.
The final savoury dish was a slow low-temperatured 2.5 hour hay-baked lamb shoulder cooked 'fieno' style (with hay) with an extraordinary pesto made from the bitter helichrysum flower and served with a celeriac purée.
The  pièce de résistance was the simply named, 'milk, caramel, salt,' a joyous celebration of the three simple ingredients with surprising nuggets of crunchy caramel, rivers of salted warm caramel, a panna cotta of milky caramel…all under a cloud of foamy milk.
Chef Marco will be presenting his special Oriental-inspired Tuscan menu to Chiang Mai's gastronomes over the next four days.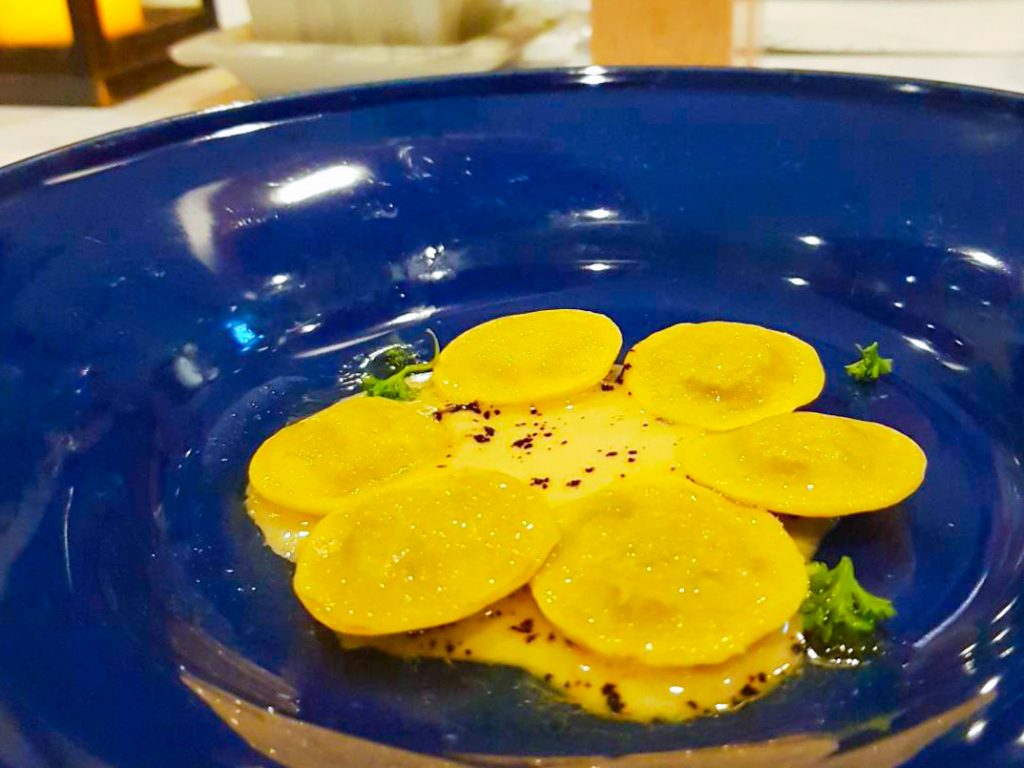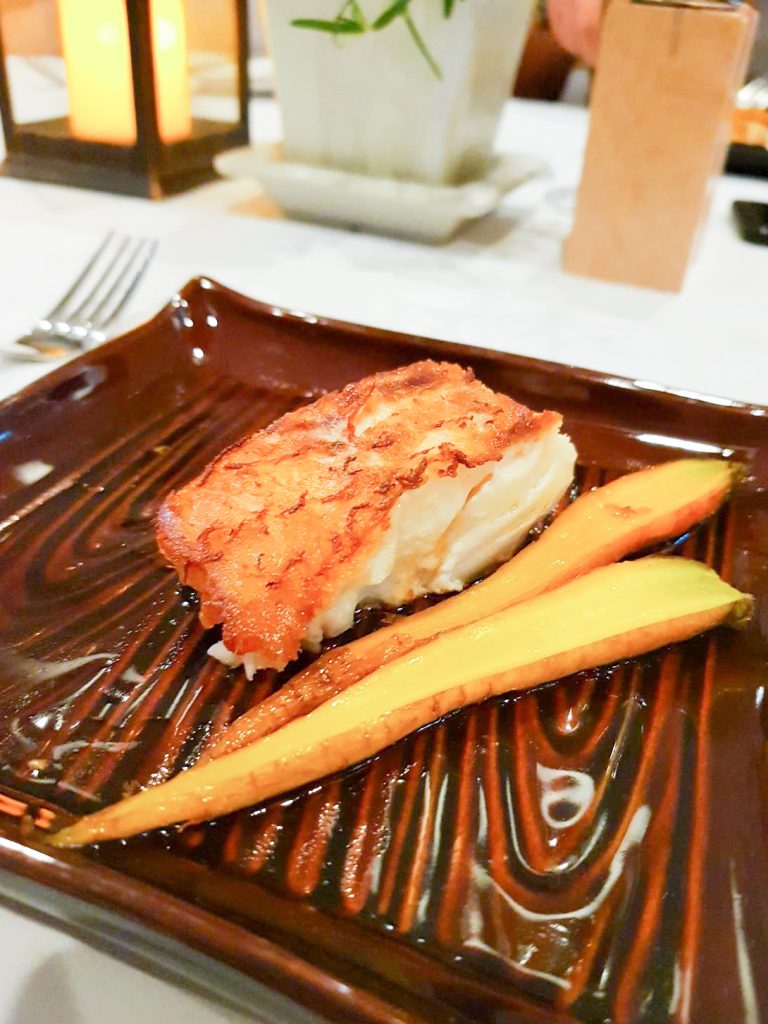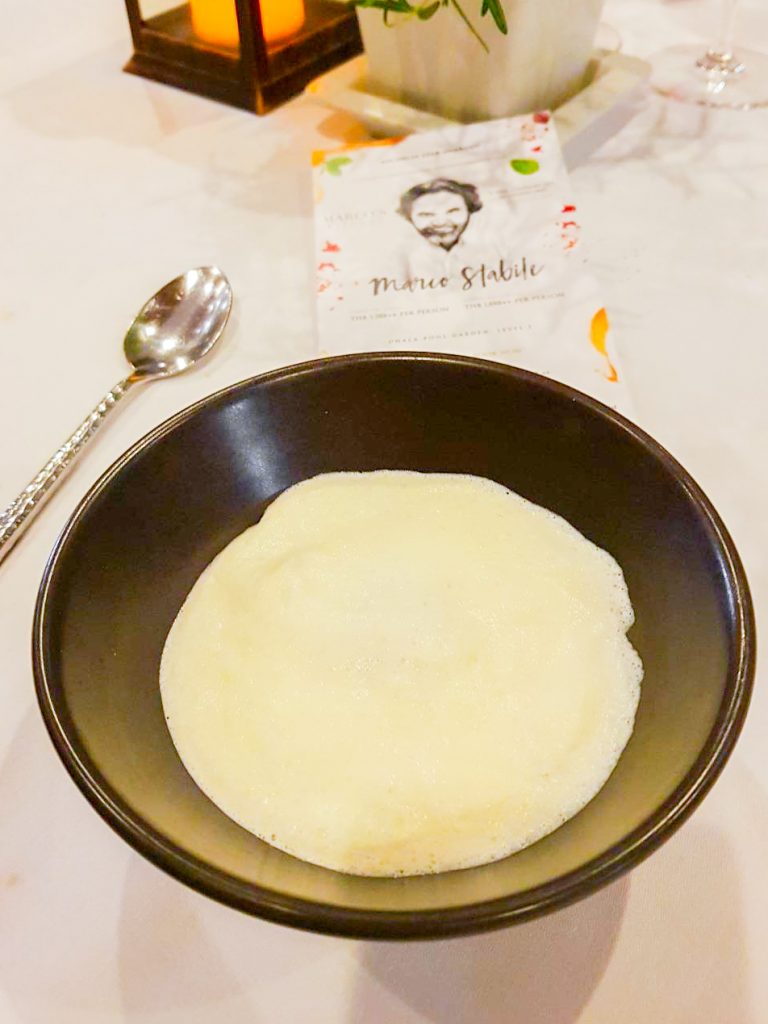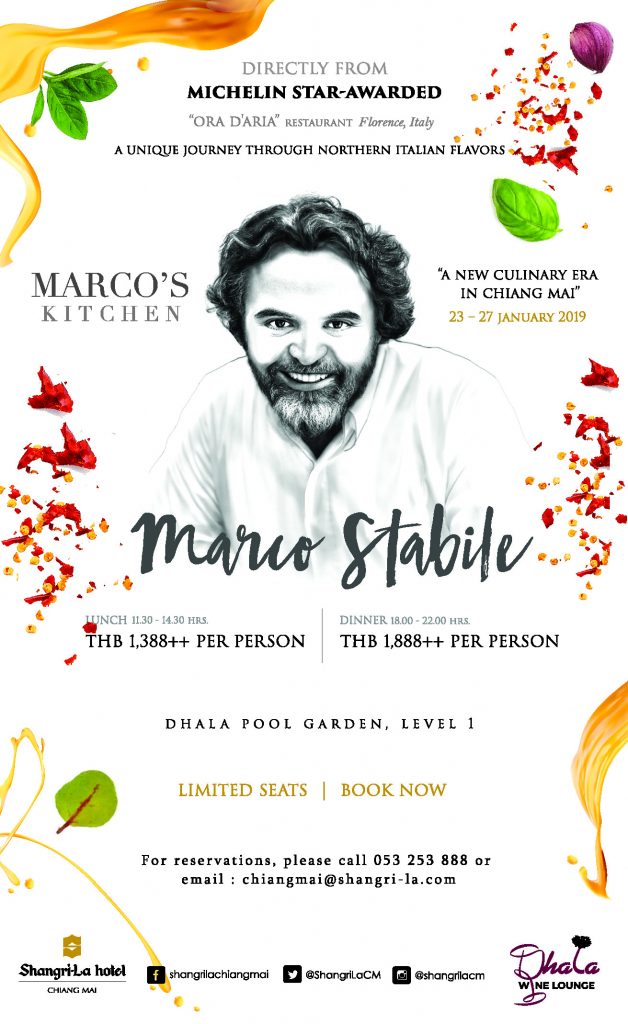 23-27 January 2019
Dhala Wine Lounge, Level 1
Lunch 11.30-14.30 hrs. THB 1388++ per person
Dinner 18.00 – 22.00 hrs. THB 1888++ per person
Advance reservation required, limited seating available.
For further inquiries and booking Call: +66 53 253 888 or Email at: Chiangmai@shangri-la.com