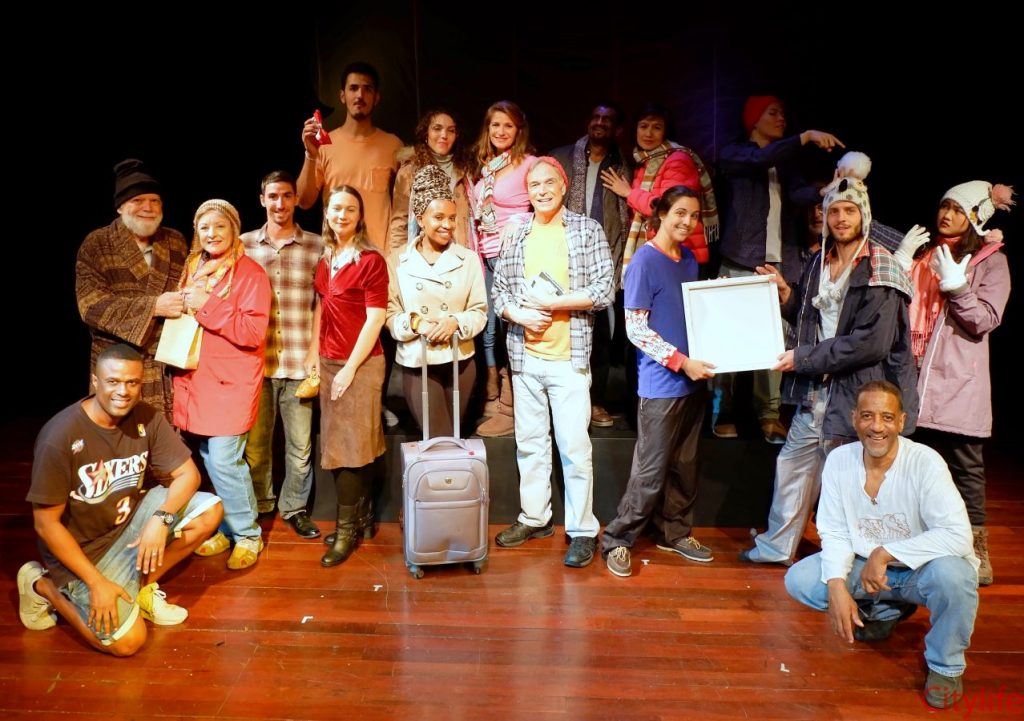 The Gate Theatre opened its 11th season with a trio of performances October 25 – 28, 2018. The season opener was Almost, Maine, a play by John Cariani, set in an eponymous fictional town. Structured as a series of vignettes that take place over one night under the Aurora Borealis in the far north of Maine, United States, each scene explores complex facets of love – intimacy, heartbreak, communication, vulnerability – through humor and magic realism.  Simple settings and characters – a woman returning to her small town, a couple sitting under the stars, two people chatting in a boarding house laundry room – are elevated by universal and age-old romantic themes and a touch of the mystical.  The emotional impact of each scene belies its brevity, and it is easy to feel you have watched an entire act in the space of ten minutes.
This production of Almost, Maine is truly a showcase for Chiang Mai's theatre talent. Fifteen actors and five scene directors present ten vignettes that coalesce with surprising harmony into an entertaining, funny, and heartwarming production – a testament to Director Suman C. Tharan's show-running abilities. Delightfully diverse in every way, the cast deserves considerable credit for making us care about, and see ourselves in, these particular small-town victors and victims of love's slings and arrows. The characters are endearing, relatable, and portray complexity in just a few colloquical (and heavily Maine-accented) phrases. The uncredited actor is Maine itself, invoked with surprising facility by the actors upon a stage a world away from the Pine Tree State.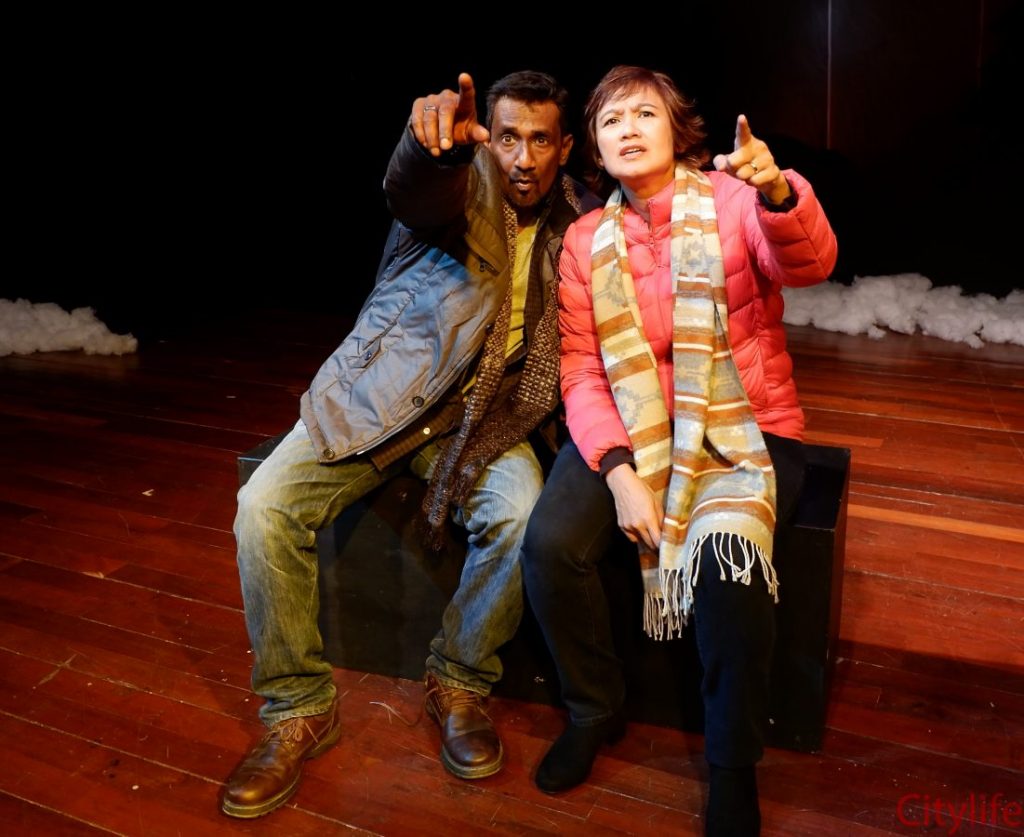 Stage design is minimal, placing even more emphasis on the actors and costume designer to set the atmosphere. The talented actors wear (and in one scene, remove with comedic effect) layers of winter clothing, shiver, and slip, slide, and stomp as if they really are in snowy Maine.  What few props are used — like the small paper bag in which one character carries her heart — have deeper significance because of their rarity. A door wheeled here, a simple black block for sitting over there, an ironing board – the light touch on the stage design and props heightens the audience's focus on the actors, removing distraction and deepening the intimacy of each scene. In the audience, you feel very much like a fly on the wall, as we say in the U.S., watching over and over the private and powerful turning points in eight different relationships – some sweet, funny, awkward, or deeply painful.
The trouble with staging a production like Almost, Maine, in a place like Chiang Mai, Thailand, is that much of the humor and subtext rely on an understanding of the geographical and cultural context of the play, in this case the northeastern United States.  Fortunately, language and the actors' delivery fill the gap and bring a bit of context, with thoroughly Maine colloquialisms like "Jeezum crow." The success with which the diverse cast carries off such a specifically contextual play is really a testament to their ability to connect with the audience.  Almost, Maine has been translated into over a dozen languages, and much credit of course belongs with Cariani's deft handling of love as subject matter — specifically, the falling in, staying in, and falling out of it.  Almost, Maine proves that some things transcend culture and context and are truly universal.
Gate Theatre's production of Almost, Maine, is a delightfully textured, funny, and heartfelt exploration of love with all the humor and magic of the real thing.  Their season continues in December with James Baldwin's The Amen Corner.  The abbreviated reader's theatre production of the Amen Corner sold out earlier this year, and now, by popular demand, the Gate Theatre will produce a full staging.