The Collectors
John Shaw MBE, co-founder of this very publication, has been well known for decades in Thailand and around the world for his knowledge and collection of northern Thai ceramics, having published his first book with Oxford University Press in 1981 on the subject as well as numerous others over the years. Shaw has always been a collector, passionately collecting from childhood various things such as military badges, wild flowers, coins, stamps as well as expanding on an inherited case of Victorian era collected shells and books of family crests.
Together with his wife Pat, they embarked on their earthen passion in 1971 when they lived in Jakarta and discovered Thai ceramics by chance in a market place. "We realised that they were from Sawankaloke and must have been found in a sunken ship." Over the years, their collection expanded and when they moved to Chiang Mai in the mid seventies, a chance encounter led to the exciting discovery of quality celadon wares made at Kalong, Chiang Rai, some 600 years ago. For years, the Shaws would spend their weekends peering over a local dig somewhere in the north of Thailand and rushing a clump of clay to the stream to see what treasures would be revealed.
Shaw has donated thousands of pieces of ceramics and shards to the Chiang Mai University as well as some prime pieces to HRH Princess Sirindhorn while also maintaining a collection at home which is still visited today by groups from the Smithsonian Institute or from universities, groups, societies and clubs around the world.
Now in his dotage, silk-sarong clad Shaw loves nothing more than to show visitors his collections. He knows each and every piece's history, and if not, has a fantastic tale of speculation, and invites anyone interested in ceramics or history to email him at johnshaw2543@yahoo.co.uk to come along for a visit (no charge). He enjoys sharing his stories, having lived in Thailand for over 45 years, and his beloved collection.
For more information visit his web site at www.shawcollection.com.
Both Yong Kujareonchaimanatee's and Jirasak Seangkumchaliang's attraction to collecting antique bicycles began within their families. Jirasak, the president of the Lanna Old Bicycle Club in Chiang Mai, began to be interested in bikes from helping his father repair them as a child. Yong, the club consultant, was influenced by his son, also an avid fan of old bicycles. Jirasak says he likes old bikes because they are strong and durable, and are handmade with care and attention, unlike mass-produced modern bikes. He enjoys seeking out original parts to fix bikes and dislikes fake reproductions. Yong says "I like old fashioned bicycles because looking at them you can see the determination and effort the person making it went to." Some of the bikes in the collection date back over 100 years, the most expensive is an English model in perfect conditions coming in at over 100,000 baht. One of the most innovative bike designs in the collection is a German bike from the time of the Second World War, the bike is designed to be lightweight and compact, soldiers would take it with them as they parachuted out of a plane, when on the ground they could unfold the bicycle and set off.
Lanna Old Bicycle Club Chiang Mai, 087 657 2553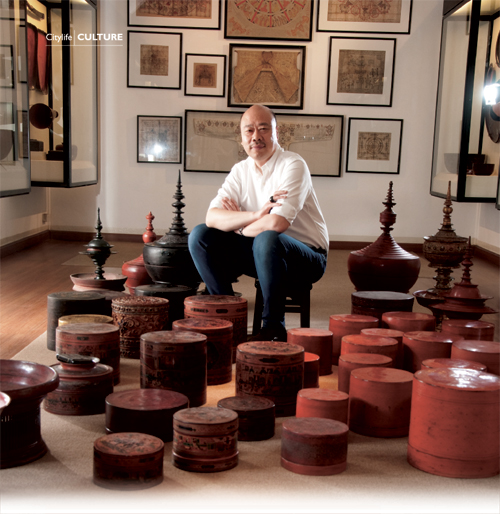 Rooj Changtrakul, owner of the Rachamankha Hotel is a collector at the very core of his being. He began collecting prehistoric pottery at age ten, and has since expanded his collections to include everything from ancient Lanna swords to rare books to an extensive array of 18th and 19th century Lanna, Burmese and Shan lacquerware. His lacquerware collection includes about 40 beautifully etched, rare pieces. Rooj is enthralled with the history that these pieces hold, "I love reading about how the pieces were made, where they came from and what the patterns and designs mean." Rooj has also put a sample of his collection on display in his hotel. "When tourists come to Chiang Mai, I want them to see what Thailand used to be like in the olden days," he says.
www.rachamankha.com
info@rachamankha.com
6 Rachamankha 9
053 904 1113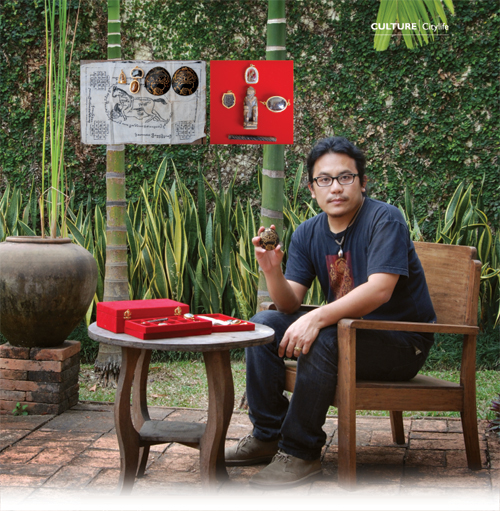 Vorachen Kampeera's fascination with Buddhist amulets, kreuang raang, began at the age of 16. Vorachen's parents passed on their knowledge about amulets which he didn't want to lose so he began his own collection. Vorachen's collection has developed so much that it now houses the top five amulets in Thailand worth a total of 10 million baht. Vorachen loves collecting amulets because they are not only beautiful but they all have a meaning, story or belief behind them and can tell us about history and Buddhism in the past. "Each amulet is unique, they have a life of their own, they are charged with religious spirit and energy.", says Vorachen. Vorachen's obsession with amulets has now become a full-time job, Vorachen has produced a book about amulets and also has a magazine for amulet collectors.
140/1 Tippanet Market,
Lock 1-2, Haiya
www.pralanna.com/index.php
www.pramuangnue.com/main/shop/shopshow.php?shop=234
www.thaprachan.com/shop.php?shop_id=1669
vorachen_k@hotmail.com
089 430 3877