Throw a stone in Chiang Mai and you'll likely hit a digital nomad. Or if you consider yourself a Pacifist, the likelier option would be to take a walk down Nimmanhaemin Road and chances are you'll quickly see why the call of Chiang Mai is one that resonates most with digital nomads from around the world. With its culturally rich landscape, affordable accommodation, artistic vibe and modern infrastructure, the largest city in Northern Thailand is an old soul with a youthful lust for progressive thought and in a world where creativity reigns through the vessel that is digital technology, Chiang Mai is the city of choice and opportunity for the thousands of online entrepreneurs and freelancers who call it home.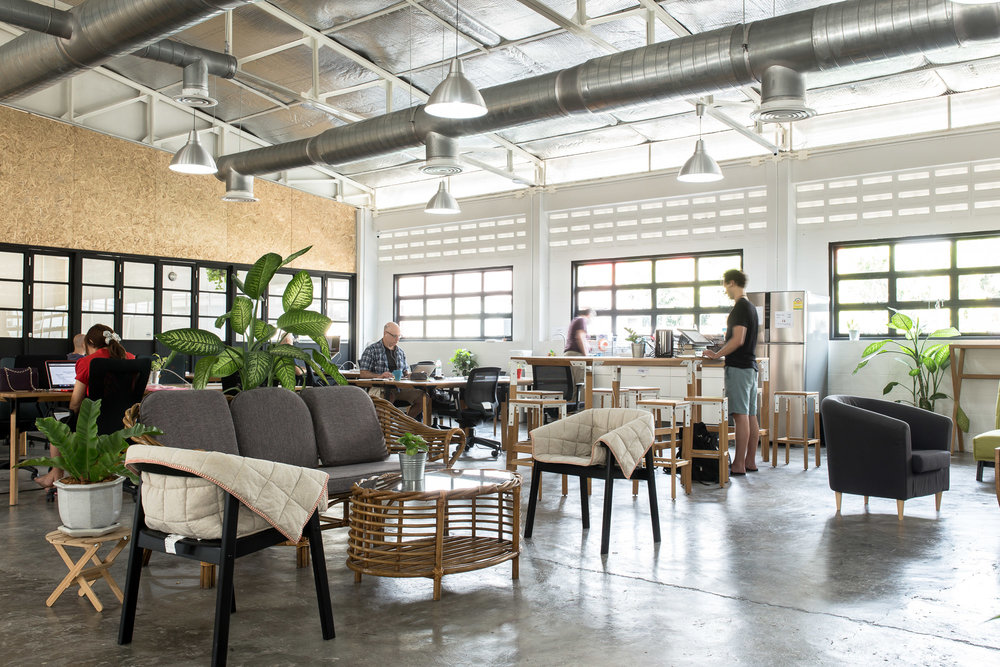 Despite not lacking in WiFi-friendly cafes, there are times where coffee shops won't always cut it and ask any digital nomad worth their salt and you'll soon realise that sometimes, the best way to snap into productive mode and get the creative juices flowing is to be surrounded by the buzz of others hard at work. With this in mind, we've rounded up a list of some of Chiang Mai's best co-working spaces below.
For those keen on paying these unique hubs a visit the next time your travel route leads you to Chiang Mai, remember to turn to Saleduck to find the latest travel deals and steals that won't weigh down on your wallet.
Punspace
Leading the way since 2013, Punspace is Chiang Mai's original co-working space. With two branches in Nimmanhaemin and Thapae Gate, both locations feature spacious and tranquil setups amidst hip and fast-paced areas in Chiang Mai. Close to popular foodie spots, cultural landmarks, nightlife (for an after-work nightcap) and convenience centres, the space's amenities include hotseats, Skype rooms, meeting spaces equipped with projectors and webcams, printers, scanners, fax machines as well as private offices for those who prefer a little bit of personal space. Punspace is open 24 hours for members whilst non-members can snag a spot on Mondays to Saturdays from 9am to 6pm.
Starwork
For those who rely on public transport as their main source of transportation, Starwork on Tunghotel Road in Watket is within walking distance from both the railway and bus station. Aimed to serve as an affordable and flexible alternative to fixed spaces, Starwork is housed within an airy building and features a cosy, almost homey setting with fixed desk fixtures, private offices, meeting rooms, an outdoor terrace and comfy chairs designed for hours of tapping away at your keyboard. For those who need to recharge, there's even a nap room to catch up on some Zzzs. When you get peckish, pop over to Cafe Amazon for a cuppa and a pastry to fill you up.
CoWorking Cafe
Not a coworking space, per se, this cosy escape from the hustle and bustle of the city is a keen favourite of locals and those aching to step away from the typically buzzing and industrious setting of most co-working spaces. Situated just along the Mae Ping river, the cafe is surrounded by plenty of tall shady trees and greenery, making working on the outside deck an absolute pleasure. Watching the locals go about their daily business to the soundtrack of birds chirping as you work can be food for inspiration and there's plenty of that here in this little hidden gem.
MANA co-working space
A little on the smaller side, MANA is run by a brother and sister team on Nimmanhaemin Road and features an in-house cafe serving up freshly baked cakes and coffee for hungry co-workers. The space fits a maximum of 14 people but the ambience is so welcoming and cosy that it feels more like a cafe than workspace. The fact that it's located close to stalls selling seriously cheap street snacks also makes it great for when you want to pop out for a quick lunch mid-work. Amenities in MANA include plug points at every table, printing, scanning and copying machines and a Skype room.
AIS CAMP
Located on the 5th floor of MAYA Lifestyle Shopping Centre, CAMP features 24 hour access, high-speed AIS internet and it's funky, creative vibe. Eternally busy and alive with chatter, CAMP is exactly what one would imagine a co-working space to be like with its open concept space,numerous seating and working options and all-around communal feel. There are available meeting rooms within the space but they can be hard to get a hold off. Popular with nomads, students and the odd curious visitor looking to see what it's all about, a minimum beverage purchase is required for admission and this will also earn you a 2-hour connection ticket to the WiFi.