Of the odd jobs many expats get involved in here, being a movie extra, shot up by machine guns and hacked to death by machete-wielding rebels on the roof of a hotel, has to be one of the more exciting. But I'm getting ahead of myself.
This month, we're talking about movies made in Chiang Mai, so let's start with ponytailed martial artist and Thailandophile Steven Seagal. He is just one of the many Hollywood titans who have spent time in front of, as well as behind, a camera here in the Rose of the North. The writer, director and reserve deputy sheriff travelled here to shoot scenes for his 2005 Yakuza flick Into the Sun. But it was his co-star, American soccer running back Eddie George, who described perfectly what it is like to be an extra here when he told USA Today: "I'll put it to you this way: you better get there bright and early. There's some speaking stuff, then [you] get shot up and killed."
My first big break into acting was a tad less eventful. I played "man sitting at table" at the Dhara Dhevi in a scene for a dubious German TV series. The director obviously knew he had something special in me after seeing how much I brought to the part of "sitting in a chair" because I was later asked to bring my talents to "bloke dancing in the background" and "man in a swimming pool."
It was my role as "man in pool" that taught me acting is not just mentally exhausting, but also physically taxing. After a couple of days, and a few gallons of chamomile lotion, the sunburn had calmed down to a point I could put clothes on again. We actors are always prepared to suffer for verisimilitude.
Keen to make notes on how I could improve my performance, I decided to check out the production company's website to see if there were any clips available or whether I was being featured on the film posters and other promotional material. Turns out the company specialises in films of a more "grown-up" nature. But hey, Sylvester Stallone started out in a dodgy skin-flick, and what's good enough for the "Italian Stallion"is good enough for me.
I'm a pro, and would never let a small pornographic setback derail my career. So it was straight back on the horse and back on location, this time for a film about a small boy who befriends an elephant. (The north of Thailand is an ideal location in which to film a movie that involves a boy making friends with an elephant as the region is chockfull of both boys and elephants.) This time I was with a group of actors asked to stand in the middle of a rice field under the Thai sun. For hours. And hours. Being prepared to spend an awfully long time in the sun seems to be a requisite skill for extras in Thailand. However, the next day we were all treated to a trip to an elephant prison to film the pachyderms painting pictures and kicking footballs, which, as always, was marvellous fun. They paint pictures with their trunks!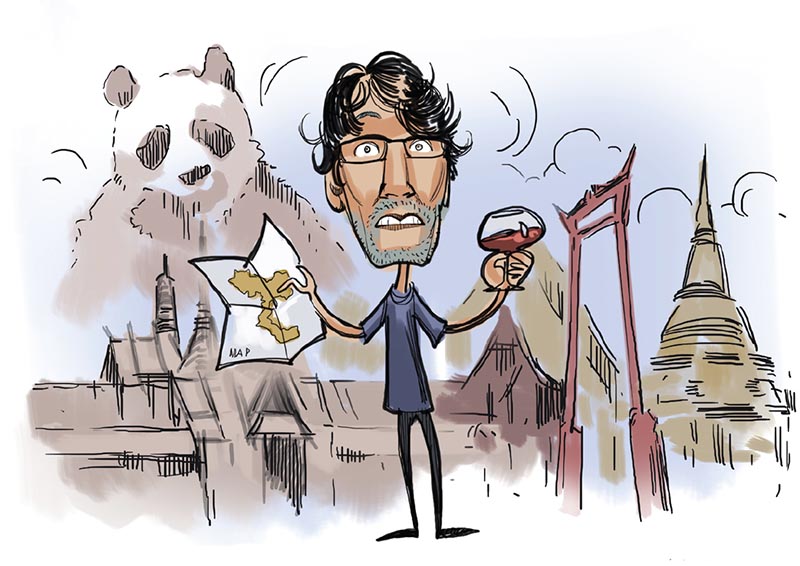 Rumours that Chiang Mai is about to become the leading Southeast Asian hub for movie production have been floating around ever since I first arrived in Thailand. It is undeniable that the country is attractive to Hollywood filmmakers who have produced a raft of fantastic films – Roger Moore in The Man With The Golden Gun, Rescue Dawn with Christian Bale, Leonardo DiCaprio in The Beach, Denzel Washington in American Gangster, Steven Seagal in something forgettable and of course the Sylvester Stallone advert for the Chiang Mai Snake Farm, Rambo XVII.
Bollywood has also taken a shine to this country where the weather is usually reliable, production costs are relatively low and there is an abundance of exotic settings, from the mountains and jungles of the north to the beaches of the south. And who can forget how a Chinese film made in Chiang Mai has driven a massive increase in visitors filling up hotels rooms, making it more interesting for non-Chinese speakers working in the service sector and creating fun obstacles for motorists in the form of small groups checking their smart phones in the middle of moat-road intersections. Lost in Thailand had unprecedented success portraying our Rose as a place where cheeky slapstick adventures are to be had in abundance. Who can really blame anyone for coming to Chiang Mai on holiday? It's brilliant.
Anyway, back to my meteoric rise to film stardom. It was on the set of my most recent film, The Coup, that I was able to employ my method acting techniques. Popular with contemporaries of mine including Robert De Niro, Daniel Day Lewis, Jack Nicholson and Al Pacino, the technique encourages the thespian to get slightly insanely involved with a character's  emotional state and psychological motives. In this case, I was to be playing "man who has lost all hope and knows he is going to die horribly," and I was lucky enough to be hand-picked for the role by the late, great casting director Danny Toeng Thiangdham. Although I hadn't actually turned up for the casting, it was obviously my natural propensity for looking utterly miserable while hanging around in hotel foyers that caught Danny's expert eye.
My role involved sitting on the roof of a hotel (in the unrelenting sun, naturally) looking forlorn, which isn't hard to do when one's shoes are filling up with sweat. What came next was simply wonderful. Although being an extra on a film involves long days, can be tiring and even a little boring, having a helicopter turn up with a machine gun firing  blood-squirting extras to death as they scarper for cover is the most fun ever. I remember the American assistant director giving a fifteen-minute health and safety speech to the western extras about a military helicopter about to fly up the side of the building. The Thai AD then stood up and laconically explained to the Thai actors: "A helicopter is coming. Be careful." The Coup comes out early next year at which point I am expecting to be beating agents off with that proverbial stick.
The most recent role I was called in to audition for was a film adaptation of the book Twilight Over Burma. I was asked to read for the part of "arrogant forty-something English investor who argues with, and then gets punched in the face by, a despot." I was gobsmacked not to secure the role. An arrogant middle-aged Englishman who gets punched in the face is pretty much a part I was born to play.
I'm not sure why I didn't get picked. Perhaps it is because I have no acting talent whatsoever, perhaps it was because I have a complete inability to learn a few lines of script, or possibly it was because the casting director dropped a table on her foot, which didn't put her in a great mood. I'm not giving up though. Steven Seagal never gives up. And I look forward to at least one more role, as slightly out of focus man in the background not really having much of a clue what is going on.
Happy Christmas, everyone.