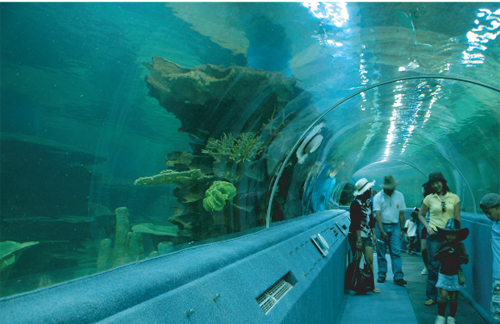 January, 2009
The 600 million baht Chiang Mai Zoo Aquarium, conceived during the days of Thaksin Shinawatra, is a joint venture between the Thai government and the Australian firm MarineScape. Boasting all sorts of '…in the world' claims including the longest fresh water tunnel in the world at 66.5 metres, the longest underwater tunnel in the world at 113 metres (though rather deceptive as it is a tunnel which runs through two tanks, fresh and salt water), and its claim as the only underwater aquarium in the world to link fresh and salt tanks. Basically this 13,985 square metre aquarium, which contains over 3,600 examples of fresh and seawater life forms from 250 species, aims to attract an extra one million tourists per year to the Chiang Mai Zoo and hopes to boost the local economy and tourism.
So what do we think of it? Not being much into zoos and aquariums, Citylifers were a tad weary and cynical going in, especially at the first daunting sight of the whole theme park metamorphosis of the Chiang Mai Zoo – but that can be analysed in a different article. The ostentatious aquarium is set on ten rai of land and guests walk across a man made lake to enter the building.
In spite of the fishy smell, and the obviously fake coral (international law – quite rightly – forbids the harvesting and use of live coral in aquariums), all cynicism is pretty much wiped out by looking at the faces of the visitors. Children gasp as sting rays glide overhead, families gaze slacked jaw as a scuba diver hand feed shrimps to leopard sharks and even seasoned divers of the Andaman were awed to see the mangrove fresh water tank and the giant Jurassic looking fish it contains.
The Aquarium is still new and there are a few kinks to be worked out, but on the whole it is a very entertaining and educational experience, especially for the thousands of Chiang Mai residents who have never been to the sea. We hope that all life forms are well treated and that they will grow and develop their colours more in the coming months and years, and not turn into the disaster which is the Night Safari. Judge for yourself and give us your feedback.
www.chiangmaiaquarium.com
Aquarium Only: 250 baht for Thai adults, 180 baht for Thai children, 450 for foreign adults and 350 for foreign children. (Including zoo entrance and tram fees Thai 290 adults/190 children, foreigners 520 adults/390 children.)
Special promotion from 1st Jan-31st March including zoo entrance and tram fees, Thai 250 adults/150 children, foreigners 400 adults/300 children.
Mon-Fri 9 a.m. – 6 p.m., Sat-Sun 9 a.m. – 7 p.m.