Mourning is personal and many Thais are doing so in their own ways. Unfortunately there have been some very unpleasant instances in the past few days of individuals and mobs who have attacked, verbally or physically, those who are not mourning, or those who are not doing so in the way they find acceptable. We at Citylife believe that with 70 million Thai people, it is not only impossible, but dangerous to expect grief to be expressed in a conformed way.
So we looked around the city today to find how generation Z is expressing the loss of His Majesty the King.
Iron Horse Tattoo Studio's owner Morris C. Beck announced that he would be offering, over a period of five days, free tattoos for 99 people who wish to write the number 9 (for Rama IX) or other tattoos in homage of His Majesty.
Morris C. Beck
He asks each person to donate whatever they can afford to the studio who will hand over all proceeds to Baan King Kaew and Baan Dek Dee orphanages.
"Most of the people so far have been between 20-40," Beck, 25, said. "As tattoo artists, we wanted to do something for His Majesty. "Some people who like tattooing wish to honour the king in permanent way, a keepsake they can have for the rest of their lives. We have our boundaries, and we only do appropriate and respectful tattoos. One client asked why I was doing this and I said that I woke up one morning and wanted to, the client broke out in tears and it make me feel as though we are helping to connect people through this process."
"I wanted to do merit and also wanted to honour His Majesty in a personal way, I feel great to have had this opportunity," said Jirawat Kasikarangkoon, 29, who now is a proud owner of an elaborate chest tattoo in the shape of the Thai numerical nine.
Jirawat Kasikarangkoon, 29
"I will never forget that this tattoo is a representation of the father of our land," said Maneeporn Jankra whose shoulder now features the Thai number nine, the date of His Majesty's death as well as a message hoping to be a citizen under the king for many lifetimes.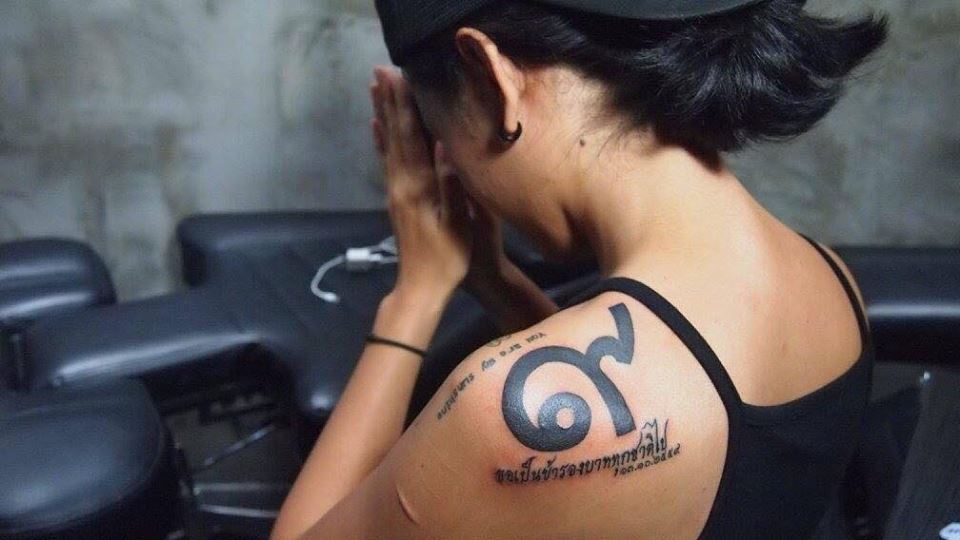 Maneeporn Jankra, 27
Some people aren't quite ready for a mark so permanent are now even going to barber shops to get special cuts to show their respect.
Haircuts By Classic Man Barbero 
Haircuts By Barber Crew 
If you are interested please get in touch with Iron Horse Tattoo Studio
Other tattoo artists have joined in this initiative including:
Mornzter Tattoo Studio Chiangmai