Let me be frank. The Jai Thep festival last weekend was outstanding. Hailing from the southwest of England, I have had my fair share of festivals, hippies and healing circles in my time. Each year I would hear the reverberating bass echoing from Glastonbury Festival (the biggest festival in the world) from my home and my festival experiences have been wide and varied. The point is, I can be critical of festivals and think that I have enough experience to be a fair judge. But today, criticism failed to materialise as the latest alternative music event to grace Chiang Mai opened its doors to a new era of festival life in the north of Thailand.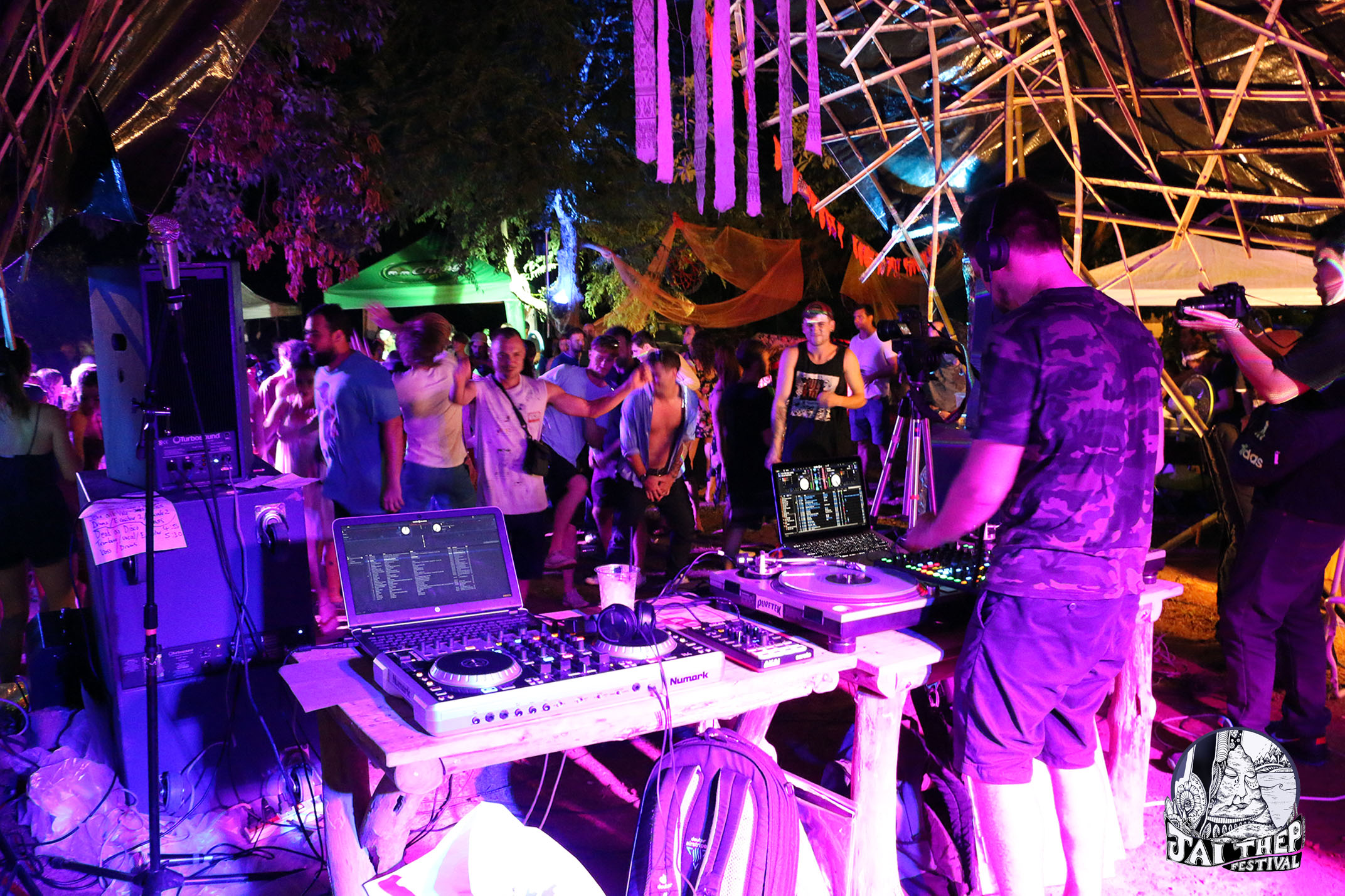 After meeting one of the organisers, Tom (who just happens to be from my neck of the woods too), I was convinced to get myself a ticket and head down to this one day festival held at the Workend Café and their section of the popular Grand Canyon in Hang Dong. Only on for one day, there was a promise of a festival feel without the muddy tents and groggy mornings. Also, given the over-strict music, alcohol and fun licence laws plaguing Thailand these days, it all had to be over by 11pm. Sure, festivals are designed to break free of these rules. People dancing while wearing nothing more than a charity shop nightie and a wellington boot on your head until the sun rises again is the norm, but for Thailand that may still be one step too far…for now at least.
One day was better than nothing, and I was a few years overdue a good festival. I turned up eagerly just after the doors opened and I was greeted by the eccentric personality that is Ray, dressed in his infamous leopard print trousers and a mixture of corduroy and tie-die shirts and jackets. Queues of people were at the gate, most with tickets, some without – and sadly turned away, as the tickets on the door were already sold out. When does that ever happen in Chiang Mai?!
Once in, the path lead through a corridor of dream catchers and draping cloth which I followed towards the sound of some mid-tempo melodic trace music reverberating off the sides of the canyon as a DJ turned up the volume at the Spirit Stage on the beach down below. It was about midday and there was already people dancing, glittered men with top hats, girls with flowers in their hair and long flowing dresses, and even a guy dancing three times as fast as the music, sweating profusely and having an incredible time – a festival necessity.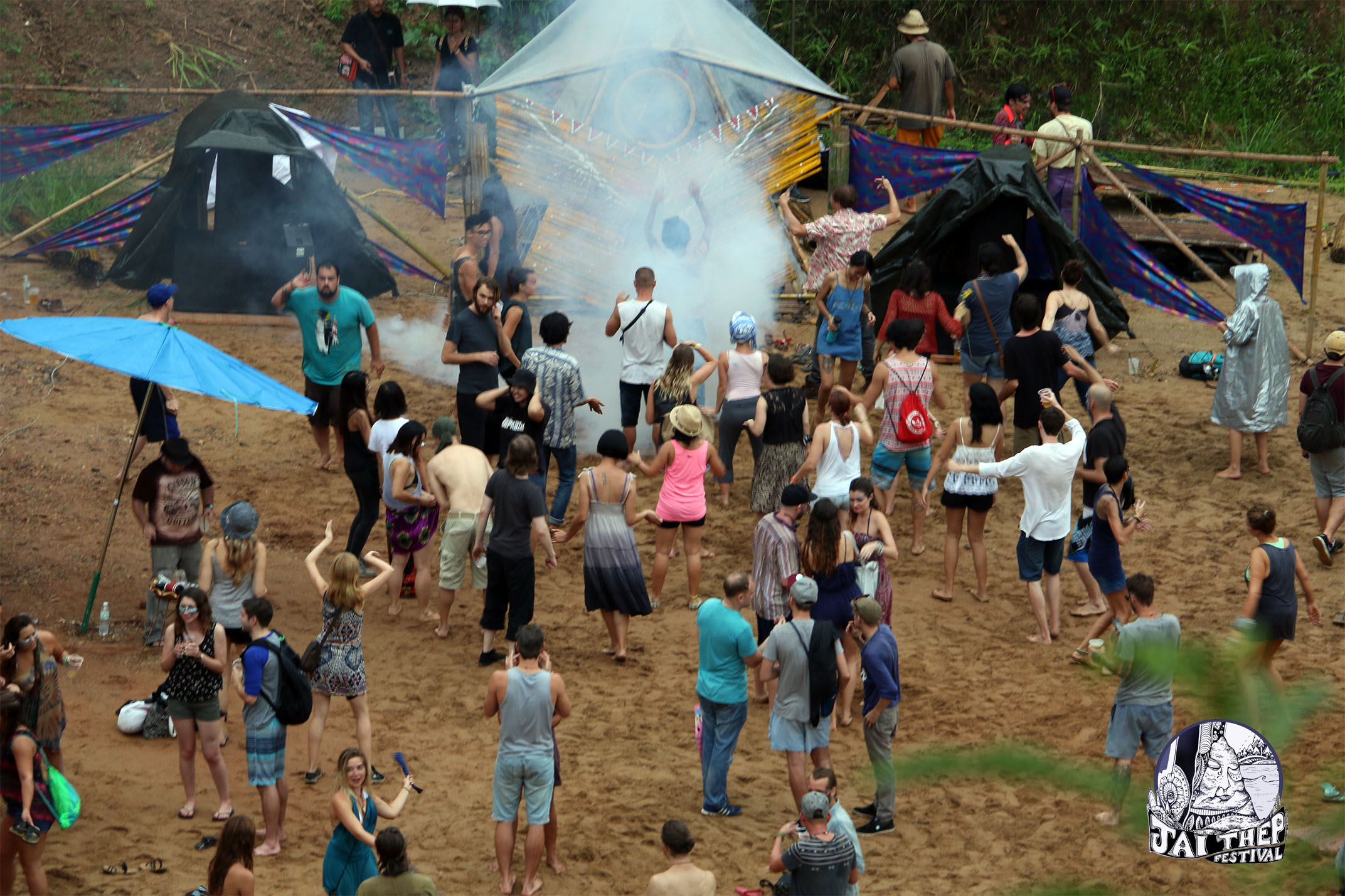 Drinks were being served all day long as people bathed in the sun on the beach, swam out into the canyon's water and floated around on inflatable tyres. The vibe was chilled but exciting, with the occasional poi dancer or hoola-hooper floating around to the beat of the non-stop bass thudding like a monastic gong.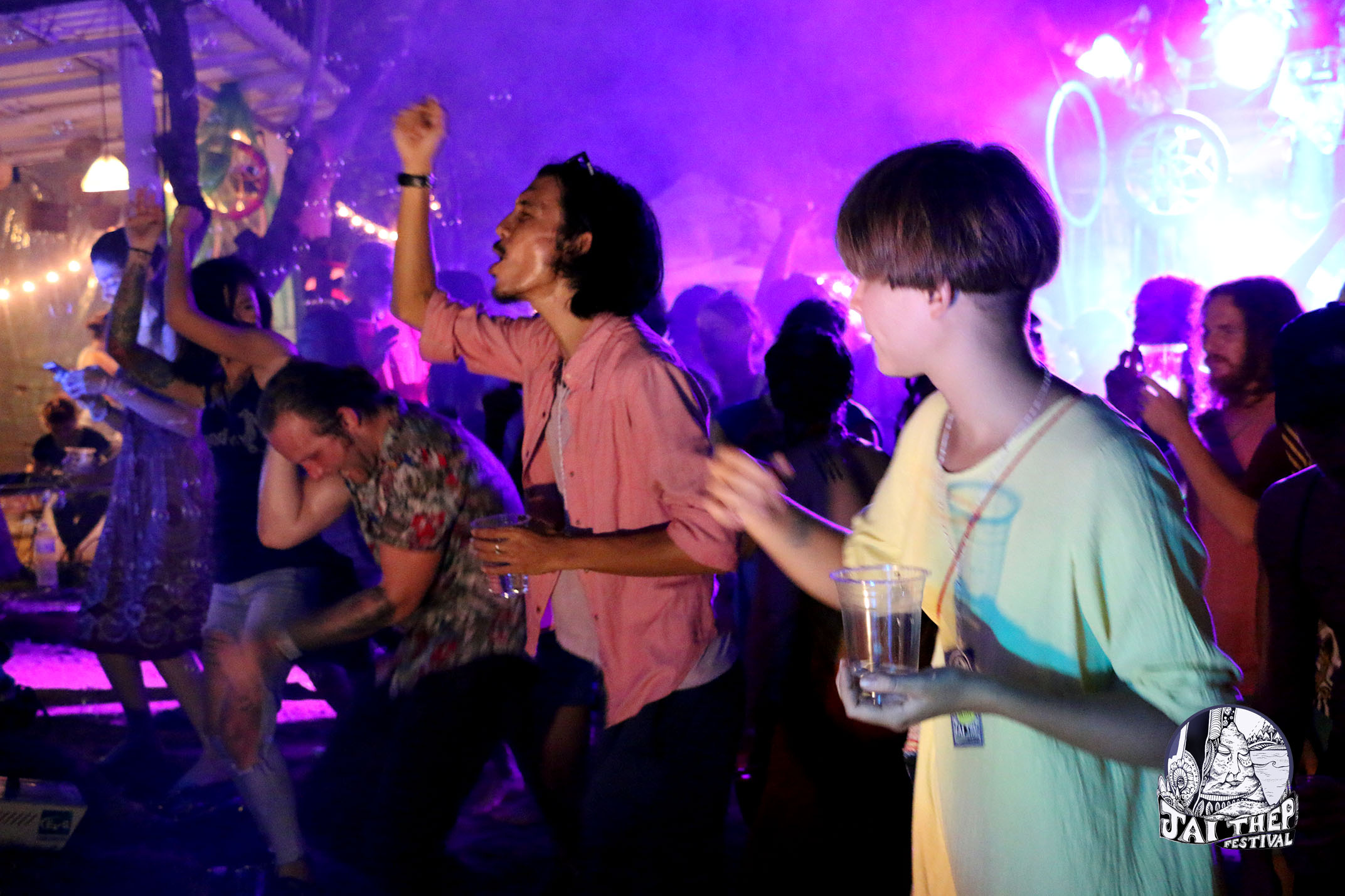 The upper part of the festival, shaded by trees and filled with vegetarian food, drinks, festival flags, a painting wall, and live music, was buzzing with art and excitement. Workshops teaching yoga, tie-die and dream catcher making were going on in the background as a geometric fortune teller sat doodling away as people told them their history so he may be able to predict their future. The vibe was very festive – not too hippy, but enough to bring the vibe we were all in search for.
People congregated around the stage as the sun departed for the night and the lights came on. Live bands switched to DJs as the sounds of drum and bass and psytrance filled my ears, bringing back memories of the first festivals of my youth.
The Jai Thep Festival had captured the true essence of a festival, rising from the ashes of many festivals past such as Smile Party, the Pig Art Music Festival and other long gone events.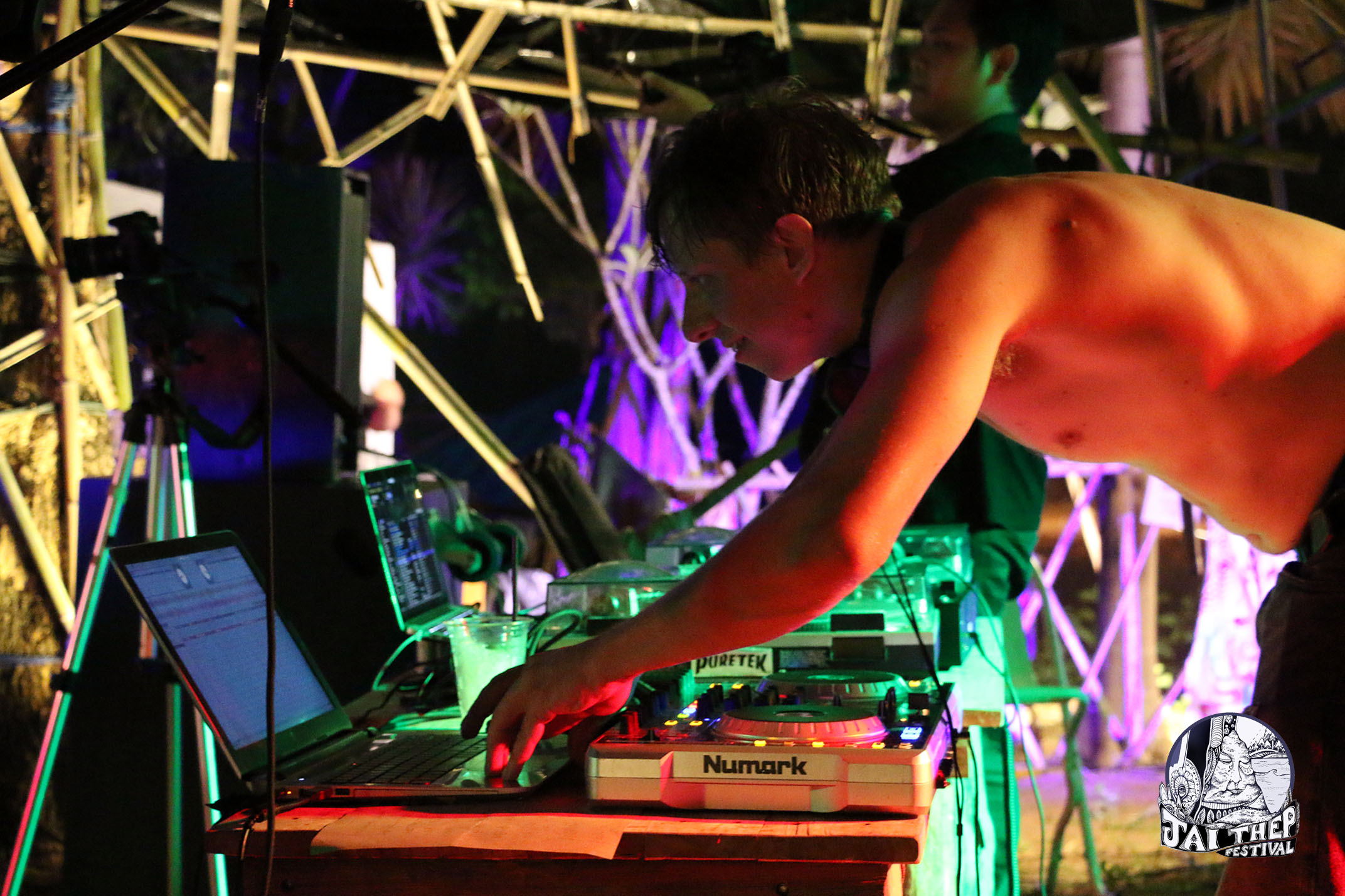 There is no doubt in my mind that Jai Thep Festival has given birth to a new era of nightlife in Chiang Mai. The bar has been raised and, police willing, more and more events like this will be cropping up around the city throughout the year. There is already plans for a mid-year party by the Jai Thep organisers and more sporadic parties from time to time to keep us on our toes. Well done guys, Jai Thep was a booming success, and I hope to see much more of you in the future. I have re-ignited my craving for good festivals thanks to you…now where did I put my tie-die trousers.
Facebook: Jai Thep Festival