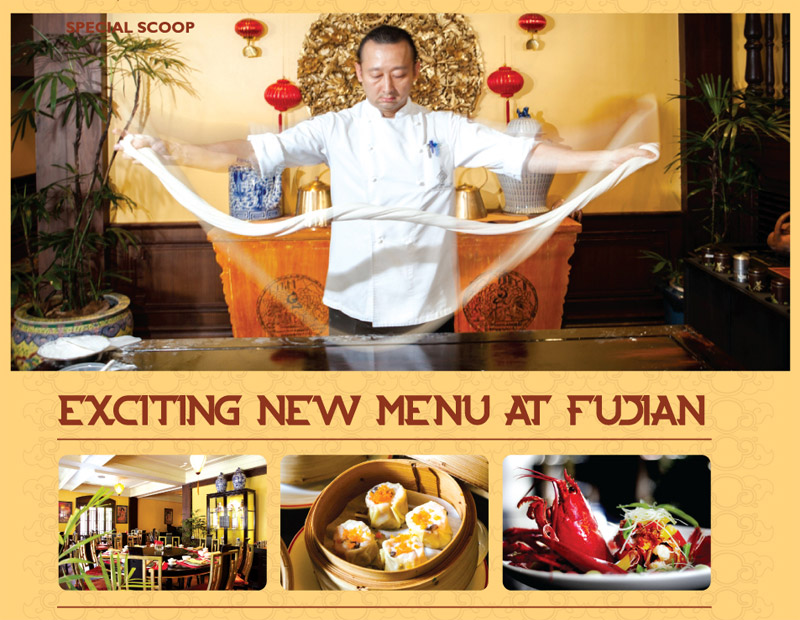 Dhara Dhevi's Fujian restaurant has long been a stalwart of fine Chinese cuisine here in Chiang Mai, serving up scrumptious Cantonese dishes in a sumptuous 19th century Sino-Portuguese style setting.
Walk through the charming Kad Dhara Shopping Village where wooden shop fronts line cobbled walkways leading to this stylish and welcoming restaurant. Impeccable table settings and refreshingly aromatic hot or cold towels welcome diners, who are then presented with a vast menu offering traditional as well as creative cuisine.
As of this year, renowned Chef Jovi Cheng, who worked at Fujian from 2004 – 2008, has returned to the iconic restaurant and is currently busy creating a new Cantonese menu. With over 30 years' culinary experience including positions in kitchens of various five star hotels around Asia, Chef Jovi aims to wow diners with his distinctive flavours and modern Chinese cuisine.
Drawing inspiration from the various regional cooking styles in China, his dishes are bursting with flavour and aroma. Try his deep-fried pigeon with lemon juice and spiced salt – simple but bold flavours infused in impeccably cooked meat and served steamed with black bean sauce and dim sum.
Traditional a la carte dishes such as pig suckling or Peking duck are cooked to perfection, and those wishing to sample more exotic fares can enjoy a wide variety ranging from slow cooked sliced abalone with steamed vegetables, braised sea cucumber with black mushrooms in brown sauce or braised goose web in mushrooms. The selection of fresh seafood is also impressive and diners can request items to be cooked steamed, roasted, wok fried, deep fried, or any other number of ways. All ingredients, from sirloin steak to lobster, are of premium quality.
Fujian has also long been popular for its dim sum lunches. Over 30 dim sums, steamed and fried, are available at only 80 baht per basket. Shanghai pork buns, pan-fried chive cakes, goodies wrapped in noodles, shrimp, vegetable, scallop, crab meat and an assortment of dumplings are all house favourites.
The wine list at Fujian is carefully selected and the maitre d' knows exactly what pairs well with what dish.
Whether you are popping in for a delightful lunch or settling in for a fine dining dinner, Fujian will impress all Chinese cuisine aficionados and most likely convert novices.