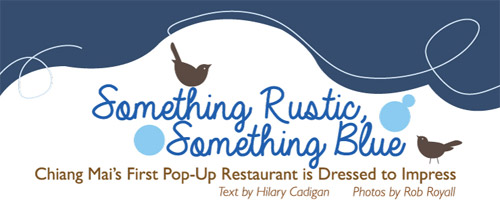 Down a rutted dirt road in the verdant mountains of Doi Saket sits a trio of rustic cabins, connected by a pretty green courtyard and a spacious lawn framed by a shallow stream. As the sun goes down, flickering candles are lit inside mason jars hung from the trees and the sounds of violin and guitar drift softly from the hut where two musicians play beside the swimming pool. We sip on Som-gritas (a blend of mulled Sangsom, wine and oranges with sparkling soda) and chat with new friends at the long wooden table as the first of the night's eight courses comes out on mismatched dishes: a dainty provoleta cheese topped with guava, honey and duck prosciutto.
This is the third event from Chiang Mai's newest and perhaps first official pop-up restaurant concept, Rustic and Blue, and it's a clear success.
The team behind the dream is Apiradee "Meen" Piankusol and her friend Chris Ostray, an American from Los Angeles. "Years ago, Meen contacted me about doing some cooking," says Ostray, who was living in LA at the time. "What really sold the idea for me is that Meen's concept was exactly what I was doing at home, farm to table dining."
Meen, who is originally from Chiang Mai but met Chris via his wife while living in California, specialises in teas and jams. Ever since she left her family's silk business to focus on her passion of food and drinks several years ago, she has been sharing her concoctions via catering gigs and a stand at Nimmanhaemin's annual NAP Fair. Now, in addition to her work with the pop-up events, she has just opened her first Rustic and Blue teashop on Nimmanhaemin Soi 5.
Chris comes from a foodie family and has worked in the dining industry his entire life, as a bartender from ages 18-30 and then, after graduating from culinary school, as a line chef and eventually a sous chef in LA. Rustic and Blue is his first independent venture.
"We originally planned to open a restaurant in Chiang Mai, but since we're building it from the ground up, there have been a lot of delays. Initially it was supposed to open in April; now we're hoping for July but we can't be sure at this point," says Chris. "Pop-up restaurants are really big in LA right now, so we decided this could be a great way to get the ball rolling, and to start building a customer base before the restaurant opens."
So far, the response has exceeded expectations. The Rustic and Blue team has hosted three events to date, starting with their "Country Cookout" at the Riding Club near Huay Tung Tao, followed by their Nimmanhaemin "Tacos and TEAquila" event, and then of course, the intimate 20-seat "Dinner by Fire" that I attended in Doi Saket, where everything – from the house-made chorizo to the mushroom and ricotta ravioli to the blackened rib eye – was cooked on a big stone slab over an open fire.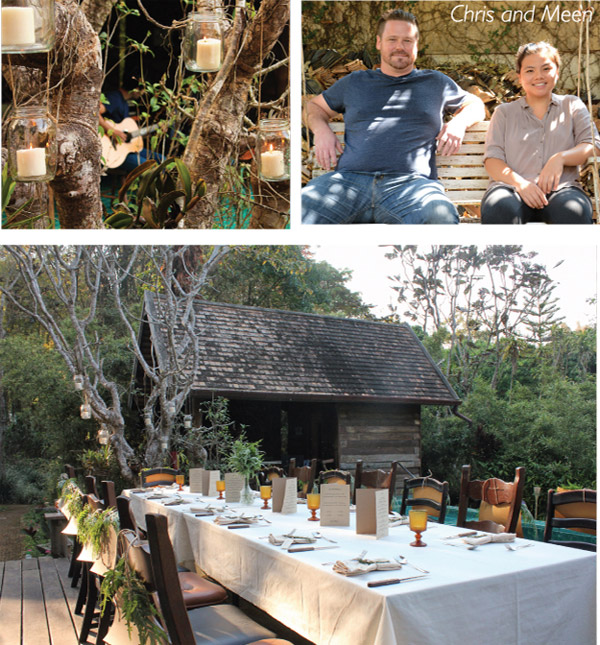 "We've had really good feedback from people that have come to our pop-up events," says Chris. "Chiang Mai is really close-knit, and this is a fun way to bring together the community, to eat and drink and meet new people in a relaxed, unpretentious neighbourhood environment with great food!"
So far, Rustic and Blue have allowed their various locations to inspire the vibe and menu of each event. Chris heads up the cookery and Meen takes the lead on each venue's fanciful décor, but the two are dedicated to working on everything as a team. The Dinner by Fire was inspired by the fabulous cabin property where it was held, which was designed and built by Meen's vivacious, globetrotting aunt. "As soon as I stepped onto the property, I knew we had to host an event there," smiles Chris, noting that they even used a number of local herbs and ingredients found on the property for the feast.
"I find that in Thailand, western food is often really expensive and never that great, which seems strange because you can grow pretty much anything here," he adds. "Our big idea with Rustic and Blue is to try to use all local products, building relationships with local farmers, making our own cheese and charcuteries, and importing nothing." The concept for both the pop-ups and the eventual restaurant is "classic Western recipes cooked with local ingredients."
So far, so good. The homemade cheeses are divine and the produce fresh. Even the meats are local, and Chris is quite astute at taking classic Thai ingredients (like, for instance, Sangsom) and repurposing them in impressively sophisticated ways. Indeed, you've never truly experienced the infamous whisky/rum standby until you've tasted Chris's panqueque de dulce du leche dessert with Sangsom poached apples. Hangover, schmangover. Well, unless you got into the cocktails.
For more info, restaurant and teashop updates and event details, visit:
www.facebook.com/rusticandbluechiangmai