In late October Citylife was invited to join H.R.H. Prince Richard Duke of Gloucester and the British ambassador for their visit to the Children's Advocacy Centre Chiang Mai. Following the dignitaries' departures, we were introduced to Police Colonel Soonthorn Arunnara, Deputy Commander of Investigation Division Immigration Bureau and Police Colonel Thakoon Nimsomboon, Deputy Commander of the Anti-Trafficking in Person Division and the Head of the Thailand Internet Crimes Against Children (TICAC) Operation Team, both of whom kindly agreed to sit down for an impromptu interview.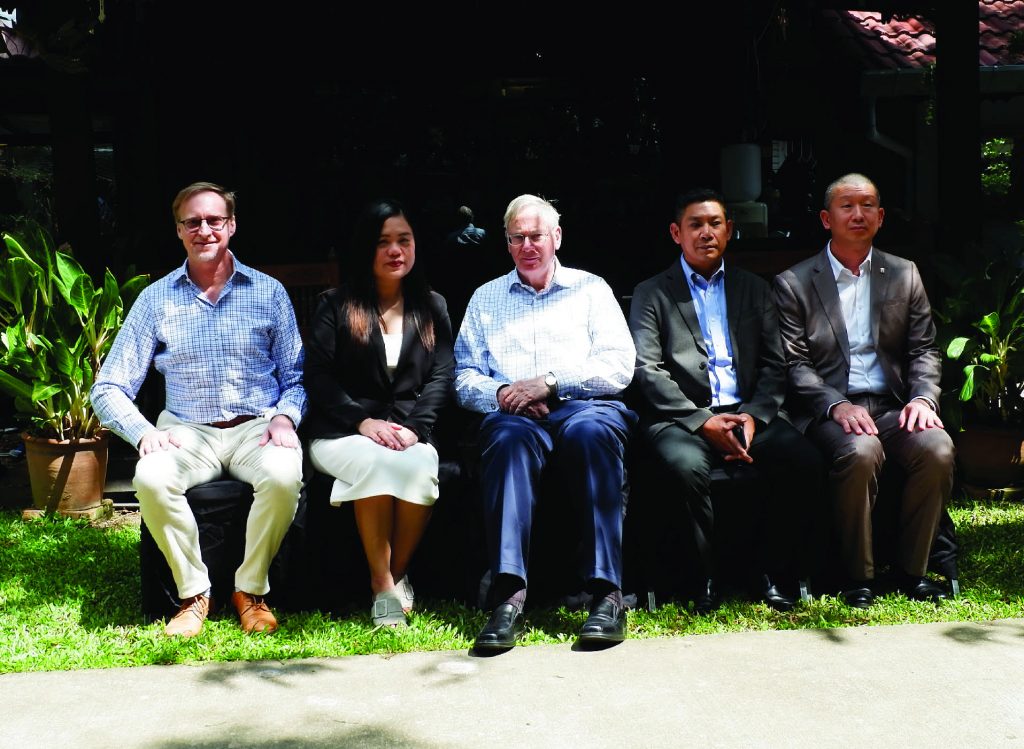 [L to R] HE. Ambassador Brian Davidson, Boom Mosby of HUG Project, H.R.H Prince Richard Duke of Gloucester, Pol. Col. Thakoon Nimsomboon and Pol. Col. Soonthorn Arunnara]
Citylife: What is TICAC and what do you both do?
Pol. Col. Thakoon: TICAC is a taskforce under the police bureau which brings together numerous people and groups working on child issues. We have to have many partners because the Thai police hasn't been trained much in this field, so we work with NGOs such a TRAFCORD, the anti-trafficking coordination unit in Northern Thailand.
Citylife: What are the main issues you tackles?
Pol. Col. Thakoon: We focus on helping children who have been sexually abused. We try to identify at-risk children as a best case scenario, and help those who are violated, while also catching perpetrators, both Thai and foreign. We are also working with the National Legislative Assembly (NLA) to draft laws to better protect our children and punish our perpetrators.
Citylife: What are the biggest chanllenge?
Pol. Col. Thakoon: The internet. We worked with the United Nations Office on Drugs and Crime (UNODC) and they once showed me an image of a seven year old being violated, the picture taken in 1952, which is still circulating online. Once an image has been shared, it is almost impossible to make disappear, as paedophiles screen capture, collect and then privately share them amongst themselves. Our other challenge is the lack of control along our borders. Look at the Mekong River, which is generally around nine metres deep, but in the dry season can be as shallow as half a metre, which means that it is easy to simply walk across into Thailand, that along with the thousands of kilometres of border, trafficking of children for labour as well as sex, is difficult to control; the same goes for paedophiles who also can easily come into Thailand.
Citylife: Thailand used to be considered a point of origin, a through country as well as a destination for trafficking, is this still the case?
Pol. Col. Thakoon: Yes, the reality is that we are all three; source, conduit and destination. But things have improved greatly. Thailand has the best economy in the region and many people from Cambodia, Laos, Myanmar and Vietnam come here for work, at times falling victim to trafficking. Thais also get conned into being trafficked abroad, but we are working hard to solve these problems. In fact, we have been so successful that the US's Trafficking in Persons Report has just been promoted from the watch list to a tier 2, which shows the international community's confidence in our progress.
Citylife: What has the government done to achieve this goal?
Pol. Col.Thakoon: Many things, because like drugs, human trafficking is a national policy and there is a huge amount of resource, training and support to achieve our goals. We are working on changing attitudes, working closer with international NGOs and cooperating on an international level. If you ask if we have solved the problem, then no, it isn't gone, just reduced. But the government has worked very hard and we will continue to work to eradicate this problem.
Citylife: What is your next challenge?
Pol. Col. Soonthorn: The law itself. In many western countries the law covers many crimes which ours doesn't yet. We changed our law three years ago to cover the distribution of child pornography, so that was good. The NLA has also drafted laws against online grooming because today laws only cover those who have violated children, but that is too late for the child, so we are trying to get laws passed to criminalise the process of grooming, which is what they do before the sexual act itself occurs. In Thailand the law is undergoing a public hearing on the matter of entrapment as well. While we will look at laws from other countries, each country must come up with its own set of laws. For instance in the UK they don't have problems with child sex tourism. But in ASEAN, South Asia and Africa we do, so the NLA is proposing a law against that too. I think there also must be some Thais who go outside the country for child sex tourism, but we are not sure of this as we don't have the data. There is a delicate balance between opening our country up to a vibrant and open tourism industry, while making sure that we do not harbour paedophiles.
Citylife: How do you find them?
Pol. Col. Soonthorn: There is an international database which we have at our airports. We also have law enforcement officials from many embassies working at Suvarnabhumi helping us to catch incoming paedophiles. Two months ago we arrested a South Korean man, liaising with a large number of enforcement agencies, who had a great number of images of child porn. We tend not to publicise these arrests so much as we don't ever want to risk any image of any child leaking. One image can ruin a child's life so they can't live in society.
Citylife: What do you think about public awareness concerning these issues in Thailand?
Pol. Col. Soonthorn: It is low. We are working to spread awareness. The government is showing a real interest these days. You sit on a plane entering Thailand and you get shown a video warning against child sex trafficking. It is hard when you have not had personal exposure to these issues to grasp their severity or understand them.
Citylife: What level of support do you get from the government?
Pol. Col. Thakoon: There is always a budget for such an important issue. While some comes from various departments — ours comes from the Department of Immigration — much is subsidised from the sin tax; cigarettes, alcohol and tobacco. Basically if there is a need, we write a proposal and as long as it makes sense and everything is accountable, it always gets passed.
Citylife: So how do you measure results?
Pol. Col. Soonthorn: In the past three years we have prosecuted 120 people, Thai and foreign. But the total arrests, including local authorities and TICAC, I can't tell you, I didn't bring the data today. We are not the core team, just one team. I am immigration so it is all about borders and preventing paedophiles from coming into the Kingdom. Today, thankfully, many countries have laws that paeophiles must have their status printed on their passports, so that countries can choose to let them in or not. We don't. Australia goes even further, confiscating all passports of convicted paedophiles. As to data on Thai paedophiles, unfortunately it will require a massive amount of work to collect hard data from all provinces and offices and convert them into digital. Just recently we found a cache of 200,000 videos and our officials have had to sit there and watch all of them until their eyes watered. We first had to identify Asian people, then listen to them to find Thais. Then we had to find the victims by looking at their surrounding, or school uniforms in hopes, that their schools or names are visible. We cant just go to their schools, however, as this is a delicate matter. So we have to go to the principal or counsellor with NGO partners, out of uniform, and slowly investigate so as not to cause any panic or gossip. Each case takes so long. Even if we identify a paedophile, we can't just raid their homes. First we get their address, then we have to make sure who in that household is the perpetrator, and get a warrant. We can't just go in and raid. Imagine we do and the paedophile doesn't live there because they are registered at their parents' home. If we go in hard the parents could alert them and they will have time to wipe their data from computers.
Citylife: What are the challenges on a regional level?
Pol. Col. Soonthorn: Most countries in South East Asia don't have laws concerning possession of child porn. We are all working to fix this but the real challenge now is that we are not sharing our info. If a tourist is arrested in Cambodia and out on bail, they can in theory enter Thailand, Laos or Myanmar. I have suggested a project for cooperation between immigration departments but the problem is that in Thailand it is the police who oversee immigration, in Myanmar it is the army, and in another country it is the justice department. So this makes it very complex. As to ASEAN as a whole, this isn't a shared priority as island nations such as the Philippines and Indonesia don't have border concerns and the Muslim countries tend to have their own dialogue.
Citylife: So let's say you catch someone, what are the repercussions?
Pol. Col. Thakoon: The punishment is quite severe now, following recent changes in law. We now also can put someone in jail for up to seven years for possession of child porn. Once our grooming law is activated it will also mean that anyone over the age of 20 can be found guilty if they have been caught approaching with nefarious reasons or attempting to groom anyone under the age of 18. This includes communicating with the intention of arranging meetings, or soliciting and sharing images online. If you are a paedophile who has not committed a crime then it is no problem. We understand that they are born this way. But if they break the law then we have a problem. And the law is getting tighter to protect our children.
Pol. Col. Soonthorn: We are also creating a national register of sexual offenders. We are also working closely with the Departments of Probations and Corrections to make sure that we can track offenders post release. We will begin to check up on them and track them as they move.
Citylife: Do you have much public support?
Pol. Col. Soonthorn: Thai people still don't really understand the seriousness of this issue. Our culture is also different and it isn't seen as strange to a man to buy a strangers' child ice cream, whereas in the US, for instance, he would be watched by the public. If you are a parent then look at your child's behaviour. Don't let them play with their computer in their room, make sure you use parental software and if you see anything suspicious in public, please call the police.