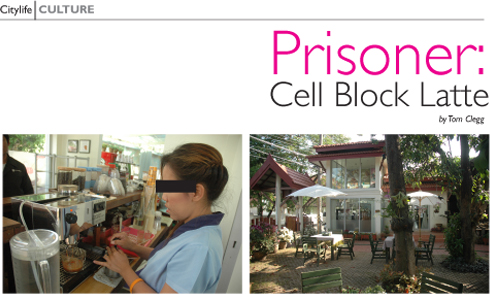 January, 2009
I wasn't at all sure how well I would cope with my time in prison. Thai prisons have a dreadful reputation for not being very pleasant at all; and I found myself being sent to one on some trumped up charge of being able to write. I felt scared and alone. I had heard the stories of overcrowding -something like 250 people crammed into a six-foot by four-foot cell with no beds and just a pot for a toilet. On my arrival at Chiang Mai prison I realised that I had got lucky – Ihad four chairs, a nice sized table (with table cloth) and a pot for my tea.
Sitting in the garden of Chuanchom Restaurant and Coffee Shop just across the road from Chiang Mai's women's prison, I gazed over at a sign on the sun dappled court-yard wall. 'No Entry Dangerous' it declared. Damn right, I thought. This is a prison! What was I thinking! The fear took hold again. But I saw that the sign simply meant that it was not advisable to clamber all over the fine looking one-hundred year old teak house that stands to one side of the coffee shop garden in the shade of the mango trees.
Watching the waitresses whiz around the restaurant in their light and dark blue pyjama suits, taking food and bakery goods orders, and shooting you with nothing more than friendly smiles, images I'd had of Bea Smith and Joan Ferguson trying to murder each other in Prisoner: Cell Block H, were starting to disperse and I felt slightly foolish about the sharpened ruler I had hidden in my flip-flop.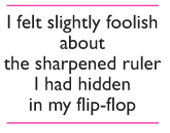 I was not going to take risks though, and decided that if I was going to make things easy on myself I should get to know the top dog. So I sat down with Neung, an extremely affable guard dressed in a smartly-starched beige uniform off-set by rather avuncular white socks and sandals. His job is to keep an eye on things, but far from standing around looking menacing he, along with the other guards, is hands on with showing customers to tables and taking charge of the coffee machine. Neung explained to me that the shop was run for, and by, the prisoners. It allows the women to practice the cooking and waitressing skills they are taught whilst serving their time and it also provides them with a percentage of the profits paid into a personal bank account for them to use on their release. The idea is simple and brilliant – that inmates will be able to support themselves as soon as they walk out of the prison gates, hopefully for good.
I asked Neung what the waitresses had done to find themselves serving me Cappuccinos. His answer stunned me somewhat. Eighty-five percent of the women who are incarcerated in Chiang Mai prison are there on drugs charges – the majority of which are for the possession of methamphetamines. This is an extraordinary statistic (only thirty-three percent of women in UK prisons are there on drug related charges according to a 2006 HM Prison Report). But, Thai drug laws are not the point of this piece. The point is that some of the least dangerous prisoners in the world (and those soon to be released) are being given the opportunity to do something more than pass silly sentences in overcrowded cells. So, if you can bear to give up the air-conditioning in Starbucks, why not pop along to Chuanchom Coffee Shop? For the even more adventurous – why not escape through the garden, go next door, and risk a prisoner giving you a massage…
Open daily 8.30 a.m. – 4.30 p.m.
Tel: 086 182 3486.
Opposite the Woman's Correctional Institute