Durian, songtaews, exotic jungles, blossoming flowers, coconuts…these are just a handful of nearly 1,400 designs painted onto resin elephants being sold all over the world.
You can spot them all over Chiang Mai; a bright pink elephant sitting by the bank of the Ping River, a dizzying-patterned elephant standing guard outside a shop, a cute Akha elephant on its hind legs in your favourite restaurant. All of these elephants are products of an exciting social enterprise, Elephant Parade.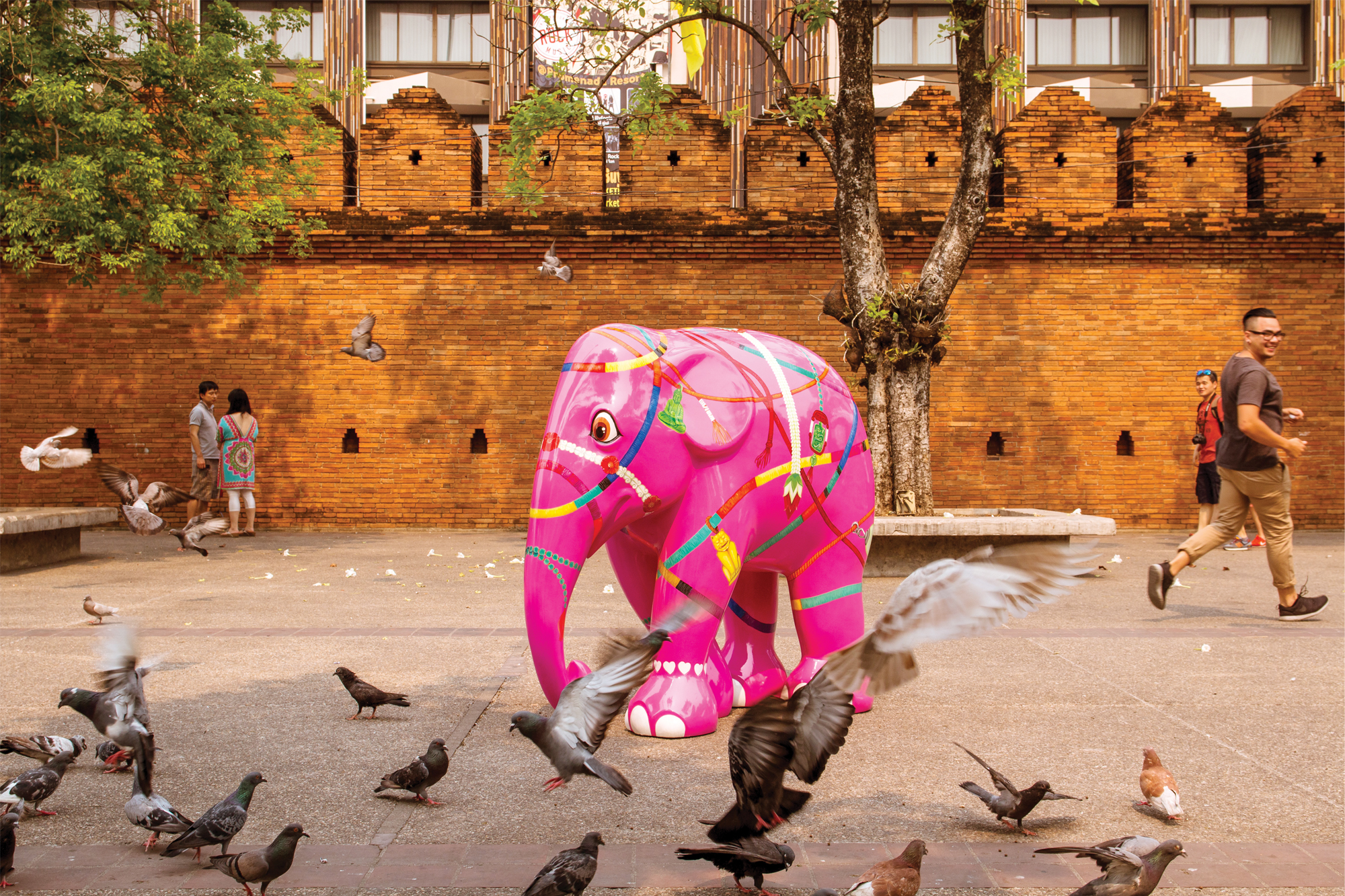 Elephant Parade will soon celebrate its 10th anniversary with a grand parade of more than 50 life-size baby elephants right here where it all started, in Chiang Mai.
Ten years ago, Dutch Marc Spits visited the elephant hospital in Lampang and was moved to action when he saw a baby elephant called Mosha, its leg blown off by a landmine.
Wanting to not just help Mosha, but find a way to continue to help support more elephants all over Asia, he came up with the unique concept that is now the Elephant Parade. Marc Spits has since retired, and his son Mike Spits has turned his father's Chiang Mai-based concept into a global cause celebre.
Prototypes of resin elephants were designed and local artists asked to paint onto them. Once approved, more artists painted replicas for sale, giving opportunities as well as a global platform for Chiang Mai artists. Soon interest spread and Elephant Parade began to invite artists and celebrities to design elephants, with local Chiang Mai artists replicating them onto large sized elephants to be auctioned off. Some of the proceeds go directly to the designer, while 20% of all profits go towards three elephant conservation foundations Elephant Parade has chosen to support; the Friends of the Asian Elephant, The Naka Foundation and the UK's Elephant Family Foundation.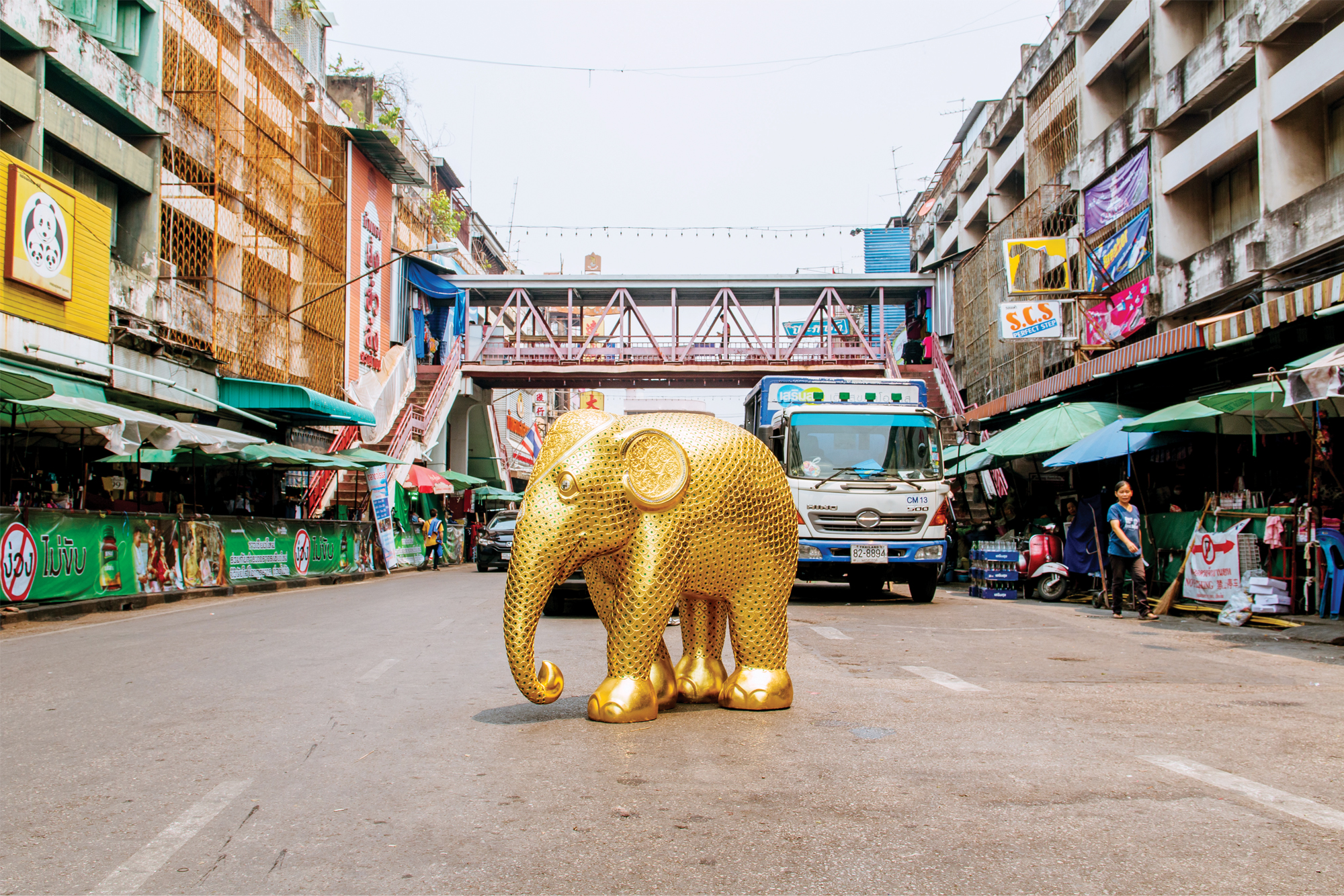 Over the years Sir Richard Branson (twice), Katie Perry, Tony Jaa, Tommy Hilfiger, Ferrari, Isaac Mizrahi, Khloe Kardasian, Goldie Hawn, Paul Smith, Ricky Gervais, Cindy Bishop, Elizabeth Hurley and many other international artists and celebrities have designed elephants for the Elephant Parade, with the most successful elephant having been auctioned off for elephant conservation funds during a Californian parade for 150,000 euros.
The parades themselves have been held in Amsterdam, London, Milan, Hong Kong, Bangkok, Singapore and numerous other cities around the world. For each event, Elephant Parade will find a local partner to work with, shipping anywhere up to 120 elephants from its factory here in Chiang Mai.
The parades generate a significant amount of awareness about the plight of elephants and are always extremely well attended. The recent parade held at Siam Paragon, where a herd of 88 colourful elephants were showcased for several weeks to celebrate the King's 88th birthday, saw the Bangkok shopping mall being the most visited location in Thailand on social media for the duration of the exhibition.
In spite of its global reach and Dutch founders, Elephant Parade is a Chiang Mai business. It employs 42 permanent staff in its home near Meechoke, and an artist pool of over 400 in and around Chiang Mai working on replicating elephants painted by guest and celebrity artists.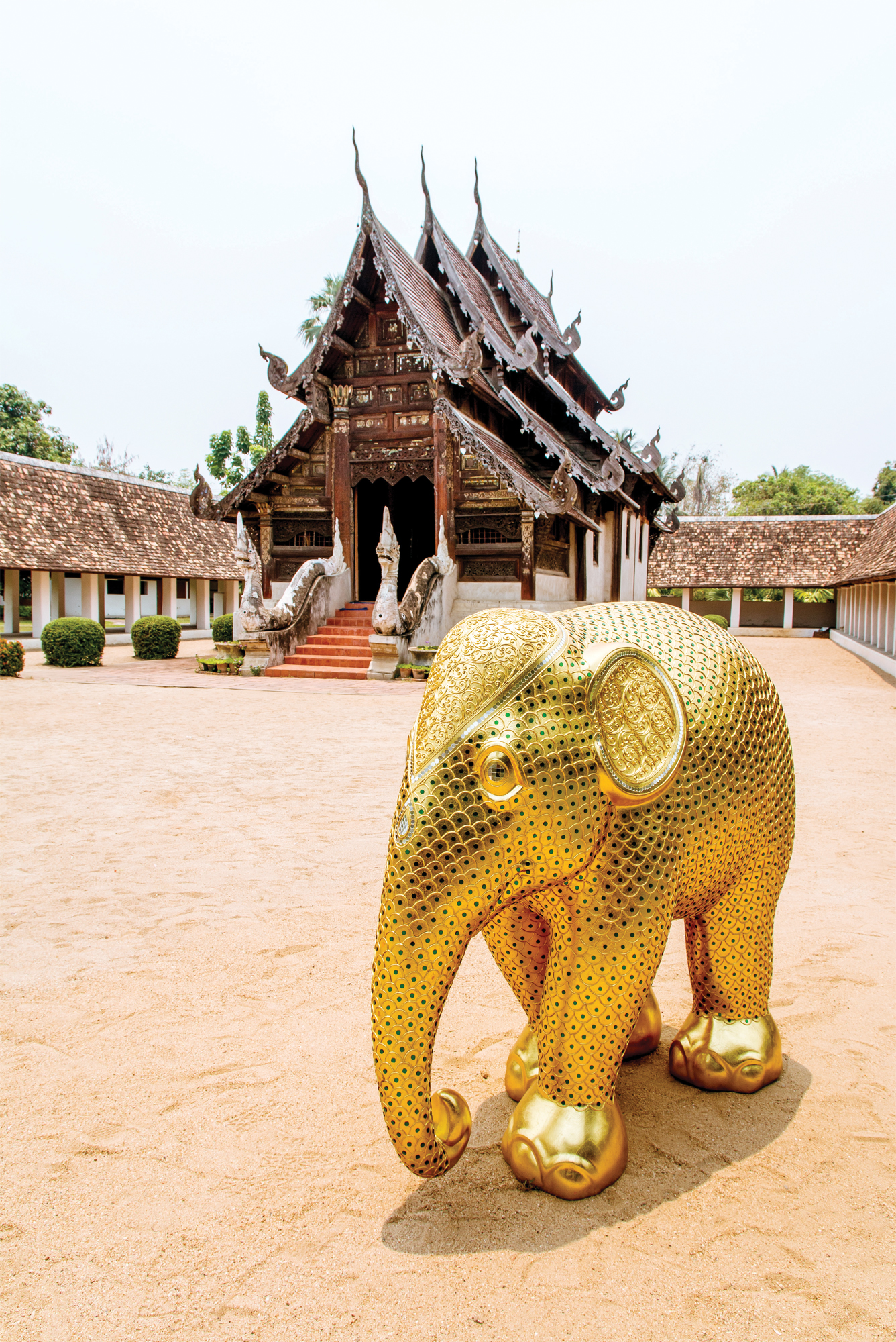 "It has been ten fantastic years," Spits told Citylife. "We have taken the story of Mosha and elephant conservation around the world, been featured in the best publications, had our elephants photographed with Prince William and Kate Middleton, and donated over 4 million euros to foundations to further the cause of elephant conservations. We have showcased well over 1,000 artists and our elephants have paraded all over the world. It is time for us to come home. This year we will hold a Chiang Mai Elephant Parade between 9th December 2016 and 15th January 2017. We will make this event a city-wide event and you will see our elephants all over Chiang Mai. Many local personalities and artists have been invited to design an elephant and we can't wait to reveal to the public exciting new designs along with our iconic popular ones."
Leading up to the end of the year event will be numerous activities and workshops. Art students will be invited to send in their design, with the winner's design being featured in the parade. There will be a publication freely distributed which will include routes to view all featured elephants with prizes to win.
This remarkable business has grown at an astonishing rate. It is a business, but one with a conscience as well as a creative and artistic flair. Its designs range from fun to poignant, iconic to intriguing, abstract to archetypical. Whatever your tastes, there is an elephant out there for you. And if you can't find one to suit your taste then there's always the option to create your own design with their artbox packs.
Visit Elephant Parade House or store on Nimmanhaemin Road, or go to the Elephant Parade Facebook page for daily updates of designs, activities as well as information on the upcoming Chiang Mai Parade.