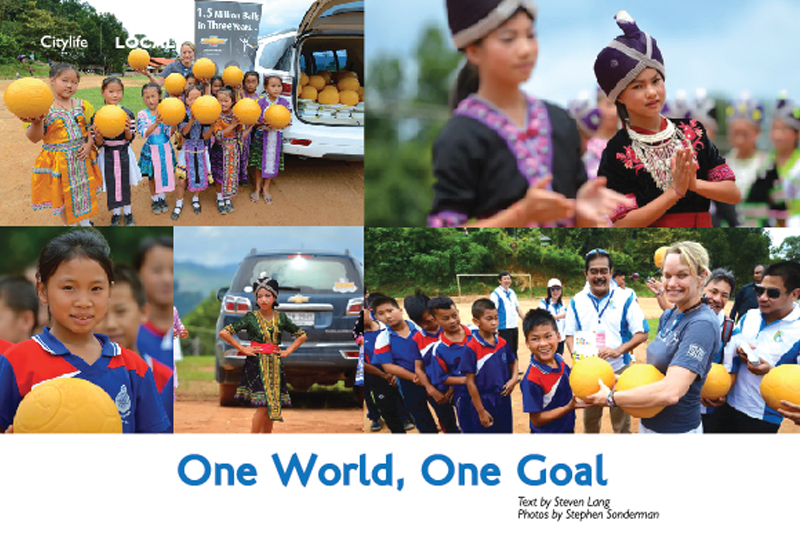 Social change never comes easy. There are divisions in religion, resource disputes and an abundance of corruption that runs rampant in many parts of the world. Yet, there is a human element that is able to transcend religious and economic boundaries…and that's the need for fun. This is where One World Futbol Project comes in, a company aimed at bringing impoverished communities together through a nearly indestructible football.
It all began with an idea that came to American inventor Tim Jahnigen in 2006 after watching news footage of refugee children playing football using a ball they had assembled out of twine and trash. In admiration of their spirit, he set out on a project that would not only bring communities together, but show us, through the commonality of play, that we are all part of one world.
What Jahnigen created was simple: a ball. But not just any ball. This one was made from a material called PopFoam, a rubber-like substance similar to what's used in Crocs (that ever-fashionable footwear) that can withstand the harshest of conditions.
It is in parts of the world where healing through sport is most needed that One World Futbol Project comes most into, ahem, play. There are dozens of success stories already, from providing much-needed fun for children living under the tyranny of drug lords in Curitiba to young amputees in Sierra Leone. Last year, 40,000 balls were delivered to help children recover from the recent deadly typhoon in the Philippines.
Today, the project has reached more than 170 countries in six continents, and just this past September the company created and donated its one millionth football with Chevrolet, their founding sponsor.
One World Futbol Project  has become such a phenomenon that it has expanded operations to include an office here in Chiang Mai, which has been responsible for logistical operations throughout Asia for a year and counting. "We operate out of Chiang Mai since it's so regionally central with the rest of Asia," says Stephen Sonderman, Asia Director of One World Futbol Project. "We expect to do much more locally with the balls we have, both through schools and local NGOs. We are planning a ball donation with the local chapter of the Chiang Mai Rotary Club soon."
Speaking to Stephen and his co-director, Rachel Haig, one begins to get a sense of One World Futbol Project's global reach. They have regional offices in places all over the world including North and South America, Africa and Europe.
"Last month, Stephen and I travelled to a very remote Hmong village on the Laos/Thai border to see children who are living in some of the most squalid conditions using our ball," says Rachel, recalling one of the most rewarding moments of her work. "To see that we're making a difference to these communities gives us the greatest sense of accomplishment."
She goes on to explain how the Futbol not only encourages healing through play but provides education as well. "In Cambodia, we had partnered with an organisation to bring in some coaches to teach local kids soccer using our ball. During the intermissions, the coaches, having the kids' full attention now, would educate them about landmines and how to steer clear of them."
Just recently, Stephen made a trip to Mongolia where he spent 12 days travelling around, handing out balls, and attending a launch ceremony with the Mongolia Football Federation. Six thousand balls were donated.
"Oftentimes, we hand out balls with the intention of simple altruism towards disadvantaged communities," says Stephen. "Bringing people together through sport while healing wounds. However, some of the Football Federations want to use it for serious sport and doing well in tournaments and getting onto the world stage."
Even though Stephen and Rachel spend only four months of the year in Chiang Mai, they feel this is an important place for them to be. "We love Chiang Mai," says Rachel. "The way of life, the slower pace of it (compared to Bangkok) and the fact that we can travel easily to any of the Asian countries makes this an important place for us to stay."
The centralised location is particularly important within such a disaster-prone region. "When the typhoon hit the Philippines last year, the devastation that it caused was unprecedented," recalls Rachel. "A relief programme was put together by Futkaleros [a young Filipino football squad] called the Field of Hope programme. They brought coaches from Israel to train Filipino coaches on a post-trauma curriculum to be used with football.  We provided the balls for the training and the programme.  It is running on Batayan Island, the hardest hit island."
The idea that a simple football could bring so much hope to so many places around the world is inspiring. And it makes you wonder, in a world so marked by conflict, what if we were able to address more of our problems with balls, not bombs?
"Play enables hope, opportunity and optimism in the most dire of situations," adds Rachel. "While the ball is unique, the real magic is not in the ball, it is what happens when children are allowed to play. Together with our founding sponsor Chevrolet, we are bringing the power of play to kids in Thailand and all over Asia while transforming lives."