Yesterday I wrote about my wanderings in the city in the early morning hours, a lovely time of the day to really explore the local life in the old moated city. After posting the photos, I decide to go for an exploration at night to see how the cityscape contrasts with its morning rhythm. I took my camera and simply wandered the streets, chatting to whoever whould talk t me. Here are a few people I met.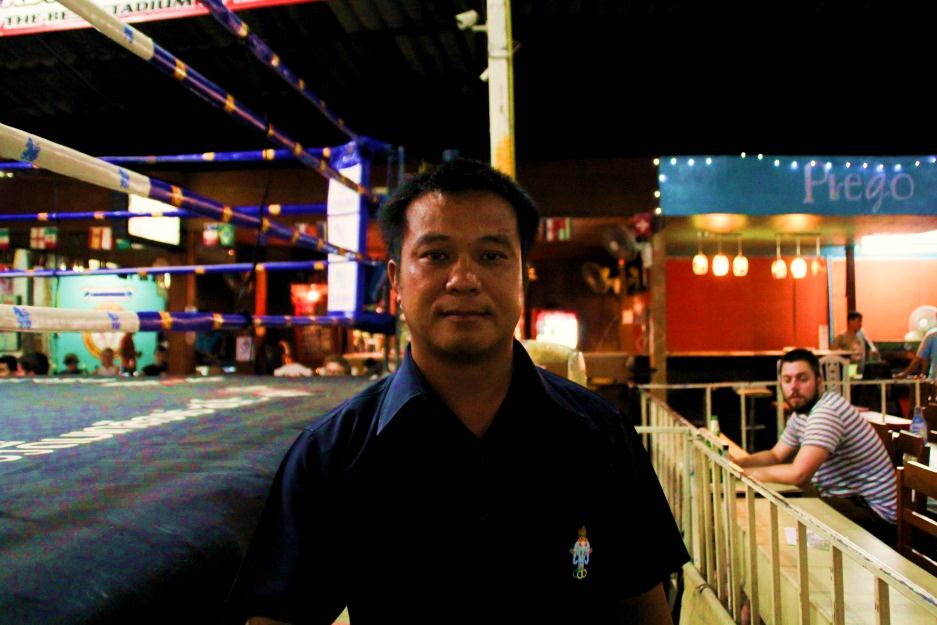 Vingvon Thepthong, 38, was a boxer for over 10 years since the age of seven. Now he is a boxing referee at Tha Pae International Boxing Stadium. For the last four years he works several days a week, starting from 9.30pm until midnight.
Then we walked around the boxing stadium and found bars, pizza shops, and souvenirs shop all in one place. The atmosphere of the audience look excited for the boxing show also the light and sound production made our heart trembling for our very first time watching the boxing!
Before the fight, a trainer put the ceremonial "Mongkol" on his pupil head and blessed him to win the fight.
The first show, 'boys' fight' aged 15-16 years old had the usual crowd of tourists cheering them along, with a nice group of the competitors school friends there for support.
'The girls' fight' aged 14-15 years old shocked me! The girls fought longer, were scrappier, and were definitely more violent and hard core than the boys!
Unfortunately, we had to leave the show early because there were many places we have to visit.
Moon Muang Road seemed awfully quiet last night. Where is everyone?
Meesa, 43, with her 13 month grandson, has been selling silver necklaces and northern style handbags for 20 years in front of 7-11 opposite Tha Pae gate from 7pm until midnight every day. She used to live in Mae Ai. Now she makes a living here in the city where she also owns her own house.
The graffiti, hidden under the shutters by day are colourfully revealed at night.
The only bin we saw during our kilometer or so walk. There was so much rubbish sitting around in black bin bags, many crawling with rats and cockcroaches, torn apart by scavenging dogs. Why does the municipality not provide decent garage bins?
Aha! Here are all the people.
Standing room only at the vibrant Zoe in Yellow.
Both of them saw our camera, stopped dancing for a while and gave us the little heart signed.
For our late late night meal, we met Mr. Tacos Bell, 40, selling burritos, tacos, and quesadillas for 4 years in front of ZOE in Yellow from 7pm to midnight every night. He used to work as a receptionist at the hotel before then he met his farang friend who advised him to sell Mexican food.
Well, that's the end of the night for us in Chiang Mai where anything can happend. The contrast of day and night wasn't as much as I expected. Pretty much everyhwhere we went we were met with friendly, kind and chatty people who were happy to share their life stories with us. I am so happy that I took the time to see my city from a fresh perspectivce and get to remember why I love this place I am from.