In 1968, proud parents, Borvorn and Oon Chutima, flew to the United States to drop their son, Jumpol off for college. Very few were so privileged in those days outside the great northern families of Chutima, Nimmanahaeminda, Kittibutr and Na Chiang Mai. The Chutimas were also closely related to the Nimmanahaemindas, all four families wealthy from property development, a rare foresight during a time when Chiang Mai was, at best, a backwater town far from the world's eyes.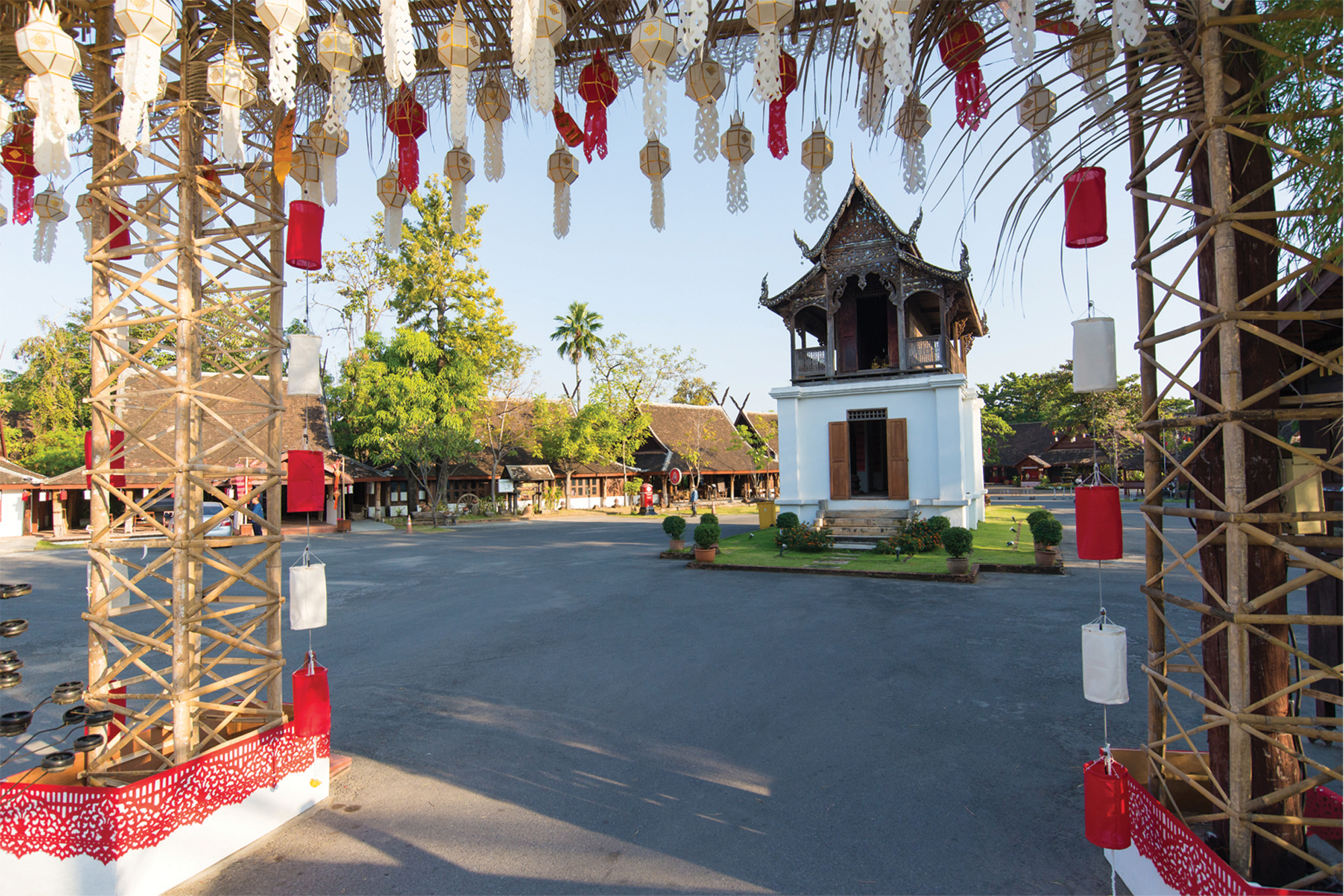 "In 1953, my uncle Kraisri Nimmanahaeminda, a great historian and archeologist, was planning a sendoff party for two friends, Sanya Dharmasakdi, a jurist who later went on to become Prime Minister, and US vice consul George Whitney," Jumpol explained of the beginnings of what has become one of Chiang Mai's major activities — the khantoke.
"At the time, khantoke were dying off. Tables, chairs, knives and forks had arrived and fewer people were dining in the traditional way. My uncle thought it would be fun to entertain his guests for dinner this way. It was such a huge success that a few years later when the Bank of Thailand asked him to host the World Bank gala, he replicated it, inviting Miss Chiang Mai, Miss Lamphun and Miss Northern Thailand beauty contestants for colour, and a few dances for entertainment. It was such a hit, the palace soon held one for HMs the King and Queen who were entertaining the King of Malaysia at Phuping Palace."
With the success of their brother Kraisri's event still in mind, Jumpol's parents stopped off for a short break in Hawaii before returning home. There they encountered the Polynesian Cultural Centre, which so impressed them that they thought to replicate it in Chiang Mai.
"This was just after a large Pacific Asia Conference that was held in Chiang Mai, and TAT was urging Chiang Mai people to invest in tourism," Jumpol continued. "My mother built the Rincome Hotel (later Amari) and soon after, in 1970, started the construction of the Old Chiangmai Cultural Centre — recently rebranded as Old Chiangmai. She brought the idea of commercialising culture from her Hawaii trip and was a pioneer in many aspects of development of the Chiang Mai tourism industry. This was unheard of at the time."
It was a grand project, with a complex of exquisite teak buildings surrounding a few courtyards, a 19th century wooden temple rescued from demolition at its centre, and all on 11 rai of land in Wua Lai. In those days Chiang Mai had few independent tourists, with most being tour groups, and it wasn't long before Old Chiangmai became the prime tourist attraction, a must visit for any visitor to the northern capital.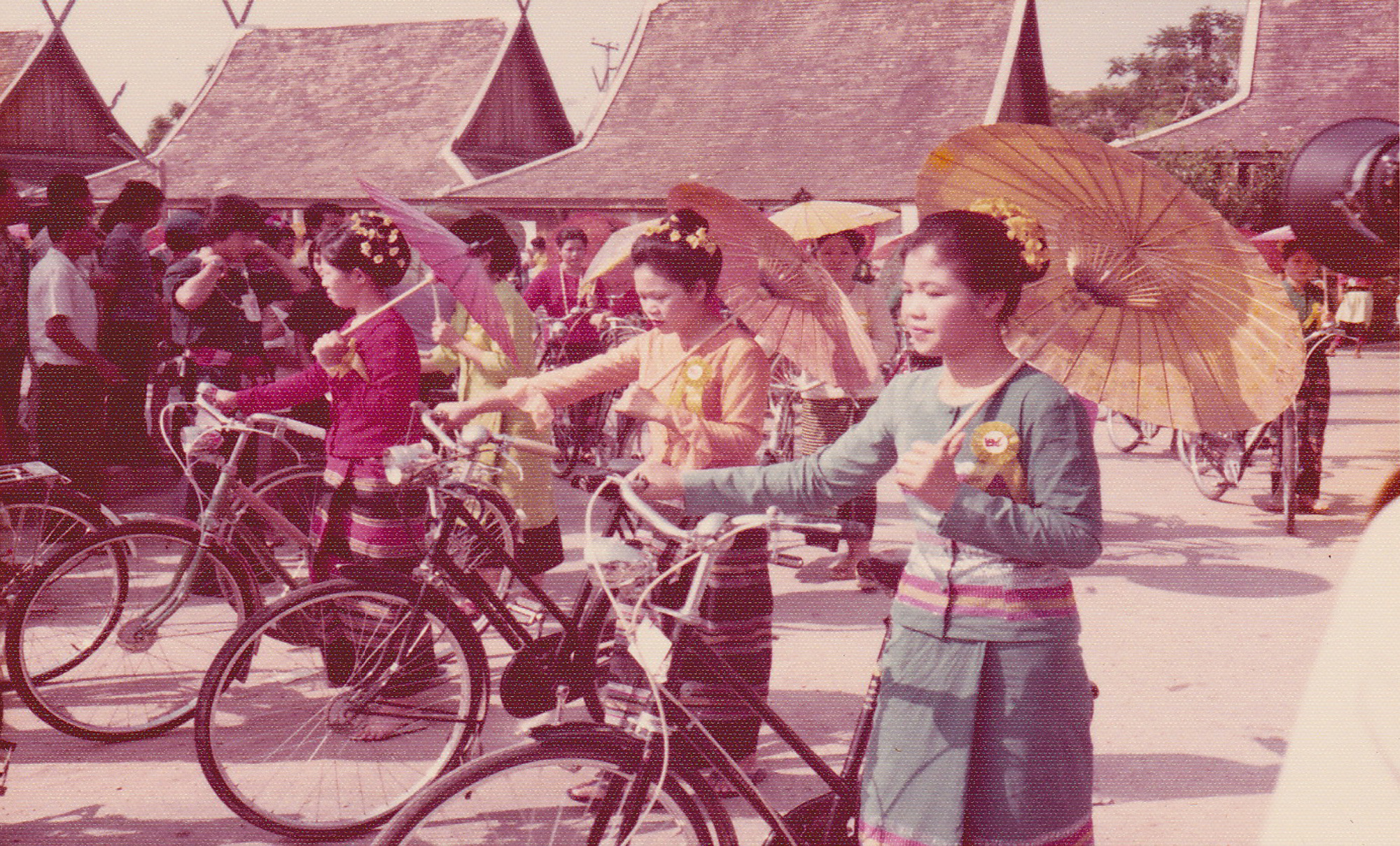 "This was before Bor Sang," Jumpol explained. "We had souvenir stores every evening until Bor Sang took off and they moved to the Sankampaeng Road. Multiple Asian cuisine restaurants surrounded our courtyard and of course the nightly entertainment of performance and khantoke dining was the main draw. Traditional dishes had to be refined for foreign palates, for instance did you know that hung-le is traditionally sour and salty? Khun Amara Chutima, the first GM at Old Chiangmai was the one who sweetened it and now it is the taste everyone associates with it."
"My mother also was the creator of the annual tradition that sees Lanna-clad ladies riding bicycles while holding colourful parasols," Jumpol said. "She had bad eyesight and was so impressed that these ladies could navigate the roads on their bicycles while holding a parasol! So she started a parade of this in 1976. For over ten years the ladies would cycle from the train station to Old Chiangmai. But then she handed it over to the municipality and the Nakornping Lions when it got really big and it has become an integral part of the Songkran calendar."
In the mid-1980s tourists began to pour into Chiang Mai and it was time for Jumpol to return home to help his parents with their expanding business. At that time, Old Chiangmai was the centre of all cultural activities in Chiang Mai, hosting a great number of events as well as being able to accommodate up to 1,400 per night during its heyday.
"We were the first to have a Hill Tribe Village do hill tribe traditional dance shows too," Jumpol continued, as we passed around old photographs from Old Chiangmai's early days. "Mother was so impressed with the Polynesian Cultural Centre, and since she was unable to find any Polynesians here," he said with a little smile, "she took many trips up to the mountains to invite hill tribes to come and work with us."
Accommodation was built to house the performers and their families, scholarship funds were created for their children's education, and even today up to three generations of staff live on premises.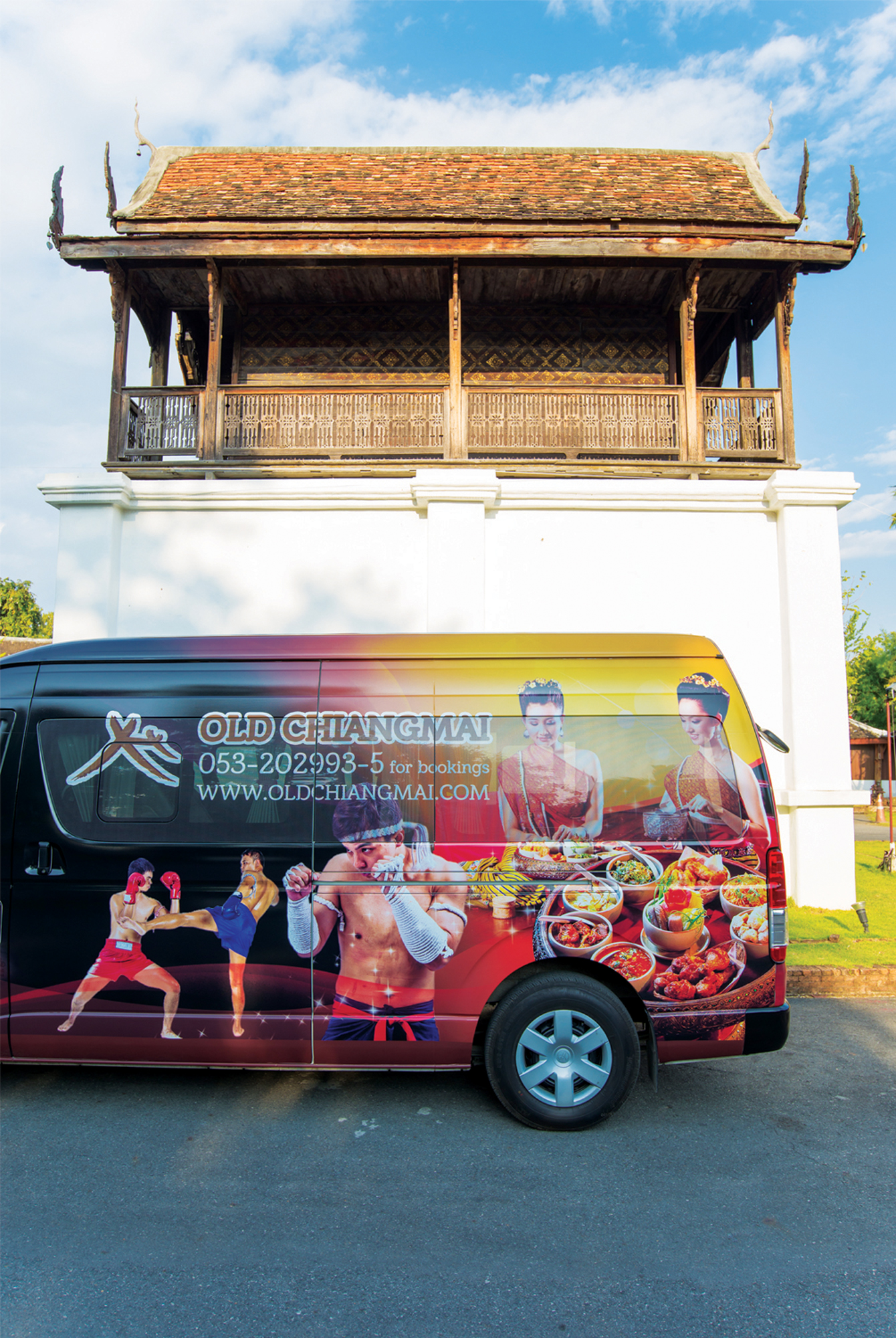 "In fact, we had an event here recently and invited Ming Ming, an Akha girl from The Voice Thailand to sing for us," interjected Tim McGuire, Old Chiangmai's new general manager, tasked with revitalising the classic venue. "She told us she wouldn't take our money because her grandmother was one of our first performers and it was through her work with us that their family have done so well."
"The reason we decided to close down the hill tribe village and feature only the dancing was that people were beginning to frown at taking tourists to the so-called human zoo. So we changed the focus to dance and offered them a career, housing and a future," explained Jumpol.
"I must point out," added McGuire, "that Old Chiangmai is all about the preservation and celebration of Lanna culture. Since I joined in September I have had all sorts of ideas to pull in mass tourism. But Khun Jumpol and his two children who are now running his business, have always set very firm boundaries. If it is not Lanna culture, it is not part of Old Chiangmai. We have to be completely faithful to both tradition and history. So I need to find some excitement within those parametres. While this can be frustrating, it is something I admire greatly. The dancing here is authentic, the dresses are traditional. We don't let an Akha wear a Lahu outfit, we don't care if no one knows, we know and they know, and it is wrong. Everywhere you look here, whether the exhibit of Lanna architecture, the textile museum, the wood carvings and the shows, they are Lanna through and through."
Soon khantoke restaurants were opening everywhere, new attractions were drawing the tourists away and Jumpol's children were too young to step in.
"Now we are ready," said McGuire. "Khun Jumpol's daughter, Manaswat, is running this place and his son is running the family's Chiang Rai hotel. We recognise that tourism has changed; the emphasis today is on environment, not culture. But I believe that Old Chiangmai has a role in the preservation of culture in order to pass it down to future generations."
In the past year, a boxing school has been added to the vast complex and soon a Lanna cooking school will open up. McGuire is also approaching numerous arts and cultural groups and has so far held many successful events ranging from film nights to talks about the pollutions, putting Old Chiangmai back on the map.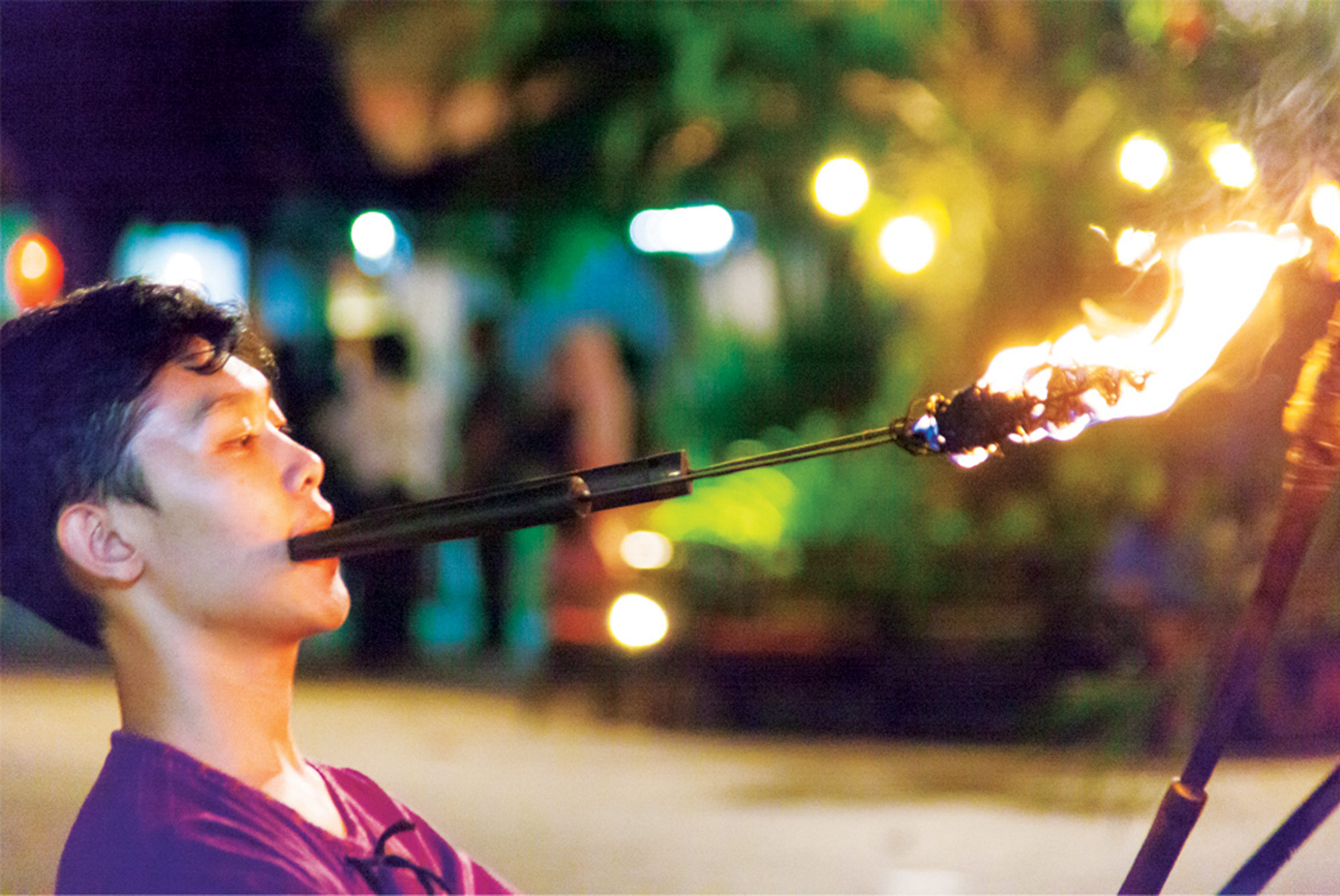 "We have incredible facilities," said McGuire. "Large halls, outdoor theatre arenas, private rooms, exhibition halls, market zones, antique houses, even a massive courtyard surrounded by old wooden buildings which I am now in talks with some producers to use as a movie set. The possibilities are endless."
"Before, visitors would finish the khantoke and be invited to walk over to the hill tribe show arena," explained McGuire. "We lost most of them here as often their guides would whisk them away to the Night Bazaar, or they wouldn't understand what came next. So I have incorporated the Lanna and hill tribe performances so our guests can spend more time with us. With the new Thai boxing ring, we are offering training courses in traditional boxing; this fits in with the Lanna boundary and is a new activity. There is a new night market too so when people are dropped off in their vans they can wander around and do some shopping. There is so much to do and see when you are here."
Manaswat Chutima, Jumpol's daughter, is now at the helm. She is young, well educated, with a global outlook and understands the changes that have arrived in Chiang Mai, while being fiercely proud of the history and heritage she has inherited. Old Chiangmai is facing a bright new future.