Kasem Store
Chiang Mai's favourite family-owned destination for hard-to-find imports has relocated from its Nimmanhaemin standby to a new location near Wing 41, off Suthep Road. Here, you'll still find an array of excellent international foodstuffs, from mac 'n' cheese to tortilla chips to Dutch chocolate to Japanese tea to microwave popcorn, as well as home-baked breads and cakes, fresh produce, cheeses, and local coffee beans which can be bought whole or ground and bagged on-site. Best of all, you can expect the kind of friendly, family-style service that Kasem Store has been providing for over half a century (55 years and counting). Kasem also caters for parties and conventions, and sells wholesale.
17/5 Sanarmbin Gao Road (left off Suthep Road towards the Wing 41 entrance, about 50 metres down on your left)
053 808 112
C.A.M.P.
Situated on the fifth floor of the Maya Shopping Centre, C.A.M.P. (which stands for Creative and Meeting Place) is a dynamic community work space in which people come to relax, work, study, and even take a quick little nap. Open 24 hours a day with free wifi, good coffee, sweet treats, and plenty of room to spread out, it's the perfect place for digital nomads, those looking for work space and students alike. The space itself is a work of modern art, with various levels and nooks where people can congregate or seclude themselves. There is even a "tree house space" for those who are feeling a bit whimsical. Electrical plugs are plentiful and those who need a break and some fresh air will appreciate the outdoor balcony with a gorgeous view of Doi Suthep.
Open daily, 24 hours
Maya Shopping Centre
053 081 199
China Palace
You're probably already aware that Chiang Mai's Holiday Inn has one of the biggest and most popular lunch buffets in town, where you can choose from a bounty of international foods for just 299 baht a person. But did you know about their authentic Cantonese restaurant, China Palace? Take the winding staircase up from the lobby and enter the mezzanine's opulent dining room (with five smaller rooms available for private groups as well as a separate dining room for larger functions). Here you can sip tea and feast on dim sum, available as a buffet, a set, or a la carte (starting at just 35 baht per steamer basket). Other must-trys include the delicate deep fried taro with shrimp and chicken, rice noodle rolls stuffed with roast duck, three topping shrimp dumplings and crispy pork.
Open daily, 11.30am–2.30pm, 5.30–9.30 pm
318/1 Chiang  Mai-Lamphun Road
053 275 300
Street Pizza
Love pizza? Despite spending its first two years tucked away in the middle of the Night Bazaar, where few non-tourists dare to tread, this excellent Thai-owned, Italian-style bistro has been quietly attracting a devoted fan base for a while now. Today, its Tha Pae Road location is gaining even more traction, with a romantic outdoor patio that resembles a narrow Italian alley _ peeling walls, creeping vines and jarred candles flickering atop mismatched table cloths. The pizza, which starts at just 139 baht for a 10-incher, is fantastic and distinctive, from the signature Nawat Pizza, with locally made wild boar sausage and fresh basil, to the uniquely tasty pesto chicken pizza with pickle slices. Go classic with margarita or shake things up with a banana almond pizza! Pair your pie with crisp zucchini fries in tomato aioli and a range of beers and imported wines by the bottle, et voila! A perfect Italian evening right here in Chiang Mai.
Open daily, 5pm _ 10.30pm (closed Sundays)
86-88 Tha Pae Road
Facebook: Street Pizza
085 073 5746
Butternut Cafe
Owned and operated by the fabulous Jacky of Cat House fame, Butternut Caf? is a new little open-air eatery located just steps away from its sister restaurant, Cat House. Here, you'll find the same level of well-priced deliciousness and nutritiousness _ and nearly everything on the menu is under 100 baht. But this time, the menu comes with a bit of a Mediterranean twist. Try the delicious hummous and falafel plate with fresh homemade pita or the hearty socca omelette, served sandwich-style with your choice of bacon, ham, Vietnamese sausage, Chiang Mai sausage, egg and cheese, which washes down perfectly with a refreshing glass of butterfly pea lemonade. All day breakfast is available along with lunch, dinner, coffee, smoothies, and cocktails, including mojitos, pina coladas and twisted teas. The pizza is gluten free, made from socca garbanzo flour for a perfectly crispy crust, and the waffles have gotten rave reviews.
Open daily, 6am _ 10pm
Chaiyaphum Soi 1
081 028 5542
Ragu
The Duke's, River Market, and now Ragu…Chiang Mai's favourite food empire has expanded once again with a new Italian venture at Promenada. Ragu, as its aptly named, is now serving up amazing Italian dishes, and as standard with anything related to the Dukes, it offers great tastes vast portions and modest prices. The stylish d?cor, generous leather seats, industrial grunge ceilings and wall-to-ceiling views of the Promenada garden, makes Ragu a perfect dining destination. The 100 baht flatbread pizzas melt in your mouth with an exquisite blend of cheese, veggies and meat, and the pasta dishes are hearty and full of flavour. Other pizzas dishes are (of course) huge and generously laden with wondrous toppings. The menu has a little something to offer all palates, from cold cut platters to salads, sandwiches to traditional Italian fare. The souffl? rises to perfection and melts in the mouth, a great way to end such a hearty meal. A great spot to indulge in pizza, spaghetti and wine with loved ones, friends, or the end of week business dinner.
Open daily 11am – 9pm
Promenada Resort 1st Floor Zone B
www.facebook.com/RaguPromenada
Tel. 053 142665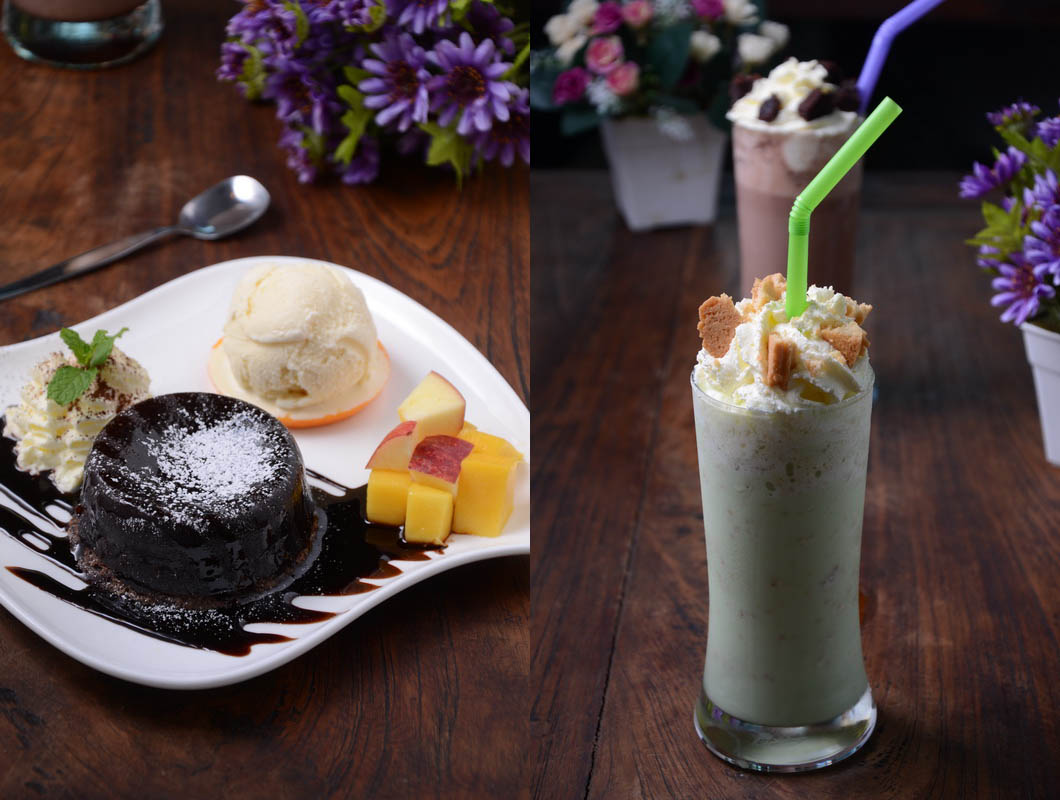 49 Garden Cafe
Casual, creative, chic and cool, this new caf? is a work of love for its owners who are in the plants as well as cooking business. Lovers of plants come here to peruse and purchase, taking in the lush green ambiance, and stay on to dig into the fantastic food offerings. It is not Thai, it is not western, but a personal amalgamation of all things which the owner loves. Dig into a hearty lamb with rosemary sauce for 499 baht, a tom yam kung spaghetti for 179 baht or a Thai spicy fried seafood for 129 baht. The bakery section is filled with daily baked goodies such as young coconut cake, chocolate lava, blueberry cheese cake or pannacotta. Fresh coffees, fruit juices and more are also served to quench your thirst.
Open 9.30am – 8.30pm daily
Opposite Sunshine Kindergarten near Royal Flora
Tel. 088 2669692 / 081 9602208
San Pareni
Just south of Chiang Mai, where the sounds of the city are gone, sits the San Pareni Hotel and Restaurant. The owner is an avid fan of everything vintage, antique and classic and that love is clear in the d?cor and style of both the hotel and the restaurant, now featuring a new menu focuses on international and Thai food with a fusion twist. Enter the faux castle, based on architecture from Switzerland, and you'll find a setting both classic and quirky. The food is also on par, especially their signature marinated pork knuckle which is steeped for days, then boiled, roasted, and fried to give it the perfect crunchy exterior and tender, melt-in-your-mouth interior. San Pareni also serves several draught beers, including Hoegaarden which is available, free-flow, from 6 – 8 pm daily for just 499 baht, and tantalising cocktails and mocktails (buy one get one free!).
Open daily, 11 am – 10 pm
47/1 Moo 5, Somphot Chiang Mai 700 Pi Road, Mae Hia
053 105 557
4Corners Grill
The hugely popular White Plate Caf? has officially renamed itself 4Corners Grill. What's gone is the coffee and the pasta menu, now there's just one pasta special each day, but the JJ Market location and mouth-watering selection of gourmet burgers (created by a chef from New Zealand) remains. Here, the burgers range from 130-350 baht apiece, and are some of the best in town. The hand-cut fries are also excellent, and you can add a hearty heap with house aioli to any burger for just 30 baht more. Don't miss the delicious goat cheese and fig burger, which comes with a juicy 150g slab of ground sirloin and bacon, or 4Corner's famous sweet mango and beef burger with tangy beetroot. Vegetarians will swoon over the veggie burger and the paneer and honey with char-grilled vegetables and chilli pumpkin mash. They also do a Caesar salad and an excellent pesto chicken dish, and everything can be washed down with a glass of specialty iced tea from nearby Monsoon.
Open daily, noon – 8pm (kitchen closes at 7.30pm)
JJ Market, 45 Atsadathorn Road
www.facebook.com/4cornersgrill
084 611 8042