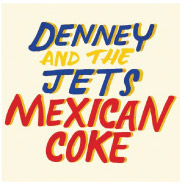 Denney & the Jets – Mexican Coke

If this group's debut album takes off, they're likely to get praise similar to that of the honky-tonk, country-rock-leaning early work of Kings of Leon. Here's hoping Denney & the Jets lack the arena-sized ambition of that band and stick to their bread and butter. While the overall motif is that of boogie rock from the American South, they're a sonic dead ringer for classic era Stones, with the energy and simple pop songwriting of The Dave Clark 5. It seems that these guys are far more than just emulating their heroes, and their "let's party and do drugs" attitude belies their tight playing and instrumental prowess. Lead singer Chris Denney has an easy-going drawl that's backed by Sean Cotton's lean and dirty guitar work, and brothers Joey and Evan Scala on bass and drums, respectively. All seem ready to cut loose at any moment but manage to keep their instruments in check in service of the three-minute rocker.
Sierra Leone's Refugee All-Stars – Libation

With over a decade of rising international fame as BBC and NPR favourites, releasing albums with big name producers, and performing in front of massive festival crowds, Sierra Leone's Refugee All-Stars remain unchanged. Their sublime mix of West African pop and roots reggae is as fresh and uplifting as ever, made all the more amazing by their story. For the unfamiliar, the band members met in a refugee camp in Guinea during the civil war in the 1990s, where playing music was their form of escape from the extreme misery of their situation. A 2002 documentary, which followed their moves from camp to camp and the recording of their first album at the end of the war, put a spotlight on the music and their peoples' plight. The new album's title, Libation, refers to a drink that is poured out in memory of lost loved ones, but you'd never know from the infectious grooves and upbeat nature of the tunes that they come from a place of sadness.
www.shop.cumbancha.com/libation.html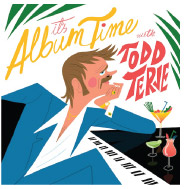 Todd Terje – It's Album Time

After a series of singles and EPs, Norwegian producer Todd Terje announces with a silly title and the intro track's only lyrics that "it's album time." What follows is a whirlwind of electronic cocktail lounge music punched up by frequent diversions into neo-disco and 80s action movie scores. Think Henry Mancini with a penchant for synthesisers. The results are often thrilling but several songs beg for the addition of vocals, while the only track with real singing is a maudlin take on Robert Palmer's "Johnny and Mary" with guest Bryan Ferry. The rest of the album is all fun and games though, and despite what is clearly a well-crafted set of tunes, it seems best fit as background music. Judging by the cover art, however, that seems to be perfectly fine by its creator.