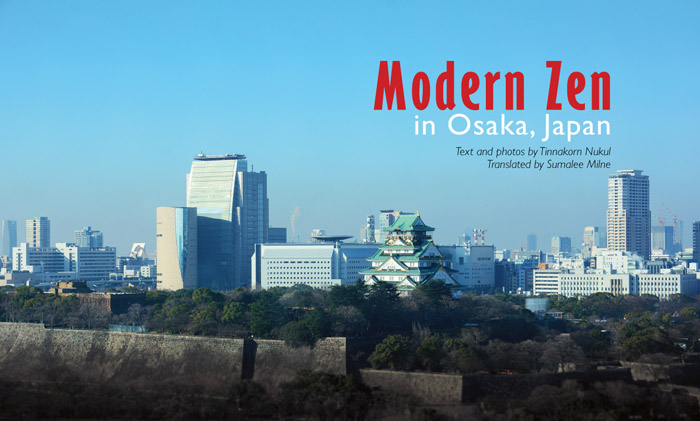 Welcome to Osaka, the third largest city in Japan with the second largest population. Known as Japan's trade and economic gateway to the outside world since ancient times, Osaka today is a bustling metropolis with an excellent infrastructure and lovely mild weather year-round. With a great public transportation system of subways and trams and very little traffic or pollution, it is a great destination for cyclists and pedestrians to explore at their own pace. And explore you should! In Osaka, you will find a welcome blend of old and new culture, from peaceful gardens to vibrant nightlife, and plenty of scrumptious food – anywhere, anytime – in between.
How to Get There
The fabulous new budget airline Hong Kong Express (our trip's sponser) now offers a convenient new way to travel from Chiang Mai to Osaka on the cheap, with only one stopover in Hong Kong. They also offer affordable flights to and from nine other cities, including Phuket, Kunming, Seoul and Tokyo. www.hkexpress.com
Where to Go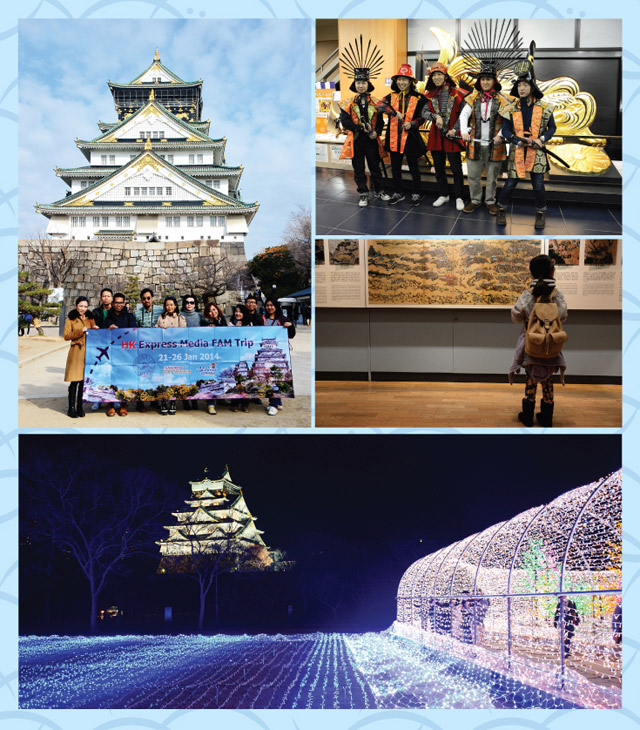 Osaka Castle
A place of historical significance and a symbol of the city, this castle was built over 400 years ago. Today it has been converted into a museum, offering a slew of interesting exhibits and historic memorabilia, as well as one of the most stunning viewpoints of the city from the eighth floor rooftop. www.osakacastle.net
During our trip, we were lucky enough to witness the first annual Osaka Castle 3D Mapping Super Illumination during the Art Festival of Light, which will take place from mid-December to mid-February each year from now on. During this time, the castle garden is transformed with a million sparkling LED lights, a giant LED light cube and a spectacular 3D animation show projected onto the castle and synched to music. www.hikari-kyoen.com/en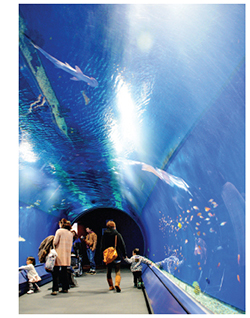 Osaka Aquarium Kaiyukan 
Built to resemble the natural environment of the Pacific Ocean and housing 580 species of marine life (and over 30,000 animals) this excellent aquarium is the second largest in Japan. Its unique design features a sloping spiral walkway meant to symbolise the overlapping "Ring of Life" and "Ring of Fire," to show the symbiotic relationship of all living things. On the way down, visitors can come face to face with a variety of exotic sea creatures. Don't miss the giant whale shark, the Pacific white dolphins and the rambunctious colony of penguins, housed in a tank known as the South Pole. www.kaiyukan.com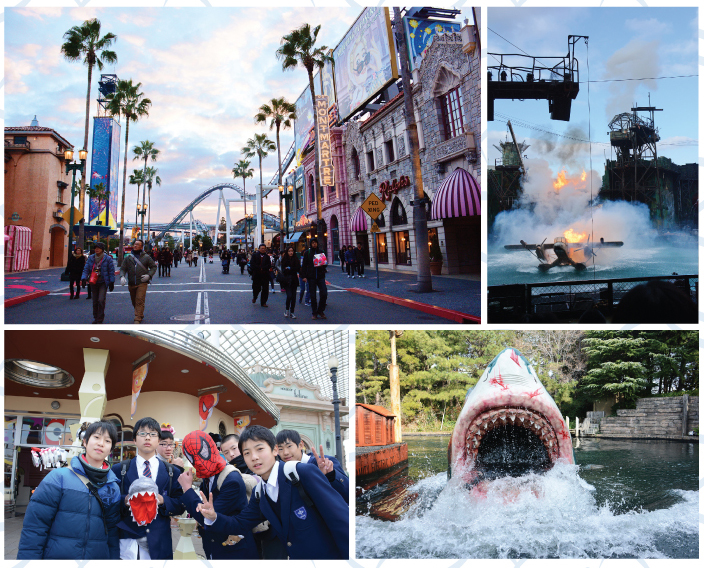 Universal Studios Japan
This gigantic American-style amusement park is sure to keep the entire family entertained. Stroll through model cities of Hollywood, New York and San Francisco, snack on all kinds of marvellous junk food from the kiosks, shop for souvenirs and queue up for tonnes of thrilling rides, from the Adventures of Spiderman 4K3D to the Jaws boat encounter. Kids will love Universal Wonderland, where they can spend hours frolicking through Snoopy's Play Land and having their picture taken with Hello Kitty (okay, adults like this too). www.usj.co.jp/e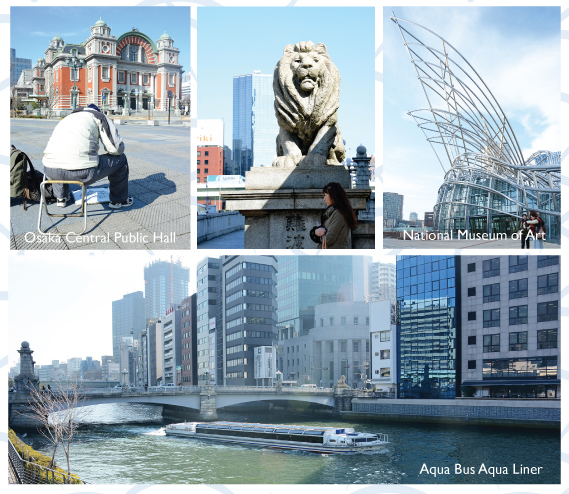 Nakanoshima Area 
Where the Okawa River splits, the small sub-district of Temma is formed, resembling a small island which has been dubbed Nakanoshima. Today, the area is one of Osaka's most important financial hubs, as well as jam-packed with art and culture, and well worth exploring. Check out the Museum of Oriental Ceramics of Osaka, admire the timeworn architecture of the Osaka Central Public Hall, visit the Nakanoshima Library and, further around the island, the Entrepreneurial Museum of Challenge and Innovation (where you can learn the secrets of Japan's most successful businessmen), the National Museum of Art (which is built underground!) and the Osaka Science Museum (an interactive, fun-filled favourite for children). www.osaka-info.jp/otw/e/index.html
Nakanoshima also has a unique flat-bottomed boat called the Aqua Bus Aqua Liner, which rises only 1.6 m from the surface of the water so that it can pass under bridges, and offers one-hour tours to all the major highlights in the area. Boat tickets include a coupon for a meal from one of the area's many restaurants, and an all-day subway pass to travel around Osaka. www.suijo-bus.jp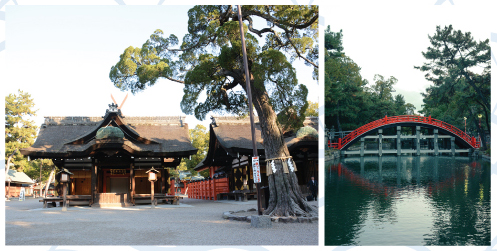 Sumiyoshi Taisha Grand Shrine
This ancient Japanese Shinto shrine was built in the third century for the Shinto god Kami, and today offers a peaceful and spacious haven to spend an afternoon. Crisscrossed by small streams and connected by bright red bridges, the area is decorated with picturesque rock gardens and lanterns and contains many raised wooden buildings, painted in white and bright orange, and topped with pointed roofs covered in dry cypress leaves. Like Thai people, the Japanese have a long tradition of praying to sacred deities for protection. A Shinto monk at the shrine told me that in ancient times, the majority of Osakans were fishermen. Before heading out to sea, they would come and pray to the gods at this shrine for protection and good luck. www.sumiyoshitaisha.net
Where to Shop and Eat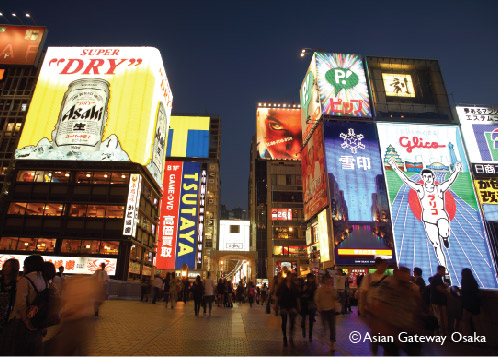 Dotonbori
At night, this breezy walking street next to the canal transforms into one of the most popular tourist destinations in the city – and for good reason! Located in Minami, the heart of southern Osaka, the area was once celebrated for its tea houses and many historic theatres. Now only the Shochiku-za theatre, opposite the Ebizu-bashi bridge, remains, but there's plenty else to keep you entertained: shop for anything and everything your heart desires, and eat and drink at one of the many open-air restaurants and bars that keep the area buzzing 'til the sun comes up. Dotonbori is known for its preponderance of neon signs and plethora of delicious regional cuisine, where you can practice the art of kuidaore, a Japanese word meaning roughly "to ruin oneself by extravagance in food." Perhaps the most quintessential photo-op in the area is for tourists posing on the bridge in front of the famous Glico running man display. (Of course, I had to stop here to buy Glico sweets for all my colleagues back at Citylife, who requested anything and everything green tea flavoured.)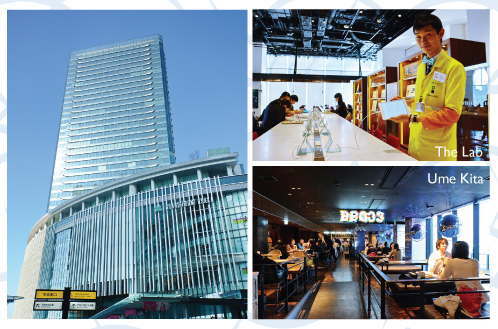 Grand Front Osaka 
Hotels, mansions and malls, oh my! Located in front of the Osaka train station, this area features over 266 restaurants and shops, selling all manner of clothes, jewellery, furniture, writing materials, and even model houses. Restaurants at Ume Kita on the sixth floor serve delicious food until 4 a.m. My favorite place here was a unique space called The Lab, which has four floors. The first floor is a revolving exhibition centre, the second floor is a coffee shop that provides free books to read (both paper and digital versions) and the third and fourth floors feature a fun, interactive exhibition of science and innovation. In other words, this place is much more interesting than your average mall!  www.grandfront-osaka.jp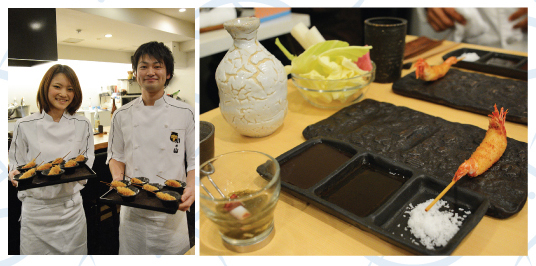 Kawa to Yama 
A small restaurant on Yotsubashi Street (near the Shinsaibashi Train Station) with a cosy, intimate atmosphere, Kawa to Yama means "where the river meets the mountain." Here, you'll find quintessential kushikatsu, which is to say, fried food on sticks – an Osaka specialty since its creation during the scarcity of World War II, when it was favoured for being quick and easy to make. Pork, chicken, beef, fish or vegetables: anything can be dipped in flour, then fried and eaten with various sauces, fresh vegetables and hot sake. And it's always delicious! Here at Kawa to Yama, you can watch the chefs prepare each item, and then eat it right away while it's still piping hot. Tel. 06 6534 5266
Where to Sleep
Hotel New Otani Osaka
This is a well-established hotel catering to business people and tourists, with one of the best locations in the city, quite close to historical landmarks and public transport. Indeed, Hotel New Otani Osaka is a bit of a landmark itself, with well-appointed rooms and excellent views of the city from the rooftop restaurant.
Thank you to Miyoko Imanaka and Yukiyo Katsumura from the Osaka Government Tourism Bureau (OGTB) and Asian Gateway Osaka for being such excellent hosts to us on our trip (www.osaka-info.jp) and to Atthawut Kumpitak and Sasathon Intarachai from Hong Kong Express Airlines (www.hkexpress.com) for coordinating our fun-filled travel experience!