Mix Restaurants & Bars are spreading all over not just Thailand, but South East Asia, making it one serious Chiang Mai success story. From Myanmar to Thailand, the restaurant with a thousand fusions is now opening its latest branch back in its hometown of Chiang Mai, in the North Hill Golf Club on the Hang Dong road.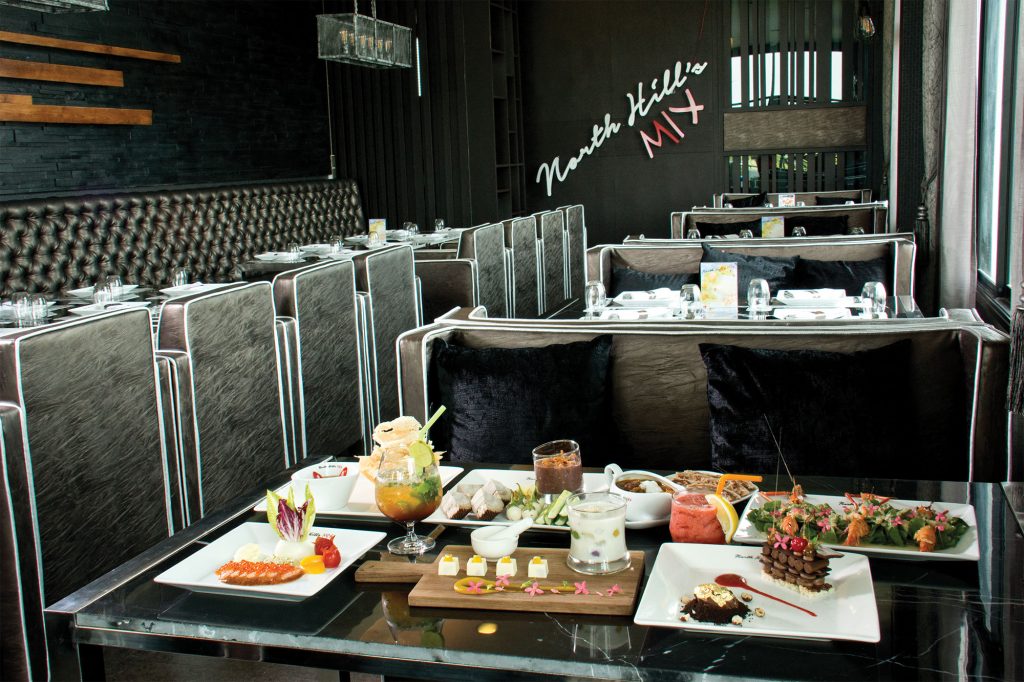 Now both foodies and golfers can dig into deconstructed dishes full of flavour and inspiration, and a wide range of unique fusion dishes while gazing at the beautiful scenery of the Doi Suthep-Pui mountain range unimpeded by any signs of man.
The restaurant is spacious and is decorated with the brands signature modern style, with deep rich colours and modern lighting that is designed to accentuate the food on your plate.
This month, Mix would like to bring new flavours and dishes to your table. Order up a side of traditional chili dip made with prawns and an original recipe from Phuket while you wait for their new lotus leaf salad with grilled shrimp to be served up hot and fresh – with hues of pure white coconut milk and vibrant edible flowers.
Other highly recommended dishes included rice crackers with a dipping sauce that has the choice of shrimp, pork or beans mixed into coconut milk and palm sugar to give a rich, sweet but powerful flavour, and cinnamon beef cheeks cooked for over five hours that literally melt in your mouth as you indulge yourself with a bit of roti on the side.
For those who like salmon, why not try the spicy miso sauce salmon sashimi and experience something brand new – with sweet accents of miso sauce with three kinds of chili to add that extra kick.
When it comes to desserts, Mix never fails to bring something new and interesting to the table. Be it a brand new invention, or contemporary takes on Thai classics, there is something for everyone. This month, try the Bua Loy — a traditional Thai dessert. The dessert is made from a special flour made from pumpkin, pandanus leaves and taro, stuffed with a sweet, indulgent paste made from coconut milk and flesh, beans and other secret additions that bring it together to create a sweet, yet salty taste sensation in your mouth. The whole thing is covered with white chocolate, to really spoil you.
Just as always, Mix inspires and astounds all who eat there, with their varied menu of all kinds of wonderful dishes just waiting to be explored.
Open daily 6.30am – 11.00pm
333 Moo 3, Hang Dong Road, Baan Tawai (North Hill Golf Club) Tel. 053 908999
Facebook: Mix Restaurant at North Hill Golf Club หางดง
Website: www.mixrestaurantandbar.com