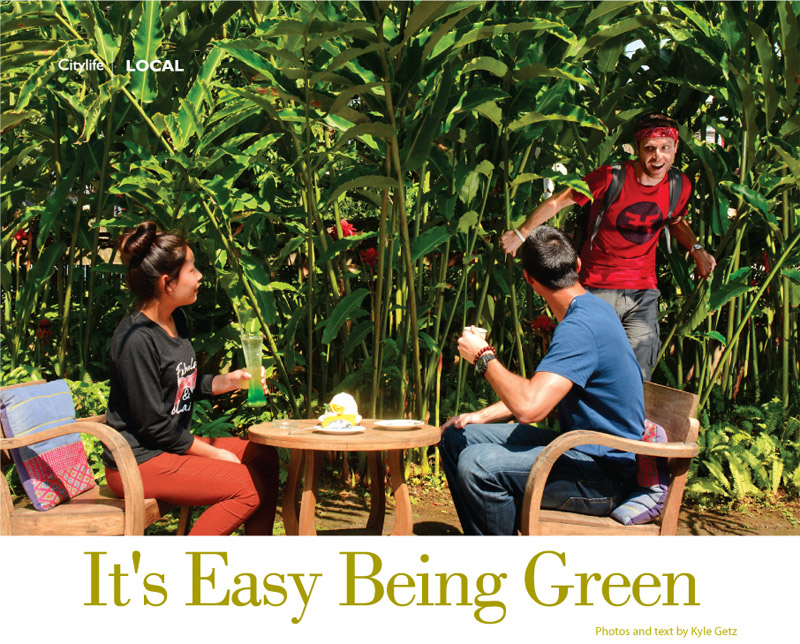 The word "green" can mean something different to everyone. For some, it's a badge of environmental friendliness, eating a vegetarian diet or just being generally healthy. For others, it conjures up images of trees, jungles or anything else with an abundance of chlorophyll. Or perhaps the sight of a lush field for sport or leisure? Those descended from the Emerald Isle or those who enjoy a good pint (or six) see green as a harbinger of approaching St. Patrick's Day revelry (which is this month, don't forget!). And for the rest of the lot, maybe green is nothing more than the range of wavelengths in the visible spectrum that serves as Roy G. Biv's middle initial.
Whatever your persuasion, here are a few places – some well-known and some waiting to be discovered – to get your green on in Chiang Mai.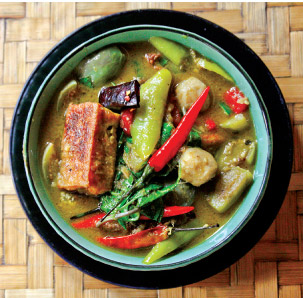 Bamboo Bee Vegetarian Restaurant
It might be easy to miss this small vegetarian restaurant in the northeast part of the old city, but once you've stayed for a meal, some mango sticky rice, or a healthy green smoothie, you won't forget where it is. Bebee, the owner, serves up delectable dishes for all tastes in her small cafe, appropriately decked out in bamboo.
You don't have to be vegetarian to enjoy her food, which includes the usual Thai staples as well as local specialties and even some Shan and Chinese-inspired dishes. Other than some recipes passed down from her grandmother, all the dishes are Bebee's own creations and many incorporate her unique mock meat made from mushrooms. If you aren't in the mood for Thai food, Bamboo Bee has several western comfort foods as well, such as veggie burgers, sweet potato fries, and guacamole, all customer favourites. Love it? Sign up for Bebee's daily cooking class and learn how to make everything yourself.
177 Ratchaphakhinai Road
www.bamboobeecm.com
090 463 6583
Chiengmai Gymkhana Club
East of the Ping River, just a bit south of the old city, you'll find the oldest sports club in Thailand. If you're looking to improve your game, check out the 9-hole golf course or hop on over to the tennis or squash courts. And if you're more of the spectator type, visit the club to enjoy their calendar of events, including Chiang Mai International Cricket Sixes which start at the end of this month (March 30th – April 5th), a popular amateur cricket tournament held annually.
Meanwhile, the clubhouse restaurant and bar are perfect for a lazy lunch on a sunny day. Grab a table on the covered patio or, better yet, on the veranda under the shady canopy of the enormous rain tree that towers above the clubhouse. The restaurant has the usual assortment of Thai and western food, at surprisingly reasonable prices, and both the patio and the veranda are very pleasant places to while away an afternoon or evening.
349 Chiang Mai – Lamphun Road
053 241 035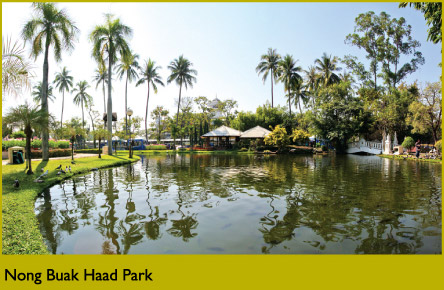 Nong Buak Haad Park
The old city's only real park is a pleasant (though small) landscape of grass, lakes, palm trees, plants, and flowers. Hardly a secret in town, every day you can find many people enjoying the greenery. Go for a run, practice tai chi, wander around with your camera, sunbathe, have a picnic, get a massage, or just lounge on a bamboo mat (available for rent for 10 baht). If you have some little ones in tow, take them to the playground at the west end of the park or buy some food and feed the pigeons and catfish. Thirsty? Visit one of the vendors scattered throughout the park or the air-conditioned cafe near the entrance.
Southwest corner of old city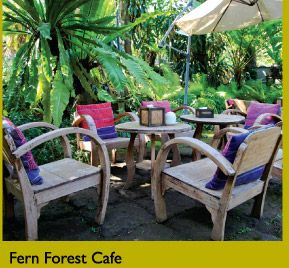 Fern Forest Cafe
Located in a mostly residential part of old city, Fern Forest Cafe is another unexpected green-soaked oasis. Before getting cosy at one of the many tables in the garden, browse a selection of coffees, teas, juices, and Italian sodas and spend some time drooling over the two display cases of beautiful cakes and pies, try one of their small bites (like quiche or a sandwich) or order some links from the German sausage menu.
Once you've made your choice, sit down among the trees and palm fronds, grab a book from the small library and enjoy the shade, pleasant chirping of birds, and soothing trickle of a small fountain. With the sounds of motorbikes and Muay Thai promotional trucks a distant memory, you can close your eyes and rather easily convince yourself that you're sitting in an actual forest.
2/2 Soi 4 Singharat Road
053 416 204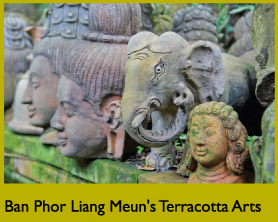 Ban Phor Liang Meun's Terracotta Arts
Inside the old city by Chiang Mai Gate, quietly tucked away on an otherwise unremarkable soi, you'll find a unique and spacious showroom, displaying many pieces of beautiful terracotta statuary. Here you can spend anywhere from 100 to 80,000 baht on a piece hand-sculpted and baked in nearby Lamphun.
The real gem, however, is the garden across the street. Step through the doorway and be transported to a scene straight out of Bali: uber-green foliage and moss, faded red brick, thousands of pieces of art, and rays of sunlight dancing through the lush canopy overhead. Chances are you'll be the only one there (other than maybe a caretaker sweeping leaves or watering plants), so take a stroll along the stone paths and enjoy the setting as the high brick walls block out the noise of the city.
36 Soi 2 Phrapokklao Road
053 278 187