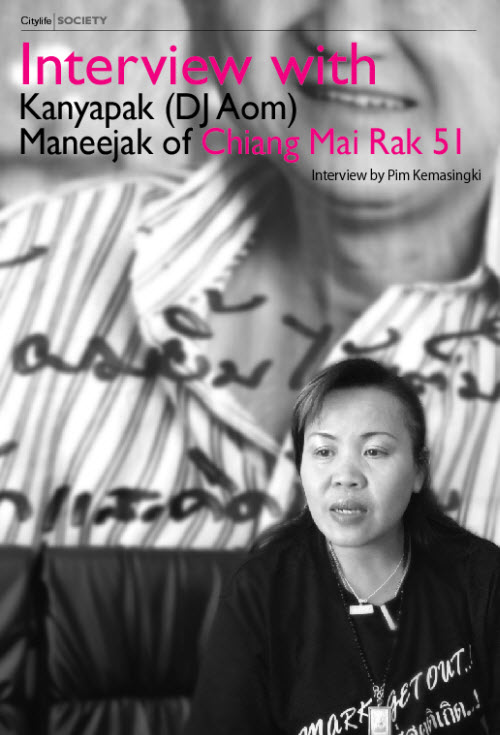 Kanyapak (DJ Aom) Maneejak is one of the founders and spokespersons for Rak Chiang Mai 51 (Love Chiang Mai 2008), a group of Chiang Mai 'red shirts' loyal to ex Prime Minister Thaksin Shinawatra. The group has gained a certain notoriety over the past year or so for being involved in violent incidents, yet remains popular in Chiang Mai, with a reported 60,000 registered members. Citylife asks Kanyapak to give our readers more information about her group.
Citylife:
How did you get involved with Rak Chiang Mai 51?
Kanyapak:
My family is one of the large families of Sankampaeng and we have long known the Shinawatras. After graduation in Political Science and gaining a post graduate degree in design from Singapore, I started a business selling souvenirs. When democrat Chuan Leekpai was Prime Minister and we had the 1997 financial crash, I lost everything. I had to start all over, and with the help of ex PM Thaksin Shinawatra's OTOP schemes I got back on my feet. When my husband and I began to see Thaksin being attacked, after all of his work fighting against drugs, raising HIV awareness, working with the youth and helping society, we got outraged. Thaksin was bullied by the People's Alliance for Democracy (PAD) and we had to help defend him after he had worked so hard for our people. After the 2006 coup, I felt such pressure by the military to shut up and to stop protesting that I fled to Isaan for many months, and there my husband and I helped set up other red networks. During this time, my business also collapsed because the PAD had killed tourism in Chiang Mai. I then decided to leave business and work on activism full time. Our group is now the number one red group in the country with many other groups emulating us.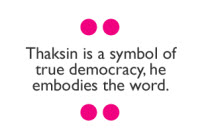 Citylife:
How is your group structured and where do you get your funding?
Kanyapak:
We don't have a leader, but our main advisor is the owner of Grand Warorot Hotel, Sairung Wattanapongkun. We receive no funding from Thaksin or any politicians, with all of our money being donated by villagers. [Ed. DJ Aom shows us a book with hundreds of donations listed, ranging from 40-500 baht.] The overall red movement follows the banner of the National United Front of Democracy Against Dictatorship. We have meetings every few months, we give free food, free drinks and free accommodation to members who come from all over the country, so that we can discuss issues and share ideas, often right here in the Grand Warorot Hotel. Each group is independent and acts in its own way, but the overall aims are the same. We want to make Thailand acceptable again to the world. Thaksin is a symbol of true democracy, he embodies the word.
For instance, with this drive to collect signatures to ask for His Majesty the King's mercy for Thaksin, the group which is submitting the signatures is Truth Today. The only reason they are submitting this petition, is because once it is submitted, it would be disrespectful towards HM for Truth Today to hold rallies or to go on stage and demand Thaksin's return. This is when other red groups can step in and continue the protests. This allows us a loop hole to continue our work.
Citylife:
How do you communicate with your members?
Kanyapak:
We have a radio station, of which I am a DJ, FM 92.5, which is broadcast throughout Chiang Mai and we have 20,000 listeners.
Citylife:
What is your group's aim?
Kanyapak:
Our aims are firstly to fight for true democracy in Thailand, secondly, to show respect and protect people who do good in society, thirdly, to protect the sacred culture of Lanna and lastly, to help serve the poor and the needy.
Citylife:
Apart from Thaksin, who else do you show respect and protect as per your second aim?
Kanyapak:
The former PM Pridi Phanomyong [Ed. 1900-1983] is someone we admire.
Citylife:
How have you served the poor and the needy?
Kanyapak:
When there was a fire at Global House, we gave water and food to the people. We also help protect people who are bullied by the military, government or police.
Citylife:
Rak Chiang Mai 51 has received very negative press, being accused of inciting violence and using thuggery, is this true?
Kanyapak:
We don't really care about the media and what they think. We are walking towards true democracy and Thaksin, and if dogs bark at us as we journey towards our goals, we don't waste our time to grab a stick and beat the dogs. For instance yesterday we held a ceremony on Mark's birthday [Ed. Abhisit Vejjajiva] and performed a mock funeral. The media accused us of disrespecting the Buddhist cloth which we used for the ceremony, they are always attacking us.
Citylife:
What about the Gay Pride Parade last year where your protesters forced the parade to cancel as well as intimidating and spitting on members of the gay community?
Kanyapak:
Our third aim is to protect Lanna culture and we simply did not like the Gay Pride Parade. In the past there were no gays or ladyboys, but today they live together openly, they wear revealing clothes in the streets. We had to go out in force to protect our culture against this. The people who were spitting were not red shirts; they were infiltrators who wanted us to look bad. It was not just us who wanted to stop this parade, villagers and the entire province of Chiang Mai called up our station to ask us to intervene. We were afraid that this would become an annual event, and we all know that Chiang Mai is a place for human trafficking.
Citylife:
But in a democracy, do you deny the rights of the gay community? They were after all raising awareness about HIV.
Kanyapak:
They went beyond their rights and boundaries. This is not an appropriate city to hold such events. As to the HIV issue, we looked at the proposal for the parade, and there was nothing mentioned about HIV.
Citylife:
What if there is another gay parade planned?
Kanyapak:
If in the future they wish to have a parade they can send us their proposal and if we think that it is polite then we will allow it, and even promote it. We can't have half dressed gay people climbing up pagodas and temples and showing disrespect to our culture.
Citylife:
What about the incident last year when the father of a PAD community radio host got killed by red shirts here in Chiang Mai?
Kanyapak:
There were over 10,000 reds at the airport to greet ex Prime Minister Somchai Wongsawat when he couldn't land in Bangkok and had to land in Chiang Mai. The PAD radio host lived near the airport. The yellows flicked rubber bands at reds as they drove past on the way to the airport and also beat them up. When news of this started spreading, thousands of people, those I call the silent force (they are not in our group, they are just normal people who want justice) couldn't stand to hear it and all converged at the house. We knew nothing of this incident until it was over. Apparently the yellow shirts were shooting and beating up the reds and Setha Jiamkitwattana, the father of the DJ tried to get out of his compound. He had a gun in one hand and tried to drive his car into the red crowd to get out. When he was trapped – after all he tried to kill the reds by driving straight at them – he was beaten to death. The media were not in the compound so they only saw one side of the story. The reds there all came following their hearts. We reds do not use or condone violence. We only defend ourselves. We are simple people, when we get shot we just go home and heal our wounds, when the PAD gets shots they make a big media circus. Once we heard of this incident we told people to back down, but even then the yellows kept chasing them. The TV stations, 3, 5, 7 and 9 hardly give us positive coverage, they are biased. That is why we have our own TV station, D-Station, as a matter of fact we are building one right here.
Citylife:
At what point do you use violence? How far will you go to achieve your goals?
Kanyapak:
Reds never use violence. It is disgusting that this government uses violence against us. Our only weapon is our mind. We are peaceful like Mahatma Ghandi, this is our method and this is why people follow us.
Citylife:
How far are you willing to go to further your cause? What about senior red members talking about underground revolutions and use of force?
Kanyapak:
For the perfect democracy, which comes directly from the people, we believe in the 1997 constitution. We demand the government stays out of the judicial process, the police and military. The people do not love this government and we want to return power to the people. There is no time limit for our fight, whether it is one week, one year, or thirty years. We will keep fighting and never give up. The dark forces, the Privy Council, need to stop meddling in politics, and their system be dismantled.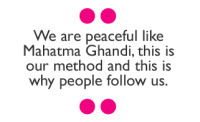 Citylife:
So your democracy means the return of Thaksin?
Kanyapak:
We want Thaksin because of his vision, his world reputation and his skills. There is no one else in the country who can do what he did. If in the future we find someone just as good then we will accept them too. We want someone to run the country who really loves the people, the poor. Thaksin is not the only possibility, but he is our symbol.
Citylife:
Are you interested in changing your violent image? And how will you do it?
Kanyapak:
There is a silent force which is beyond our control, these are the people that want change. We are all too oppressed; I myself have 16 cases pending in court against me. Why aren't the PAD arrested? Why just us? People misunderstand us too and the media is biased.
Citylife:
What do you feel most proud of in your political achievements?
Kanyapak:
I am proud to have fought for Thaksin without expecting anything in return.
Citylife:
Democrat politicians have to have body guards when they come to Chiang Mai for fear of red violence, do you think that they have a right, democratically, to be here?
Kanyapak:
We go to greet them, to put up signs, to stand quietly and silently and ask for help for various issues, all of which are our rights. Why do these politicians not walk out the front door like humans? What are they afraid of? I am just one woman. We will continue to have meetings, to fight for our rights, to inspect the government's works and look into any issues which Abhisit does, we will continue to allow the people their voice.
Citylife:
Many people say Thailand has suffered from both colours.
Kanyapak:
Thailand never suffered because of the reds. It suffered after the September 19th 2006 coup which set back this nation decades.
Citylife:
Have you been involved with this petition to ask for His Majesty the King's pardon for Thaksin?
Kanyapak:
We announce the petition on our radio, hand out flyers and people send their signatures to us. So far we have collected 80,000 signatures [Ed. Early August]. And it is not a pardon we are requested because Thaksin did nothing wrong. He was tried by a justice system which we do not believe in. What we are asking His Majesty for is justice.
Citylife:
If our readers are interested in supporting you, getting involved or finding out more how do they contact you?
Kanyapak:
Every morning, between 7.30 and 10 a.m. we have a coffee council and anyone is welcome to join. Every evening between 4 and 8 p.m. (except Sundays) we have a red shirt market. It is all right here in front of the Grand Warorot Hotel on Intawarorot Road behind Phra Singh temple. We would love to meet your readers and explain to them what we are about.