I'm sitting in the lobby of the Imperial Mae Ping with Chris Lowenstein, the producer for The Coup and executive director of Chiang Mai-based Living Films, a dedicated Thai-Western film production company that has achieved passionate praise over the last 17 years. Living Films has worked on everything from Hollywood box-office hits like The Hangover Part II to TV's megahit reality series Survivor: Thailand Edition. They churn out commercials for Tiger Beer and Korean Air in the same breath as moving documentaries about Thailand's prostitutes (Whores' Glory) or the IMAX feature Sacred Planet, which covers the country's remaining natural wonders.
Thailand's pristine locations sell themselves to filmmakers: think lush jungle waterfalls, limestone cliffs jutting out of aquamarine seas, and ancient Buddhist temples and ruins. Not to mention the famed hospitality of the Thais, along with their ever-growing capabilities in various creative fields. Lowenstein has nothing but praise for Thai people. "They are very understated with their work; they will never show off," he says. "And yet they still love to laugh and have fun."
We begin chatting about Lowenstein's involvement with The Coup, an action thriller that follows an expat family entangled in a merciless political coup, set in a fictitious Southeast Asian country. Owen Wilson plays the businessman father in the family; Pierce Brosnan fills the shoes of a mysterious government operative; and the woman with the seemingly-perfect life, and wife and mother of the family, is portrayed by the lovely Lake Bell.
"The cast loved being here, and that's not always the case," says Lowenstein. "They loved the city, and especially the food. The whole town was buzzing with talk of the movie and the stars. It was great!" Lowenstein becomes more animated, crossing and uncrossing his legs with a big grin on his face. "One night, Pierce was on that stage over there, singing karaoke…" (He points to a small stage a few feet from where we're sitting, and then at the bar of the Imperial Mae Ping Hotel behind us.) "Owen was perched on a stool over there. I was sitting near where you are now with the Dowdle brothers [the directors and writers of The Coup]. We all had a great time working together."
I ask Lowenstein to share a few more of his highlights.
"My favourite moment from my time working on The Coup… was when I scored a goal in a soccer game!" he crows, laughing at my reaction to this unexpected answer. "We held a Sports Day out in a field, with kegs of beer and Isaan food. The crew formed teams with each other – Owen was with some camera and rigging guys, and I ended up with the make-up department, of course." He rolls his eyes jokingly. "It was a great day. We all came together to get buzzed and let off steam, but we still didn't miss a beat at work. We had fun together."
Another highlight for the cast and crew was Loy Krathong, which fell conveniently in the middle of their filming schedule. "We had our own Loy Krathong party on the river, which everyone loved," Lowenstein recalls of the crew's night at The River Market. "I know people read about the festival, and sure, there are lanterns elsewhere in Asia, but it's such an amazing experience in Chiang Mai, isn't it? People were so excited; we decided to send a camera up to a rooftop, to capture all the lanterns in the sky. I doubt the footage will end up in the film – that was just for us to remember our Loy Krathong evening."
Of course, the 40 days of filming were not always such a walk in the park. "It's hard work, don't get me wrong. You're up at 3 a.m. one day, 10 a.m. the next. I haven't woken up at the same time every morning for years. I'm an artist, with very little routine," he says. "But we still have fun – that's important. Making a film is a process, and what's the point if you don't enjoy it? That's why I love working in Thailand. It's still serious work, and everyone is ambitious, but the Thai way is to make it fun."
Lowenstein says that the movie felt much like a culmination of all his time spent in Chiang Mai, and marvels at how everyone came out to help: businesses, locals, friends and family. "There was such a sense of community," he smiles. "I feel like Chiang Mai is the cultural heart of this country. There's a great balance in this city: between the exciting urban sprawl, which is brimming with aspirations, and the rural countryside full of gentle Buddhist ideals, which are woven into Thai people. Chiang Mai is such an interesting place – a large city with a small-town feeling."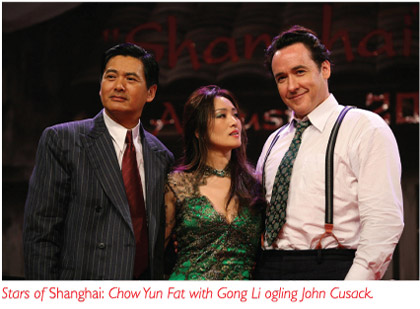 Lowenstein was born in Santiago, Chile, where his parents were very political, and hung out with the likes of poet Pablo Neruda. His parents soon moved back to the States, where Lowenstein grew up in Portland, Oregon, until he went off to college in the Midwest. He always felt that he didn't have roots in one place, and discovered his eventual home in Thailand quite by accident.
"I found myself in Hanoi in '91, when Vietnam was first opening up," he recalls. "When I needed a break from Vietnam, I holidayed in Thailand." Armed with a Bachelor Degree in Film from Studio Art Centers International in Italy (otherwise known as SACI, the oldest American art school in Florence), Lowenstein moved to Chiang Mai a short while later, where he started Living Films in 1996. "I was freelancing in those early days. I would work energetically for weeks with no pay. Eventually, I had to get paid because I just didn't slow down. That's how I wrangled my way into Thailand's film industry."
But why did he feel the need to settle abroad? Was it his unique upbringing and early exposure to foreign places, or something else entirely? "Don't get me wrong, of course it's hard to leave home – leave your friends and family. People have lots of reasons to leave their homes, from bad childhoods to limited opportunities, or even things like divorce and boredom. For me, it wasn't like that – I didn't have a reason. I just followed my instincts." He thinks for a little while before diving in further: "I'm sure many people come here and it's not for them. If you don't integrate yourself in the culture, you'll definitely struggle. You have to speak to locals, make friends with them, hear their stories and become a part of their world."
Lowenstein is clearly not a follower of the crowd, having rejected the prospect of working in the hugely-successful American film industry to come and set up in largely-untapped Northern Thailand. On top of that, choosing a career in film is both stressful and rewarding in turns – full of diversity, eccentricity, and expression. "That's exactly why I love film!" Lowenstein exclaims. "There are so many jobs to do, and you experience so many weird, esoteric things that you'd never get to otherwise. I remember the feeling I had when flying over Lhasa into Tibet, where I was going to help film a documentary. I felt like crying, honestly. It was so amazing to realise where I was at that time in my life; this work puts you on missions and takes you places."
So what is Lowenstein's relationship with films? What captivates him, or gets under his skin? "Social realism, definitely," he replies. "I love films with a backbone, which cherish the human spirit, and tell real, meaningful stories. Films don't have to be real, you know? They just have to be real stories that you can connect with. Those are the films I want to make."
But getting a film made isn't easy, especially in Chiang Mai, where Living Films is one of the only film production companies around. "We probably get sent around two scripts a week. There are so many terrible ones," he laughs a bit guiltily. "When I get a good one, I think, 'Oh, great. It's not going to get made.' That's the Hollywood way. But you don't need a big budget to make great films – you just need a beautiful story, and some creative talent. Classic films are built from great, classic scripts."
Unfortunately, Thai films don't seem to be high on the list of internationally-revered films that win awards and enchant the masses. The last one to win the Palme d'Or at the Cannes Film Festival was Uncle Boonmee Who Can Recall His Past Lives in 2010. Directed by Apichatpong Weerasethakul, it was the first Asian film to win the award since 1997. No Thai film has ever even made the Academy's shortlist for Best Foreign Language Film, let alone won an Oscar.
In fact, the country seems to rake in more than enough profit by churning out mediocre action films. "I'm okay with Thai action films," Lowenstein says, managing to frown and smile at the same time. "Awful scripts, huge visual effects, great stunts." And Thailand loves their comedy, too. I point out that there seems to be a sprinkling of comedy in almost every genre of movie Thailand makes, from chilling horrors to heartfelt dramas. "Well, Thais like to laugh, especially teenagers," replies Lowenstein. "The trend of 'overacting' in Asia lends itself really well to comedies. But actually, comedies are really hard to make. You shoot 150 percent of the funny stuff and end up with 50 percent at the end. It's hard to get humour right in films. Don't underestimate the struggle of comedy."
It makes sense that Thailand's highest grossing movie of all time is Pee Mak, a slapstick comedy-horror spin-off on a classic Thai ghost story, packed chockfull with ridiculous sound effects, a ghost girl with ultra-white skin, and cry-baby men with blackened teeth. The film earned more than one billion baht worldwide, most of which came from Asia.
That said, Thailand's film industry is in a bit of a rut. Inconsistent quality of Thai movies, expensive ticket prices, and, some say, the political unrest towards the end of the year, meant that the Thai film industry ended 2013 at only four billion baht revenue (a zero percent growth rate from 2012).
It's understandable that the country doesn't seem keen on publicising the industry's shaky state of affairs, and the last available figures from 2011 reported that film production and distribution generated a slightly stronger 5.5 billion baht in GDP. The Motion Picture Association then added another 600 million baht in tax revenue, from the 6,200 jobs that the industry created in that year. By taking into account indirect and induced effects, the final figure landed somewhere around 13.4 billion baht.
"Thailand is just not very good at promoting itself to the world," proffers Lowenstein. "The country 'protects itself' and puts up barriers, and makes it very difficult for foreigners to work here." But, he adds, "even though we complain about the red tape, politics and corruption, we still have a niche here as filmmakers."
It's only now that I realise how impossibly upbeat and passionate Lowenstein has been throughout our two-hour interview. He still has endless praise for Thailand's potential despite its struggles. "The infrastructure is perfect for film, and the locations are incredible," he says. "In the last five years, I think it's clear to people in the business that Thailand has become a definitive hub for filmmaking in Southeast Asia. Everybody wants to shoot here."
But even Lowenstein admits that the country still has a long way to go in order to get ahead of the competition, with mounting pressures being placed on the government to offer financial incentives and tax rebates. "Malaysia now gives 30 percent of the cost of filming back to filmmakers," Lowenstein says. "It can offer great locations but none of the filming infrastructure or the expertise of a Thai crew. Thailand shouldn't undervalue the power of financial incentives, because they will lose films to surrounding countries. The government has been very slow to react; I feel like the film industry is not taken seriously. The economy could really use the revenue, and films in Thailand create long-lasting future tourism."
It's clear that Thailand has something special that filmmakers will always want to harness, and many still film here despite the drawbacks. "Politically, the country needs to stabilise, but the unpredictability hasn't stopped me yet. I filmed Bangkok Dangerous during the 2008 crisis, and then I filmed The Coup during the 2013 protests," Lowenstein adds. "The people of Chiang Mai are particularly gracious. They make the city so accessible – you can shoot as is. I shot at the night market, and I didn't have to change anything. It was already so rich – the textures, the lights. I want every movie to shoot here!"
Living Films seems partial to documentaries, and Lowenstein has a past in humanitarian issues. He says there are hundreds of projects to be tackled in Thailand, and names some often-heard, but very important buzzwords: the illegal wildlife trade, refugees and migrant workers, poverty, and HIV/AIDS. But then he branches out and mentions healthcare in Southeast Asia, or cleaning up the Mekong River. "You learn so much by getting deep into people's lives," he says earnestly. "There are so many fascinating subjects in this part of the world, and so many stories to be told and preserved."
And Living Films, along with Lowenstein, are nowhere near slowing down, "Since we started, we've had almost 30 feature films, and a dedicated commercial arm. I've had the chance to make films all over the world, and I get to experience those places through their stories and crew." Personally, Lowenstein has exciting fantasies as a filmmaker: "Why not create something that hasn't been done before? I'd love to make a film with a dystopian, futuristic theme, along the lines of Blade Runner set in Bangkok. I want to think outside the box, beyond the mountains, beaches and jungles. We have incredible art departments, creative talents and film crews. There are endless possibilities."