At a time when the world appears to be in a rush – where to? – with new trends one-upping each other on a daily basis, there is something to be said about knowing who you are and being comfortable in your own skin.
Chiang Mai, in the past decade alone, has doubled its accommodation, with boutique hotels, guesthouses, homestays, dorms, resorts as well as a plethora of gimmicky sleeping options opening up, each competing with one another to offer a new perspective, experience, or something different.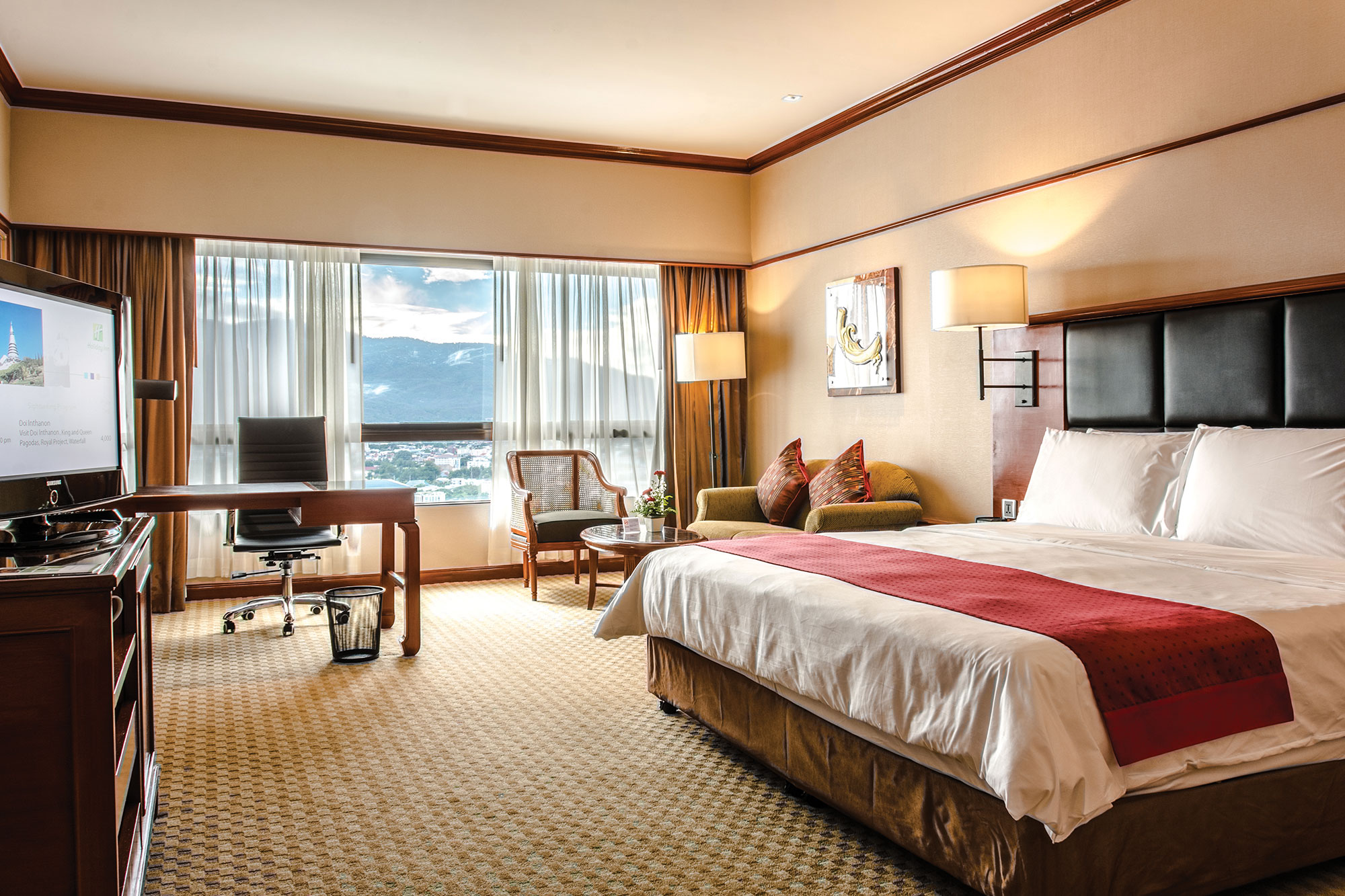 For 22 years, sitting between the Old Chiang Mai-Lamphun Road and the Ping River, a 526-room, 25-storey hotel has been a sanctuary for visitors to Chiang Mai who expect classically high standards. The Holiday Inn defies many of the modern trends; it is vast, has multiple function spaces, is set on the less touristy northern edge of the city and has retained its decades-old designs.
"You simply don't see hotels like this anymore," said Malaysian General Manager Stella Jacobs, who has been at the hotel's helm for four and a half years. "We have a grand entrance with a sweeping staircase, opulent dripping chandeliers, the largest hotel rooms in the city, and each and every room offers a view of the Ping River, Doi Suthep or the city."
Jacobs, from Penang, has overseen the most recent refurbishment of the grand hotel, having renovated all guestrooms two years ago, as well as numerous function spaces.
"While we have been aware of trends, and we have certainly added many design as well as functional elements to our refurbishment," said Jacobs, "we haven't lost our classical integrity, our standards."
"I want people to come here to relax at the Lobby Bar with a delicious cocktail in our lounge, a vast open lounge perfect for intimate chats and group events. We have fantastic food there – canapés, light bites, as well as more filing options, so our guests can simply while away their time, listen to live music, sit on comfortable sofas and indulge in our chefs' and mixologists' creations. I want them to come and dine, try out our chef's creative creations and join us on our special nights. We have beautiful grounds, so we welcome people to come and organise a party on our lawn, a wedding in our grand ballroom, a meeting on our verandah or a get together in some of our many rooms. There is something for everyone, and with a highly skilled and attentive staff of 300, we can accommodate just about all of your needs."
The River Terrace is Holiday Inn's signature restaurant and where Jacobs has really focused much of her attention on developing and revitalising. Together with her team, Jacobs organises numerous special themed nights that has become very popular. The roast, carvery and international buffet with Japanese corner from Sundays to Tuesdays is the perfect choice for those with a healthy appetite, or a group with different dining requirements. The variety of cuisines and dishes is truly vast. Then there is the fresh seafood and Japanese buffet on Wednesdays and Thursdays, a new offering which features a live teppanyaki grill station, as well as a tapas and pasta corner, a sushi and sashimi bar, and delicious desserts. If you are into surf and turf, then you must visit on Fridays and Saturdays for the seafood buffet and Japanese corner with an assortment of meats prepared by the hotel's chefs.
One of the most popular events at the Holiday Inn is the barbeque cookout every first Saturday of the month with juicy spare ribs marinated in all sorts of sauces, lamb chops, rib eye steaks, pork chops, sausages and more. This special cookout costs a mere 799 baht per person and worth every single baht.
"We have converted our old penthouse into an executive lounge," Jacobs proudly explained. "I think that it may offer just about the best view of the Ping River, the city and Doi Suthep beyond in the entire city. This is an ideal location for private parties or meetings, any kind of special occasion really."
"At the end of the day it isn't about the hardware only. It is also about the software, and I cannot be prouder of my staff," beams Jacobs. "We instill in all of them that it is not what they think things should be that is important, but what our customers actually want or need. We study our comments card, sharing all feedback with the staff and we make a point of talking to our customers every single day, learning about their expectations and their criticisms. This is how we can anticipate their needs. But we understand the value of our staff too and that is why they receive generous bonuses, we give them all a cake on their birthday and we provide an excellent canteen for them."
"Over the past few years I have introduced a green songtaew shuttle service to the Night Bazaar, we have changed our pool from chlorine to saline, we have brightened up our façade with a colourful facelift, we are offering constant food promos and our chefs are aware that in this Instagram-frenzied world, food presentation is of utmost importance – after taste, naturally. These are just a few things we have been working on."
Holiday Inn may be the city's largest hotel, but Jacobs and her team works hard to make sure that it feels personalised. "Little gestures make a big difference, and we all have a passion to make a lasting impression."
Next time you are in the mood for a great night's dining, a casual afterwork cocktail or a romantic glass of wine with a special someone by the Ping River, stop by the Holiday Inn and see what Jacob's team has up their sleeves.
The InterContinental Hotels Group, one of the world's leading hotel companies, has rolled out their IHG® Rewards Club, an exclusive rate offered to members when they book direct. It's the world's first and largest hotel loyalty programme, with over 92 million members worldwide.
IHG® Business Rewards is a new, global business bookings programme offering rewards on all qualified business bookings for guest rooms, meetings and all events booked at over 5,000 IHG hotels and resort worldwide.