Fair warning, this editorial will be infused with sentimental nostalgia and a fair sprinkling of self-trumpeting. But you know what? 25 years! We are going to shamelessly pat and slap ourselves on the back for that.
Like any good story, our founding editors' first words in what was then called the Chiang Mai Newsletter were, "Once upon a time, there was a free sheet…" not the most original, nor the sexiest, of openings, but there you go.
Three Brits; then Honorary British Consul and my father John Shaw MBE, my old English teacher John Cadet and a retired helicopter pilot John Hobday, then went on to write, "Some asked the other day what sort of publication we were aiming at, and after a bit of thought we said we saw it as a cross between a parish newsletter and the New Yorker. That earned a derisive hoot of laughter. And understandably. 'The poor guys can't even get the thing out on time and they're already suffering from media megalomania.'"
Right there, the Johns set the tone for the next 25 years; we try to act as a channel of information to our expatriate and English speaking Thai readers, we have tackled some extremely weighty and significant articles over the years, we have a jolly good sense of humour and we are able to take the piss out of ourselves; not too much today though!
I have spent the past few weeks going over old issues of the magazine, from its cut-and-paste early years (sending the sacred pile of papers by night bus to our printers in Bangkok) to the heady days of clip art and the frenetic use of fonts, through to our first awkward colour issues to today's picture-perfect glossy you have in your hand. It has been a truly interesting read. I even came across my first article, in 1992, when, as a young teen, I wrote a rather brattish piece about being sent to a nunnery for nine days by my mother for bad behaviour.
In the early years, The Newsletter followed the stated aim of the publishers in being a parish newsletter, with charming anecdotes and announcements:
May 1992: Jim and Noy are heading off on an around the world trip, we wish them well.
August 1992: Jim and Noy have returned from their around the world trip, we look forward to hearing about it. (Frustratingly, we never do, and Jim and Noy's identities, as well as their adventures, are forever lost to us.)
We also covered births, marriages, deaths, and moves – Dick Wood the 'Asian Legend' died in 2002, my old school friend Looknam (featured in an article on Myanmar this month) wrangled herself onto the cover when she got married in 2000 and there was a note about an English couple seen riding into the sunset on a tandem bicycle in 1993, hoping to complete the Mae Hong Son loop. The editors were waiting to get a story from them on their return…there was no follow up. Perhaps they are still wending their ways, in tandem, around our mountains?
In May 1997 our editors wrote, one hopes tongue in cheek, that Nai Mu and Nang Ouan Sukornphan wished to announce that following many years of illicit cohabitation, they'd made their legal union – and perhaps even at last respectable. And in keeping with the terrible sexism of its day, our editors gave some tips to our readers for the drought of '94: drink your whisky neat, do not flush unless absolutely necessary (the decision making required to decide when this point has been reached is excellent training for your children), never put ice in your beer, always share your bath (if your wife doesn't agree, find someone who will), do not water your vegetables, when they die you will probably be able to buy better ones at the market, and select a dry sherry.
We also had the most extraordinary letters; one asking why there is a dearth of bananas in the city, another bemoaning the plethora of water but a vexing lack of tonic during Songkran, an indignant reader whining about the fact that he was a victim of the new motorcycle helmet laws, and yet another asking us to report the times for the high tides in the Gulf of Thailand.
In fact, I had my first hate mail – the first of so many to come – published in January 1993 in response to my nunnery article. A whole page was dedicated to the outrage a reader felt at my teenage self (including a measured response by one of the Johns, likely my dad the unbiased editor) ending with a sarcastic "If any employer is wanting a girl with my sort of loyalty (?), honesty (?), attitude to work (?) and ability to organise (?) please write the acharn at the nunnery…for verbal reference."
Look who's editor now? Boom! *mike drop.
And then there have been the crazies, the fun and the fabulous! Over the years we've featured sex gurus, the rather intimidating-sounding Feminazi Chiang Mai Battalion, the nudist resort out of town as well as the Ouija Board Club. Then there was this intriguing announcement in 1995: The Principles of Wizardry Workshop. FREE three day course – wholeness, intention and zipping and zooming.
Citylife has also always been at the forefront of technology.
We recommended a Khun Pitchak, the city's premier computer technician, in 1994, who had recently opened a Maczone shop boasting of a one gigabyte hard drive, our editors quipping, "For you computer heads out there, how much is a gigabyte? We'd guess 1,000 megabytes, but have no idea what that means." We announced in 1996 that the internet had arrived in Chiang Mai, educating our readers on this newfangled technology, writing that the internet came in two forms, the electronic mail and the World Wide Web, otherwise known as the W3. In 1998 we launched the first major media web site in the north as well as making the first official website for the province of Chiang Mai. Over the years, we were the first media company in the city to use Facebook, create an app, and our new web site is – and yes, we do say so ourselves – just about as good as it gets, having generated hundreds of millions of hits since its launch. On one night alone in 1999 we received 3.7 million hits when we broadcast the Leonids Meteor Shower.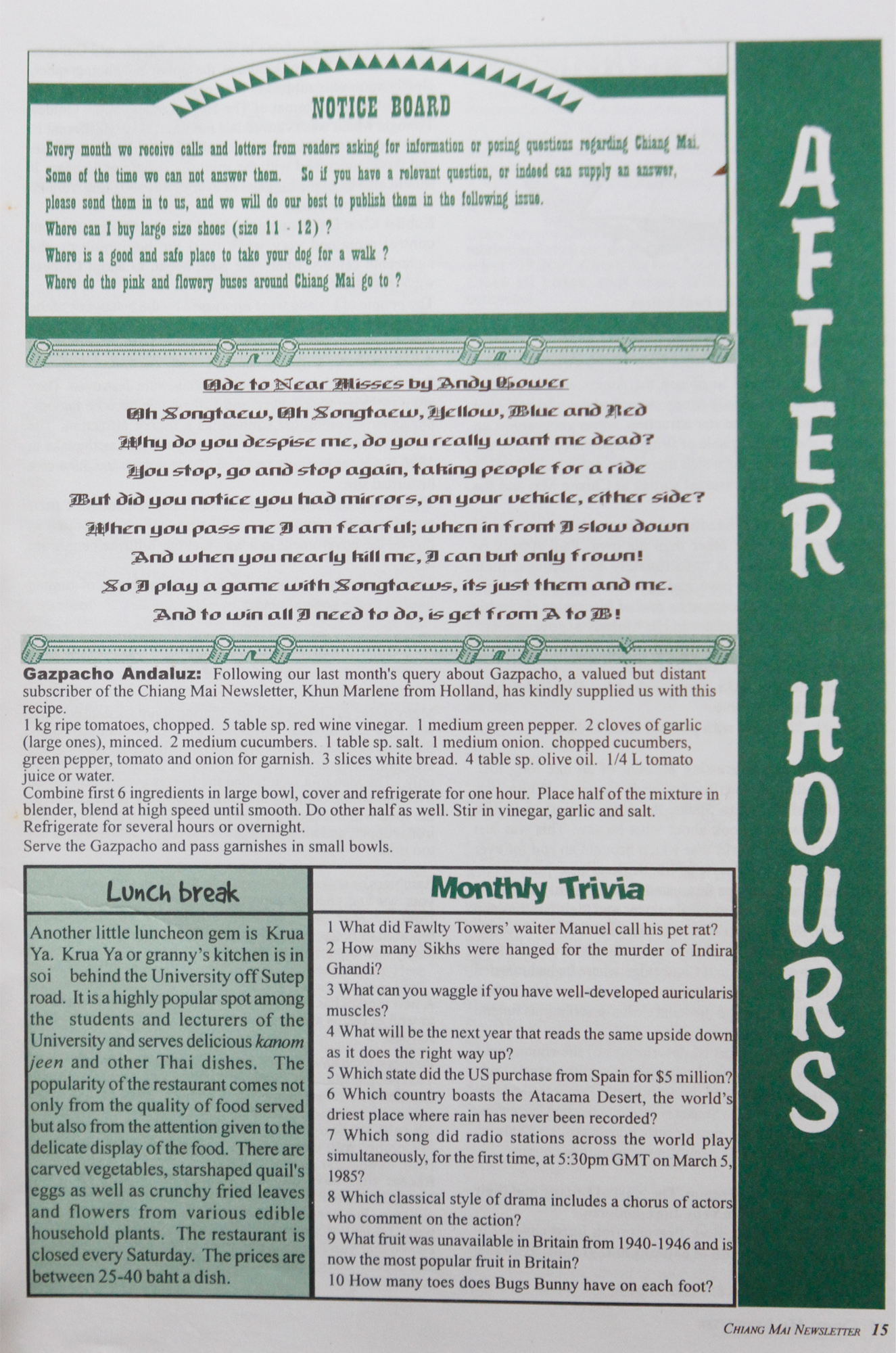 As editor since I left university in 1998, I am most proud of our content. We shan't talk about some of the more embarrassing features of the past – the fetish issue, the bird watchers' diary, my pub crawls – but I reckon that many of our articles, should they be locale-relevant, could easily have been published in the New Yorker, indeed we have been published in newspapers and magazines around the world from The Independent to CBS News, Travel+Leisure to The Guardian. We were the first major publication to do a scientific-based feature on the air pollution issue in 2002, I wrote the only piece written about the encroachment and degradation of Doi Suthep by both government and private sectors in 2006, we have written exposes on traffic issues, the police, public transportation, human trafficking, child abuse, the proliferation of signage, deforestation, water resources, crime and just about any relevant subject you can think of. We have interviewed thousands of people over the years from politicians to celebrities, great minds to, well the less cerebral – it is their words, ideas, visions, achievements, concerns and voices that have made our content so interesting.
I am also quite proud of our quality of writing, with many of the deputy editors who have passed through our office having gone on to great things; one is a current editor of The Times, another just had a piece published in The Atlantic, yet another regularly has tens, if not hundreds of thousands, of likes on his articles. Our alum has gone on to write for the Huffington Post, Salon, The Bangkok Post, the Irrawaddy, South China Morning Post, Straight Times, the list goes on. In fact, we received an official letter a few years back from the Ministry of Foreign Affairs asking to use our articles in entrance examination papers. Chiang Mai and Payap Universities as well as dozens of schools and tutorial colleges regularly use our articles as tools for teaching.
We also have a social conscience, having organised events and campaigns, as well as given free advertising, plain hard cash as well as raising money through various projects and events totaling well over ten million baht to various charities and causes over the past 25 years. In 2008, we became the first company here to go completely carbon neutral, having donated over 250,000 baht to The Forest Restoration Research Unit (FORRU-CMU) to plant enough trees on degraded national park land to make sure our emissions are offset for many years to come (though to be honest, I haven't followed up in recent years, so can't claim to still be carbon neutral). We have, through the Junior Dublin Literary Awards, supported creative writing amongst the youth (as well as having had hundreds of interns pass through our doors – there are eight sitting here right now). And of course many of our harder hitting investigative pieces as well as my editorials have made some people very hot under the collar over the years. I feel as though we have a voice and while I have no plans to have my attitude readjusted any time soon, we try to use it for the greater good as often as we can. Our integrity is very important to us.
We also like a good time here at Citylife and have organised numerous events from our massive Habitat for Humanity for President Jimmy Carter and 2,600 volunteers in 2008 to less ambitious, but nevertheless as successful, events such as our annual Citylife Wine Crawls and Garden Fairs.
But most of all, we have been the faithful recorder of the times. Read the 300 issues of Citylife and you will read about the growth – aches, pains and all – of Chiang Mai. You can see exactly when the 053 was added as a prefix to phone numbers (1992), when the road to Doi Suthep was widened (1994), when the Vientiane Bridge was opened, to joyful celebrations of all visa runners (1995), when the provincial hall was built (1999), etc.
And of course we have fallen on our faces numerous times – but let's not focus on that today.
I can go on, and I want to. But I shan't, because there is a lot more for you to read in these pages than just my pontifications.
I want to thank all of you readers for your incredible support over the years, I wish to humbly waii all of our nearly 2000 advertisers over the past quarter century (yes, some poor intern had that job this month) who have made it possible for myself, along with hundreds of staff past and present, to have had a job we are passionate about and to have the luxury of communicating co.th for you. I wish to thank my wonderful staff and I look forward to Citylife being around for another 25 years (hopefully, I would have retired long before then.)
And yes (back in trumpet mode) I decided to paint my first cover in oil! Got skillz, I 'av.