When I was a little girl we had buses in Chiang Mai. I never used them, but I knew that the city had them and I regularly saw people standing around at bus stops. Fast forward well, let's say, a few decades, and most people you meet will be surprised to hear that there was ever a bus system here at all.
Our city (and satellite towns) has a population of over half a million, which is plenty to support a decent public transportation system, but instead what we have is a gaeng hoh-like mess that we here at Citylife have spent the last month trying to make sense of.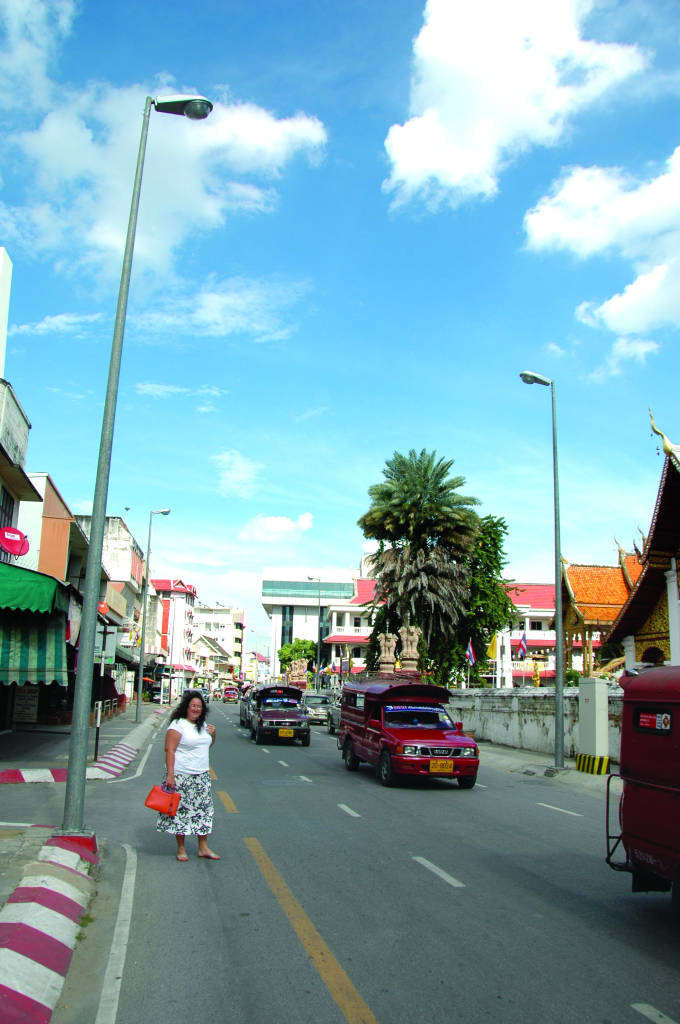 We have around 2,400 songtaews running willy-nilly (though 100 of them have now been organised into four city-routes). The new motorbike taxis are popping up in random spots, but I couldn't tell you where to find them regularly. Tuk tuks often turn away local bahts for tourist yuans and dollars. An erratic call centre attempts to manage 350 taxis. Six buses provided by the municipality run between the Arcade Bus Station and the airport. Colour-coded songtaews, under concession, run between the city and outlying towns, but are often seen doing things they shouldn't be doing. The ageing samlor drivers either cater to tourists or loyal market vendors. Then there are the few licensed mini buses which are seemingly as elusive as order is in this town. Cyclists are being given road lanes and encouraged to use the free bikes the mayor has been promoting. And on top of all that, Chiang Mai province has just under two million vehicles registered.
If that wasn't enough, all of this is being run by various co-ops and businesses which manage vehicles while constantly making deals with, or butting heads against, authorities involved. And they ALL seem to be involved: the Airports of Thailand (AOT) is making a mess of their taxi concessions, pitting taxis against co-ops and making the front page news many times over the past few months; Military Circle 33 is apparently attempting to re-organise the entire public transportation, though no one really knows what that means or what they are doing, and with no budget, it is hard to expect them to achieve anything; Chiang Mai Municipality is proud of their new fleet of six buses (with options for attachable bicycles!); Pingkanakorn Development Agency and the Provincial Authority Organisation are both giving money towards the new trial project for songtaew routes; the governor's office is involved somehow; experts in Chiang Mai University and Rachamankala University of Technology are doing deep research as well as trials on behalf of any/all/some of the above and the Land Transport Office is supposedly overseeing it all.
After interviewing as many people as our heads could handle, we were told that the reasons for Chiang Mai's chaos ranged from lack of budget, corruption and too many authorities with fingers in the pie – duh! – to blaming our citizens for being too lazy to use public transport.
There are many people who are deeply involved and invested in solving the problem. But at the end of the day we need strong leadership, shared vision and a structured plan involving all parties, so that the public interest trumps, well, some people's.
This lingering malaise has got to end and the people of Chiang Mai deserve to have a quality public transportation system which will help alleviate the ever-increasing problems of congestion in our city. As you will read, it is a very confusing matter and many sacrifices and compromises are going to have to be made by many parties.
In these pages, we try to make sense of it all, or at least sensibly make all of it into an issue worth pursuing.
We would love to get your feedback on this issue. Do you have a (sensible and practical) solution for our public transportation woes?
Citylife this month:
Waraporn Jaipon worked tirelessly with me on this public transportation story and I really want to thank her for doing such wonderful research. Aydan Stuart goes knocking on the Jehovah's Witnesses' door and finds that there are 7000 of them knocking on our city's door this month and I interview Kyle Barraclough, an entrepreneur who is coming out of early retirement to kickstart his new Super Travel Shirt.
Also, don't forget to put the 21st of November in your calendar, it is our 10th year of Citylife Garden Fair and it is going to be spectacular!