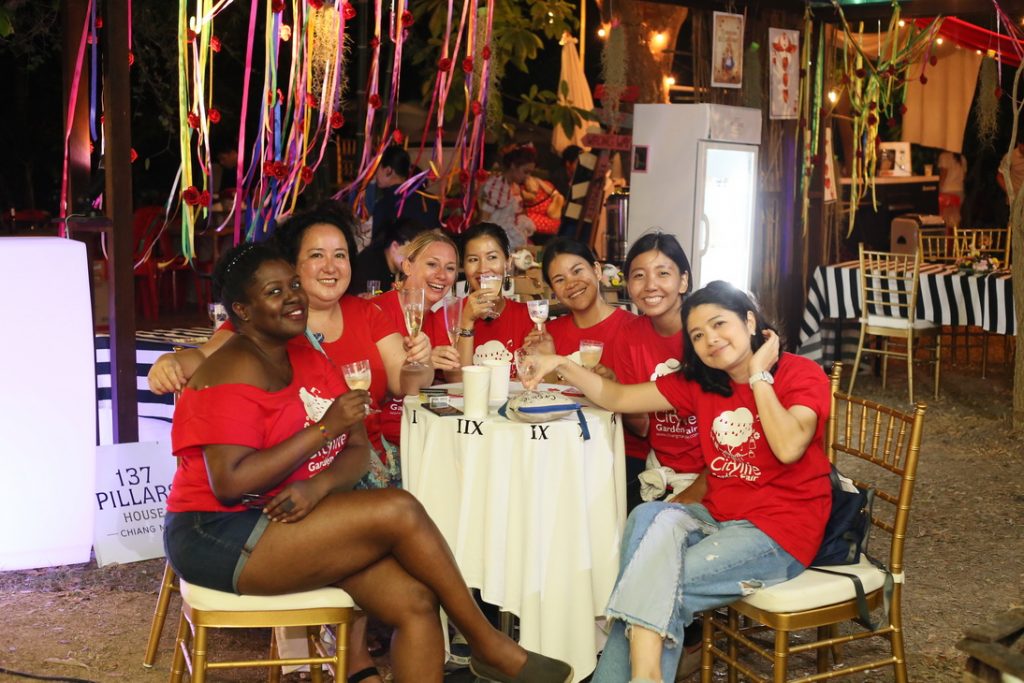 As you read this editorial I am writing in late November for the December issue you have in hand, we are already working on our January 2019 issue, so I can't help my mind from skipping forward to what next year holds for Citylife and Chiang Mai.
We have been in print for 26 years, and have published 308 issues since we first launched our publication in May 1992. We started off using typewriters and snail mail and today we run most of our business from our iPhones — the Brave New World is here.
Change is constant and good…though admittedly a tad scary at times.
Citylife will be going through massive and rapid changes next year, so I thought this would be a good time to talk to you about it all.
Citylife has always been mine. It is my baby and I have probably mollycoddled it overly much. I realise that now, as I also understand that it needs fresh blood, eyes, and bodies (which sounds disturbingly gory, but you know what I mean).
To that end our company is undergoing great change. This has been the result of years-long self-reflection as I have been trying to figure out who we are and where we want to be.
During the first meeting with the new team, a question was asked, "What is Citylife?" It turned out that this was a frustratingly difficult question to answer. "English content," said someone, "community," piped up another, "connecting the community," was added. "Pim," sucked up a new member of staff, "
advertising, media services and PR," insisted sales, "activism," murmured a bright young writer, "networking and connecting," was another response.
We have been all of those things, and much more, over the years.
For 26 years we have enjoyed a very unique position here in Chiang Mai, communicating and acting as a conduit between the English speaking Thai and international communities in the north, and the myriad issues, personalities, activities and causes of relevance in this region. It has been such a fun-filled and fascinating time, getting to know so many of you, learning about what matters, working alongside great people and generally being the go-to source of news and information for so many.
If you have read any of my editorials before, then you already know me quite well, after all I am an open book…well, magazine. Many of you know that I have had a bit of a tough personal time in the past few years. Since ich pretty much bin Citylife — and to completely mix my paraphrases — like the Grand Old Duke of York, when I am up Citylife's up and when I'm down Citylife's down, I realise that that's no way to run a business. And while I have always known it, I haven't had the wherewithal, nor frankly the energy, to fix it. The combination of personal doldrums happened to coincide with the rise of new media which has totally discombobulated we traditional media, sending us in a whirligig of soul searching and rush to maintain our relevance. The past year has been spent doing just that; is my pride the precursor of my impending fall? Am I flailing at windmills? Should I give up, close shop and retire? These are questions many media owners around the world have been struggling with for a while now. We know that what we do has value. We know that our brands, built up over decades, are strong. We understand the importance of our large readerships…yet we struggle to survive.
Social media has been both boon and bane: it has allowed us to talk to greater numbers of you, interact more intimately and given us the ability and flexibility to inform with greater frequency yet at the same time, it has also
undercut our revenue stream to the point of a trickle. Frankly the bottom line has dropped right out of our bottom.
The fact that we are yet to emerge from the stagnation of the recession hasn't helped. We can all see that tourism numbers have dropped, as have the stock markets, and there is no immediate end in sight to this malaise.
Like any business when facing a challenge, I have spent much time evaluating who we are, why we are here and where we are going. And I am thrilled to inform, and perhaps flummox, you, that one, we aren't going anywhere and two, we are going places. (I do love the English language and all of her idiosyncrasies!)
The fact is, and yes I am blowing my own trumpet here, Citylife has a unique position in the north of Thailand. We have amassed decades of knowledge, connections, experience and understanding of Chiang Mai the city and the region as a whole. We have much more to say and we have much more to offer.
If you were one of the ten++ thousand people who attended our Citylife Garden Fair last month, I am sure that you will agree with me that we have a unique ability to bring people and businesses together. It would be a crying shame if we were no longer here to do it because I don't think any other company could possibly step into the role at this point — it would take years and years to build up a new brand with such strength and reach.
So, to that end, I have had to make one of the most difficult — and hopefully brilliant! — business decisions in my life. I have invited in new business partners to join OUR company and we are in the process of restructuring our company. We have spent the past many months writing up a new business plan, which I am super excited about, and the handful of investors and advisors I have talked to seem to be similarly enthusiastic. It had to be done. The band aid has been — admittedly painfully — ripped off and as of the first of January we will be launching our Citylife2020 business plan. There are very exciting times ahead.
Change won't be immediate, but it has begun. Over the next few months we will be visiting our customers — old and new — and telling them how we can develop their brand value and optimise our performance for them. Traditional print media will remain a key part of the Citylife strategy, but in twelve months it may be in a different form from today. It won't go away completely, but it will only be one part of Citylife. After all, our sister publication, the bi-lingual food magazine Spoon&Fork is growing in leaps and bounds and Citylife remains a widely read publication. But there will be changes ahead. We promise to always provide excellent content, whether they are deeply researched articles on important social and environmental issues, entertainment, news or straightforward and necessary information.
Our web site, www.ChiangMaiCitylife.com has maintained its position as Chiang Mai's top English language website since its inception twenty years ago in 1998, and we will be spending a lot of time and money developing it so that it is an essential tool and source of information for all of you. After two decades of running this behemoth of a site, with hundreds of key words and phrases ranked at the top of Google, we know that our SEO is solid, and we will use all of our expertise, content and position to help drive our customers' brands' growth. With over a million people visiting our site each year, we know now that we must do better to make it work more effectively, not just for us, but for everyone.
The Citylife Garden Fair's success this year has given us many ideas of what people want and if you watch this space, we will be telling you of many thrilling developments we have in the pipeline for future events. Our main aim is to develop and grow brands. Ours. Yours. Chiang Mai's. Working to enhance those brands through our various channels and services will drive more business, tourism and hopefully the economy — I told you we were thinking big!
My friends like to tease me that I am bit of a late riser. And I admit that I have used the whole, "I'm media, darling" as an excuse to roll out of bed long after most people are enjoying their first work break of the morning. But with the Citylife2020 business plan in place, I have been getting out of bed early…with a spring to my step, no less! There has been so much to do, so many exciting things to anticipate and so many people to see.
I can see clearly now. Citylife is going places. Citylife is no longer me and I am no longer Citylife. The company is being driven by a force in a direction which is no longer up to my whims and while it's hard for me to admit, this is a good thing.
There is a buzz in the air here. My new partners are chomping at the bit to get going and I hope that you too are happy that we will be around for many more years to come.
I thank you all for your support over the decades. It has been your feedback, your kind support, your participation and your constant appreciation that has seen us through 26 years. We are now working on developing so many new products and services all of which I hope you will enjoy for years to come.
Change won't be overnight, mind you, so bear with us. But change, like winter, is coming!
Citylife this month:
I just wanted to say a quick thank you to Crystal Winston, our Digital Content Manager, who leaves us this month after too short a time here. She has been offered an amazing job by the United Nations and will be moving to Kenya — I suppose I can't begrudge her that! Good luck Crystal, send some budget to the north of Thailand when you become the General Secretary one day!