Editorial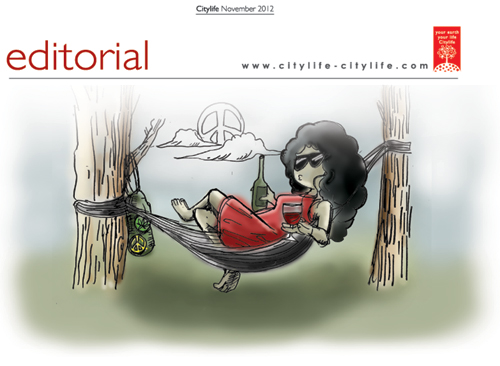 Fear of flying, especially on those tiny ten-minutes-to-ascend, then level-for-three-minutes-for-a-snack-pack-of-peanuts, followed by the dizzying ten-minutes-to -wobble-back-to-terra-firma, planes to Pai; along with rude friends who refuse to get in a car with me unless I promise not to sing the whole way – which I shan't – has meant that until now, I hadn't set foot in Pai for seven years.
Rampant rumours about the destruction of Pai, the popping of its innocent cherry, and various rural legends reinforced my neglect of the quiet little hamlet in the valley. Until now.
So, off we set, the staff rudely refusing to drive with me, so I recruited Hilary Cadigan, a young writer (who doesn't know me well enough, and is far too polite, to have insisted on going in the other car) and even refrained from singing (she brought along all these post-millennium songs, which effectively shut me up), to be my fellow writer on this trip to the wilds of Mae Hong Son.
Ruined schmuined. Really. It's the same as the decades-long complaints about the death of Chiang Mai that we have all had to endure – and, admittedly at times, propagated. Yes. Pai does have 7-Elevens now; traffic lights even…gasp! Bangkok brats troll its streets with excessively long camera lenses or iPhones pointing to a variety of kitschy, cute, arty, crafty or quirky local attractions, Instagramming it up onto Facebook to solicit likes – to be fair, so did I. Things have changed since the seventies.
In spite of the natural eyesores which come with growth and popularity, Pai completely seduced me. We spent a lot of our time talking to residents, Thai and foreign, local and transported from other provinces, and they are pretty much all in agreement that Pai's character and its certain je ne sais quoi remains, well, Pai. Compared to the development of other destinations such as Phi Phi, Koh Lanta or any number of southern islands, Pai has done a pretty good job sticking to her guns…and chillums.
Swinging in a hammock with a good book and the sweeping Pai Valley beyond as backdrop is still my preferred activity, though reluctantly I had to roll myself out of swaying-nivarna to actually do some work. I was, however, surprised to find myself loving playing tourist. Tootling along country roads, flanked by paddy fields of green, pulling up to a waterfall for a refreshing dip, to a hot springs for a soothing soak, to a coffee shop in an attempt to look hip, or to gawk at hippie culture, fondly remembering my old days of yogaing in Dharamsala, getting stoned in Luang Prabang, painting with mud in Bamako or sipping mint tea and debating politics on the Golan Heights…there is something remarkably self-indulgent about this kind of scene.
In Pai you can just be (or if you're missing, hopefully, find yourself).
Go! You can gripe about it later if you must, but if you haven't been to Pai then get there before the B2s go up, while every hammock still has a view.
Citylife this month:
Our cover girl and deputy editor Grace Robinson is leaving us this month as she heads to pursue a much more glamorous career in Bangkok. Thank you so much, Grace. Never fear, you won't just have to hear from me, because the position has now been filled by the very same Hilary Cadigan I mentioned above, whose three days cooped up in a car with me in Pai must have been the most terrifying job interview in her life…Or was it my driving? Or occasional bursts into song?
As you can see, it is the Pai issue. So I do hope that you enjoy it; we certainly can't complain much about the 'research'.
Tom Fawthrop has written another article for us this month, this one at the very last minute, on the life of Cambodia's King Norodom Sihanouk, whose career Fawthrop followed for many decades. Just squeezing in before deadline, I think that you will enjoy his insights into this colourful monarch who passed away a few days ago.
I would also like to thank our young intern Georgia Williams for her contributions.
Have a lovely Loy Krathong and see you again in December!
P.S. We are looking for fresh new voices, so if you wish to write a regular column for Citylife, please feel free to pitch it to me at pim@chiangmaicitylife.com.