Creature Comforts
This month, give your furry friends a bit of love (and a dash of luxury) with these hand-picked hotspots for those on four legs.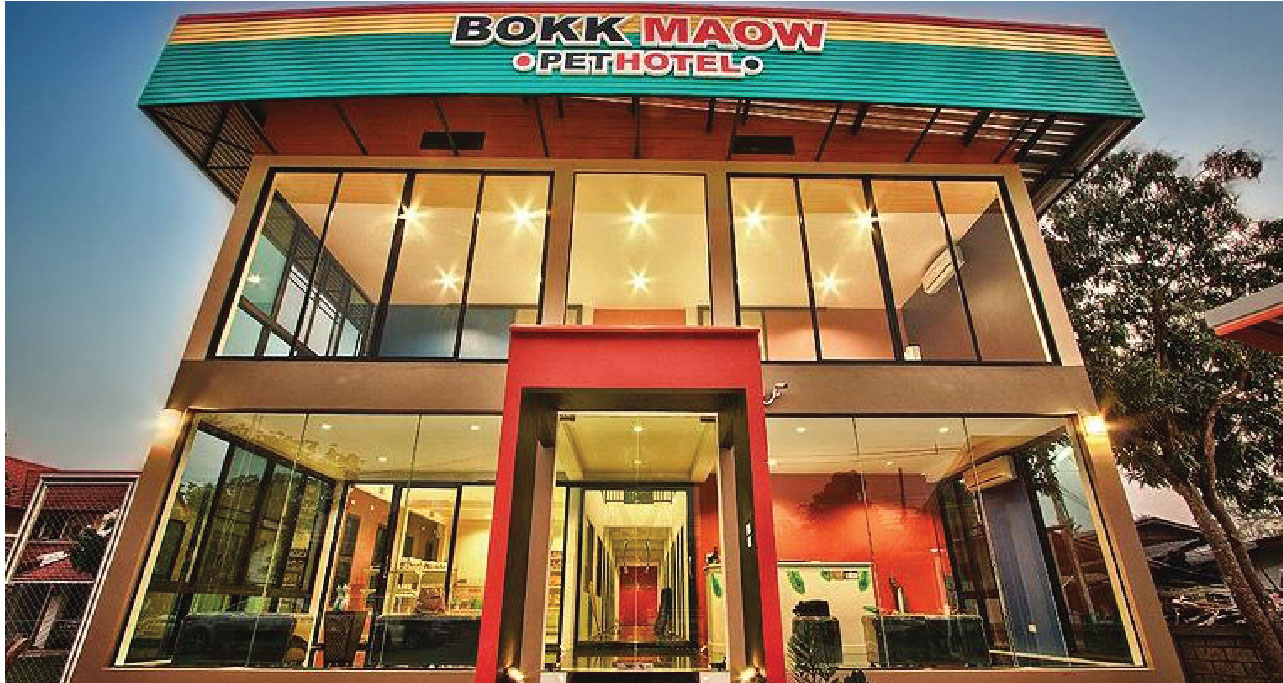 Bokk Maow
Going on vacation and need to leave Fido and Mittens at home? We've got just the place. Bokk Maow, located near Thai Watsadu on the Chiang Mai-Lampang Road, offers an exclusive chance for your beloved pets to get away from it all. Offering 24 hour care and even an app that streams CCTV from your pet's spacious hotel room to wherever you are in the world, Bokk Maow is safe and comfortable. No cages, big rooms with fans or air conditioning, a resident vet and a 500 square metre field for frolicking and socialising, with scheduled walks four times a day; this is not just a hotel, but a retreat for all your furry friends (they accept cats, dogs, rabbits, rats, gerbils…really anything that's furry). There is even a spa for those that love to be pampered and a delivery service to and from anywhere in Chiang Mai, for convenience and luxury, starting at 250 baht a night!
Open daily, 9am–8pm
99/3 Moo1 T. Chompoo, Saraphi
087 5101876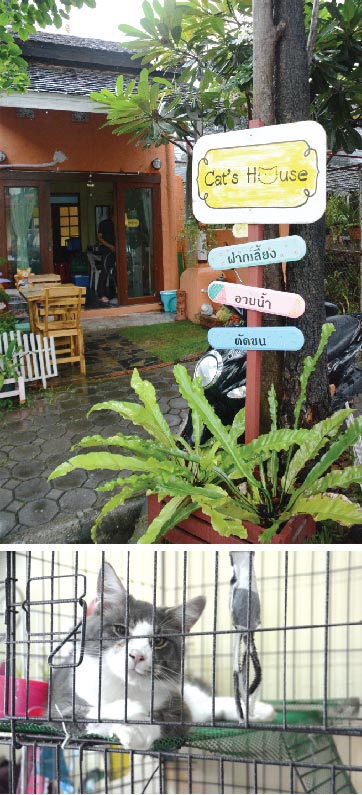 Cat's House
A little house for cats, located in JJ Market, is quite simply what the aptly named Cat's House is. The business specialises in not only washing cats, but looking after them too, with a quality cat keeping service for when any of you cat owners are out of town, with daily rates at just 120 a day and a whole month at 3,000 baht. This also includes a shower once a week, all food included and a little (actually a lot) of playtime. Moving away and can't take Fluffy with you? Cat's House also can sell cats on your behalf. By the way, washing a cat takes longer here as the owner is very sensitive towards the cat's needs (as you can tell by his lack of arm scratches), so expect a happy kitty all pretty and clean upon your return.
Open daily, 9am–7pm
JJ Market, 45 Atsadathorn Road
Facebook: Cats House
080 493 1771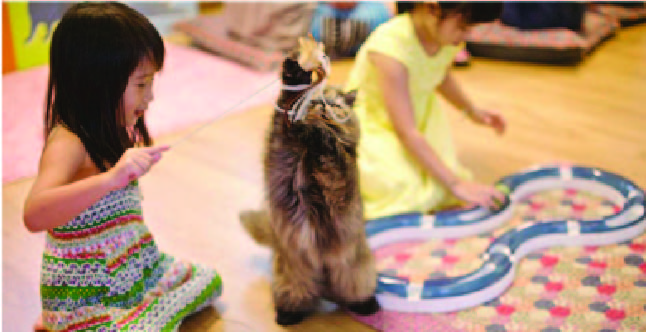 Ka Fe and The Gang Cafe
As we recently wrote, cat cafes in Chiang Mai are now officially a thing, so if you haven't visited one yet, you're missing out. This quaint little cat caf? out of the city towards Doi Saket was one of the first to open, and is most certainly worth the visit. With around five tables, and eight or more cats at any given time, you're sure to get some quality cuddle time. The cafe owners also work as fancy cat breeders, which promises that the cafe will have different felines each visit, along with a fine selection of tasty homemade coffee and cakes (just keep a close eye on your cake, some of these cats have a sweet tooth). Ka Fe specialises in thoroughbred cats, with Persian, Scottish Fold and Munchkin cats (even cuter than they sound) all welcoming you with open paws.
Open daily, 11am–6pm (closed Mondays)
Viengpingvilla, A. Doi Saket
www.facebook.com/CatcafeKafeandthegang
098 271 7578
………………………………………………………………………………………………………………………………………………..
Fabulous Feasts
Sink your teeth into a prime cut of Kobe beef, some fantastic fusion or a hearty plate of pasta at this new trio of excellent Chiang Mai eateries.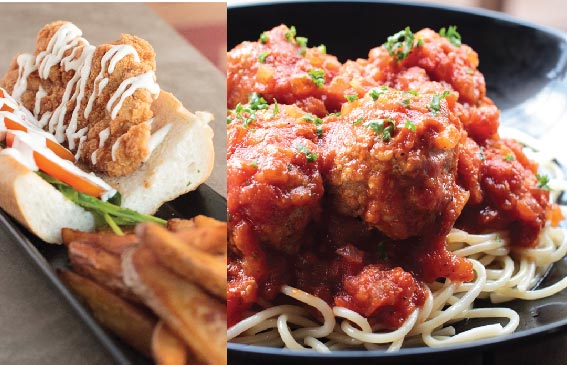 Corner Bistro
Located just across the street from popular expat hangout Small House Kafe comes a brand new kid on the block, Corner Bistro, a casual neighbourhood eatery with heart. Settle in on the candlelit, open air porch and browse a menu of classic American comfort foods made from fresh, locally sourced ingredients: juicy chicken fingers, creamy penne a la vodka, thick and juicy steaks, veggie burgers, and hand-cut French fries with six types of homemade dips to choose from, smothered in gravy, cheese or chilli. Thirsty? Corner Bistro's signature rum milkshakes are the ultimate guilty pleasure (available in vanilla, chocolate, strawberry, banana, or our personal favourite, peaches and cream). They also carry homemade iced tea, wine, and beer, which pair perfectly with a free serving of popcorn.
Open daily, 5pm–midnight
8/8 Ratchapruek Road
096 497 6766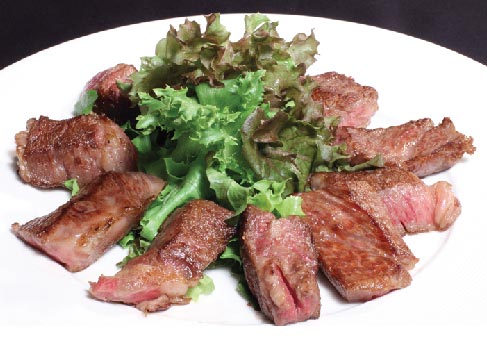 Kobe Beef
Tajimaya's newest restaurant has opened up on Intrawarorot Road in the old city, named Kobe Beef and offering all kinds of top grade Kobe and Japanese beef. Friendly owner Kyoko Kohguchi, also the owner of popular new wine purveyor Chiang Mai Cellars, brings her seasoned wine expertise to exquisitely pair top quality Japanese beef cuts with a large collection of wines. Genuine Kobe beef and Kobe Wine Beef (made from cows fed with the husks of wine grapes after they are juiced for wine) are imported from Japan and available exclusively at Kobe Beef restaurant in Chiang Mai and a partner of Tajimaya in Bangkok. Saturdays and Sundays see a special tasting set of tenderloin, sirloin and ribeye served with salad, garlic toast and a dessert for 1,500 baht and the Sunday steak special offers 300 grams of exceptional Japanese beef for only 1,000 baht.
Open daily, 11am–2pm and 6pm–10pm
61/6 Intrawarorot Road
053 327321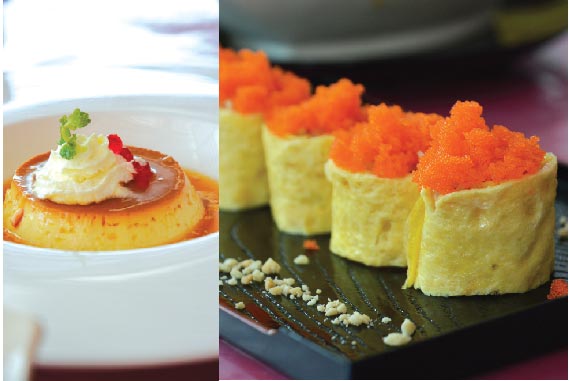 Prince's Kitchen 
Opened just a few months ago by a sweet mother and son duo, Prince's Kitchen is named after the son, Prince, and boasts an original Thai fusion menu as well as some Western dishes. The restaurant is a lively blend of pink benches and flowers, nestled in a quiet soi. Try their signature pad thai khai koung, a unique and delicious combination of stir fried noodles and shrimp caviar that comes out looking a bit like sushi. Also worth tasting are the khao soy with fried chicken and the spaghetti carbonara. Prince's cuisine takes a modern and fabulous twist on traditional Thai, mixing and matching flavours that will pleasantly surprise you.
Open daily, 11am_10pm
141/78 Moo 3 Tharathiplilla Sangarn Paeng
Facebook: Prince's Kitchen
princektc@gmail.com
086 663 3363, 089 1089 449
…………………………………………………………………………………………………………………………………………………………………………………….
Happening Hangouts 
While away the early winter months at these hip new Chiang Mai hotspots. Whether you're in the mood for a fruity froyo, a cold craft brew or a belly-warming cuppa joe, you're covered.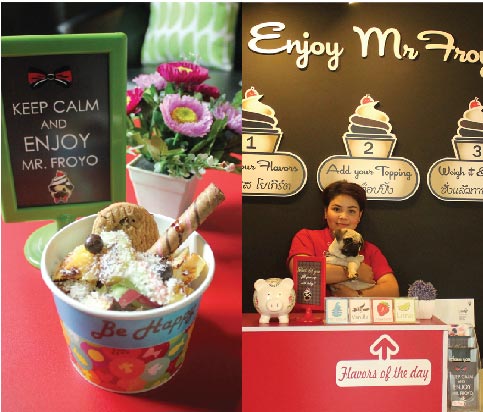 Mr Froyo
Oh how long we have waited for the American trend of self-serve frozen yoghurt to come to Chiang Mai. And finally, that day has come! Mr Froyo, located on the east side of the old city, just outside the moat, has everything a froyo lover needs: over 20 flavours of healthy yoghurt (four on tap at a time), 18 fresh fruit toppings, nine different candy toppings, and a cute little pug named Bijoux as mascot (okay, that last one might not be a requirement but it's a nice bonus). Grab a big or small cup and fill it up – Mr Froyo charges only 45 baht per 100 grams – and enjoy a nearly guilt-free dessert sure to satisfy any sweet tooth. Buy nine cups and get the tenth free, plus ten percent off for all students!
Open daily, 10am_10pm
52 Chaiyaphum Road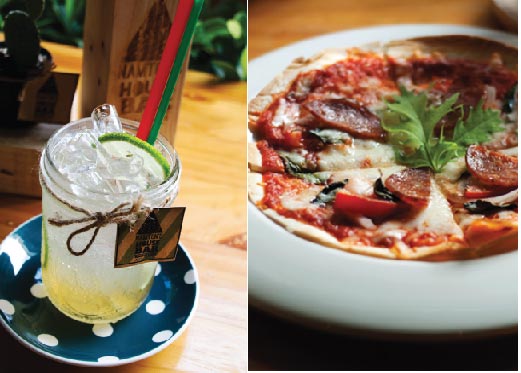 Namton's House Bar
Namton is the name of one of the owners of this hip and homey new bar and restaurant. Namton's husband, Em, is the cook, not to mention a former member of Sony-signed Thai rap group Raccoon's Party. Their shaded outdoor dining room is filled with live plants, vintage furniture, colourful knickknacks and a koi pond. Sit back and browse the well-priced menu, featuring a range of home-cooked western classics with flair, including pasta, burgers, steaks, pizzas, salads, snacks and vegetarian options aplenty. Namton also features over 30 different kinds of craft beers from around the globe, including Belgians on tap, as well as homemade sodas and yummy iced cocoa. Don't miss the burrito pizza, a surprisingly light and tasty treat, only 100 baht.
Open daily, 10am – 10pm (Closed second and third Wednesday of each month)
196/2 Chiang Mai-Lamphun Road
www.facebook.com/namtonshousebar
086 911 1207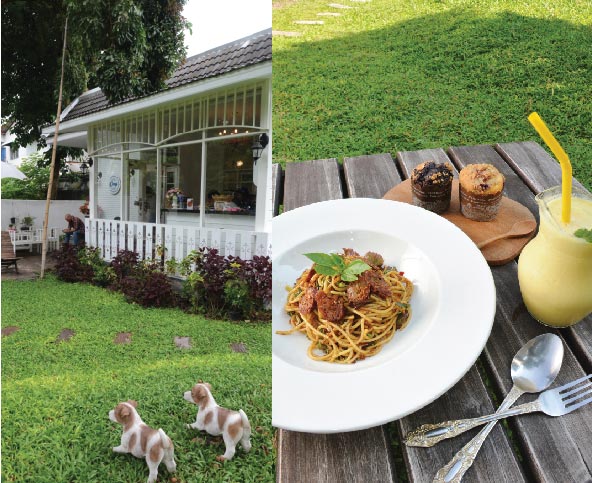 Cozy Coffee and Bakery
A quaint English summer house tucked away just off Chiang Mai Gate, Cozy Coffee and Bakery is much more than just a cafe. Opened by co-owner May and her brother last year, their old home has become a gorgeous setting for a relaxing wintertime coffee. Apart from their delicious hot and cold drinks such as their signature Cozy Coffee with sweet milk and latte foam, the cafe offers a wide selection of smoothies, bread, pastries, cakes, sandwiches, croissants and food all day long. With a beautifully decorated but very natural garden, you can enjoy sitting on the grass while munching on their popular sai oua spaghetti, washed down with a silky mango smoothie.
Open daily, 9am–6pm
5/3 Suriyawong Road
www.facebook.com/cozycoffee.chiangmai
085 956 5567, 052 089 446