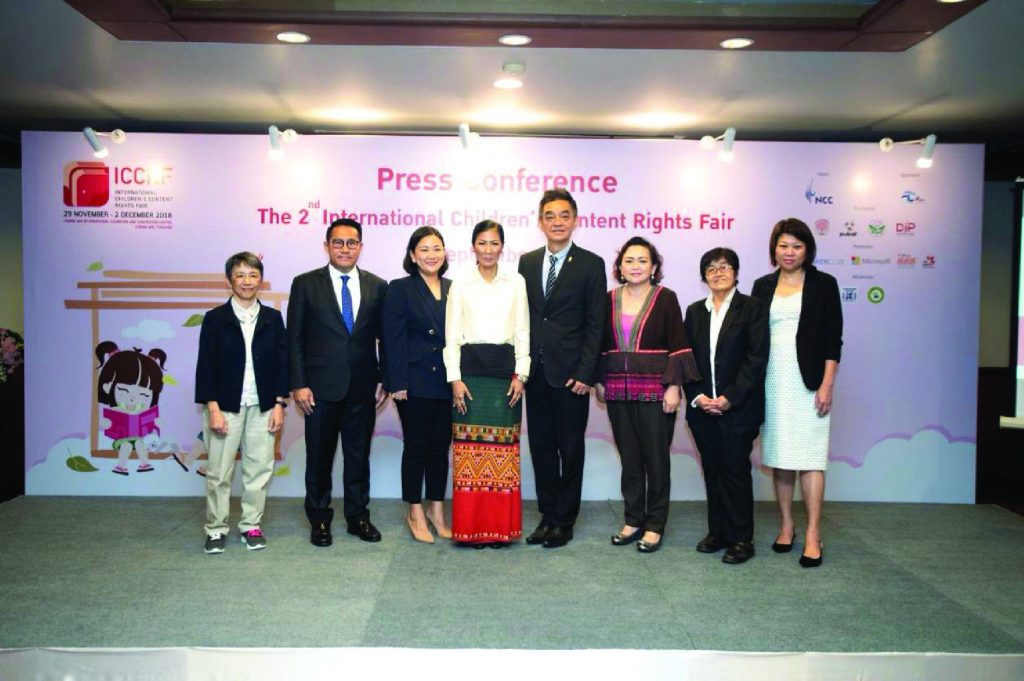 "We want every stakeholder in creative media for children — teachers, parents, kids — to pin this fair in their calendar and look forward to it," stated Trasvin Jittidecharak, President of the International Children's Content Rights Fair (ICCRF) working committee. This year ICCRF will be held at the International Convention and Exhibition Centre between 29th November and 2nd December.
ICCRF is the only trade fair in ASEAN for children's content rights which offers business opportunities to creators, writers and publishers to promote and showcase their works along with encouraging knowledge sharing and networking, while visitors can enjoy a bewildering variety of books from international publishers at special prices. "In this market, Thailand has a potential. There is no accurate number but the market value for children's media is at a billion dollar figure and we are only second to Singapore in ASEAN," stated Risuan Aramcharoen, the managing director of Plan of Kids and chair of ICCRF activity committee. Although there are still challenges as to the quality of content when compared to well developed countries due to the lack of investment and support from the government, there are numerous NGOs emerging in Thailand who are encouraging literacy and reading, according to Risuan. "Reading habits need to be developed from a young age and this requires the influence of both parents and teachers. If they love to read, then children will be keen to read too," explained Risuan.
Last year, the fair which was held in Bangkok, welcomed over 4,000 visitors with over 70 booths from 12 countries across the world. "In the past two decades, Chiang Mai has hosted numerous international events but they were only seasonal. We want ICCRF to be the brand of Chiang Mai," stated Trasvin explaining the ambitious vision which is to associate the fair with the image of Chiang Mai in the same way that other iconic events such as Loy Krathong are.
"Chiang Mai has a unique character. While it is rich in arts and culture, Chiang Mai is also a city of education with numerous top schools and universities as well as an expanding number of international schools. Because of its long history as a trade hub, Chiang Mai people tend to be open minded, and that's not even mentioning the vast amount of collective knowledge. Chiang Mai has such potential," stated Trasvin.
Do not miss this one of a kind event! The 2nd International Children's Content Rights Fair will be held at the International Convention and Exhibition Centre between 29th November and 2nd December.
Over 100 booths from publishers across ASEAN
Motivation talks from experts in the field
Workshops on art and innovation including code writing from Microsoft, illustration from international artists and children activities from Plans for Kids
ASEAN Illustration Award for a trophy from HRH Princess Maha Chakri Sirindhorn and 400,000 baht prize
Big Bad Wolf book fair merchandising with over a million books on the 5,100 sq.m. space, offering tremendous discounts up to 90%
Tara Books Exhibition by Gita Wolf, an Indian author whose works have been showcased all over the world.