Community Services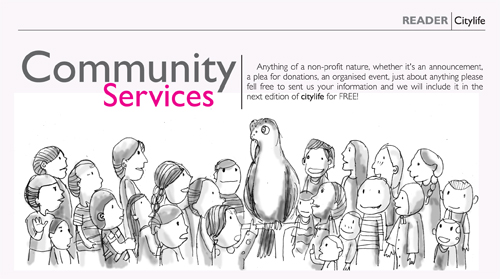 The Mission House is a Christian organisation offering a genuine service in both English and Thai to Chiang Mai. Their focus is on helping foreigners settle into Chiang Mai and offer many wonderful homes to rent.
The Mission House supports and works in partnership with a number of Christian organisations and churches within Chiang Mai & Chiang Rai.
Contact; Janta, The Mission House: jantawinters@hotmail.com.
NANMEE BOOKS is hosting 'The 6th Wankaew Literary Award 2009'. The contest is separated into two part: novel and documentary; the novel winner will receive 50,000 baht while the documentary winner will receive 30,000 baht. Both will be published and receive cash for copyright. Send your story to Nanmee Books Co., Ltd 11 Soi Sukhumvit 31 (sawasdee), Sukhumvit Road, Klong Tuey Nue, Wattana, Bangkok 10110 from now through 30th April 2009.
For more information call 02 6623000 ext 5249 or e-mail to wanlaew@nanmeebooks.com
Citylife
is aware of all the good work being done by our local NGOs, Foundations, Charities and Non-Profit Organisations and is pleased to announce the creation of a special section on our website, http://www.chiangmainews.com/donation/ that will allow the millions of viewers who log on each year the chance to find your web sites and perhaps offer their help or donations. If you would like to be featured on, and linked to, this special page for FREE please send your banner links and any other pertinent information to Arm at arm@chiangmaicitylife.com.
We are 20 puppies waiting to be picked up, cuddled, and forever loved!
We were all dumped under Rama IX bridge last month, cold and hungry, without our mommy. We're temporarily staying at Care For Dogs' shelter though we're eager to find homes and adoptive families. We've been vaccinated, dewormed, bathed, and well fed! If you want to feel some love, come and see us wag our baby tails!
Contact us at contact@carefordogs.org or call us at 0847525255.
www.carefordogs.org
Every post office in Thailand is now featuring for collectors a new stamp collection for 2009. In honour of the year of ox, the stamp features an ox. The Thai Post Offices will also release many beautiful collections such as the well known 'Som Det Wang Bura Pha' or the third version of the Visakha Bucha and much more. Contact 02 8313856 or call centre at 1545 for more information.
JJ Market sets the stage for local communities and local educational institutes to show their creativity and talent in a traditional way. Culture Street showcases a market for locals to present their products to travellers, both Thai and foreign, who value local ideas.
Culture Street is organised by JJ market, held everyday now – April 2009 from 4 p.m. – 11 p.m. Contact Khun Sarunyanee Mungwicha for more information 053 231520 ext 108 daily from 10 a.m. – 5 p.m. or visit www.jjchiangmai.com