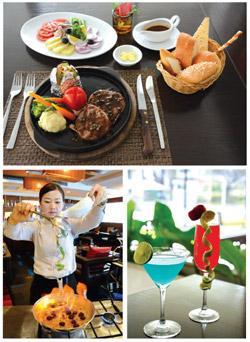 Nimman Bar & Grill
Located inside the posh Kantary Hills hotel, caf? and shopping complex, the Nimman Bar & Grill is one of the most famous restaurants on Nimmanhaemin Road, and for good reason! Decorated in a modern and relaxing style with wooden furniture and green grass in front of the restaurant's balcony, Nimman Bar & Grill is the perfect spot for breakfast, lunch, dinner or drinks. Sit inside and bask in the air-conditioning, or enjoy the cool weather on the lovely shaded patio.
Whatever you're in the mood for, you're sure to find your bliss here. Nimman Bar & Grill serves up a wide variety of well-priced authentic Thai, Western and Japanese cuisine. The Italian food holds special acclaim, including a number of local and imported steaks, pasta dishes, pizzas, salads and more. We swooned over the tender Australian fillet mignon, which pairs well with a number of custom-blended cocktails and wines. For dessert, the flamb? cherry jubilee is unmissable. Watch the talented dessert chef play with fire before enjoying the luscious mix of cold ice cream and hot dark cherries glazed in liqueur and sprinkled with toasted almonds.
Every Monday and Friday from 6 – 10 p.m., Nimman Bar & Grill offers up a fresh salad, soup and antipasto buffet, which comes free with an imported steak or costs 170 baht on its own (children under 12 pay half price). Every Wednesday at the same time, meat lovers get pampered at the Carvery Night Buffet, featuring fabulous roasts of beef, lamb, pork and poultry along with a wide array of side dishes and dessert at 490 baht a person (again, children pay half price).
So, next time you're in the mood for a hearty meal with enough options to keep the entire family pleased, don't miss Nimman Bar & Grill!
Open daily from 6 a.m. to midnight
44 Nimmanhaemin Road, Soi 12
www.kantarycollection.com/kantaryhills-chiangmai
053 222 111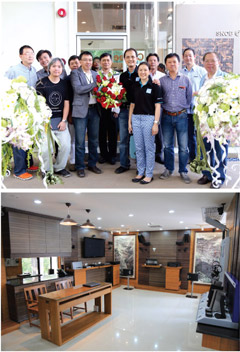 NEO Entertainment Gallery
In 2003, NEO Entertainment Gallery was launched in order to become an entertainment centre for those looking for high-end stereo systems to watch great movies or listen to songs. Now ten years have passed, and NEO Entertainment Gallery recently held itstenth anniversary celebration on 5th – 18th December with seminars on visual and audio topics. Features of the opening were updates on network players and music servers, as well as heaps of special promotions, perfect for holiday shoppers looking to please.
NEO is always developing to remain the best one stop service for all your entertainment needs and desires. Divided into three main shops which are Only@NEO, BOSE@NEO and SNOB@NEO, you can ensure that whatever you're looking for will be well-presented and easy to find. Only@NEO and BOSE@NEO are upstairs and decorated like an art gallery, with modern high-end visual and audio accessories. Only@NEO also supplies lighting control systems, security systems, home automation systems and full system integration, while BOSE@NEO sells home theatre systems, multimedia and other accessories from the acclaimed American electronics brand. SNOB@NEO is a caf? downstairs for coffee, movie, music and art lovers – the perfect place to take a break from shopping or even just to come hang out and sip premium espresso while enjoying high-definition movies or music through top quality speakers or headphones. The ultimate pleasure for any tech-lover.
NEO Entertainment Gallery always comes up with great deals so check their website or stop by to see what's on and experience Chiang Mai's best destination for top-quality entertainment electronics for yourself.
Open daily, 10 a.m. (9 a.m. for SNOB@NEO) – 7 p.m.
Class One Complex, 95 Moo 1, Huay Kaew Road
(opposite Punna Condominium)
www.neoentertainmentgallery.com
053 217 7013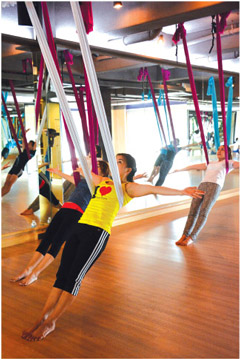 Yoga Bright
For those looking to add some fun and excitement to their workout routine, Yoga Bright is the answer. This brand new studio, located at the Green Plus Mall 2 Chiang Mai Business Park, just behind Big C Extra, is a beautiful place to get fit. Enter and the clean and spacious design of the big, bright multi-story building, complete with stylish touches like a crystal chandelier and cosy lounge area, will beckon you to a healthier life. Yoga Bright owner Noi is a fitness fanatic with a passion for health, and offers a unique array of classes at her studio, including all types of yoga, TRX, Pilates, fit boxing and the popular new aerial yoga and fitness class, Sky Fly.
Head Sky Fly teacher Tai learned her unique craft from Synergy Fitness in Bangkok, after spending seven years as a traditional yoga teacher. Now, her classes offer a fun and exciting way to bend and stretch yourself to stronger, leaner muscles, better joints and a calmer mind, thanks to the bright blue hammocks that provide support for a series of acrobatic poses, from hanging upside down in the lotus position to swinging to stretching out like a caterpillar in a cocoon. All classes are monitored by not only Tai but her cute and friendly supporting instructor Max, who specialises in aerial jazzercise!
Classes vary depending on the level of student's ability and hammock height, which ranges from knee level (easy) to hip level to head level to hoop (advanced). Yoga Bright also works with Absolute Bootcamp Fitness to provide Sky Fly classes to participants every Tuesday. Classes must be booked at least an hour in advance to ensure a minimum of eight participants, with hour-long Sky Fly sessions priced at 550 baht per class, or you can save with the discounted package of 5,000 baht for 11 classes. Check website for class schedule.
Open daily for classes (see schedule)
114/10 Green Plus Mall 2 Project, Chiang Mai Business Park,
Chiang Mai-Lampang Road
053 851 545, 085 243 5100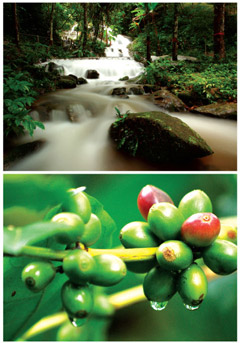 Tin Tok Royal Project
Situated in Mae On District just around one hour's drive from the city, Tin TokRoyal Project welcomes visitors with its green landscape, cool streams and delicious food. Fill your stomach at thelovely on-site restaurant, decorated with greenery and rock walls and serving yummy meals with ingredients fresh from the Royal Project garden.
Opposite the restaurant are greenhouses growing rare plants such as orchids and ferns. Learn about the processes of growing mushrooms, vanilla trees, and traditional herbs – you can even buy some to take home and find out how green your thumb really is!
For coffee lovers, a visit to the coffee tree farm is a must; try their Arabica coffee and witness the coffee-making process from start to finish. Don't want to go home? Tin Tok also provides a fully-furnished guesthouse beside the stream so you can fall asleep in natural bliss, listening to the river flow. They also have a meeting room under a big tree for groups of people who prefer the great outdoors to stuffy boardrooms.
If you still have time, drop by at Mae Kam Pong – the award-winning, eco-friendly tourist village. Visit the viewpoint on Doi Mon Laan, Mae Kam Pong River, and Wat Khantha Prueksa – a must-see temple in the middle of the stream. Feel like some relaxation after your long walk? There is a Thai massage parlour conveniently located nearby! All in all, Tin Tok is the perfect place to while away a winter weekend.
Baan Pang Pueng, Tambon Huay Kaew, Mae On District
053 318 316, 0861807725