It started off with a small group of friends who invited their friends to come along to our beautiful old Citylife Garden to hold an English-styled village-green fair to raise whatever we could to help the victims of the 2004 tsunami. We brought our second hand goods, our art works, and our old books; our friends joined in and baked or cooked, others opened a bar, a few children did some dances and anyone with a decent voice got on the microphone. A couple of hundred people came and we basked in our success, twenty or thirty thousand baht was raised for the Tsunami victims, not much, but something.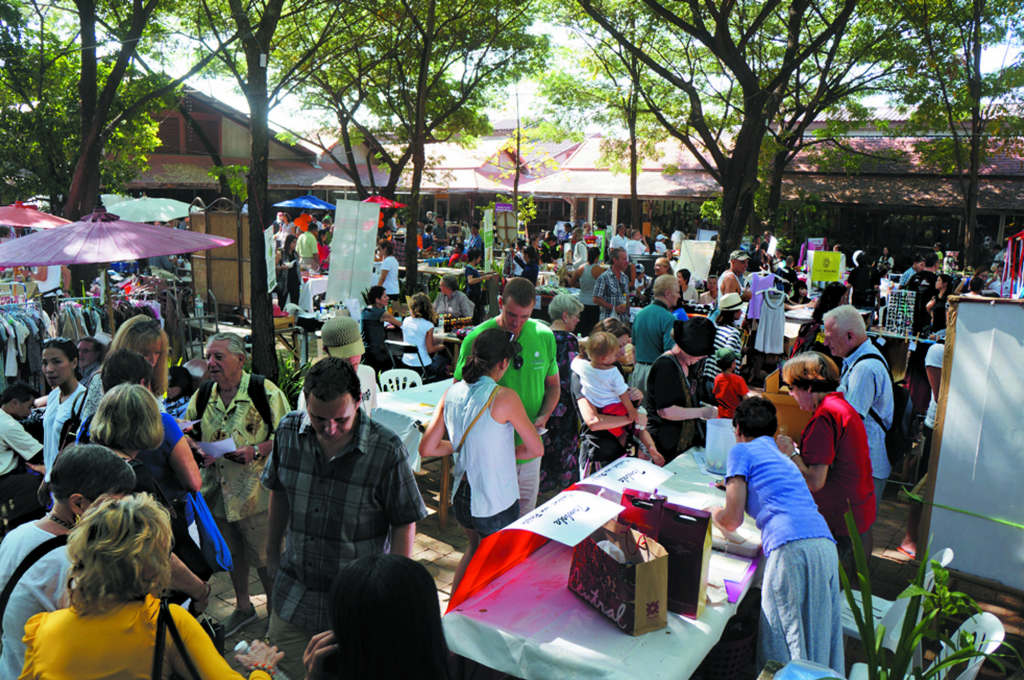 Over the past ten years our Citylife Garden Fair has grown up, evolved, and simply grown into a pretty incredible annual event which, according to JJ Hobby Market, attracted over 5,000 people last year, raising nearly 220,000 baht for two local charities in 2014. The fair is now way bigger than our small staff can handle, and thankfully we have been supported by a team of dedicated volunteers, who are promising to make this year's event the biggest and best yet.
At time of press we already have 120 stalls booked with food and drink vendors, second hand items, crafts, and representatives from some of the city's top hotels, restaurants and businesses opening stalls. Come for a morning coffee and stroll, pop in to listen to any one of the ten bands and singers (some famous!) who have already volunteered, spend the day enjoying some exciting activities we will host, get your Christmas shopping done, bring the family for a feast from a smorgasbord of the city's best chefs, or sit back with a gin and tonic and get a foot massage while you watch the world go by.
We charge 300 baht for a stall (250 for non-profit organisations), which pretty much covers the rental of the property and other running costs. How much money we raise is up to you all. This year we are working very hard to get some incredible items for you to auction on. We will get flights, hotel rooms, restaurant, spa and bar vouchers, furniture items, jewellery and more, and you can all bid on them at the all-day silent auction or the live auction which will be held on the hour every hour between noon and 4pm.
If you have anything to donate at all we would be so grateful. Small items will go into the tombola, where you are almost guaranteed to win something if you buy a handful of tickets, and larger ones will be up for auction, an opportunity to get an incredible deal.
This is a community event which has grown way beyond Citylife and we are so grateful to our readers and advertisers for supporting us year after year. Each event raises funds for two or more charities, and over the years we have donated to well over a dozen. This year's two recipients are both wonderful causes and we would like to introduce you to them in the next pages.
Please join us on our Facebook page, Citylife Garden Fair '15, where you can read our updates and check out auction items as they come in. If you are interested in a stall, in donating towards our causes or in helping out in any way, or should you have any questions, please email kay@chiangmaicitylife.com.
See you all on November 21st at JJ Hobby Market between 10am and 5pm.
Citylife Garden Fair 2015 will donate all proceeds to these two foundations.
Burma Children Medical Fund
Following the fallout of the '88 uprising in Myanmar, large numbers of refugees crossed through the porous border into Thailand. Many of these were children in dire need of medical help. The established Mae Tao Clinic in Mae Sot on the Thai border, though overwhelmed, set up a room to administer basic medical care for those needy but supplies and personnel were so short, a rice cooker was used to sterilise medical equipment.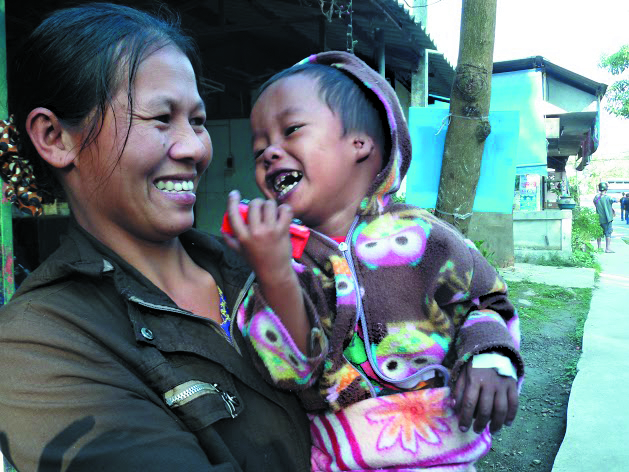 A Thai-born Australian volunteer, Kanchana Thornton, had moved to Mae Sot in 2001 in order to volunteer at the clinic, but seeing the massive demands for serious medical care coming across the border, and the lack of capacity at the clinic, she decided to open the Burma Children Medical Fund in 2006.
The charity funds medical treatment as well as offers support to Burmese migrant children with conditions so severe they cannot be locally treated.
Over the years, through fundraising, with the help of numerous volunteers as well as building strategic partnerships and relationships, the BCMF has become an organisation that is creating deep impact and saving lives.
"Every Wednesday we bring a van from Mae Sot to Chiang Mai," said Amelia King, the foundation's advocacy officer. "We have a basic house here where we can sleep up to 40 people and through an agreement with both Suan Dok and Lampang Hospitals (as well as ones in Bangkok when the need arises) we receive substantial discounts for our children's medical needs. We also link up with surgical missions such as Operation Smile or eye doctors."
"Most of our patients come from the eastern states of Burma," said Amelia. "There are few hospitals there and the standards are very low. We also have many patients come all the way from Yangon."
"While it is free sometimes to receive medical care in Burmese hospitals for children under five, many patients simply can't afford the other costs involved such as paying for cleaning service, for blood, or medicine."
Since 2008, 1,800 patients have been treated through the BCMF, with 400 receiving help so far this year. As the foundation has grown, it has also expanded its reach. There is now a Burma Adult Medical Fund (BAMF) which treats adults with a wide variety of conditions including heart disease, urological and kidney conditions, severe burns and gastrointestinal conditions. The Burma Women Medical Fund (BWMF) treats women who are debilitated by severe gynecological conditions.
To find out more please visit www.burmachildren.com
Mae Maeh Orphanage
On the top of a mountain, up a winding dusty golden tinted dirt road, sits Mae Maeh Orphanage which provides education and accommodation for orphaned and underprivileged children in the remote areas around Chiang Dao, some of whom have never seen the bottom of the mountains in their entire lives.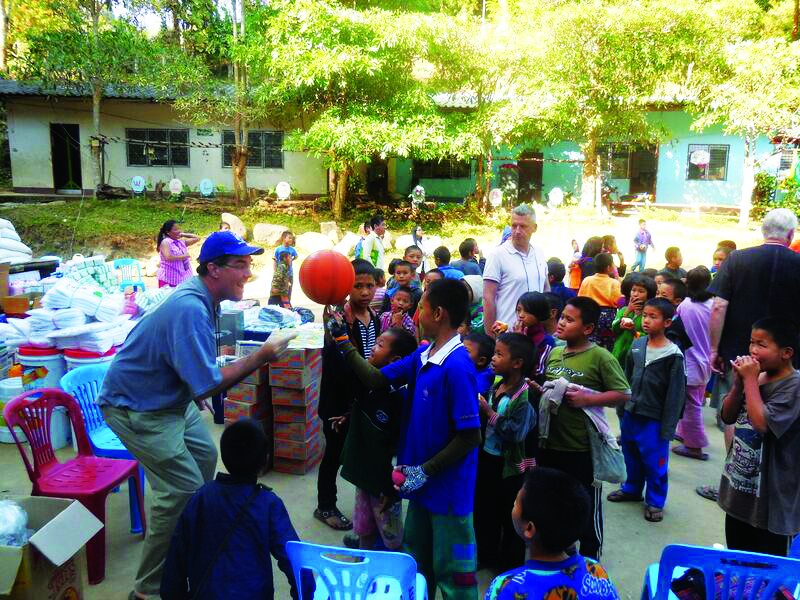 Founded in 1959, it all began when the hill villages called the government to provide them with a teacher to help teach the 40 children in the local area, who before had no access to any education whatsoever. After flooding caused by deforestation destroyed the village and killed three villagers, the school was moved to its current location, higher up the mountain in a safer place. Ever since, children have been coming and coming, and Mae Maeh Orphanage has fought to keep up with the admissions.
However, the government support slowly diminished and in 2002, during the war on drugs, many parents in the area were either arrested, killed or 'went missing', leaving many children orphaned, having to deal with the painful truth that their parents were gone forever. 46 children were left with nothing, and Mae Maeh Orphanage had to grow, converting to a boarding school to ensure the children had somewhere safe to go, and somewhere to grow.
Currently the school has over 100 students. They must provide three meals per day, boarding, pastoral care, basic health care (the closest hospital is 18km away) and education to the children – not to mention ensuring a loving family of teachers, volunteers and orphans too. Relying on almost entirely on donations, some children are found sleeping on the floor or going without basic things that we all take for granted.
Just in!
So far we have received these donations for the auction:
2 nights at 137 Pillars House Hotel
2 return tickets to Yangon with Bangkok Airways
2 return tickets to Phuket with Bangkok Airways
2 nights at Chiang Dao Nest
Two Sunday brunches at Dhara Dhevi
Two TedX tickets
Two nights in Phuket's Cape Panwa hotel