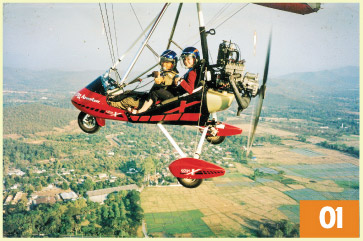 01 Microlight Sky Adventure
Download the Apocalypse Now (or Platoon) soundtrack, hop onto this little contraption and take off into the skies. There is nothing more thrilling than gliding over paddy fields and the vast – and oddly turbulent – waters of Mae Guang Dam on a microlight. Trust us on the 'Nam themed soundtrack!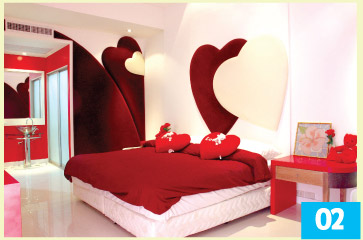 02 Love Motel
It's naughty, it's tawdry, it's illicit and it is great fun! You can spend an hour, or a night, with someone special in a Tarzan and Jane, Star Trek or even Winnie the Pooh themed room. Dirty movies to see, glass ceilings, Jacuzzis and all sorts of gimmicks to get you going at The Adventure Hotel.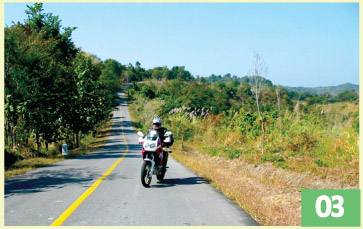 03 Mae Hong Son Loop on a Big Bike
Thrill-seekers will love this 600 kilometre stretch of twisting tree-lined roads and hairpin turns through Pai, Mae Hong Son and Mae Sariang. You'll feel even cooler with 600 ccs between your thighs, so rent a big bike from one of the shops in Chiang Mai and hit the road!
For tips and maps: www.gt-rider.com
04 Nudist Resort
The idea of spending your weekend in the buff with a bunch of strangers may not be something you're excited to share with the 'rents, but at the Oriental Village Naturist Resort in Mae On, you can do just that. Leave your judgments at the door…
www.orientalvillage-chiangmai.com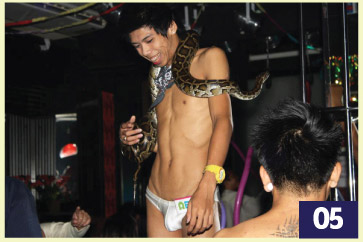 05 Striptease!
Adam's Apple has been around in various incarnations for a long, long time and if you want to go out with the girls (or boys) one night to watch underclad young men gyrate and perform some very risqué shows on the stage, then this is the place! Not for prudes…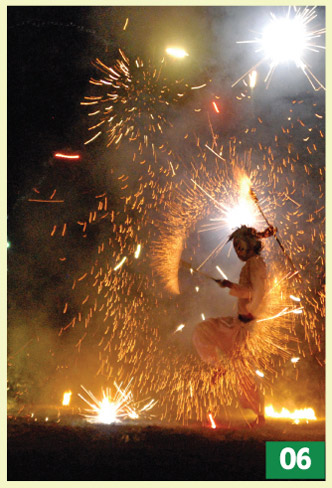 06 Playing With Fire
Risk your hair follicles for a major boost in festival-cred by taking a course in fire dancing and fire poi. Just hop over to Babylon Bar in the Zoe complex and ask for Fern, or one of her friends, and you'll soon be twirling and blazing with the best of 'em. Classes are also available at Empty Space Gallery.
www.emptyspacechiangmai.info/Northern_Thai.html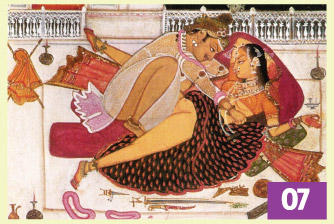 07 Tantric Sex Workshop
Sex for less than two hours is a quickie, and not to be tolerated, according to Tantric teachings. Get your Sting on and partake in a week-long tantric course at Chiang Mai's Body and Mind Healing School – that is, if you're willing to shell out 6,000 baht to do it. (Wouldn't mum be proud!)