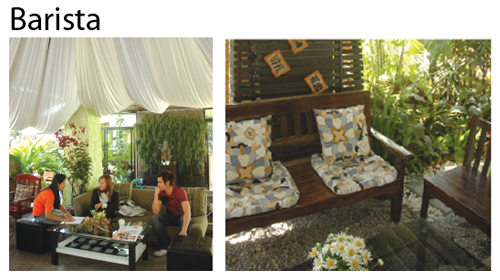 This elegant modern coffee shop serves great baked goods during the day and morphs into a hip pub during the night. With comfy furniture and a relaxing atmosphere, this is a great place for time out. Their private garden and free WIFI make it the ideal place during the day to sit back with a book or a notebook. We love how the lights are dimmed at 7 p.m. and baguettes and coffee cups swiped away to be replaced by whiskey sets and live music. Two sets are played from 8 – 9 p.m. and 11 p.m. – midnight.
Open daily 8 a.m. – 12 midnight
Nimmanhaemin Road Soi 5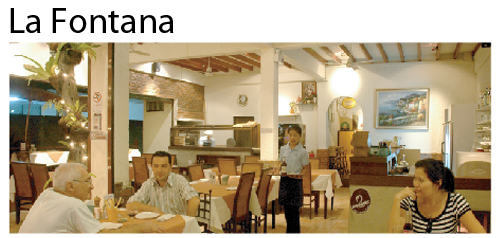 The Café Gourmet has now been revamped and changed its name to La Fontana. During this transformation, the management has also changed to the friendly Sebastiano, a long term resident hailing from Abruzzo in central Italy. A breezy open air restaurant by day and a cozy romantic venue by night, the food here is mainly traditional Italian fare from various regions of Italy. The superb pasta dishes are made from homemade pasta, some of which are traditional dishes rarely seen outside Italy. Try the orecchiette alla pugliese with broccoli, sun dried tomatoes, olive oil and chilies, and wash it down with Italian, Chilean or French wines. There is also a large selection of Italian salads, soups, pizzas, and meat dishes. Lunch time specials are available.
Open 11 a.m. – 11 p.m.
39/7-8 Ratchamankha Rd.
Tel: 053 207 091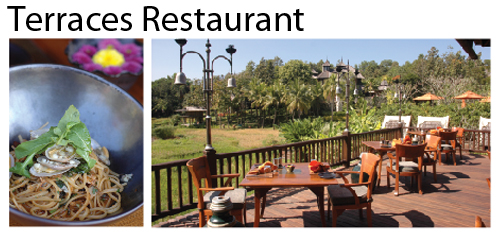 Terraces, sitting pretty in the middle of the Four Seasons Resort, has been voted now for the umpteenth year by Thailand Tatler as one of Thailand's best restaurants, and serves international cuisine in a spectacular setting. With views of the lush Mae Rim mountains beyond and overlooking the resort's flame-lit paddy fields, the restaurant serves a fairly limited, but nonetheless exquisite, menu accompanied by one of the best wine lists in the city. If you want to impress your special lady (or man), put on a show for your clients, or wine and dine on fine cuisine with a bunch of friends, Terraces is pretty much a sure thing.
Open daily. Lunch from 11 a.m. – 4:30 p.m. Dinner from 6 p.m. – 10 p.m.
Four Season Resort,
Old Mae Rim-Samoeng Road
Tel: 053 298 181
www.fourseasons.com/chiangmai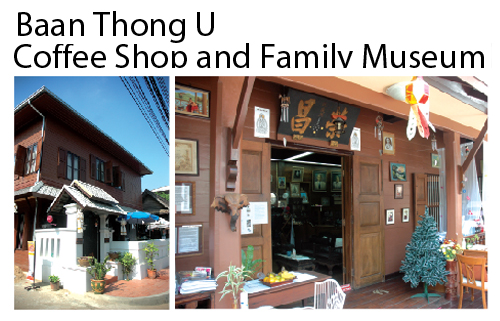 Baan Thong U is a two storey wooden house made from teak. The house was built in 1931, during the era of King Rama VII and the last ruler of Chiang Mai. Inherited by each generation of the family ever since, it is now a family museum. With over 77 years of history, the house contains more than a hundred collectors' and antique items offering guests an interesting look at both the family's and the period's history. There is a coffee shop at the front of the house, serving great coffee, fruit juices and food. Two bedrooms on the second floor are open for a home stay. The rooms are decorated in the old Lanna style. Room rates are a reasonable 2,000 baht per night.
Open daily 8 a.m. – 6 p.m.
91 Charoenrat Road
Tel: 081 9800138
The well known Italian restaurant in town under the same ownership as Girasole and Pulcinella de Stefano, has now relocated to a new venue – Ketawa Hotel in Watgate area. To celebrate the new location, the restaurant is presenting a special promotion on Sundays of an a la cart and buffet dinner, at only 299 baht per person. Start with an appetiser then continue with your choice of pasta along with a buffet of salads, soups, and tapas. Or for an extra 100 baht select from a good choice of meats for your main course. A classic guitar duo performs every Friday and Saturday between 7.30 and 9 p.m. and Chef Stephano has been known to emerge from the kitchen for a croon. Free delivery is also available now within 3 kilometres of the restaurant inside the Watgate area. This service starts at 11.30 a.m. till 2 p.m. for lunch and 7.30 p.m. to 9 p.m. for dinner.
In Ketawa Hotel
Charoenmuang Soi 1, Watkate
Behind Rarinjinda Resort
053-247-776, 085-040-3110
Open 7.30 a.m. – 11.00 p.m
Closed Tuesday
Delivery 11.30 a.m.-2.30 p.m. & 5.30-8.30 p.m
The Jigsaw is a new condominium located in the Chiang Mai Business Park off the Superhighway, near Payap University and Carrefour. The condominium is designed by Neil Alper, whose aim is to create a living space suitable for the unique Chiang Mai lifestyle, escaping from that mundane 'box' which so many condos offer. Each unit offers a suite of rooms containing a bedroom, bathroom, living room and a kitchen _ put together like a jigsaw. The Jigsaw also features facilities such as a swimming pool, fitness centre, convenience store and more. Think outside the box, and check out Jigsaw.
Office open daily 9:30 a.m. – 6:30 p.m.
Tel.053858 222-3
www.jigsawcondominium.com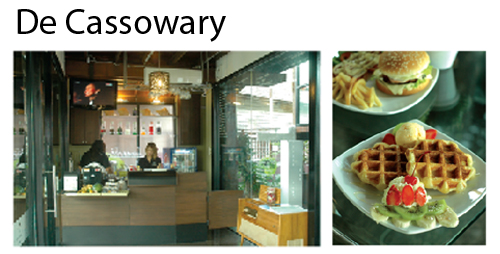 De Cassowary is a newly open café gallery located at the corner of Nantharam Road. The petite two story wooden house features a pond with big imported fish and offers a gorgeous view of the Doi Suthep-Pui mountain range. The café offers a selection of coffees, fresh healthy home made juices, cookies, hamburgers, snacks and a bakery, with free WIFI. The gallery features rare pieces of Chinese antiques from the owner's personal collection. Visit De Cassowary, sip a drink, relax in the lovely surroundings and browse the gallery. Everything in the gallery is for sale (even the fish!)
Open daily 10 a.m. – 10 p.m.
1/1 Soi Nantharam Road, T. Haiya
Tel: 084 172 8938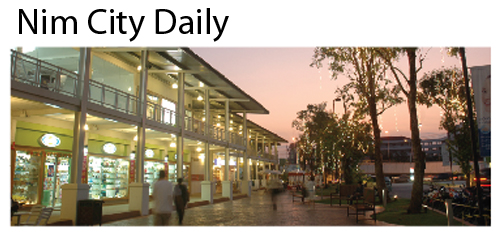 While most of us know the location of the latest Rimping Supermarket, over the past year the actual Nim City Daily lifestyle mall has gathered together a cluster of interesting businesses which can enhance our weekly shopping experience. After doing your grocery shopping, why not stop by at the Chinese, Thai or Japanese restaurants for a lovely lunch? Then check out the collection of spa products at Chida Spa where you can buy soaps, massage oils, incense and other delightful items, and you can enjoy your purchases while getting a hair or beauty treatment at the salon, have a cup of coffee at 94 Coffee, buy some sweets to take home at Mont Blanc sweets shop, and after all that exhausting shopping, go and visit the Wine Connection and sample a glass of wine at their outdoors evening bar area before your drive home. Nim City Daily is adding more and more shops and businesses to their complex and with ample parking, great location, it is becoming a convenient and pleasurable one stop shopping and leisure experience.
Near Trisection Flyover
(opp. Far Eastern University)
199/8 Mahidol Road, Muang,
Chiang Mai 50200
Tel: 053 273 800
www.nimcitydaily.com
Spa Na_Tandee is not simply a spa, but a day retreat for city folks. Their intimate garden down a quiet soi offers a peaceful sanctuary from the constant buzz of nearby Nimmanhaemin Road. A one stop service, Spa Na_Tandee has it all – comprehensive spa packages, facials, massages, salon treatments, manicures and pedicures – all serviced with the latest high quality products, at very affordable prices. Throughout January experience an aroma oil massage for 2 hours at 1,600 baht and receive a hair spa by Bed Head at 1,500 baht.This cool, contemporary, high quality, boutique lifestyle spa and salon provides his and her top-to-toe treatments, so stop by their hideaway location just off Soi 17 and walk out feeling like a million baht…better yet, dollars!
Open 9.30 a.m. – 9 p.m.
Closed Mondays
16/9-10 Nimmanhaemin Rd Soi 17
Tel: 053 218 822