City Buzz
With the cheapo, bug-laden guesthouses becoming something of a dying breed, Chiang Mai is now awash with guesthouses and hotels that go by the name of 'boutique'. The Castle is a far cry from the dank guesthouses of yesteryear, and remarkably different from the ubiquitous Hang Dong-designed masses, though the rooms are furnished with teak furniture, flat screen TVs and air-con. What's most impressive about this guesthouse is the fact that it's a replica Roman castle. Seriously: tower, castle stones and a pool that looks something similar to a Roman bath… talk about quirky. It makes you wonder if it's really worth trying to save the extra few baht by staying in a discount tip, but then again, when you're twenty two, the tip is alright. The seventeen rooms are all top notch and go for 800-1000 baht with complimentary breakfast, also a coffee shop, wi-fi access and a shuttle bus that will take you around town.
8/2 Raj-Chiangsan Soi 2
Tel: 053 209093
thecastleraj@hotmail.com
www.thecastlerajchiangsan.com
– – – – – – – – – – – – – – – – – – – – – – – – – – – –
When you walk into Secret Recipe you are very tempted to order every dessert in the place, the weight gained would be worth it. It is very easy to see, and taste, why they have successfully opened 180 locations around the world since their first opening in Malaysia, 12 years ago. Secret Recipe is mainly a coffee shop and bakery _ with an overwhelming selection of decadent cakes and brownies _ they also have a large menu of different types of food, including Irish lamb stew, shepherds pie, pastas, Thai and fusion food, and other dishes. The raspberry cheesecake, absolutely to die for!
Open 10 a.m. – 9 p.m.
4th floor, Airport Plaza
Tel: 053 280859
www.secretrecipe.co.th
– – – – – – – – – – – – – – – – – – – – – – – – – – – –

Vdara resort and spa is a new boutique hotel, in the quite Mae Hia area, just 10 minutes from Chiang Mai city and Chiang Mai airport. A beautifully decorated hotel, it mixes oriental and western styles exceptionally. The hotel offers 22 deluxe rooms, four suites, each suite unique in style. With all in-room mod-cons and large living space, this is a lovely venue for a weekend away. Vdara resort and spa also provides a swimming pool with Jacuzzi and bar, restaurant, conference room and spa. Thire special promotion right now will only set you back 2,500 baht, including breakfast, roundtrip transportation from the airport, and a deluxe room. A new kid on the hotel block well worth checking out.
445 M. 4, Mae Hia
Tel: 053 328661-2
info@vdarachiangmai.com
www.vdarachiangmai.com
– – – – – – – – – – – – – – – – – – – – – – – – – – – –

The ultimate place for a romantic getaway, a mere half hour's drive from the city, overlooking a lush valley and rice fields. Chic luxurious rooms, yoga sessions in an open air temple pavilion, great restaurants, a bar, fitness room, classes in Thai cooking, Thai dancing, basket weaving, and more. The Veranda also has a kids club and babysitting for the family that needs a break. The resort's highlight is their infinity pool on the roof terrace over looking the valley. If you just need to get away for the day, afternoon tea is served daily from 3 p.m. till 5:30 p.m. at 325 baht per person. The Higher Room by the pool offers fine Thai and international cuisine by chef Jaiphak Na Chiang Mai who brings over 20 years of experience and experimentalism to his menu. This restaurant is only open from morning 'til 5 p.m. but is a perfect spot for a lazy Sunday afternoon or sundowners (drinks 'til 7 p.m.) (The Veranda is featured on our cover and editor's pages.)
192 Moo 2 Baan Pong, Hang Dong
Tel: 053 365007
http://www.verandaresortandspa.com/chiangmai
– – – – – – – – – – – – – – – – – – – – – – – – – – – –
Archer Architect has created a different style of shopping complex, with simplicity and unity in mind. This newly opened two story complex, shaped like a ring, has an open feel to it, with benches and tables in the middle where you might lay back and lounge in the shade or sun. The Ring features many great stores and services with plenty of room to grow: Miracle of Tarot Card coffee shop, Amori holistic aesthetic clinic with all the latest treatments, and a handful of other shops selling modern home furnishings and accessories, including Mary & Michael which features classy paintings and ceramics, a restaurant featuring kanomjin buffet for only 59 baht as well as, the popular Oishi Ramen restaurant.
Open 9 a.m. – 9 p.m.
Soi 17 Nimmanhaemin Road
Tel: 053 111401
– – – – – – – – – – – – – – – – – – – – – – – – – – – –
For maybe the best view you'll get in Chiang Mai while you're out on the town head to this restaurant and bar formerly known as The Loft. There are two outside rooftops, one replete with swimming pool and large rockery for late night frolicking, the other with a big projector that will play any major sporting events including Premiership football. The food is mainly Thai with some western fusion dishes and there's a large drinks list that includes 100 cocktails, beers, and spirits you can buy by the bottle. There's also free internet, live bands and a bunch of promotions each month. The outside roof top balconies are just a perfect place to chill, watch football games or drink the night away at prices that won't bust your pocket in the least. Another great addition to the Nimmanhaemin renaissance.
Open 5.30 p.m. – 1 a.m.
10th Floor Doi View Tower
Soi 9 Nimmanhaemin Road
Tel: 053 225322
www.three-sixty360.hi5.com
– – – – – – – – – – – – – – – – – – – – – – – – – – – –

Even though the streets of Bangkok have been festooned with proper pool halls for many a year, Cue Bar pool hall, recently opened off Nimmanhaemin, is somewhat of a novelty for us northerners. The Brunswick tables and other equipment are second to none: the table-action fast and furious, the beers flow and large screen TVs show major sporting events. The hourly rate for pool is 150 baht and large beers go for 70-100 baht depending on your tipple. You can also go Thai style and drink whisky with mixers. Regular tournaments will soon start and foreigners are more than welcome, the young owner recently moved up from Bangkok, he is fluent in English and can explain all the details of the competitions. A good spot for a few games and then a jaunt through the bright lights of Chiang Mai's fastest developing hub.
Open 5 p.m. – 1 a.m.
Soi 9 Nimmanhaemin Road (adjacent to Monkey Club)
Tel: 053 895033
– – – – – – – – – – – – – – – – – – – – – – – – – – – –

Come get the low down on how to take care of yourself at The Spa Resort, a wellness retreat that will teach you the five habits of longevity. The owner started with six bungalows in Koh Samui in 1992, with pure dedication to helping improve his customers' wellbeing. This unique lifestyle retreat is spread over 100 rai of gentle sloping mountain view property overlooking working rice fields, lamyai, mango and banana plantations. Several small streams, originating from a lake on the top of the property, wind through the tract, creating a tranquil effect. They have cleansing baths, yoga, meditation, a seven day cleansing fast, and many other activities to improve your health. Their restaurant, Radiance, features raw and organic food, teaching you the art of a healthy good meal. You'll be surprised how dynamic their raw food menu is. The raw lasagne is astounding. Try something different and counter attack your bad habits.
165 Moo 4 T. Huaysai, Mae Rim
Tel: 053 920888
www.spachiangmai.net
– – – – – – – – – – – – – – – – – – – – – – – – – – – –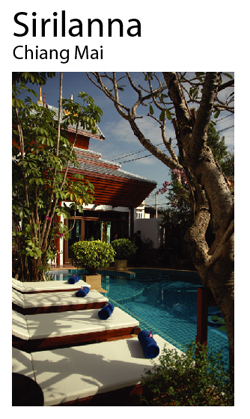 Sirilanna is a new boutique hotel in Chiang Mai located right in the heart of the old city, close to Wat Phra Singh. It features 15 deluxe rooms and 4 suites, with each room containing wonderful handicrafts created by local and Burmese artisans. Another highlight are the Jacuzzis in every room, a nice addition for those who like the good life. There's also a business centre, a library, a restaurant and a swimming pool. The hotel told us that their obligation to the customer is to make them feel at home while offering a kind of luxury they won't find easily elsewhere.
89/3 Ratchapakinai Road
T. Phra Singh
Tel: 053 279107-8
www.sirilanna.com