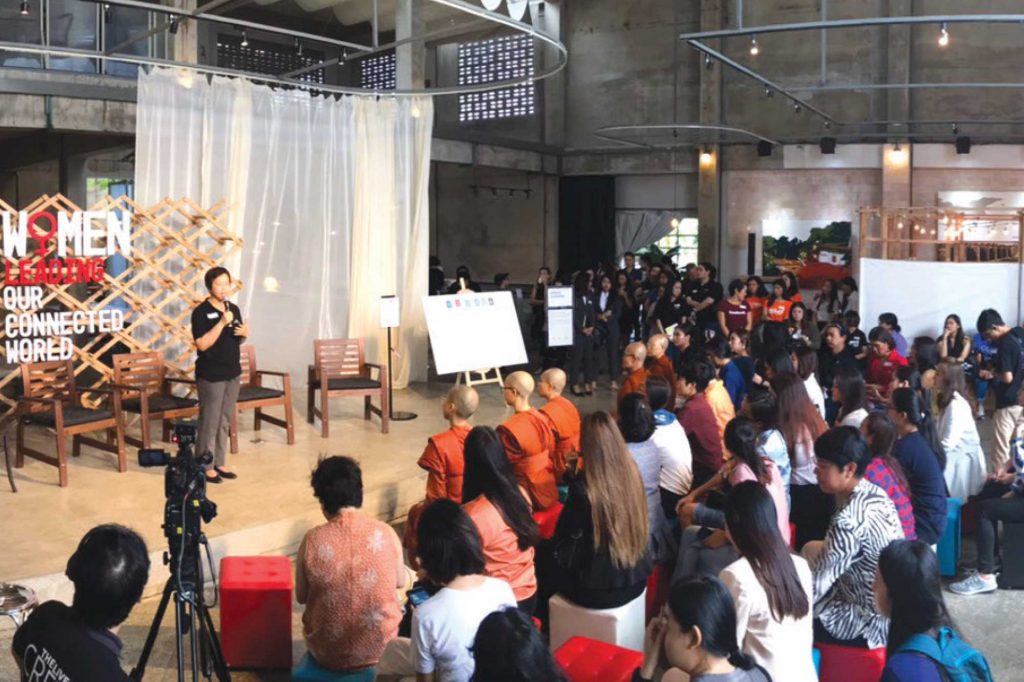 I sit around a table with Sunadda "Nok" Sa-nguandech and Julian Huang at Weave Artisan Society while the grinding, whistling sounds of closing time from their coffee shop punctuate our conversation. We've been discussing culture as an entry point for learning. Nok leans over with a bright smile. "Often people experience design solely through the end product, without any insight into the craft it takes to make it."
He stresses the importance of asking ourselves about the value of design, the value of creating something.
Nok starts to tell a story. He explains that Wualai is a very well-known craft community renowned for its world class artisans in silver, lacquer, wood and more.
"From our experience with the new generation of Chiang Mai, it's clear they are fast losing interest in traditional craft. They're not interested at all in lacquerware or silverware or carving. So from our point of view, since we're interested in these things, it's an opportunity to blow up this barrier to bring people together."
They've proven that design brings people – both young and old, neighbours and foreigners–through the door. The younger generation are compelled by the Instagram-worthy interior of concrete and organic forms. Populating the walls are large artworks of recycled plastic made in a recent creative experiment. Greenery, wood and hanging gauze soften the hard, concrete edges of the space, a former ice factory that had been missing a roof for years until Nok and Julian rediscovered it. In fact, now that it's open, the older generation come to peek into a building unlike any other in the area. Just down the road is a nationally recognised lacquerware artist, and around the corner is a copper worker who has developed his craft for decades. They intend to bring these artisans in, to connect with their younger audiences, to create a bridge between their traditional craft and the younger generation. One idea they have is to engage in a collaboration with a young artist, a nationally recognised artist. "We started a conversation but it's important not to rush it, it must be done with a good reason, with respect."
As the hum from the coffeeshop dies down Nok lights up. "We drank p'Te's coffee, and realised he is gold! He is not a businessman – he is an artist. He started by growing the coffee bean, so he knows the process, and therefore all aspects of coffee." It's stunning to know that Weave collaborates with artisans of all shapes who are in control of the process of their work. To sip a cup of coffee here is to imbibe an entire story that begins in the fields and ends in satisfying flavors popping in your mouth.
It's never too early to instill this keen understanding of culture and creation. Youth inhabit culture, and are creators of it in our digital age. Liz Hassal, an art teacher at Prem International School states that it is possible at any age. Every email she writes to students begins "Dear Artist". While these may seem like simple words, they are in fact a transformative theory of teaching that empowers young learners to grab hold of their education. I sit in her art class at Prem as the magic hour filters through the full panel glass windows. We discuss culture and creativity, and Prem's unique artist in residence programme run by Alex Soulsby. Every year, artists from around the globe spend a few weeks with students at every grade level. Soulsby explains that this experience, "creates a more circular model, enables the students to listen to an outside voice, and allows that outside voice to inspire something in them. That in turn creates agency". The teacher remains an integral part of the learning process of course, but Hassal emphasises that, "to have an artist talk about her personal connection to the subject matter makes the artwork so much more powerful for the students. They see it not just from the mouth of a teacher standing in front of them going 'blah blah blah culture is important' but they get to experience it with someone with whom they have an intellectual and emotional connection". She gestures to a corset made of paper, a meditation on feminism and femininity, "Look at the incredible creativity of the students, and what dealing with them as artists or as writers can unlock."
One of Liz Hassal's artists is Sophie Keyes, a recent transplant to Chiang Mai. At age 17 she is passionate about art and the environment, and she's already had the opportunity to work with artist Isabelle Arvers and her machinima project, films made with video game engines. By exploring cultural identity through video games, students were invited to explore their identity with snippets and images from games that are inherently linked to culture. Sophie Keyes goes on to say, "I was able to take a concept, the female body and representations in media, and explore this layered topic in an entirely new and interactive medium." For Keyes, a direct connection with the artist spurs discussions, and this is where the true learning happens; when she is treated as a peer sharing stories about her passions and process.
It is clear that telling stories is an intrinsic part of learning. No less for acclaimed author and recent artist in residence Masha Hamilton. The setting sun reflects off our drinking glasses as we look out upon the fields where she is staying at Prem. "I approach art and my experiences in the classroom with the word connection." At Prem she will work with instructor Joseph Holroyd to encourage students to identify a change they want to effect in the world. First, they'll write an Op Ed in favour of their position, and then they'll take the opposite position, a proposal often met by a chorus of groans. Masha Hamilton emphasises that, "I'm not asking them to change their minds, I'm asking them to really open-heartedly address the other view point, to strengthen their own." To understand the other side's story is a provocative challenge, and it allows us to inhabit the lived experience of someone with opposing views. Masha Hamilton teaches students to connect with the other, opposing view to strengthen their voices
Masha Hamilton has created literary projects across the world and brought attention to social issues at crucial moments, and I asked what impact she hoped for at Prem. Without any hesitation she responded, "Supporting the voices of the young, no question."
Not all of us has the flexibility of an IB curriculum or the funds to sponsor an artist's travel. Teachers in less well-resourced schools can use online collaboration tools to bring artists in contact with their students, or expose them to the many artisans lining the streets of Chiang Mai. And what about those of us unable to backtrack to the hallowed halls of primary and secondary school? We can seek out real life creative experiences that embrace connection and collaboration. Chiang Mai offers up a variety of creative spaces ripe for experimentation; from Makerspace to Weave Artisan Society, to the multitude of open mics that are platforms for showcasing raw creative energy. So get out there, find your voice, culture is the classroom.