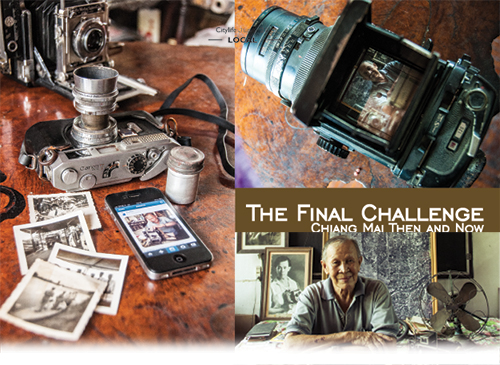 Citylife's photo editor, Boontawee Russameenin, started working at Citylife in 2000. He left for a few years to go to Australia to gain his diploma degree in photography, then came back to us. He then left again for six months when he had a family emergency, but like a boomerang, he came bouncing back. This time he insists that he is leaving for good, off to become a freelance photographer and spread his lens…so to speak.
As a final challenge, we have given Boontawee a unique task. But first, a little background. Every photographer in Chiang Mai knows Boonserm Satrabhaya, and even though you readers might not know his name, I would bet that every one of you has seen his works. Each and every old black and white photograph of Chiang Mai that adorns boutique hotel, guesthouse and restaurant walls, was taken by Boonserm. The photo of the people celebrating Songkran in the Ping? Boonserm. The iconic old aerial shot of Nawarat Bridge? Boonserm. The cow crossing Huay Kaew Road? Boonserm. Their Majesties' first long term tour? Boonserm. Post World War II cityscapes? Boonserm.
"There were other photographers at the time, but they either didn't keep their film stored properly and lost them, or they were busy taking pictures of girls," Boonserm told us from his old wooden house, littered with photographs and awards. "I never knew that my photography would one day be the only remaining images of Chiang Mai's past. I now have people from journalists to researchers to government officials to students visiting me regularly because my photographs, of which I have countless thousands, are the only images we have remaining of Chiang Mai from the late 40s until the early 60s."
Boonserm, 83, didn't have the money to develop his film until 26 years ago when one of his nephews suggested he turn his images into calendars. Since then, copyright violations have seen his images sold as postcards on the Sunday Walking Street, blown up into arty images to decorate trendy venues and housed with precious care at the city library.
To think that one pair of eyes captured so much of Chiang Mai is fascinating. These day to day and at the time banal images have become treasure troves of information about, and icons of, our past. Today, every minute, perhaps every second, someone is taking a photograph somewhere in Chiang Mai, whether it is a professional with a snazzy Nikon or a tourist with an iPhone.
And so, the challenge to Boontawee, our own beloved photo editor, is therefore to pretend that his are the only eyes to capture Chiang Mai as it is right now. Boontawee will follow in Boonserm's footsteps, recreating some of his most famous shots with a modern spin. Of course, as the challenge is one of the present day, Boontawee must use the technology of our time: Instagram.
We gave Bootawee three days to go out and capture Chiang Mai in the now. This will be his swansong. We are so grateful for the years he spent with us, and wish him the best of luck in his coming adventures (that is, if he doesn't come back again)!