This week Chiang Mai played host to two events for International Women's Day; the annual International Women's Day March on the evening of 8th March 2016 and a new event, International Women's Day Festival, on the evening of 9th March 2016.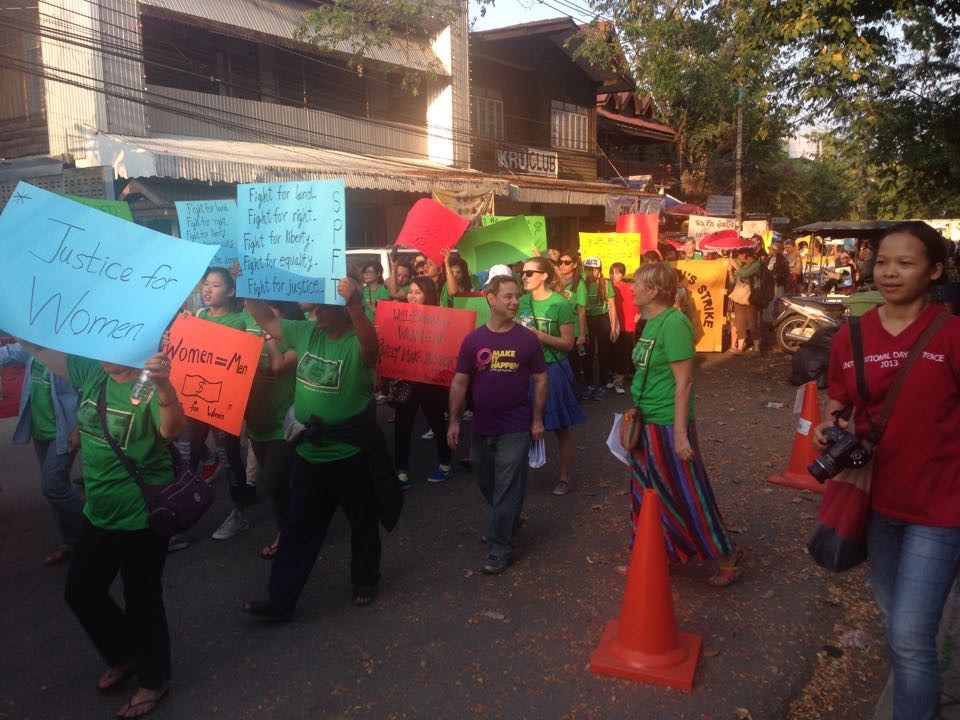 Both events attracted a large and diverse crowd of women, including indigenous women, migrant women, women with HIV, sex workers and activists. The march added to its diversity this year with women with disabilities serving on the planning committee and leading the parade. The majority of women involved with the march came from organisations under the umbrella of Network of Civil Society Organisations for Gender Equality. Asia Pacific Forum on Women, Law and Development (APWLD) put together the Festival.
I was really excited to go to these events and see how Thailand celebrated International Women's Day. I've been passionate about women's issues for some time in the United States, but haven't been so involved since moving to Thailand five months ago.
As a Fulbright ETA at Muangchaliang School in Si Satchanalai, Sukhothai, Thailand, I've spent the past semester observing the motivation and skill of girls in my classes. Based on their work in my classes and throughout the school, I truly believe they have the potential to be great female leaders. The events I attended highlighted the fact that there already are some amazing female leaders in Thailand and the surrounding ASEAN nations, but Thai women, especially indigenous women, still face major hurdles in the quest for parity. More than anything the events highlighted the need for women to keep working and supporting one another throughout the world.
The International Women's Day March
I arrived at Three King's Monument at 4p.m. To my surprise and concern, the square in front of the Monument was almost empty, apart from one woman snapping a photo of the tourist attraction on her iPhone. I wandered around the periphery, until I found a group of women keeping cool in the shade. They welcomed me to a cool(er) spot beneath a tree, and one woman handed me an information sheet on Indigenous Women's Land Rights released by the Asia Indigenous Peoples Pact (AIPP).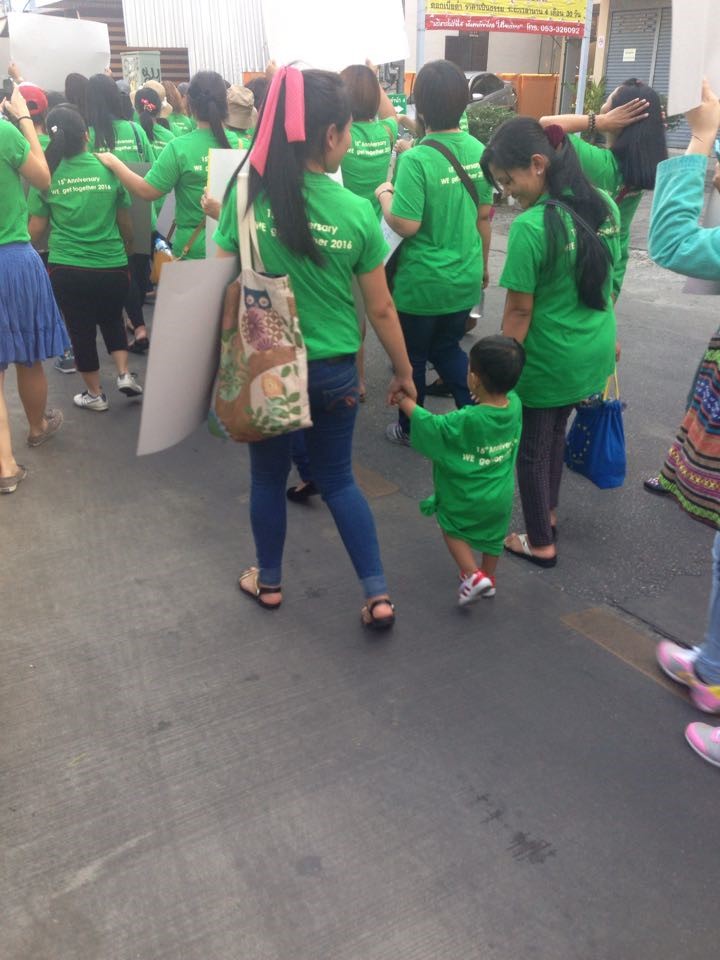 Before the march began, I sat and spoke to a woman named Rovi from the Philippines who told me a bit more about AIPP. "We have 47 members from a mix of indigenous groups and volunteers from France and Australia," Rovi tells me. She originally moved to Thailand in 2009. When I asked her why she came to Thailand, she told me that she came to here for, "good exposure and opportunity and a broader perspective." She explained that she feels indigenous women in Southeast Asia "share a common experience".
As more women trickled into the event, I moved to the centre of the square to meet them. One young woman, not associated with any organisation, was an American spending a year teaching English to adults in Chiang Mai. "I'm here [at the march] because I just want to be here," she said excitedly.
In true Thai tradition, many women donned different coloured t-shirts representing their various organisations. Pawlar, a Karen woman doing her Master's at Chiang Mai University wore a green shirt that read "Living Wage" across the front. "That's the theme of this year's event, a living wage for women," she explained to me when asked about it. The event she speaks about is the annual Women Exchange Get Together hosted by the MAP Foundation. The women wearing the shirts were members of issue groups from Thailand and Myanmar. These smaller issue organisations gather together once a year around International Women's Day. Pawlar became involved through Kachin Women's Association of Thailand (KWAT).
While getting to the meeting was relatively easy for Pawlar, another woman, Freecia, travelled to Chiang Mai from Yangon, Myanmar, showing the impressive reach of this year's event.
Event Organiser, Tanya Lutvey elaborated upon that reach, explaining that this event reaches both distant and diverse women. "This year we have been lucky to have women with disabilities represented on the organising committee," Lutvey said.
"During initial preparation meetings we realised we were going to have difficulties hosting the rally in the park as we usually do, as it came to our attention that the bathrooms in the park were not accessible for people with disabilities." Lutvey explained, "Rather than being defeated by this, the organising committee vowed to get the bathroom built before the event." The committee was successful in building a handicap accessible bathroom in time for the event, and the bathroom was formally opened at the end of the march. "For me, this really is a wonderful reflection of the solidarity of women, and women's groups in Chiang Mai," Lutvey said.
After over an hour of chatting with women around the square, the actual marching began. The march itself took about an hour, and, was very tiring in the relentless heat, fortunately about half way through there was a truck handing out water to the women which helped reinvigorate them. But despite the soaring temperatures, the energy levels were high as women down the line chanted in English, Thai and Burmese. The sounds of, "Money, money, money, women's wages, we want our share!" was heard throughout the event.
Upon reaching Suan Buak Hard Park, women circled the park once, pausing for the ceremonial opening of the handicapped bathroom, then collapsed under shady trees to enjoy the musical and dance performances, including the One Billion Rising dance, performed every year.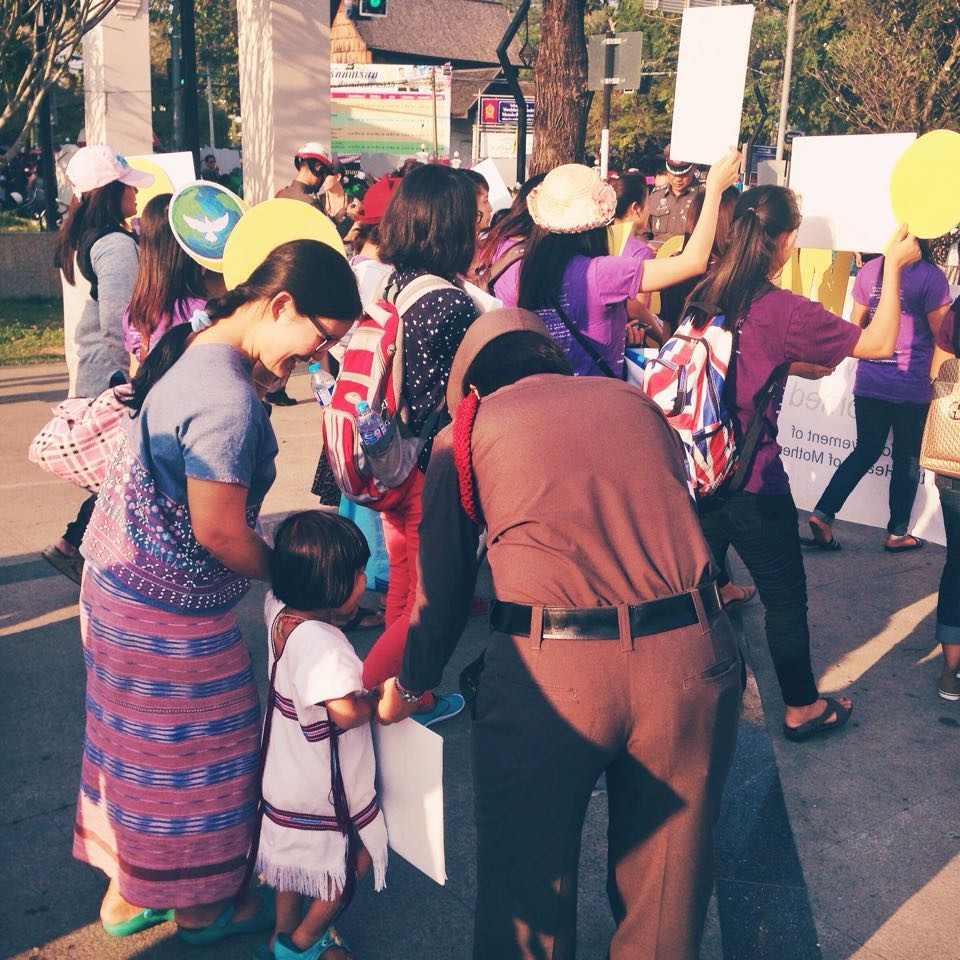 International Women's Day Festival
The International Women's Day Festival kicked off the next day at 5p.m. in Tha Pae East with a smattering of about a dozen stalls peddling clothing or food. While there was a large overlap of women from the day before, this event attracted more individuals unassociated with any organisations.
There was a documentary screening, numerous female speakers, and an auction.
I missed the first few minutes of the documentary screening of Visible Silence, a film about gender identity in Thailand, because I was busy ordering some delicious samosas from the Free Bird Café stall and chatting with one of the event organisers, Kate Lappin. "The event is a fundraiser for a Thai organisation on behalf of women's rights…Overall it is meant to bring people together and connect people," Kate told me. When asked why she is passionate about International Women's Day, she said, "It represents the collective strength of the most marginalised women."
We talk a bit about the event itself, which Kate hopes will continue in the coming years. "We weren't sure if we would get a permit [for the march]," Kate confessed to me though she went on to say that she was pleased that both events ended up making it onto the calendar.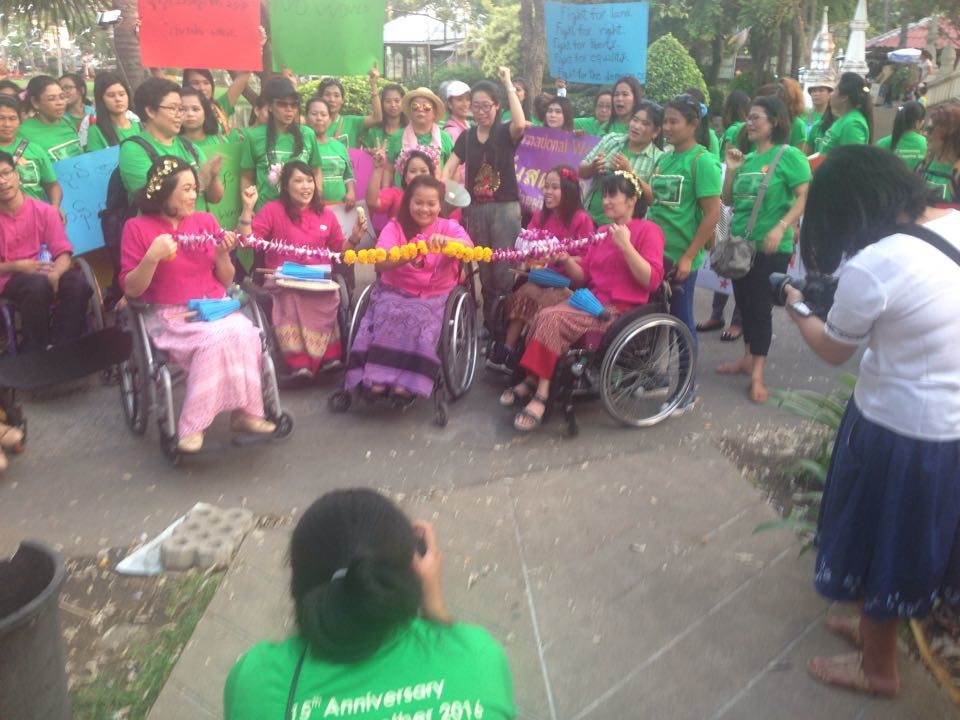 Later in the evening, leaders of the Thai organisation on behalf of women's rights arrived. I got a chance to speak briefly to one of the leaders, Pranom Somwong, known by her friends as Bee. Bee took the floor and gave a speech about women's land rights and the struggle that many indigenous women are facing regarding land grabbing. "They are facing twenty legal cases… and death threats," she said in relation to land ownership issues.
Feminist authors Selma James and Nina Lopez also participated in this year's event with Selma addresing the history of International Women's Day, connecting her experiences of meeting migrant women in Thailand with the largely female immigrant population of the Triangle Shirtwaist Factory in 1911.
"Those with skills have a responsibility to help…To ask what [marginalised women] want and give them that," Selma concluded. The audience applauded enthusiastically. Despite the fact that the sky is fading into black, I felt wide-awake with the fire of inspiration and information these accomplished women have lit in my soul.