As the sun scorches and the arid dryness stings and burns, there are few thoughts as refreshing for the mind to wander to as that of a lovely fresh European spring. The buzzing of bees as they flit and fly from bluebells to poppies; the chirping of spring birds and the bleating of spring lambs.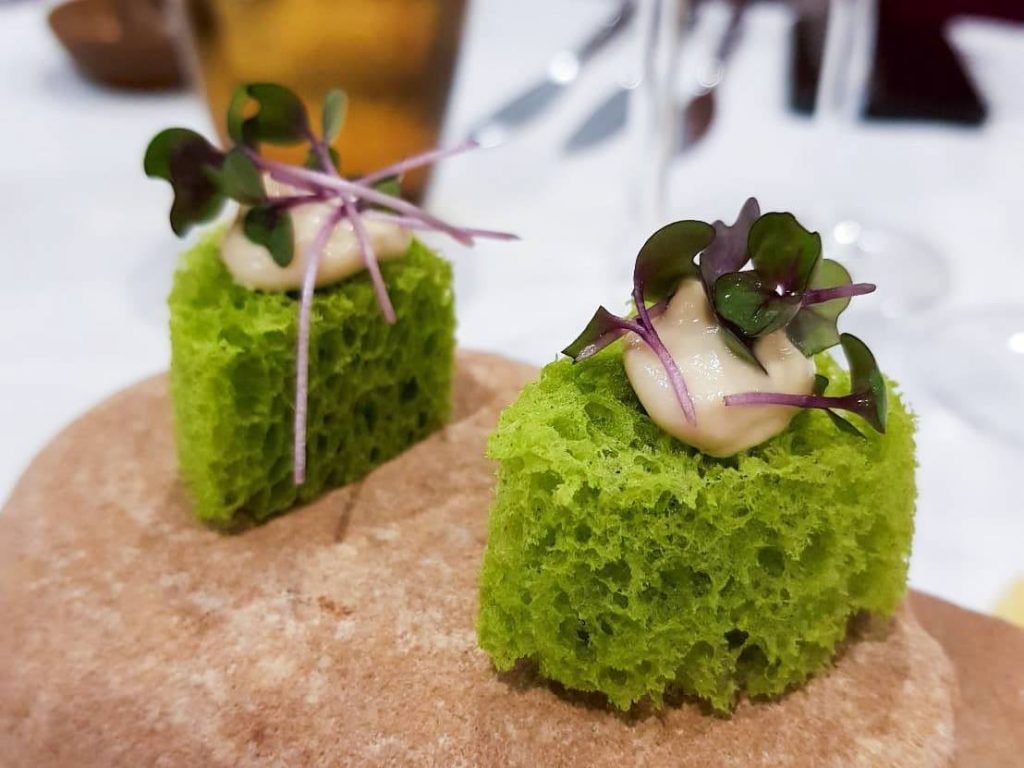 Shangri-La Chiang Mai's Executive Chef, Paolo Pelosi, has drawn inspiration from the sights, sounds, scents and tastes of an Italian spring to bring us a superb culinary event.
"Paolo's Spring Garden is a celebration of the garden from my childhood," explained Chef Paolo. "This is the time we used to gather and harvest buds, new leaves, young vegetables, fresh fruits and all the other natural offerings that spring brings. We don't have spring here in Chiang Mai, and I want our diners to experience its exuberance and abundance."
To that end Chef Paolo has imported, for the occasion, a basketful of spring produce straight from Italy, adding some surprising local finds into the mix.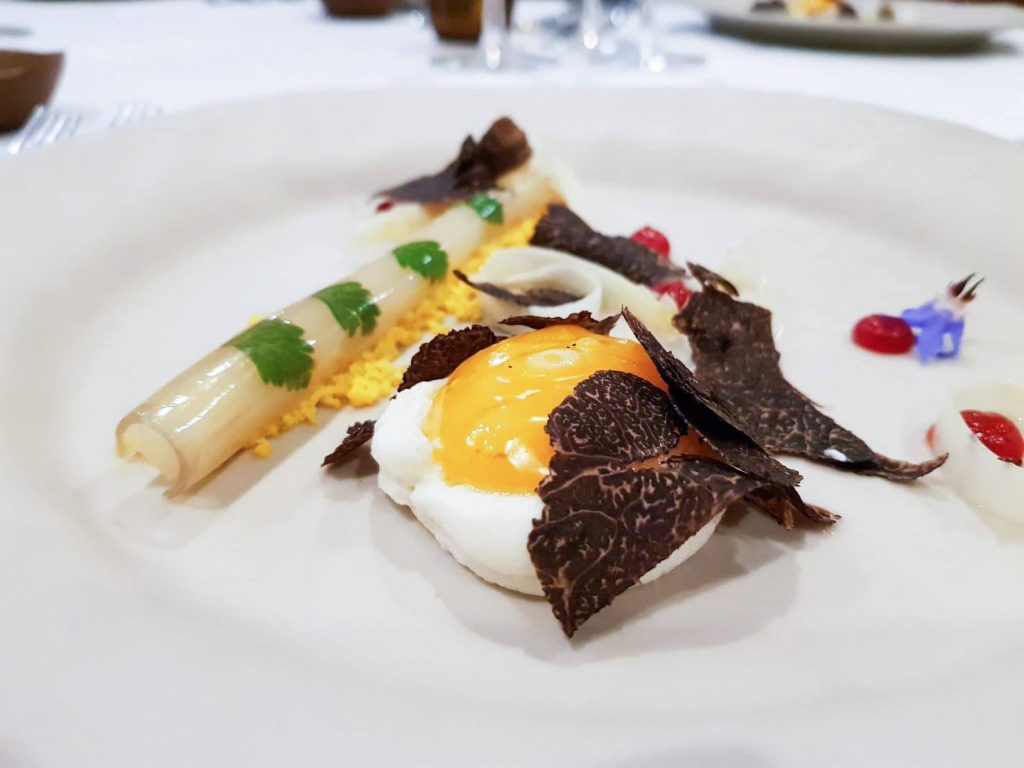 A medley of playful amuse bouches arrives: a tuna-stuffed parsley sponge served on a rock; pasta and seared tuna on a bed of wonton; and a dollop of airy potato foam with a hidden surprise of cod in a mini martini glass, a zesty and solid start to the meal, especially when accompanied by the NY Allart Champagne bursting with bubbles.
We then start off with a vibrant dish of glistening organic egg yolk, so fresh it tastes as though it was freshly laid; served with a beautiful white asparagus cooked al dente and glazed with a consommé of ham the dish is topped with generous shavings of aromatic black truffles from the iconic French region, Périgord.
The next dish is an homage to artichokes; Jerusalem artichokes puréed and sweet artichokes roasted and made into crisps. The seared scallop is hidden in a light lemon foam and, as expected now that the spring theme has fully emerged, a few slithers of orange peel lurk here and there to add a sweet zing, all paired happily with a citrusy Pinot Grigio.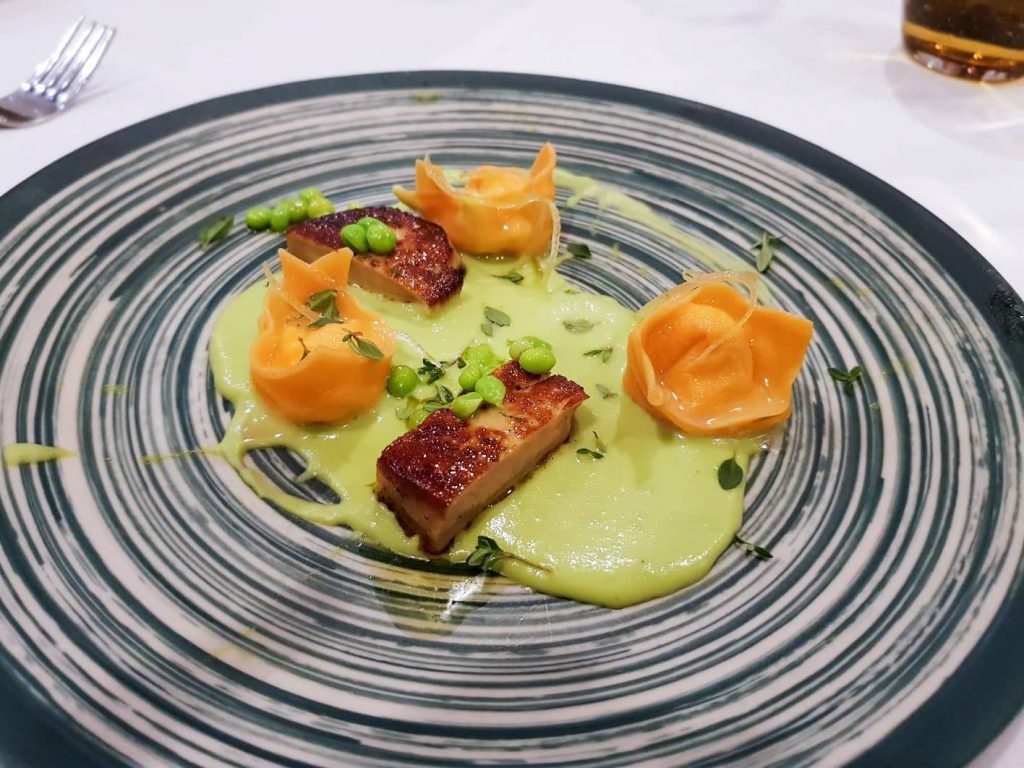 Spring continues to announce its arrival with the next dish with its joyous coming together of brown crab ravioli, seared foie gras and fresh baby garden peas served on a bed of pea purée and the now-expected splash of lime zest. A glass of verdicchio from Marche region in the centre of Italy is a fresh and young sip to complement the lime.
In honour of the almond harvest, wild sea bass and sweet new broad beans is served next, almond and mint sauce is generously and artistically splashed onto the plate.
As though Chef Paolo is almost done with spring, and beginning to look towards the sizzling summer to come, the tender medium rare and well-seasoned roasted Angus ribeye is surrounded by splashes of strong and bold sauces – a rocket and black radish sauce, with distant notes of wasabi, and a full bodied red wine sauce, served simply with pickled radish and a blend of Sangiovese and Cabernet Sauvignon from Tuscany, which more than holds its own against the very bold flavours.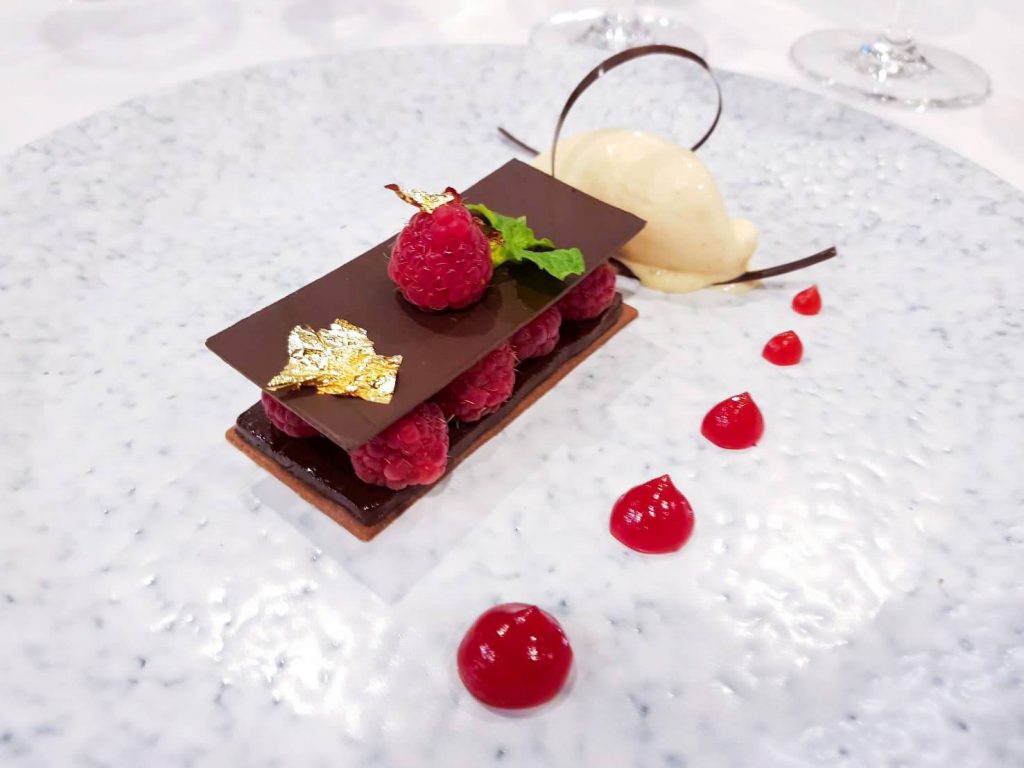 The meal ends on a soaring note, featuring our very own. Samoeng raspberry is sandwiched between tempered chocolate and chocolate ganache which comes from Mark Rin Organic Cocoa Farm, Thailand's first cocoa farm and factory right here in Chiang Mai. Raspberry compote, a chocolate twirl, vanilla ice cream and a few wisps of gold leaf add a jaunty finish to this splendid event.
But wait, let's not forget the petit four which are hard to resist as we sip a strong espresso before heading home.
Bravo Chef Paolo!
Chef Paolo's Spring Garden dining event will be presented through 4 and 6 course menus.
20-24 March 2019
Lunch: 11.30 – 14.30 hrs.
THB 1288++ per person
Dinner: 18.00 -22.00 hrs.
THB 1788++ per person
Dhala Wine Lounge, Level 1
Limited seats available. Book now! Shangri-La Hotel, Chiang Mai
For reservations, please call (053) 253 888.