Jing Jai Farmers Market has, for a few years now, become a popular weekend destination for lovers of healthy and fresh produce, with occasional events held throughout the year under the canopies of its lush raintrees. The market, along with the neighbouring community malls, which flank both sides of Atsadathorn Road, are all owned by Central Group which has been working towards turning the area into a pilot project under the umbrella of Central Group's 'Central Tham', a nation-wide initiative which aims to create shared value by supporting and promoting a sustainable society.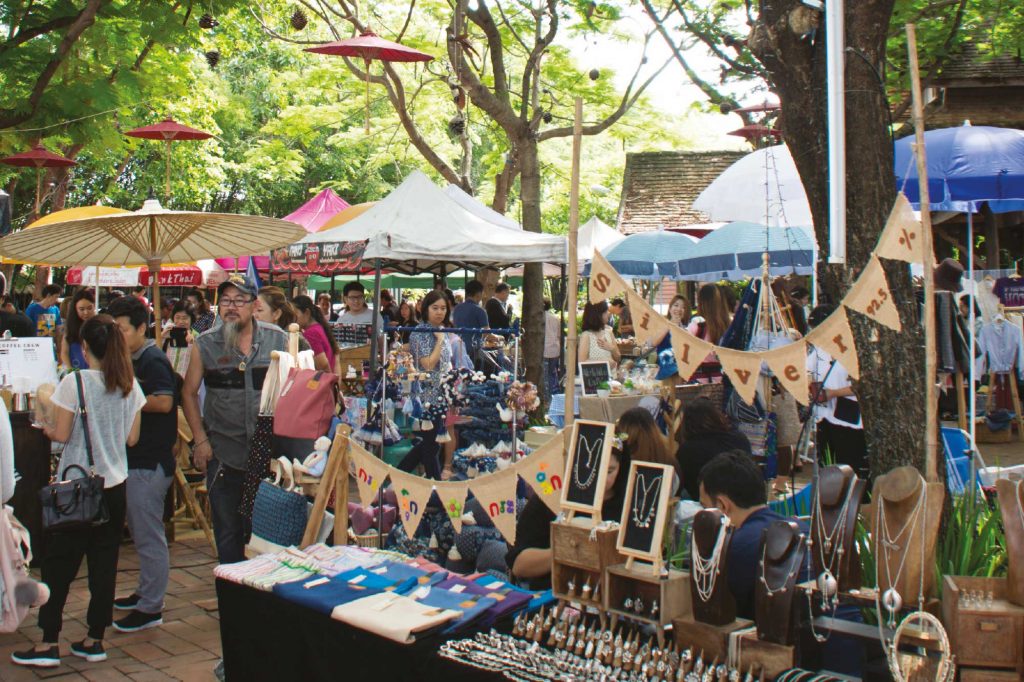 "Since we opened Jing Jai Farmers Market in 2012, Chiang Mai's first organic market, we have been slowly implementing standards in our market, to promote organic, healthy and safe produce for our 6,000 customers who visit each weekend," said Ormkwan Sanasen, General Manager of Jing Jai Market.
"Our 200 vendors include farmers and ready-to-eat suppliers who agree with our vision to create a hub of pesticide-free produce, supplied by local farmers for the health-conscious consumers of Chiang Mai. Most of them have complied and while it has taken time, we consider this a success," continued Ormkwan who went on to say that Jing Jai Farmers Market aims to work with people with a shared vision.
The standards vendors are expected to follow includes the compulsory Good Agriculture Practice (GAP) certificate, which is issued by the Ministry of Agriculture which ensures pesticide-free or organic standards are achieved. Jing Jai Farmers Market itself is covering all costs of farm inspections in support of all vendors. The market also conducts random spot-checks of produce, and if vendors fail to pass the test after three warnings, then they are no longer allowed to sell on premises. The market is certified 'Safety Frying Oil' by the Chiang Mai Municipality, with the market conducting weekly checks to make sure no oil is reused. As of September 1st of this year the market is also foam, plastic and staples free, instead promoting the use of eco-friendly containers and scales are also checked regularly to ensure accuracy.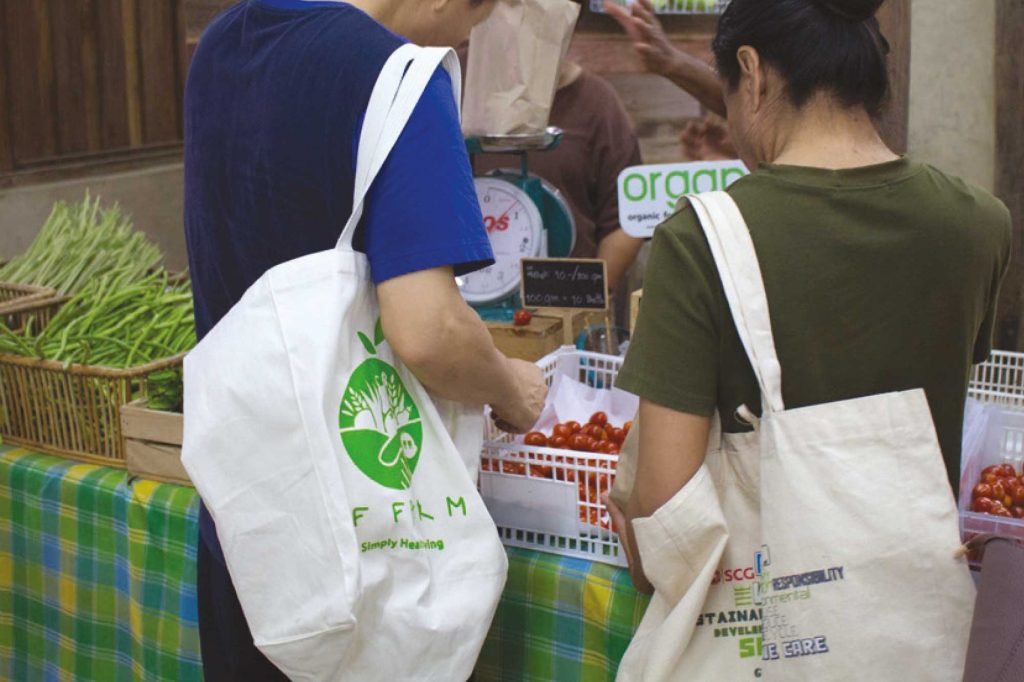 "Chiang Mai people have a higher awareness than those in other provinces," continued Ormkwan, who goes on to explain that Central Group's focus on this project is to create shared value by giving back to society in a sustainable way.
"We have 24 rai of land just around the corner which we will soon develop into our own urban farm, one where people can come to learn from; they can come and tend plots, make fertiliser and both learn and practice good and sustainable agricultural techniques. We aren't growing for sale, but for education and we hope that our farmers will come and teach, demonstrate and share their knowledge with the public. We want to raise awareness and do our best to facilitate the growth of Chiang Mai's health produce and food market while offering a public space where people can come together to share."
While Saturday morning crowds tend to come for the array of local fresh produce, Central Group's vision has expanded beyond safe food. Adjacent to the food market, the Hobby Market (7am-1pm) is a unique flea market and garage sale where vintage accessories, second hand clothes, and crafts are on sale. As to Sunday, the busiest day of the week with over 4,000 shoppers, the Rustic Market (7am-1pm) is set up where live music is played, and over 100 local crafts and other small vendors open shop.
The late night bars which flank one side of the main road are also soon to move to a new location, and a thriving community mall with specialist shops will expand from its current location along both sides of the road.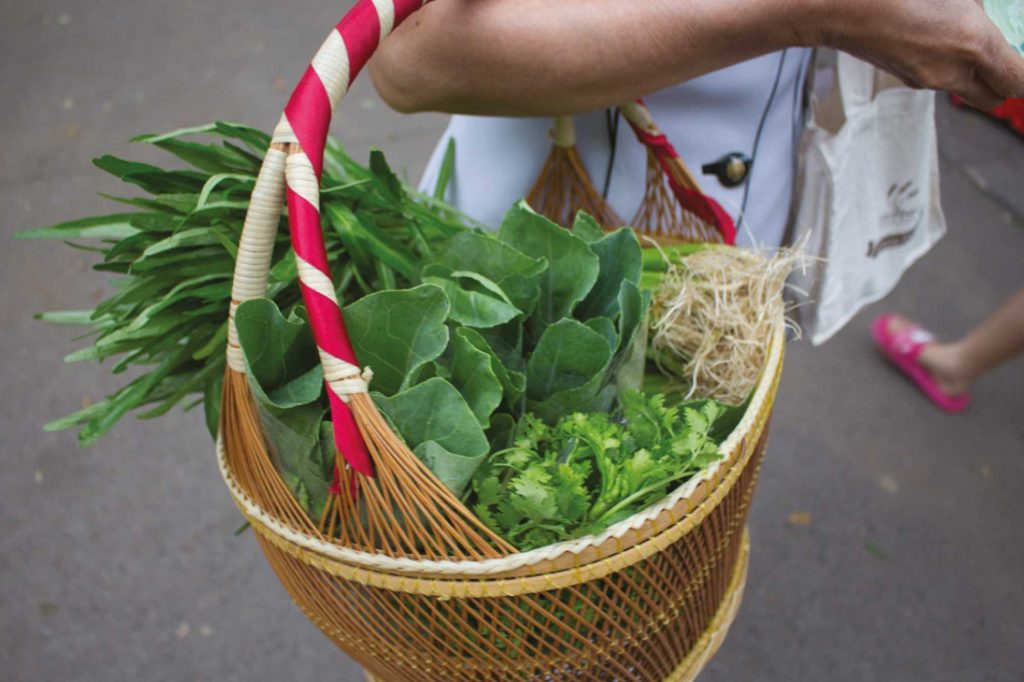 Central Group is also the owner of Ploen Ruedee Night Market in the Night Bazaar, the thriving food court where multiple vendors, food trucks and live bands draw the crowds each night. In order to ensure that the group's vision and philosophy continues through its many ventures, they have asked all vendors at Ploen Ruedee to list the vegetables and fruits they use so that they can link them up with organic pesticide free suppliers from Jing Jai Farmers Market.
"We don't force," explained Ormkwan of some of the challenges faced. "To force or fine is not sustainable, so it is important to change people's mentality. We talk, we educate, we assist and facilitate, and in the end everyone understands and steps up. We really do hope that very soon, our market will be 100% free from plastic bags. We launched our plastic free market campaign on the 1st of September but in reality we still have plastic bags — which I'm not pleased about — but things are going in the right direction. The majority of our customers welcome the change."
A future project the group is working on is to create a community education centre with an art gallery for local talent to be displayed, a stage for musicians or performers to showcase themselves, a crafts and design centre for exchange of skills and workshops. These activities will be carried out through the week as seminars, rice tasting workshops, cooking classes and many other activities and performances aimed to foster skills, creativity and social responsibility will draw customers year-round.
It has taken many years for Jing Jai Farmers Market to be able to stand up and say that it is organic and pesticide-free and the journey continues as Central Group expands its social ambition to include other sectors of society such as arts or crafts. But the overall object remains the same; a desire to give back, after 71 years of successful business, finding a new approach to sustainability by empowering, educating, sharing and creating a community.