I sport silver elephant earrings and cotton elephant pants on the regular, and I have several off hand facts I can spew off at you about why they're the coolest mammal on planet earth. For example, elephants live in matriarchal family groups and elephants can use their trunks to get a little tipsy. However, until recently I have to confess I didn't know a lot about the plight of elephants specific to Thailand. This changed when I had the opportunity to ride my bike alongside Bring the Elephant Home (BTEH) staff and volunteers this week in their first Bike4Elephants Beehive Expedition in Loei.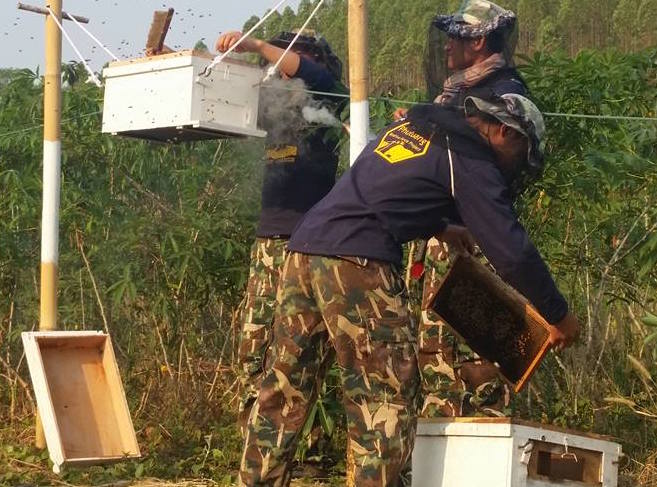 Phuluang Forest Rangers harvest honey from one of the beehive fences. The production of honey is an added benefit to beehive fences–and it is absolutely delicious!
Why Bees and Elephants go together
Elephants? Beehives? I was confused about the connection too. Fortunately, the forest rangers and researcher at the Phuluang Wildlife Research Station were able to answer a lot of my questions.
Basically wild elephants love to eat corn, along with other crops that farmers grow. Also, remember how I said in my opinion elephants are the coolest mammal? They're also pretty darn smart. So when farmers use strategies such as electric fences, elephants figure it out, and they will knock trees over to break the fence so they can go chomp down on that delectable corn. Needless to say, farmers are not too happy about losing their crops to the hungry elephants. Enter the idea of beehive fences.
In Kenya, starting in 2008, farmers began using "beehive fences", a border around farmers fields made up of beehives. Elephants are afraid of bees, mainly because of their sensitive bits: around their eyes, trunk and ears. When they get hungry for a midnight snack, as most elephants are active in the dead of night, they knock into a beehive fence, upsetting the bees. Upon hearing angry buzzing, elephants will roam away, searching for food elsewhere.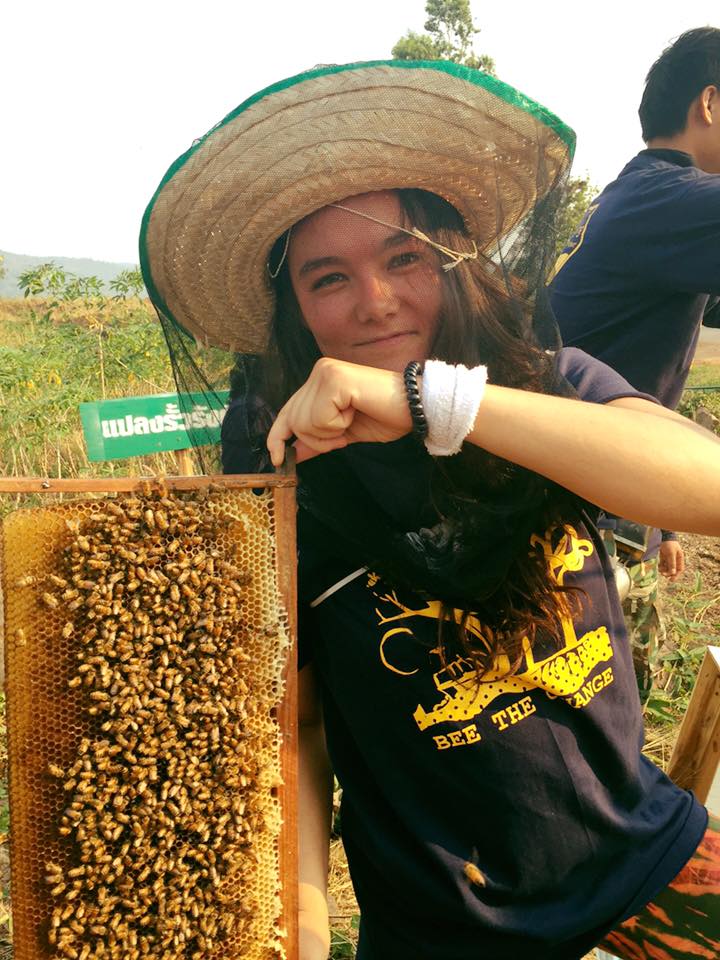 Beekeeping Expert, Li, holds up a beehive after explaining how male bees reach their death by having sex with the queen bee.
This approach has worked well in multiple African countries, and Bring The Elephant Home was hoping it could work in Thailand, but the organisation was met with some skepticism. However, they continued to research and found out that Phuluang Wildlife Research Station had began a government funded beehive fence project.
The goals of the project are to protect crops from wild elephants, decrease elephant conflict, and create a sustainable model.
The project is just in its beginning stages and faces many challenges. One of these challenges is the fact that Asian Elephants are smaller than African Elephants, which means the beehives must be much closer to one another.
"Seven metres apart doesn't work in Loei because [elephants are] smaller," resident researcher, Rachaya Arkajag (Pom) explained to the group. She finds four metres apart to be more ideal. Unfortunately, putting the hives closer together is more expensive. Also, because Thai bees are much less likely to stay and buzz around their hives, the project also imports Italian bees.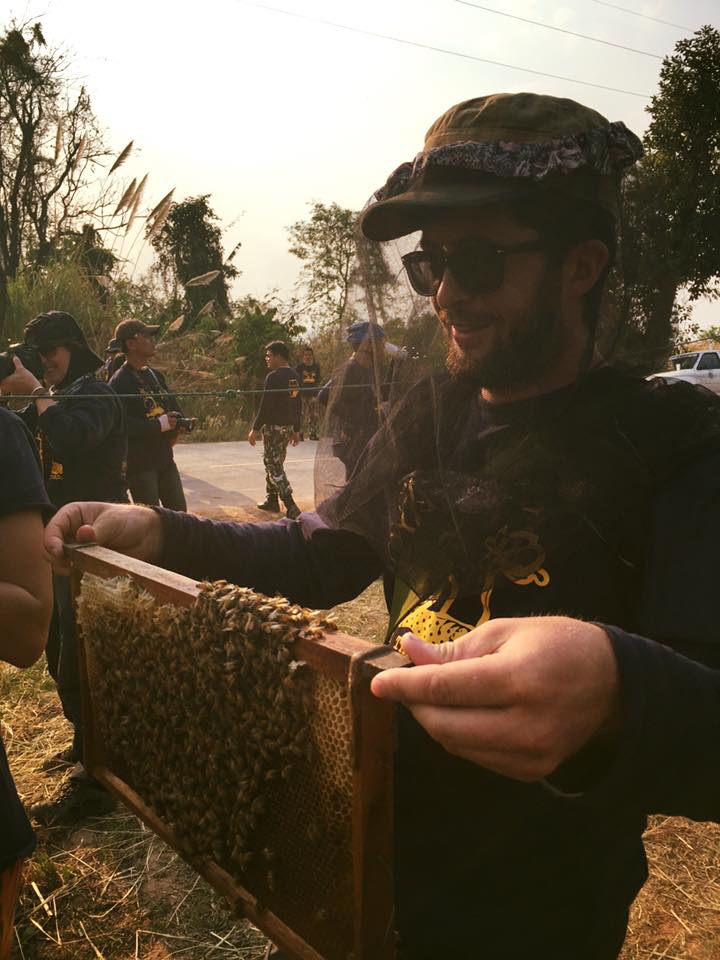 Donning a bee protective net, avid French bike rider, William, holds a beehive. Rangers spray smoke around him to prevent bees from stinging.
Also, there continue to be poachers throughout Phuluang—the day before we arrived the team surveyed our bike course and came across three poachers. Sometimes these poachers are after elephant ivory, while other times farmers simply shoot elephants out of frustration.
Despite the challenges, Pom has found many successes. "I have friends around the forest now," Pom smiles. She adds, "The farmers understand the beehive same [as] me." Also, elephants are dissuaded from entering farmland when they come into contact with a beehive. She concluded by turning to her husband, forest ranger at Phuluang Research Station, Jirachai Arkajag (Nung), and saying, "I'm thankful for my team."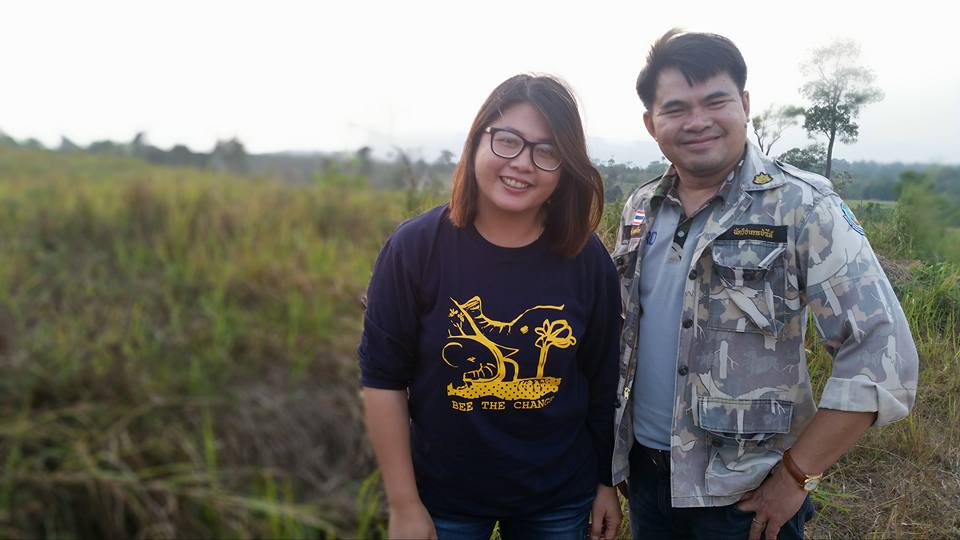 Pom and Nung pose together after completing a successful Day 1 of the ride. The wife and husband work together at Phuluang Wildlife Research Station.
Bike4Elephants Event
I hopped on a bus from Chiang Mai around 7:30 pm on Monday night to begin the long ride to Loei with fellow bikeride participants, Chrissy and Mary. We arrived in Loei during the dead of night, and crawled into tents to sleep until morning. I've spent the past month engulfed in smog, and upon arriving in Phuluang my lungs instantly swelled with happiness and fresh air, and I couldn't stop staring at the millions of stars.
The next morning we were joined by the other bike riders from throughout Thailand, including veteran riders who had spent the past seven years participating in the Bike4Elephants project in Kanchanaburi to newbies like myself. While the majority of riders were in their 20s, there were some older riders and a couple high school students as well. The reasons people came varied—excitement about cycling, interest in ways to protect elephants without captivity, passion about bees, a friend convinced them to come along—on goes the list.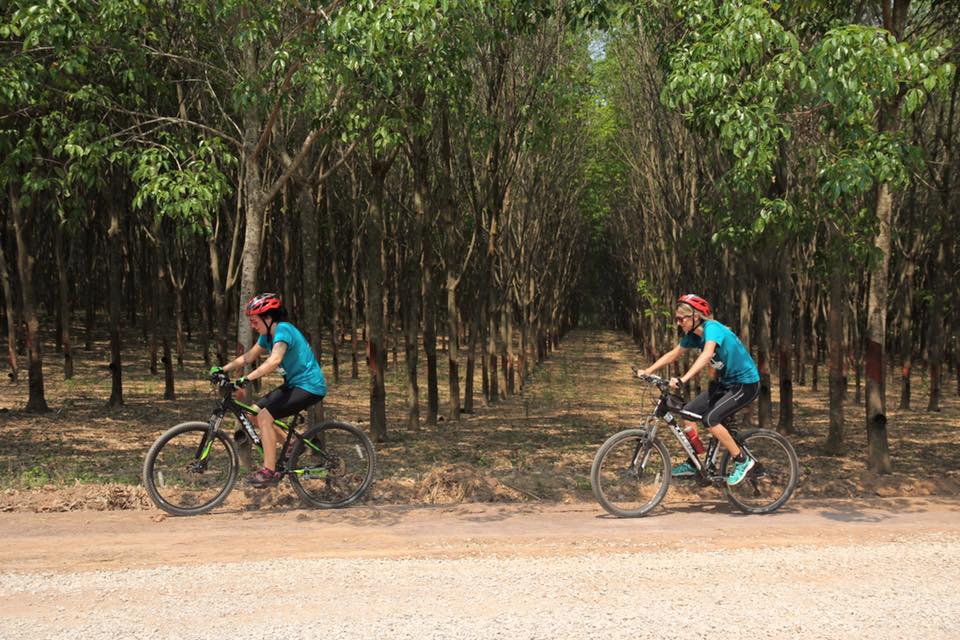 Antoinette and Jenna ride alongside a rubber tree plantation during Day 2. Rubber trees are a growing industry in Loei.
After being briefed on our route—"it's a bit hilly"—we were off with about a 30 kilometre ride the first day that was slightly more than a bit hilly. The breath taking views made every hill worth it though—rolling green mountains with scattered farmland. Our ride concluded at a beehive fence project after climbing the hugest hill of our ride on which, I confess, I got off my bike and walked. We were greeted with delectable honey lemon juice that reinvigorated many of us enough to don nets and get a close up look at one of the hive boxes.
"My family is in the coffee business, but we had this really great honey in our shop. When I went to school there was a great boutique honey store," fellow bike rider and bee expert extraordinaire, Li, told me about how she became interested in bees. She later became the founder of her school's Beekeeping Organisation. Li was able to tell us a lot about the bee activity specifically when we were at the hive. Including the fun fact that after a male bee mates with the queen bee, he bursts into two pieces and dies. Well, he died in the name of love. Or in the name of sexual reproduction at least.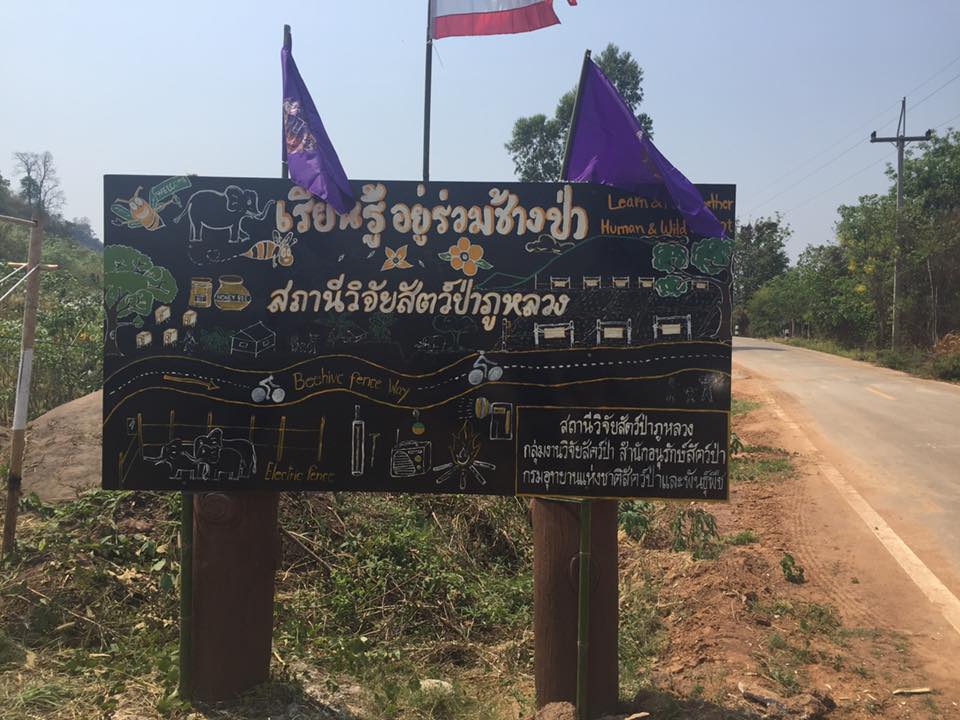 A sign welcomes riders to the completion of Day 1 and one of the beehive fences.
That evening, we returned to our Puluang Research Station campsite, and learned more about Pom's project with videos she captured of elephants interacting with the beehive fences over dinner of fried chicken, fried rice, and veggie kabobs. The evening felt a bit like the summer camp I attended as a kid, meeting people from all over the country and instantly becoming friends over food amongst the wilderness.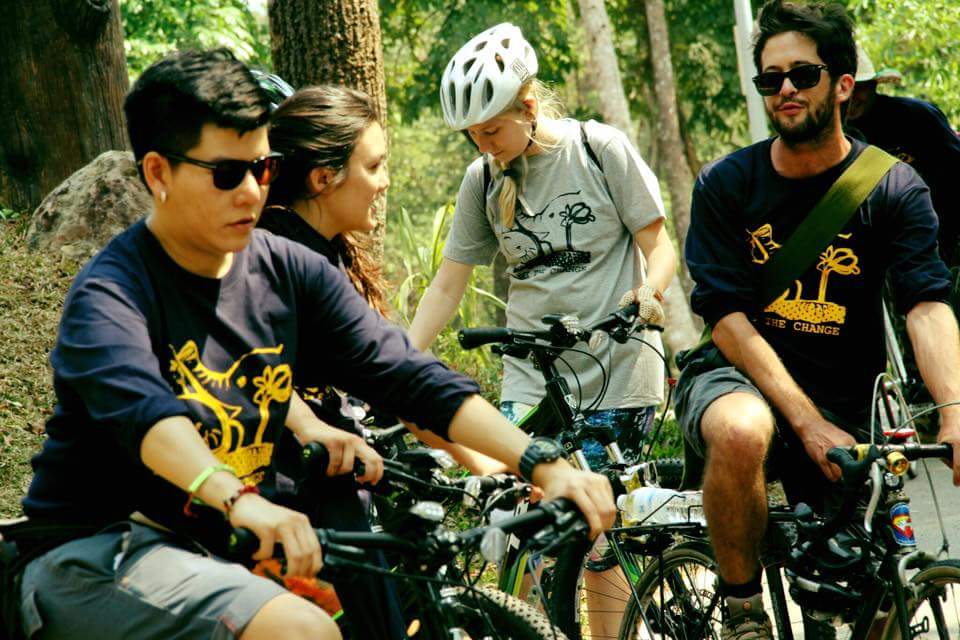 The following morning we were up bright and early for Day 2 of the ride. Before the ride I became best friends with a daughter of one of the Phuluang staff members whose favourite English phrase was, "oh my GAWD!" We rode to the start of the bike ride in the back of a pickup truck exchanging Thai and English phrases all the while.
The ride itself on Day 2 should have been easier, but my booty was so sore from the first day on the bike seat, it was torturous. Why don't people warn you about that? Part of this ride was off road, which, while it didn't help my backside, gave all us riders the opportunity to see rubber plantations. There were a couple juice, coconut, and water stops along the way to keep us going.
Emily and Aim smile while drinking natural electrolytes from a cocoanut at a rest stop on Day 2.
The ride concluded at a baby elephant farm—food for elephants that they like to eat and his healthy! Also, a way to keep them from going after farm crops. Sweat and dirt drenched, we ate lunch here, and then several of us hopped on the back of a white pickup truck for a good 40 kilometres, wind racing through our hair before reaching the Loei Reservoir. The long ride was worth it when we hopped on a raft, and alternated between sipping cool Leo and cannon balling off the edge of the floating bamboo.
The finishing celebration concluded with a donation of 35,000 baht to the Phuluang Wildlife Research Station from Bring the Elephant Home, presented by the founder, Antoinette VandeWater. This money will go to building more beehive fences and more research. Since this was the first event test ride, it is expected that future events will raise even more money.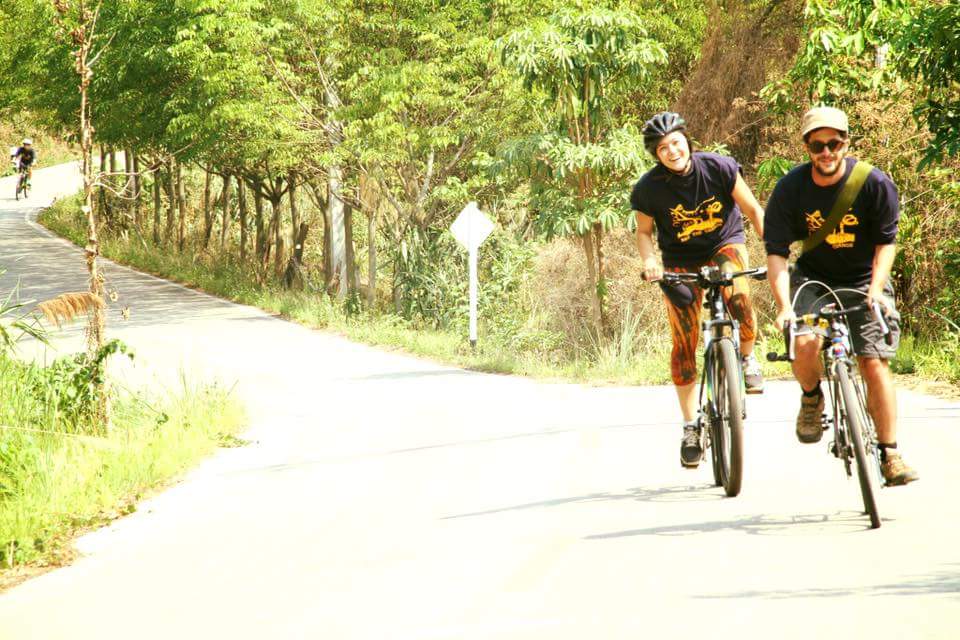 Li and William flash smiles on a long and difficult hill. The two spent much of both days leading the pack.
A Bit About Bring the Elephant Home
"BTEH's vision is to preserve the Thai elephant through creating a self-sustaining natural ecosystem, supported by a holistic stakeholders approach," Bring the Elephant Home's website explains. BTEH's commitment to what is best for elephants was present throughout the trip. Their main goal is to support elephants' safe and happy return to their natural habitat. Both the Phuluang Research Centre and Bring the Elephant Home encourage tourists interested in the wellbeing of elephants to visit national parks and wildlife sanctuaries over tourist parks. While this was the first Bike4Elephants in Loei, the organisation has organised multiple Bike4Elephants in Kanchanaburi. Both the Phuluang Wildlife Research Centre and BTEH expressed interest in holding another Bike4Elephants in Loei next year.
There will be an upcoming event in Chiang Mai called Buzz Café on 23 April for those interested in learning more about BTEH.
To learn more about upcoming events, check out BTEH on Facebook.